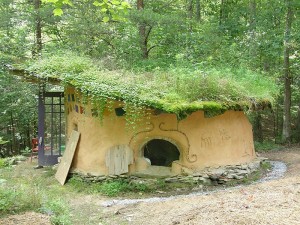 If you have spent any time at all researching off-the-grid houses and energy-efficient homes, you probably have run across the mention of a cob house. A cob house is not made from corn cobs, as I first assumed when I heard the term, but rather uses a mixture of sand, straw, and clay similar to an adobe house to build a sturdy, non-traditional house that is surprisingly easy to construct, and durable. The cob dries to a cement-like finish, and is suitable for using as load-bearing walls and even the roof of a house. Many people use cob to construct unusually-shaped houses, with curves, arches, and angles.
If you are interested in learning more about cob house construction, consider the following pros and cons of cob home manufacturing before getting started:
Cob Houses: Basic Construction
The basic construction of a cob house is simple. Depending on how "normal" you want the house to be, you must build a regular cement foundation and include all plumbing and electrical lines before building the cob around it. The cob acts as a combination of insulation and the actual walls of the home, and is placed between the plumbing and electrical lines, just as if you were building a hut completely from mud.
Cob Construction: Longevity
The cob material dries hard and cement-like – it lasts for many years, even through rain, snow, wind, and other harsh weather conditions. Cob construction is not resistant to earthquakes or ground shifting, however, which makes it vulnerable to these events, so if you live near a fault line, think twice before building a cob home.
Benefits of Building with Cob
A cob house is surprisingly easy to build. It is just like building a clay house, if you molded one as a child. If a team of several people work together, it is possible to construct an average-sized cob house in just a few weeks. In addition, the sturdy material eliminates the need for additional inside finishing materials, such as drywall or wood cladding – just mold and go!
Cob Home Construction Drawbacks
There are a few drawbacks to using cob as the material for building a house. The material does not provide a large amount of insulation throughout the year. It gets hot easily in the summer, and cold in the winter. However, if you heat the inside of the home, it stays warm for several hours after heating. The brittle nature of the house also makes it susceptible to ground shifting and earthquakes.
Additional Resources
If you would like to learn more about building your own cob house, how much it costs, or the exact building process, the following resources can help you dive deeper into the topic:
The Hand-Sculpted House: A Practical and Philosophical Guide to Building a Cob Cottage: The Real Goods Solar Living Book (Amazon)
The Cob Builders Handbook: You Can Hand-Sculpt Your Own Home (Amazon)
Building With Cob: A Step-by-step Guide (Amazon)
Have you thought about building a cob structure or any other off-the-grid home?