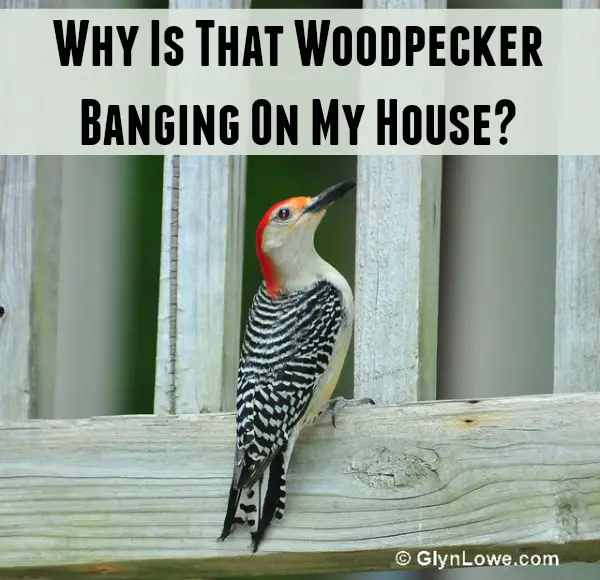 I work at a nature center. At this time of the year – well actually, at any time of the year – we get some very interesting questions. In the spring, some of the most sleep-deprived callers and visitors have the same question: why is that woodpecker banging on my house?
Woodpeckers have some spectacular skills. They're experts at banging on wood and making holes in wood. If you have a woodpecker around your house, why is it there?
Is the Woodpecker Eating My Siding?
When people see a woodpecker on their house, one of their first concerns is that the woodpecker is eating their siding. Woodpeckers eat bugs, not wood. However, in their search for bugs, they can definitely tear apart large sections of your siding.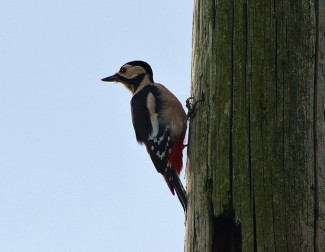 If you see that a woodpecker is banging on your house, look and listen carefully. If the bird is moving around your siding, making a small hole in one place and then moving over to another, it's possible that it is looking for and feeding on animals that have made their home in the wood of your house. If the bird stays in one place and bangs on it in a "rat-a-tat" manner, it's probably not using the bugs in your house for lunch.
If you see holes in your house and you're concerned about woodpecker damage, thank the woodpecker instead. This bird has just let you know that your house is being damaged by insects. Take a look at the area where the woodpecker has been feeding and determine what insects are living there and what course of action to take. Repair and paint the holes so that they don't attract more woodpeckers.
Is That Woodpecker Building a Nest in My House?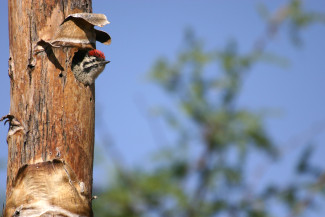 While you probably are friendly with some kinds of wildlife, you may not want to open your home to them. If you see a woodpecker on the side of your house steadily chipping away at the same area, this could mean that the woodpecker is trying to nest in your house. You'll often see a pile of wood chips on the ground near the area, so you can tell that there's a hole in the house even without looking up. Thank this woodpecker as well – it's just told you that parts of your house are becoming rotten, since woodpeckers prefer to nest in soft, older wood. That's a structural issue you'll need to deal with very soon. Repair the structure, patch the holes, and install flashing on areas that need reinforcement.
The Most Likely Reason a Woodpecker is Pecking on Your House
While the two reasons above are the ones that jump into peoples' minds when they see a woodpecker on their house, if it's spring time and you're being awakened by drumming, you're probably dealing with a woodpecker who's got a spring in his step. In the spring, woodpeckers will often vocalize and drum on trees to get the attention of other woodpeckers. They may drum on your wood siding or on metal as well. This lovelorn woodpecker noise can occur at any time of the day, including the early morning when people want to sleep. While you can rest assured that the woodpecker will eventually find a mate and settle down, what can you do to reduce any damage? 
[sc:practicalprep ]
Use visual deterrents such as owl figures, wind socks, revolving windmills, or holographic eyes. If the woodpecker is drumming on an area that you can reach, you can also place netting or padding around the area. Avoid placing sticky products on the wood, as these can damage the birds' feathers. If the noise isn't too bad, you can also just wait it out, knowing that it will usually only last for a few weeks.
Woodpeckers can be surprisingly urban creatures, so whether you're living in a rural area or managing suburban wildlife, it's quite possible that you'll encounter woodpeckers. These birds can help you pick up on insect and rot concerns in your home. When you see one moving around your property, know that it's a sign that you have a healthy habitat, and use the woodpeckers' behavior to help you understand why it is pecking on or drumming on your house. 
Have you had a woodpecker bang on your house? What did you do?
MomPrepares loves to join link-ups and meet other bloggers. Here is the list of our favorite link-ups so you can participate too!