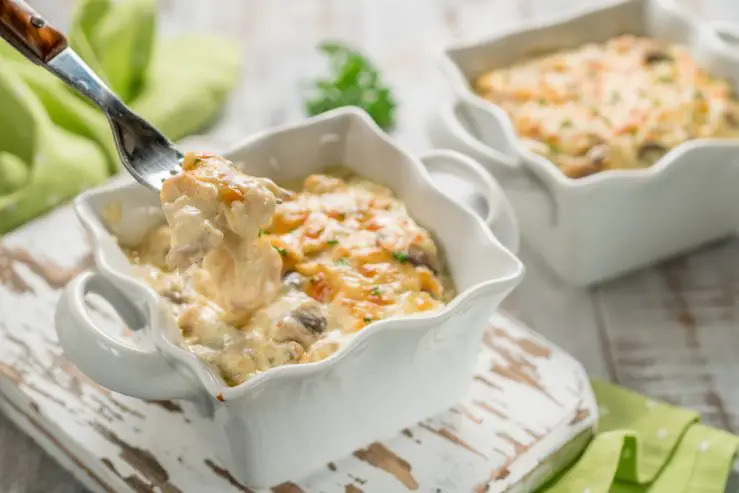 The dinner time rush is dreadful. Whether you're a working mom or a stay-at-home mom, or something in between, having to find something delicious to put on the table every single day gets old.
It's even worse when your kids are small, you have several, or you have other things going on, like chronic disorders, postpartum depression, or any kind of stress. And what mom doesn't have other things going on?
This handy guide contains more than a month's worth of simple meals that cook in one dish, minimize clean-up, and boost your sanity. Because there isn't a single mom who doesn't deserve more mental free space.
Most of them can be modified for taste preferences, allergens, or available ingredients.

My friends at Keto Resources are giving away free copies of not one but TWO Ketogenic Cookbooks TODAY.
These cookbooks are packed with 200 delicious fat-burning recipes.
==> Confirm Your Shipping Info Here (Limited Quantities Left)
Pressure Cooker Recipes
Who doesn't love a pressure cooker these days? With the advent of the Instant Pot and several other brands, it seems almost everyone has an electric pressure cooker in their kitchen.
My favorite part is that I don't have to think about dinner when I'm drinking my morning coffee. In fact, for all you procrastinators out there, you can start thinking about dinner anywhere from 20 minutes to an hour before you need it on the table, depending on your recipes.
I'm pretty sure I've used my Instant Pot every single day since I bought it, and sometimes twice. These recipes are delicious, family-friendly, and crowd-pleasing favorites that are perfect to become staples in your meal planning rotation.
For best results, cook, serve, and then let the metal bowl soak overnight for incredibly easy clean-up.
Alternatively, get the glass lid that goes with the pot and store leftovers in the same dish they were cooked in. With everything being dishwasher friendly, it's a win/win.
Instant Pot Spaghetti by Kristine's Kitchen
Instant Pot Chicken, Broccoli, and Rice by I Don't Have Time for That
Instant Pot Chili by Dinner at the Zoo
Instant Pot Pot Roast & Potatoes by Delish
Instant Pot Tex Mex Beef Stew by Food Network
Golden Instant Pot Chicken and Rice by Well Plated
Instant Pot Chicken Noodle Soup by Delish
Instant Pot Pinto Beans and Rice by Real Food Real Deals
Instant Pot Minestrone Soup by Life Made Sweeter
Instant Pot Paleo Beef Stew by The Endless Meal
Slow Cooker Recipes
While electric pressure cookers might be popular, the tried and true slow cooker will always have a place in the kitchen.
For days where you don't want to cook anywhere close to dinner time or you want to set it and forget it, slow cookers are second to none.
Plus, you'll never convince me of a better way to cook certain dishes, like pulled pork, which comes out so mouthwateringly tender that it falls apart.
Slow cookers come in various shapes and sizes with different features, but these recipes can be modified to work in any.
I love cooking double batches in my extra large slower cooker so that I can cook once in a day or two and still have delicious, healthy, home-cooked meals ready for my family.
If you're getting a new slow cooker, be sure to choose one with a dishwasher-safe inner bowl.
Crockpot Chicken and Rice by Well Plated
Slow Cooker Mexican Chicken Soup by Food Network
Slow Cooker Mediterranean Chicken Thigh Stew by Food 52
Italian Shredded Pork Stew by Taste of Home
Slow Cooker Keto Breakfast Sausage Casserole by PaleoHacks
How to Make the Best Shrimp Boil in the Slow Cooker by the Kitchn
Slow Cooker Potato, Corn, and Jalapeno Soup by Sweet Peas and Saffron
Easy Slow Cooker Zuppa Toscana by PaleoHacks
Slow Cooker White Chicken Chili by Food Network
Slow Cooker Minestrone Soup by Life Made Sweeter
Crockpot Mexican Baked Potato Soup by Peas and Crayons
Easy Slow Cooker Shakshuka by PaleoHacks
Sheet Pan Recipes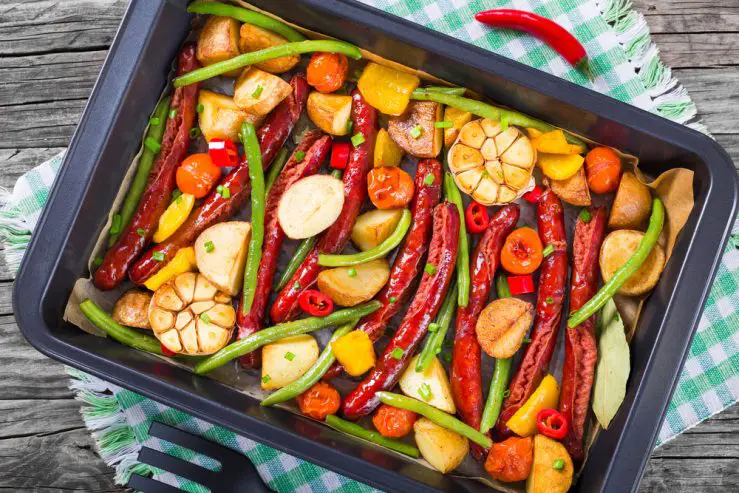 I love a good sheet pan meal. For one, there's something satisfying about arranging everything on a solid, flat surface and then watching it cook to golden brown perfection.
For another, there are so many delicious food combinations that thrive under these cooking circumstances: chicken and vegetables, fish and vegetables, and so on.
It's a delicious way to get your family eating more veggies because when cooked this way, they absorb the flavors of the meat or other ingredients and they get that lovely oven crisp on them that is hard to replicate with other cooking methods.
With sheet pans, the bigger the better, so I always keep an oversized one at ready for  last minute dinner prep.
Cleaning up is also arguably the easiest with this method: just scrape and wash, toss in the dishwasher, or my personal favorite—cover with a layer of thick foil and have clean-up done in a literal second.
You can also use parchment paper for a stick-free cooking surface that makes cleaning up a breeze.
Keto Sheet Pan Steak Fajitas by MomPrepares
Roasted Salmon, Red Cabbage, and New Potatoes by Martha Stewart
Sausage and Greens Sheet Pan Dinner by epicurious
Roasted Broccoli with Shrimp by The Wednesday Chef
Roasted Vegetable-Chicken Sausage Pizza by Better Homes & Gardens
Barbecue Chicken and Brussels Sprout Sheet Pan Dinner by Food Network
Mango-Chutney Chicken with Roasted Carrots and Zucchini by epicurious
Sheet Pan Garlic Herb Butter Chicken and Potatoes by Cafe Delites
Pineapple Teriyaki Chicken Sheet Pan Recipe by The Creative Bite
Superfood Baked Salmon by Cotter Crunch
Sheet Pan Bruschetta Chicken by Damn Delicious
One Pan Cajun Shrimp Sausage Veggie Meal by PaleoHacks
Sheet Pan BBQ Chipotle Pork Dinner by Cooking Light
Apple Chicken Sheet Pan Dinner by Tastes of Lizzy T
Sheet Pan Asian Chicken and Vegetables by Domestic Superhero
Zesty One Pan Chicken and Potato Bake by Genius Kitchen
Skillet Recipes
Cast iron or ceramic skillets are wonderful because they're usually deep dish and ready for any sort of cooking adventure.
Skillet dinners are quick to throw together and clean up and offer a wide variety of flavorful options. Breakfast-for-dinner options are also delicious in a skillet and these also make great meals for guests or entertaining.
Stainless steel skillets are great, too, and if you avoid them because nonstick is easier, just add a bit of vinegar to some hot water and dish soap and it'll be clean in no time. You don't even have to soak it long.
There's no shortage of skillet recipes on the internet, but these are family-friendly flavors that will delight time and again. You might be familiar with most, or you might discover a new instant favorite.
Skillet Chicken and Root Vegetable Pot Pie by Cooking Light
Sauteed Pork and Plums by Martha Stewart
Chicken Rice Skillet by Taste of Home
One Pot Lemon Chicken by Jessica Gavin
Mediterranean Chicken and Bulgur Skillet by Cooking Light
One Pan Turmeric Chicken Thighs with Cauliflower by PaleoHacks
Spinach and Ham Sweet Potato Hash by Plating Pixels
One Pan Cheesy Chicken, Broccoli, and Rice by The Girl Who Ate Everything
Apple, Bacon, and Swiss Chard Frittata by Merit and Fork
Honey Chicken Stir-Fry by Taste of Home
Sweet Potato Bacon Chowder by PaleoHacks
Casserole Recipes
Is anything better than a warm casserole straight from the oven? The best part is that casserole dishes are versatile, big enough to feed a family, and dishwasher friendly.
Whether you have food restrictions or not, there's a casserole for everyone. Bonus: most of them are freezer-friendly, too!
Personally, I like to keep two casserole dishes: one glass and one a ceramic, deep dish for really big meals. Sometimes I even cook two casseroles at once, because leftovers.
Getting creative with your use of a casserole dish is a great way to save time and money in the kitchen.
Easy Chicken and Rice Casserole by Delish
Teriyaki Chicken Casserole by Life in the Lofthouse
Paleo Cauliflower Hamburger Casserole by Grass Fed Girl
Roasted Strawberry Rhubarb Salsa Chicken by The Castaway Kitchen
One Pot Mexican Rice Casserole by The Salty Marshmallow
Whole30 Casserole with Chicken, Broccoli, Rice, and Mushrooms by 40Aprons
One Dish Chicken and Rice Casserole by The Spruce Eats
Easy, Meaty Breakfast Casserole by PaleoHacks
Cheesy Beef and Hashbrown Casserole by The Mom 100
Creamy Chicken Zoodle Casserole by PaleoHacks
Gluten-Free, Dairy-Free Sweet Potato Chicken Casserole by Once a Month Meals
Stockpot Recipes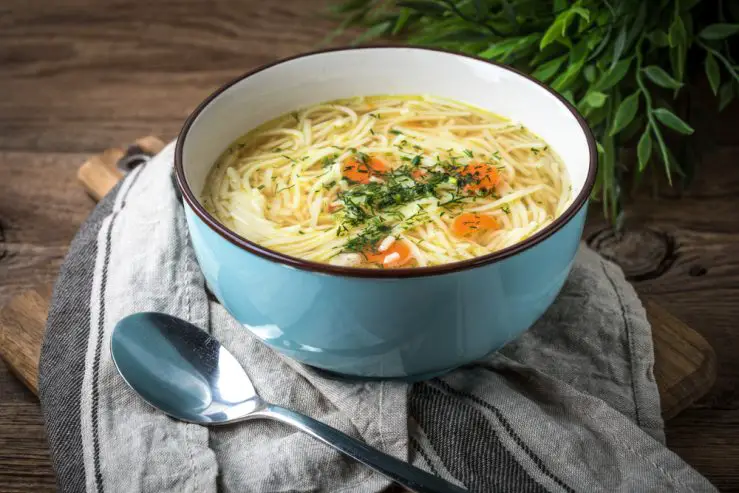 Sure, it's not fancy, but an oversized stockpot is so versatile it's perfect for making nearly anything. Sometimes all I want to do is throw ingredients together and let it simmer on my stove.
Perfect for anyone who wants to cut down on kitchen appliances or who isn't quite ready to shell out the cash for slow cookers or pressure cookers, a high-quality stockpot is a staple.
Lemon and Dill Quinoa Chicken Soup by Cooking Light
One Pot Lasagna Soup by Pumpkin 'N Spice
Pasta e Fagioli by Food Network
Mediterranean Vegan Vegetable Stew by Healthful Pursuit
Shrimp, Farro, and Red Pepper Soup by Self
One Pot Spinach Beef Soup by Taste of Home
One Pot Tortellini and Creamy Garlic Soup by Whole Food Bellies
One Pot Loaded Baked Potato Soup Recipe by Ashlee Marie
How to Simplify Dinnertime Even More: 5 Tips from Pros
One-dish recipes are awesome, but cooking every single day is not. Try any of these time-saving tips to reduce your time in the kitchen without sacrificing the delish factor of your daily dinners.
1. Cook in batches: There's nothing more ingenious than cooking big batches of staple ingredients, to be used all week in your meal prep. Example: pick five chicken dinners for the week, and on Monday, cook your week's worth of chicken. Then, cook time for your dishes is dramatically reduced Tuesday through Friday, and you're only making the bigger mess of preparing meat just once.
2. Make twice as much: Leftovers are a mother's dream. Cook twice as much food as you need for dinner and eat the same thing for the next day's dinner. Some families are opposed to leftovers, but if yours isn't, hitch your pony to this wagon and make it a regular routine. Then you're only actually cooking dinner three or four days a week, freeing up some time and some clean-up.
3. Freeze ahead of time: Whether you cook an entire meal and then freeze it, or you throw several dishes together and freeze in a ready-to-cook scenario, doing a once or twice a month prep session can save time, money, and sanity if you have the freezer space.
4. Use a meal-planning service: Meal services abound, in numerous price ranges, with ingredients gathered and shopping done for you. Consider subscribing for one or two meals a week so that some of the mental space is freed up. Even better: delegate this night's meal to your partner or make it a fun cooking time with one or more kids.
5. Declutter the kitchen: It's not relevant to meal prep, exactly, but trying to cook, live, or do anything in clutter can steal mental energy and increase workload. Even if you're not stressed by clutter or a minimalist, considering reducing the number of items in your kitchen, ditching stuff that perpetually lives in the cupboards but never gets used, or that you have duplicates of. The more free space you have around you, the less there is to clean at the end of the day.
Bottom Line
Dinnertime doesn't have to be a dreadful time of day. It took me a while to figure that out, and some trial and error to determine what actually made it less stressful for me.
I used to be intense about planning a month's worth of meals at a time, but I didn't have the brain space for that. Some weeks I can't even plan two days ahead. But I always gravitate toward simple, one-dish meals that are easy to clean-up, and I almost always cook with leftovers in mind.
Whatever your style in the kitchen, there's a one-dish meal option that will work for you. Most importantly: instead of viewing dinnertime prep as a strain or drain on your energy, view it as something to be solved in a delicious, time-efficient, one-pot way.
My friends at Keto Resources are giving away free copies of not one but TWO Ketogenic Cookbooks TODAY.
These cookbooks are packed with 200 delicious fat-burning recipes.
==> Confirm Your Shipping Info Here (Limited Quantities Left)