If you're in a hurry and looking for natural pest control products that have worked for us, check out our power rankings chart below.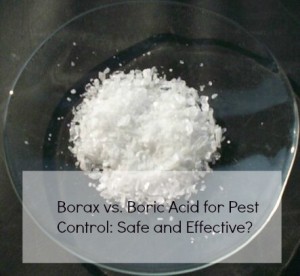 Borax and boric acid are essentially the same thing and normally associated with making homemade laundry soap. Both materials contain the element boron. Usually, Borax is mined and refined from tourmaline, kernite, and colemanite. Boric acid is mined from the mineral sassolite. In general, the two materials act the same and, in theory, can control pests equally well (although that wasn't my personal experience).
The way that these materials work is by eroding the waxy coating on an insect's skin, which causes it to dehydrate and die. Usually, to get insects interested in the powder, you may have to add a bait to the powder, by mixing it with sugar, honey, jelly, peanut butter, or another tasty material. Wasps are attracted to boric acid-laced meats. Within a few days, the insects that touch or eat the powder will die.
Toxic Risks of Borax and Boric Acid
Although Borax and boric acid is a more natural pest control than the sprays available through your local pest control source, or at the grocery store, it is not non-toxic by any means. If you (or your children, or your pets) eat borax or boric acid, the powder can cause nausea, vomiting, throat swelling, and other health problems. If you (or they) eat too much, a hospital visit may be necessary. That's never a good thing.
To use the material safely, apply the powder in cracks and behind appliances, and do not use within a child or pet's reach. Some people also report success with using the powder as a barrier around the foundation of their home and in any openings leading into the house.
My Borax Pest-Control Experience
A few years ago, some of the small roaches, often known as German roaches, invaded our kitchen. They not only invaded the kitchen, but they also decided that our electronic items were the perfect nesting grounds. Even though it was a small "roach problem", we wanted the pests gone as soon as possible.
There are different brands of boric acid that act as a cockroach repellent. There are recipes for homemade roach killers out there, but they also come with extremely mixed reviews.
I've tried using a recipe with tea tree oil, mint, bay leaves and cucumbers, but that was an epic fail.
The best way to go about having an ant killing remedy, or any insect for that matter, is to go with a well-reviewed product. What better place is there for reviews than Amazon?
If you look at the Zap-A-Roach Boric Acid (Amazon)
, people are leaving reviews like this: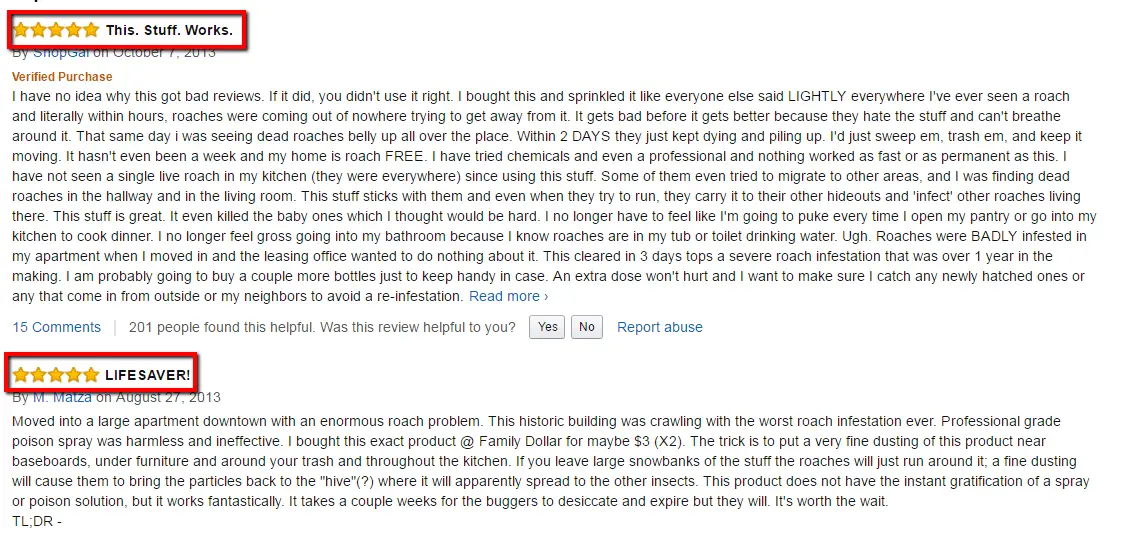 If you're uncomfortable using boric acid, then you can try borax to kill roaches and ants. According to some reviews that I've read, they work equally as well but borax is a safer bet if you have young children.
Whichever item you decide to go with, make sure to read through the reviews and see what others are saying. You'll find a wealth of information in there from real people like you and me.
One last note to make.
After my incident, I've found the best way to get rid of roaches forever is to follow these simple steps:
Clean frequently
Seal up cracks and holes where roaches and ants can easily enter.
Look at your piping and ensure there are no leaks.
Hire professionals if none of the household products are working.
Try and keep your home at a cool temperature. Cockroaches for example live in moist areas.
Where to find Boric Acid and Borax
When we had our roach infestation, I was thinking, where can I get boric acid? Then it dawned on me that the internet is my best friend when it comes to research.
There are many places you can buy Borax and Boric acid. Myself and a few friends have tried different options and they definitely don't work the same.
Borax and Boric acid can be purchased at most home stores like Lowes and even superstores like Walmart. If you're like me and live in the suburbs, you may want to go through Amazon as it ships quick and works as a perfect add-on item.
You can shop around, but buying boric acid will range by the price will be close no matter where you shop. It's a matter of convenience.
From the 5 different brands we've tried, here are the top 4 products that we found to work well.
If you have an infestation as bad as mine, it's worth getting a couple to see which works. Having these in a safe place around the house is always a good to have on hand.
Have you used Borax or boric acid to control pests in your home? Do you have any tips?