What is Cassia?
Cassia is closely related to cinnamon. In fact, you might be surprised to find out that you likely have some ground up in your kitchen right now. Cassia is known as "Chinese cinnamon," "Chinese cassia," or false cinnamon.
The cassia plant is actually a tree. It is an evergreen, and is slender with small flowers that are usually white. The plant features green leathery leaves. Those grown commercially are often cut back, so they resemble bushes. [1]
The tree can be found growing in China, India, Sri Lanka, Thailand, and other areas of southeastern Asia.
Just like cinnamon, cassia has a long history of use in Chinese and Ayurvedic medicine. Note, however, that most of this use is not from the oil, but from parts of the tree. It is often ground and then made into a tea or other infusion, extract, or decoction.
Cassia vs. Cinnamon
There is a great debate about cinnamon, with many people claiming that the only "true" cinnamon is Ceylon cinnamon, named after the area that is now Sri Lanka.
However, a quick Google search will bring up quite a few blind taste testings in which most people cannot discern the cassia cinnamon from the exponentially more expensive Ceylon. [2]
One way or another, you are eating a tree bark.
Cassia bark is thicker than cinnamon, and the taste is described as more pungent.
The oil is derived from that bark, and most aromatherapists will agree that whether from cassia (C. cassia) or from cinnamon (C. zeylanicum / C. verum), the essential oil from the bark should be avoided because it is a potent irritant.
This is why cinnamon leaf oil, also botanically called C. zeylanicum or C. verum, is recommended, especially to untrained home enthusiasts. Although there is also a cassia leaf oil, it is always better to use a gentler oil whenever possible.
Besides being a high risk for skin sensitization, there is a chance that either bark or leaf oil could inhibit blood clotting. Being that it may be adulterated with additional cinnamaldehyde or coumarin, this becomes even more of an issue. [3]
The volatile oil is procured through steam distillation of the bark. It is of medium consistency and will be a golden yellowish-brown color.
Cassia essential oil blends well with the same oils as cinnamon, such as bergamot (Citrus bergamia), clove (Syzygium aromaticum), eucalyptus lemon (Eucalyptus citriodora), frankincense (Boswellia carterii), lavender (Lavandula angustifolia), and many more.
Cassia Essential Oil Uses
Although Robert Tisserand and Rodney Young recommend a maximum dermal limit of .05% for cassia oil, either bark or leaf, you should not use the oil topically or internally at home unless you are a trained aromatherapist.
Please do not take the advice of bloggers or YouTubers that sell oils. It should be noted that representatives of multilevel marketing companies such as doTERRA or Young Living are usually not actual aromatherapy professionals and often offer bad advice.
Cassia leaf and bark oils are dermal irritants, toxins, and sensitizers, as well as mucous membrane irritants. There really is no reason for the home user to have the oil. It is risky.
That being said, if you decide you absolutely must try this oil for whatever reason, diffusion would be the way to go.
Aromatherapy Diffusion
Cassia has a scent very similar to cinnamon, so it can be used in a diffuser. Cinnamon leaf oil is preferable because it does not have the high potential to cause skin issues if it is spilled.
However, if you are a rebel, I do recommend using gloves when handling this oil. After all, spills happen, and you may have a severe reaction to the high cinnamaldehyde content in cassia.
If you have a bottle of cassia and want to use it in your diffuser, you can substitute it at the same ratio as the cinnamon that the recipe calls for.
However, do NOT substitute it in any recipe that calls for cinnamon that is meant to be used topically; you will regret it!
Cassia Essential Oil Benefits
The health benefits of cassia do not outweigh the risks.
However, Julia Lawless states that it is:
Antidiarrheal
Antiemetic
Antimicrobial
Astringent
Carminative
Spasmolytic
This does not mean that if you have diarrhea, you should take a couple of drops. Remember, it is a significant irritant to mucous membranes.
Besides that, you should not ingest any essential oil unless under the advice of both your physician and aromatherapist specially trained in internal use.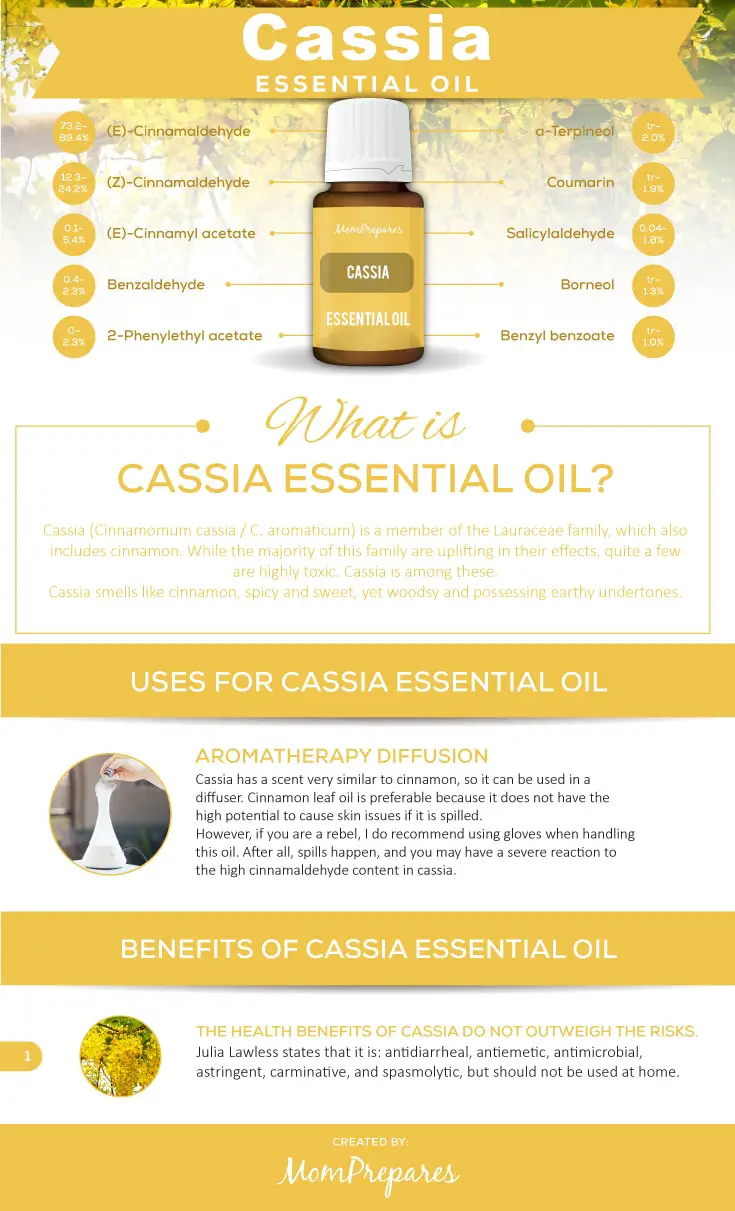 Use This Infographic On Your Blog
Cassia Essential Oil Research, Facts, and Studies
While home use of cassia is strongly ill-advised, there are some interesting studies on cassia essential oil and its main component, cinnamaldehyde, such as the following:
Contact Dermatitis
Bakers are actually at risk of certain maladies because of their frequent contact with cinnamon, which as we've seen, is usually cassia.
An article published in 2019 in Contact Dermatitis - Environmental and Occupational Dermatitis, there was presented a rare case of a baker's extreme flare-up while being patch tested.
What made this case rare was because it was due to airborne occupational allergic contact dermatitis (OACD).
Usually, bakers end up with an OACD that presents as eczema on their hands. [4]
Anti-arthritic
In a December 2018 issue of Elsevier's Integrative Medicine Research, scientists evaluated the efficacy of C. cassia in experimental models.
While they used an extract, they did find that the anecdotal evidence of using the plant for rheumatoid arthritis, not the oil, holds some merit. [5]
Again, this does not mean run out and buy the oil to make a blend to rub on your joints.
Antibacterial
In 2018, a research article was published in Scientific World Journal examining the effects of cinnamon species and the isolated compound cinnamaldehyde on bacteria.
They tested the oils of both C. zeylanicum / verum and C. cassia against such bacteria as Escherichia coli (E. coli), Pseudomonas aeruginosa, and Streptococcus pyogenes.
All three bacteria were highly susceptible to the substances tested. The oils and the (E)-cinnamaldehyde were effective against gram-positive and gram-negative bacteria.
The researchers concluded that these volatile oils and their components should be further studied as potential sources for either combining with current antibiotics and antimicrobials or for developing new ones. [6]
Conclusion
You are likely more familiar with cassia than you know, having consumed it your entire life. Unless, of course, you don't like cinnamon.
The oil from cassia, however, is a different story. It is one of those oils that should not be bought for home use, even from trusted sources. This does not matter whether it is oil of the leaf or bark, as it does with cinnamon, as neither oil should be utilized.
The risks with this oil far outweigh the rewards. If you happen to come by some, for instance if someone gifts you a bottle, keep its use contained to your diffuser. Make sure it is far away from children and animals, just like other essential oils.
Safety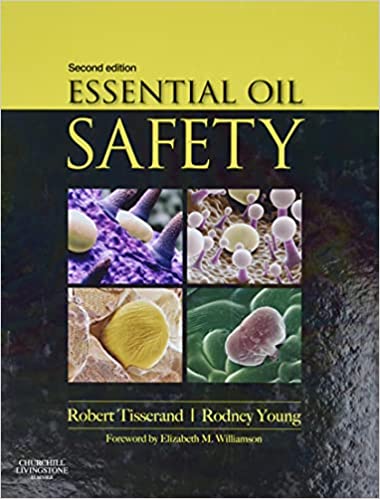 Correct selection and use of essential oils is crucial to ensure that you enjoy the best benefits of oils, without any of the downsides. Remember, some essential oils can be very potent and powerful. We therefore highly recommend this book to all of our readers: Essential Oil Safety: A Guide for Health Care Professionals 2nd Edition