What is Tarragon?
The perennial herb of Tarragon grows natively in Europe, western Asia, and southern Russia. Today, it is cultivated all over the world, especially in the USA and Europe. You may find oil that was distilled in France, Russia, Holland, Hungary, Germany, or the USA.
The tarragon plant features a sturdy, erect stem with bright green, long, and thin leaves coming off the branches. It grows to around three feet tall and has clusters of tiny yellowish-green flowers.
You may hear this plant referred to as 'little dragon', translated from the Latin 'dracunculus.' The oil is often referred to as 'estragon oil,' derived from the French name for the plant.
There are two types of tarragon, French and Russian. French tarragon is said to be superior and is the one used for culinary purposes and the one from which the oil is usually derived.
Many Artemisia plant oils from the Asteraceae family should be used with care, or not at all. These plants often possess high levels of ketones or phenolic ethers, both of which can be dangerous.
For instance, wormwood (Artemisia absinthium) should never be used at home. Some people recommend that tarragon should not be used at home, while others suggest using extreme caution.
If you choose to use it, pay particular attention to what you get. As always, look for the botanical name. For home use, you want to be sure that you are getting Artemisia dracunculus. Russian tarragon (Artemisia dracunculoides) looks very similar, but should not be used.
The high level of estragole (methyl chavicol) content makes the oil possibly carcinogenic. Tarragon also contains methyl eugenol, which is a carcinogen and narcotic toxin.
This oil should never be used on children, by anyone pregnant or nursing, if on multiple medications, or for a prolonged amount of time.
Using tarragon at normal dietary levels is within the safe range. Research also shows that higher amounts might be tolerable, but further studies need to determine safe upper limits. [1]
Tarragon oil blends well with spice or herb oils like black pepper (Piper nigrum), caraway seed (Carum carvi), cardamom (Elettaria cardamomum), and coriander (Coriandrum sativum).
It is also appealing blended with lavender (Lavandula angustifolia), lemon (Citrus limon), tea tree (Melaleuca alternifolia), vetiver (Vetiveria zizanoides), and more.
Tarragon Essential Oil Uses
Tarragon is often used in the culinary world. Jean Valnet mentions this in his book, stating that it is a great replacement for salt, pepper, and vinegar. [2] This herb is widely used in the kitchen, especially for fish or poultry, and is often infused for tarragon vinegar.
The essence of tarragon is used in the perfume industry and as a scent for soap, detergent, cosmetics, and more.
Historical Uses
Medicinally, tarragon was often made into a tisane favored by Indian maharajahs. The leaves were also used for menstrual and digestive issues.
Valnet listed multiple internal uses for tarragon:
Apéritif
Antispasmodic
Carminative (relieves flatulence)
Emmenagogue (stimulates menstrual flow)
Internal antiseptic
Stimulant (digestive and general)
Stomachic (promotes appetite/assists digestion)
Vermifuge (anthelmintic - destroys parasitic worms)
He also wrote that tarragon was thought to have anticancer properties, even though we now know that the main constituents are actually carcinogenic.
Perfume
Tarragon is a masculine middle to top note. In making blends, consider that the top notes are the first that are noticed, dispersing quickly and fading into the longer-lasting impression of the middle notes.
If this is used for home perfumery, take the necessary precautions to minimize skin contact, such as wearing gloves.
Precautions
Because of the carcinogenic constituents of tarragon essential oil, it should not be used by do-it-yourselfers for therapeutic uses unless under the care of a qualified aromatherapist in conjunction with a physician.
Robert Tisserand recommends a maximum dermal use of 0.1 percent. For safety reasons, it is preferable for the home user to choose another oil to use topically. [3]
You may find that some texts recommend the ingestion of tarragon essential oil. It is better to err on the side of caution in these instances and choose another oil or remedy that has been proven safe.
Tarragon Essential Oil Benefits
Tarragon is listed in multiple sources as being anti-inflammatory, antispasmodic, antiviral, and carminative. It is also a diuretic, stomachic, and tonic.
Historical Benefits
Persians used the herb to induce appetite, and as Valnet indicates, tarragon was beneficial for anorexia. He also listed it as a remedy for:
Flatulence
Indigestion (nervous or otherwise)
Intestinal parasites
Intestinal spasms
Painful menstruation (dysmenorrhea)
Rheumatic pain (inflammation in the joints / rheumatoid arthritis)
For these issues, it was recommended to take two to three drops of the essential oil in honey or an alcohol solution up to four times a day.
However, today we know that the benefits of tarragon oil are outweighed by the risks. There are many more safe oils and methods that would be better to use in place of tarragon, particularly when ingesting.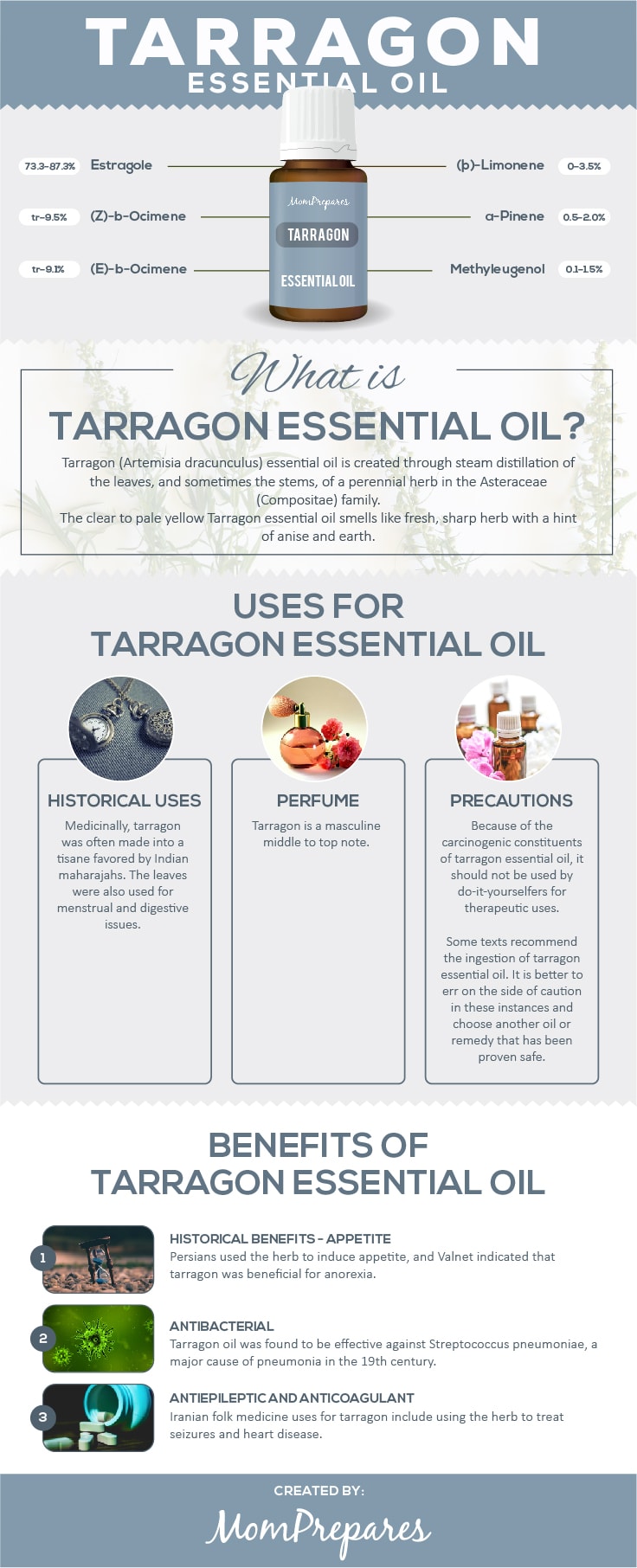 Use This Infographic On Your Blog
Tarragon Essential Oil Research, Facts, and Studies
Most of the studies to be found on tarragon essential oil center around its antimicrobial benefits.
Antibacterial
Shirley and Len Price offer some insights into the antimicrobial activity of the oil in their book, Aromatherapy for Health Professionals, 4th Edition. [4]
Tarragon oil was found to be effective against Streptococcus pneumoniae. This gram-positive bacteria was the major cause of pneumonia in the 19th century and the biggest culprit of community-transmitted cases in children and the elderly. [5]
Furthermore, a 2012 study in Iran showed that Artemisia dracunculus extract was highly efficient at killing both Staphylococcus aureus and Escherichia coli. [6] You may recognize these by the more familiar terms of 'S. aureus' or 'Staph A' and 'E-coli.'
The amount of tarragon extract necessary was more than typically used. However, more studies were recommended to determine whether tarragon essential oil could be applied as a natural food preservative in commercial applications.
Antiepileptic
In Iranian folk medicine, tarragon is often administered as an antiseizure medication. It is believed that the anticonvulsant and sedative activity of the herb is due to the monoterpenoid content in the plant oil. [7]
Anticoagulant
Certain essential oils have an effect on the coagulation of blood. Tisserand lists those that inhibit clotting as well as those that inhibit platelet aggregation, including tarragon.
In 2007, a study published in the Journal of Ethnopharmacology showed that tarragon leaf extract inhibits the adhesion of platelets. These findings lend scientific credence to the traditional use of tarragon as an anticoagulant. [8]
A comparative study from 2008 looked at the effects of three plant extracts on platelet adhesion to laminin-coated plates. Laminin is, in simple terms, the protein that holds the body together. [9]
Methanol extracts of tarragon (Artemisia dracunculus), summer savory (Satureja hortensis), and marjoram (Origanum majorana) all showed positive inhibitory actions on the platelets.
Of the three, tarragon was the most effective. The findings give a scientific basis to using the herbs in folk medicine for the treatment of thrombosis and cardiovascular disease. [10]
Conclusion
Tarragon is an herb that has enjoyed a long life as a culinary delight and as a medicinal substance in certain cultures.
It was once recommended to be taken internally for a number of issues, many related to digestion or menstruation. The herb is still in use in folk medicine for cardiovascular disease, epilepsy, and more.
However, current testing shows that the presence of certain phytochemicals like estragole (methyl chavicol) and methyl eugenol make the concentrated plant oil a possible carcinogen.
For this reason, it is not recommended that this oil is used by home practitioners or do-it-yourselfers without the direction of someone properly trained in its constituents, dangers, and use.
If the use of the oil is necessary for an application such as perfume, certain precautions must be taken. First, pay attention to the botanical name, which should be Artemisia dracunculus.
Secondly, take proper precautions, like wearing gloves. Do not use around children, the elderly, anyone on multiple medications, or anyone pregnant or nursing.
The oil should also not be used for an extended length of time for any reason, and should not be taken internally.
Finally, feel free to keep using the herb in the kitchen. the amount of the hazardous constituents in the herb itself are negligible, and it is safe for culinary use.
Safety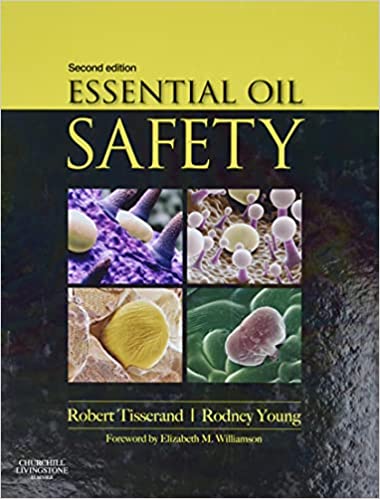 Correct selection and use of essential oils is crucial to ensure that you enjoy the best benefits of oils, without any of the downsides. Remember, some essential oils can be very potent and powerful. We therefore highly recommend this book to all of our readers: Essential Oil Safety: A Guide for Health Care Professionals 2nd Edition