Creative people are thinking outside the box this Christmas. Instead of the usual Christmas gifts for those on their gift list, they are considering repurposing – recycling – items into unexpectedly great presents!
If your children have a trampoline in the backyard that they hardly ever go around anymore, you might consider upcycling it into this:
Upcycled Christmas Gifts: Repurposed Trampoline
NOTE: If you are here, looking for the recycled trampoline bed, we have been contacted by the company that the photo belongs to and found out the picture, tho widely circulated and shown by bloggers as a recycled trampoline, is in fact a patented product called a Floating Bed.
Upcycled Christmas Gifts: Wine Cork Ornaments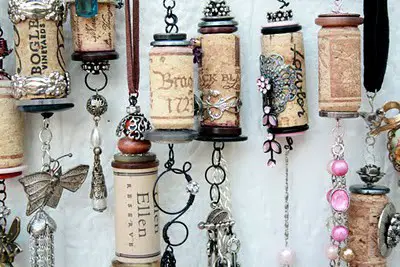 This blog is called theupcycleblog.com has all sorts of ideas to create really unique Christmas gifts like these Wine Cork Ornaments or Wine Cork Letters! If this one is not quite appropriate, look at the many ideas there as I'm sure you will find a few winning gift ideas there.
Upcycling for Christmas Gifts
There are so many ways to upcycle, it's only a matter of thinking outside of the box – and with the economy the way it is, I need to think inside of my budget! Whether you're buying cute teacups as herb planters from your local thrift store, or turning your unused grocery bags into Plarn and crocheting or knitting fun gifts, there are a ton of ways to save, while still giving awesome presents!
I hope these ideas help to shorten your list of "gifts to buy" before Christmas. MomPrepares has lots of Christmas gift idea posts you can check  No-Sew Knitted Handmade Christmas Gifts. Merry Christmas!!
More Christmas Gift Ideas for Preppers:
Have you ever up-cycled a "piece of junk" that, when you finished with it, and gave it as a present, became a treasured possession? We'd love to learn about your experiences!