If you receive our newsletter you know that several months ago I mentioned giving up traditional shampoos and conditioners in favor of some really basic DIY hair products. I'm now going on six months without buying any hair products and making them all myself. I'm loving how clean my hair feels, how soft it is and how many compliments I get on it, even from my hairdresser! I'm also loving that for the first time in my life, I have naturally curly hair!
Yes, those are my hair products in 97 cent condiment bottles from WalMart. I'm not ashamed to say I'm a frugal, practical girl and I won't mind if you laugh.
[sc:media]
No-Poo Hair Wash with Baking Soda
In one I put about 2tsp of baking soda then fill 3/4 of the way with hot water and sake really good. This lasts about 3 washes for me.
Apple Cider Vinegar Hair Rinse with Tea Tree Oil
The other bottle I fill 1/3 with cheap apple cider vinegar, add 3 drops of tea tree oil and top off with water. This also lasts about 3 washes.
Note: without the tea tree oil you will a) Smell like a pickle every time you wash your hair and b) Possibly end up with a musty smelling head and pillowcase as I did. Tea tree kills the fungus. On another good note, it kills lice so you won't have to worry about those either!
How Often Do You Wash?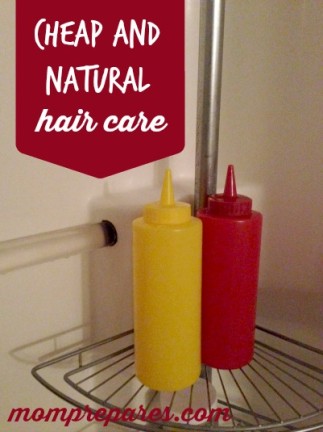 Every other day I wash my hair. I use these just like shampoo and conditioner.
Wet hair.
Use baking soda/water.
Rinse.
Use the vinegar mix.
Rinse.
It took about 2 weeks for my head to acclimate to this. My hair was a bit greasy for a while, but that remedied itself. I have a few friends who use the same things, but they only need the baking soda once a month! My head is way too oily and I have to use it every time. You'll have to play with it yourself and see how often you need to use the baking soda!
What I Use Next
Because I have naturally curly hair now, I'm using my homemade DIY Sea Salt Spray and Curl Booster to style my hair. I love the way it smells and it doesn't leave my hair crunchy or sticky!
[sc:essentialoils ]