I never had an allowance as a child, but I loved giving people gifts. Consequently, each December, you would find me picking up odds and ends around the house to make into gifts for friends and family (today, they call that Christmas upcycling). And aside from on ill-fated Christmas where my scented oranges grew moldy by Christmas, most of them turned out perfectly.
These upcycled pillowcase crafts would have been right up my alley back in the day. I may have to add them to my current Christmas list anyway. So many of these look super fun to make!
This tutorial isn't specifically listed as a toy bag, but I've seen so many similar bags floating around the Internet marketed as a toy bag using fabric scraps, this is simply an easier version of the same idea. Use a kid-friendly print for a toy sack, or paint the name of a child right onto the bag.
This apron tutorial is a little more complicated than some I have seen, but I think the extra effort creates an apron that you can be proud of and would be perfect for gifts for men and women. I'd add pockets to mine.
There are hundreds of pillowcase dress tutorials online, but this is one of the cutest I have seen. Any little girl would love wearing this dress. They can be used as shirts for older girls, too.
I loved creating puppets and puppet shows when I was a child. I would have loved receiving or making this cute puppet theatre made from three pillowcases.
This pillowcase tote is the simplest ever to make, and it doesn't even require sewing.
When my girls go to visit relatives, they usually have to sleep on the floor. A mat like this is simple to make, and would be the perfect floor-bed solution for visiting friends and family!
This art smock is extremely simple to make, and doesn't require sewing at all,  if you don't have the tools or the inclination.
If your waist is small enough, a pillowcase can make a fun skirt for you or perhaps a teen girl that you know. This skirt requires minimal sewing, and makes quite unique skirts.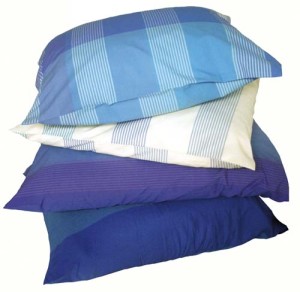 Use a pillowcase as gift wrap? Why not? There are plenty of Christmas-themed vintage pillowcases that would be fun to wrap Christmas gifts in. At other times of year, any other seasonal print would be fun. The best part is, you don't have to throw it away and clean-up is a breeze! Plus, if you run out of tape, you can still wrap your gifts.
What are your favorite ways to re-use pillowcases?