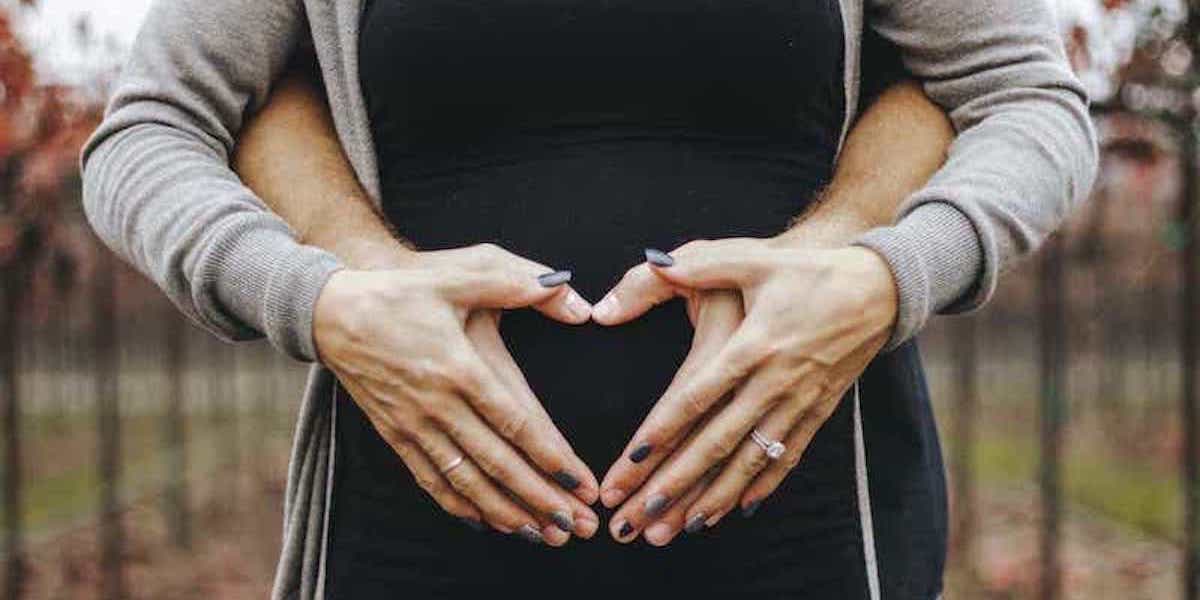 Being pregnant—whether it's your first time or beyond—is a unique and magical journey. But it's also full of discomfort, misery, uncertainty, and fear.
But worry not, mama, this list of resources will have your back from positive pregnancy test all the way through delivery.
As a mom of three now I realized that the stuff I relied on during my first pregnancy when I didn't know up from down, wasn't nearly as helpful as the stuff I came to discover during my second and third.
I found myself saying constantly, "Why didn't this exist the first time I was pregnant?"
Even if it's not your first, sometimes we get into the routine of been there, done that, and don't realize that new resources exist to help make the pregnant life an easier one—at least in some ways.
These are the best resources you can find to support these nine months of literally growing a human from scratch.
Books
There are tons of pregnancy books on the market, but we've come a long way from the what-to-expect days. These books are realistic but encouraging resources that won't over-promise.
They also offer practical solutions for things like mental health, stress, and anxiety, which are much more openly discussed now even versus five years ago.
Economics meets pregnancy myths in this must-read book for all moms. Don't fall prey to being shamed into things because of misunderstood or poorly stated data.
This book explores what research really tells you about pregnancy and saves your sanity in the process.
For the mom who is prone to excessive googling or worry, this book is the calm and reassuring voice you need. Helping cut through the noise, it's the manual you need when you're expecting.
Many pregnancy books paint it as a miraculous journey where you bask in a beautiful glow, but the reality for most moms is a bit more stressful than that.
This book is a voice of reality that can bring in humor, honesty, and heart to a journey that can often be exhausting and overwhelming.
Want to keep a true-to-life memory book of your pregnancy journey? This is perfect for the mom-to-be who wants to remember things as they are, with some humor thrown in. If the other pregnancy memory books are too cheeky or precious for you, this one's got you covered.
5. As You Grow: A Modern Memory Book for Baby
Want to keep a special memory book devoted to your baby? This one is minimalist and modern, perfect for the millennial mom and beyond. With beautiful illustrations throughout, it gives space for monthly updates, a family tree, and more.
Registries
Even if it's not your first kid, create a registry. Whether you have a baby sprinkle or not, you can use the completion discount on each of these to score any items you still need.
The same applies to anyone having their first kid, even after a baby shower.
(Pro tip: Target will let you add almost anything to your baby registry for completion discount use, with just a few exceptions, including electronics.)
1. Target
My favorite registry by far, Target has options for everything you need for baby, from clothes to bassinets to car seats and beyond. I love the wide variety of nursery-themed items, but the best part is the generous discount system.
You can add items to Target Circle and combine that with other coupons and your registry completion discount of 20 percent off.
Bonus: you actually get two completion discounts, one in-store and one online.
2. Babylist
Want to add items to a registry that don't come from a big box store?
Babylist is the answer. You can add registry items from literally anywhere on the internet. Plus, items that are sold from the Babylist store are eligible for a completion discount as your baby's due date gets closer.
Shower gift-givers can also opt to give you Babylist gift cards, too.
3. Amazon
Ah, Amazon. Whether you love it or hate it, it's pretty genius for new moms. The baby registry comes with a welcome box that contains some pretty great samples.
You can also have the gift-givers contribute to a diaper fund, and if enough purchases are made from your registry (including your own) you can qualify for diapers and wipe discounts (on top of Subscribe & Save) for the first year of baby's life.
You also get a completion discount that can be used for up to two separate orders.
Apps
There's an app for everything and pregnancy is no exception. Whether you want to track your baby's weekly progress or monitor contraction timing, these apps are must-haves for the mama who wants to be in-the-know.
1. Bloomlife
More than just an app, Bloomlife is a wearable tracker that monitors your contractions and sends all of the data in a live stream straight to an app.
I've used Bloomlife with two pregnancies and it even helped me realize I was in labor a few weeks early. While it's not a medical device, it does help you get more familiar with your own contraction patterns.
They also have helpful educational articles and a super helpful customer service staff.
2. The Bump
There are many pregnancy tracking apps that keep you apprised of baby's week-by-week development, but The Bump has been the one I've consistently gone back to with all three pregnancies.
It is straightforward and offers interesting insights on a daily basis, plus it's a clean, modern-looking app with a ton of great reviews.
3. Expectful Meditation & Sleep
Pregnancy can be stressful, which is a major understatement. If you're struggling, try Expectful Meditation & Sleep.
It offers guided and focused meditations for the specific stage you're in (including postpartum!). While you do have to sign up, the cost of a subscription is a fraction of what you'd pay for in-person guided meditation and honestly, the results were well worth it for me.
Clothing
I had saved a good portion of my maternity clothes from my first and even second pregnancy, but it wasn't until my third that I discovered amazing pieces that made me wish I could have do-overs with my first two kids.
As any mama will tell you, comfort is literally all that matters, especially in those last 12 weeks.
1. GAP Leggings
You can find $$$ pregnancy leggings everywhere on the internet, and probably in your Instagram ads too, but I was shocked to discover that the most comfortable maternity leggings ever were found at GAP.
Sign up for their emails and get notified of sales and with a code, get them for less than $20. I'm still wearing them now, long after giving birth. The fabric is stretchy and holds its shape well—even after getting stretched out to a massively huge belly full-term.
They're thick and not see-through, and they don't snag easily.
2. Subscriptions
Stitch Fix and other clothing subscriptions now offer maternity options. If you need to dress professionally for work or you simply wan to enjoy a more varied style, this might be the perfect option for you versus buying your own wardrobe.
3. Blanqi
After my second son, I bought some Blanqi postpartum leggings that were magical. During my third pregnancy, I discovered that they make pregnancy support items and had to try them out.
The maternity tank and leggings were both amazing, and I literally wore one or both on a daily basis from 20 weeks on. I had a terrible time finding belly bands that would stay in place, but the Blanqi items offered support without slipping around.
Bonus: the fabric is buttery softs and smoothes everything. They also have several breastfeeding friendly items, too, and other postpartum support styles that make Blanqi your go-to for every mom's clothing needs.
4. Ingrid & Isabel Maternity Tanks
I have a short torso but carried my babies hugely. With my second, who was born in week 37, my belly measured 43 weeks (no gestational diabetes and normal weight gain).
The point is: I was huge, and every other tanktop I tried stopped covering my belly in the early third trimester. How frustrating to have to buy new shirts just for the last few weeks of pregnancy!
Until I found the Ingrid & Isabel maternity tanks at Target. They stretched wonderfully without looking too stretched out. The fabric was super soft but snapped back easily.
Bonus: with no side ruching, I'm still wearing these maternity tanks postpartum and no one is the wiser.
Products
You'll find lovers and haters for just about everything, but I am personally a huge fan of those hospital mesh underwear.
I never came home with enough to get me through those first crazy weeks, but the good news is that a new company has your postpartum needs on their mind.
There are also other wonderful products you'll love for each stage of your pregnancy.
1. Doppler
If you're a mama who's pregnant after loss or infertility, you might be facing pregnancy with a heaping load of anxiety. Even if you're not, let's face it, it can be hard to not know what's going on in there.
Having a doppler can be beneficial for women who need regular reassurance. I used mine a few times per week for about a minute, just to note baby's heart rate.
Be sure to get your OB's approval, though, to ensure there's no reason why you wouldn't want to. (Caution: those smartphone apps that can "hear" your baby's heart rate are not the same thing.)
2. Frida Mom
Postpartum recovery can be a doozy. Moms have strong opinions on those hospital mesh underwear. While some hate them, I loved them with a passion. They were comfortable and let my c-section scar breathe.
The only downside was I never seemed to leave the hospital with enough to get me through those first few weeks of recovery.
Frida Mom is a relatively new company that is producing products specifically for the postpartum woman, and I'm only sad they didn't exist when my first was born.
From mesh underwear (that are a much less hospital-like gray) to postpartum pads, their products are truly intuitive and insightful for the new mom's experience.
3. Belly butter
While I didn't mind having stretch marks on my belly (after 16 miscarriages, I wore my pregnant body with pride!), it was downright painful to have my skin get stretched, and then stretched again.
I tried numerous belly butters, creams, and lotions, but the best one turned out to be the most simple: pure shea butter.
Sure, you have to warm it a smidge in your hands before spreading, and it takes a bit of time to absorb, but after applying at night, my belly literally felt like silk the next morning.
(For a less greasy option, try this Acure Everyday Eczema Lotion. It's thick, rich, and non-greasy and it's great for reducing itchy, dry skin.)
Bottom Line
Every mom has her own tips and tricks learned during one or more pregnancies. You can't really replace personal, lived-through experience, but you certainly can benefit from the prenatal and postpartum experiences of others.
Have some pregnancy wisdom to share? Leave a comment below with your best tips!
Share on Pinterest