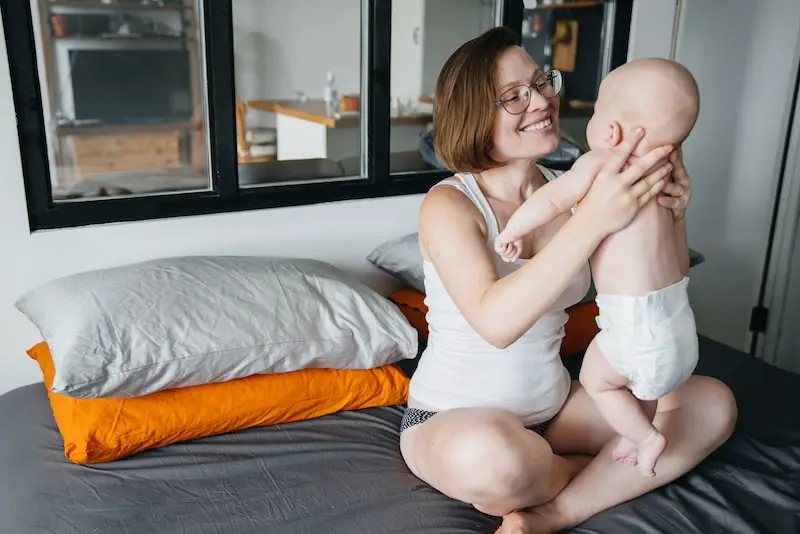 Having a baby is a life-changing event. Whether it's your first, second, third, or beyond, adding a new little life to your family is going to bring about a lot of change.
As a mom who has just given birth, whether vaginal or cesarean, your body has gone through major changes. Recovery isn't always straightforward or simple. This postpartum recovery guide covers all the top questions that new moms ask.
Whether you've delivered several times before or this is your first time, these are the answers you might be googling—all in one convenient place.
Top 13 Questions About Postpartum Recovery
There's something about going through labor and delivery that both instills rock-solid confidence and shakes you to your core. You've just brought a human into the world, which is a superpower, yet now you're fully responsible for this tiny human you're still trying to figure out.
On top of that, your body feels like it has been wrecked.
The good news is that your postpartum concerns and questions are normal. Here are the answers to the top 13 that women struggle with most.
1. Feeding Baby: Breast or Bottle?
Whether you formula feed, breastfeed, or a combination of both—feeding your baby is best. You'll find lots of opinions and drama surrounding the issue of how you feed your baby, but the end result is the same: baby gets fed, baby grows, both mom and baby are healthy.
While the American Academy of Pediatrics and many OBGYNs will push for exclusive breastfeeding, especially in the first six months, you have to realize that breastfeeding simply does not work for everyone.
That includes mom and baby. You can invest every ounce of blood, sweat, and tears into the process, and it could still not work.
Mama, formula is not so harmful that it is worth losing your sanity over breastfeeding. Too many sources promote breastfeeding at the expense of mother's mental health or at the expense of a baby who's simply not thriving.
The ultimate baby feeding goal is to be fed, to be growing, and to be thriving.
2. Breastfeeding Problems
Breastfeeding comes effortlessly for some women, but they are far in the minority.
You might need help with latching, either on your end, the baby's, or both. You might need help figuring out a pumping schedule or troubleshooting issues with that.
You may have painful breasts that are engorged, red, or showing signs of infection. (If that happens, call your doctor right away.) You might have questions or concerns about your supply and whether it's enough for baby.
Instead of spending hundreds of hours googling for solutions, find an experienced lactation consultant and get personalized feedback for your situation.
Usually, feeding issues come down to more than one area and it's easy to miss one or more by self-diagnosing via the internet. If baby is not perfectly content and you're feeling frustrated or are in pain, it's time to call in personalized help.
3. Formula Feeding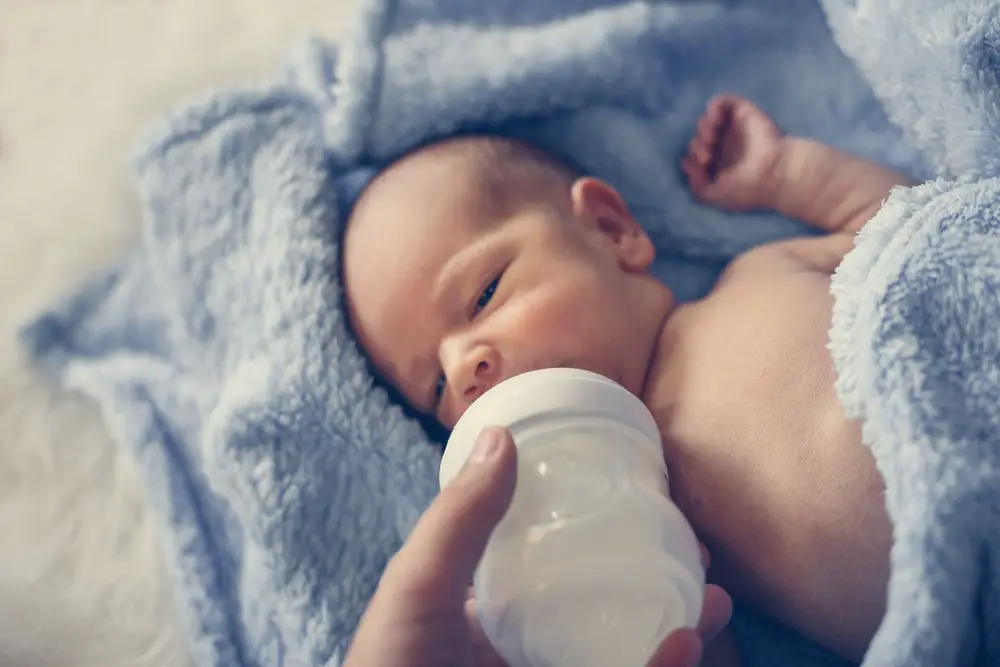 Feeding your baby with formula is every bit as viable an option as breast milk. But because most newborn resources direct mom to breastfeeding only, it can feel hard to get the answers that you need.
You need to choose a formula that meets baby's needs and doesn't cause tummy upset or aggravate any potential allergens. (Note: breastfeeding is just as tricky when it comes to figuring out baby allergies or sensitivities, so if your baby has these, formula is not to blame.)
Comparing ingredients on formula containers can make the eyes go crossed—they're tiny to read and overwhelming. The formula you start with may not be the one you end with, and that's OK.
Babies are small humans with dietary preferences and individual needs, so don't be afraid to try a different option if the one you're using doesn't seem to be best.
You need to find just the right bottle, and there are dozens to choose from. As a mom who has bottle-fed three children now, I can say I've used a different bottle each time (and tried even more than that before settling on one).
I've always ended up opting for anti-colic bottles because even when my baby isn't colicky, they cut down on gas and air bubbles that get into baby's tummy. Reducing gas and air is one of the best ways to cut down on spit-up and to help them rest comfortably.
4. Bonding With Baby
Sometimes it's instantaneous, sometimes it takes a few days or a few weeks. Few people talk about the reality that you could hold your baby and not feel overwhelmed with magic, but that's OK.
You've just gone through a major event, and hormones play a huge role in bonding. Hold your baby, snuggle, and keep him or her close, and it will come. Most importantly: your ability to bond with your baby has no reflection on your skill as a mother.
Bonding happens between mom and baby regardless of how you feed, too. Breastfeeding mothers don't have the edge on bonding, but if you're a tired mama who is stressed out from an inability to breastfeed, the insinuations that bottle-feeding worsens bonding or that breastfeeding is the gold standard will sting and could potentially worsen postpartum depression.
There's much more to mama/baby time than feeding.
5. Colic
Babies who are breastfed or bottle-fed can get colic, and getting to the root of the issue can be tricky.
First, check under their tongue and under their top lip for "ties," and if they're present, have an expert resolve them. Even if one lactation consultant or pediatrician says they're not causing issues—get a second or even third opinion.
Having the tongue or lip tied down even a little can make feeding a lot of work for baby, and it can lead to growth problems, constant hunger, and lots of screaming.
Other triggers for colic can be tummy aches, gas, food allergies, and simply not getting enough food. If you've tried to address, gas, consider the top allergen triggers for baby discomfort: dairy, gluten, peanuts, and eggs.
If your baby has eczema, go on an elimination diet for breastfeeding or switch to a corn-free and more allergy-friendly formula, like Baby's Only or one that is dairy-free.
Most importantly, just remember that even though colic and eczema are on the rise in babies, they are not normal. Find a pediatrician or doctor who will get to the bottom of it with you and don't let anyone brush off your concerns.
6. Postpartum Headaches
As if you don't have enough to worry about as a new mother, postpartum headaches can happen in almost half of new mothers.
While that makes them somewhat common, they're not normal, and they do warrant a call in to your OBGYN for follow-up. Don't just wait until your six-week appointment if you have regular or frequent headaches.
Postpartum headaches are almost always due to things like shifting hormones, stress, lack of sleep, and dehydration. However, if you had an epidural or a spinal block during delivery and your headache is extreme or severe, you could have a post dural puncture headache.
These most commonly occur within three days after delivery, but could be within the first week.
If you've just had a baby and end up with any kind of head pain that feels severe, call your doctor to get to the bottom of it. Don't just pop painkillers and expect it will go away.
7. Diastasis Recti and Pelvic Floor Problems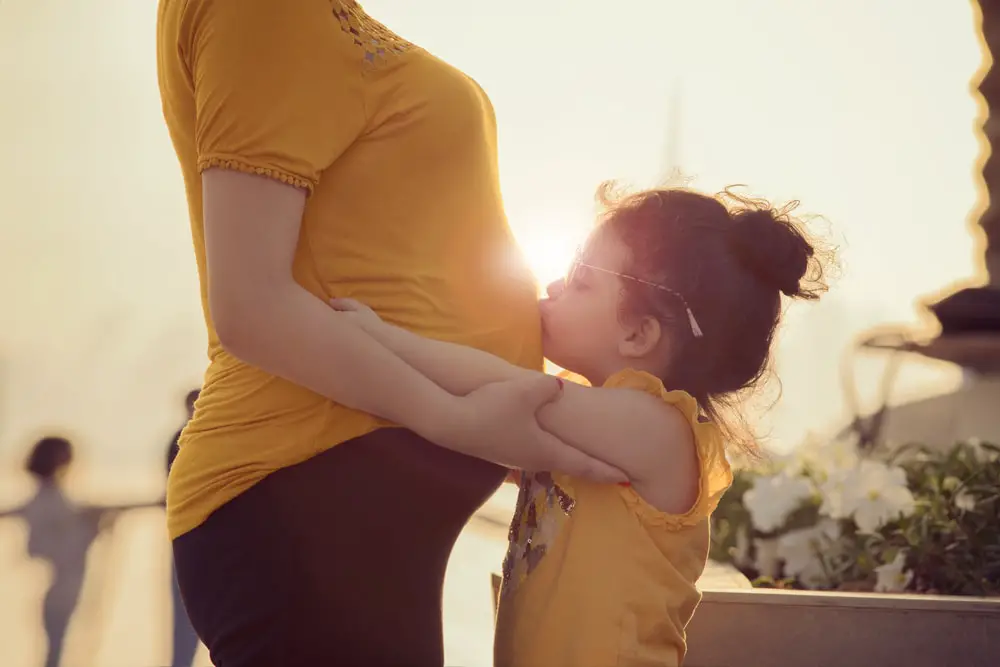 Having a baby can weaken the pelvic floor, regardless of how you deliver. It can also lead to ab separation that is known as diastasis recti.
While most women assume that these aspects of their health will eventually get back to normal, most women will retain ab or pelvic floor problems after the first year of pregnancy if they don't specifically work to address them.
Symptoms can include:
Incontinence
Lower back pain
Poor posture
A bulge or "pooch" in the stomach (regardless of delivery method)
Constipation
Bloating
Pain during intercourse
There are many exercise programs for new moms that target pelvic floor and core health. However, your doctor may refer you for physical therapy to correct more severe problems.
Left unaddressed, these issues can result in long-term back issues, nerve problems, and even hernia.
8. Postpartum Gas
Few people talk about the pain of postpartum gas, but if you've delivered via cesarean especially, the pains could be bad enough to drop you to your knees or make you think you're in labor again.
If you have extreme intestinal pain or gas pains, your doctor will often suggest taking a gas-relief pill, which are available over the counter.
Factors that contribute to postpartum gas pains include:
Delivering via c-section
Pelvic floor problems
Tearing or injury to anal muscles during vaginal birth
Having birthed two or more children
Being constipated
Eating foods/drinks that contribute to gas production (like beans, onions, cruciferous vegetables, or carbonated beverages)
If you're experiencing uncomfortable gas pains and you're already taking an over the counter gas aid, call your doctor to make sure there are not other things to address or ways to find comfort.
9. Postpartum Night Sweats
Another less pleasant fact that is rarely mentioned is that your postpartum hormonal changes could lead you to sweat. A lot. Especially at night.
After delivery, your hormones dramatically change and over the course of a few weeks, there are major shifts in your estrogen levels. This can result in night sweats that leave you completely drenched multiple times a night.
Night sweats are also associated with your body shedding extra fluids and trying to return to pre-pregnancy norms. It typically won't last for more than a few weeks, but if it does, check in with your doctor since it could also be a sign of other hormone imbalances, like thyroid problems.
10. Postpartum Hemorrhoids
Whether you vaginally delivered your baby or had a cesarean, new moms can end up with postpartum hemorrhoids. These swollen veins inside or around the rectum can lead to extreme discomfort. The may bleed, swell, or itch.
There are many over the counter ways to address hemorrhoids such as creams, pads, witch hazel spray, and even yarrow essential oil but if yours feel excessive or don't respond to these types of relief, check with your doctor for more options.
Usually hemorrhoids will resolve on their own, but if you've had more than one child or had hemorrhoids for other reasons, they may take much longer to resolve.
11. First Period After Pregnancy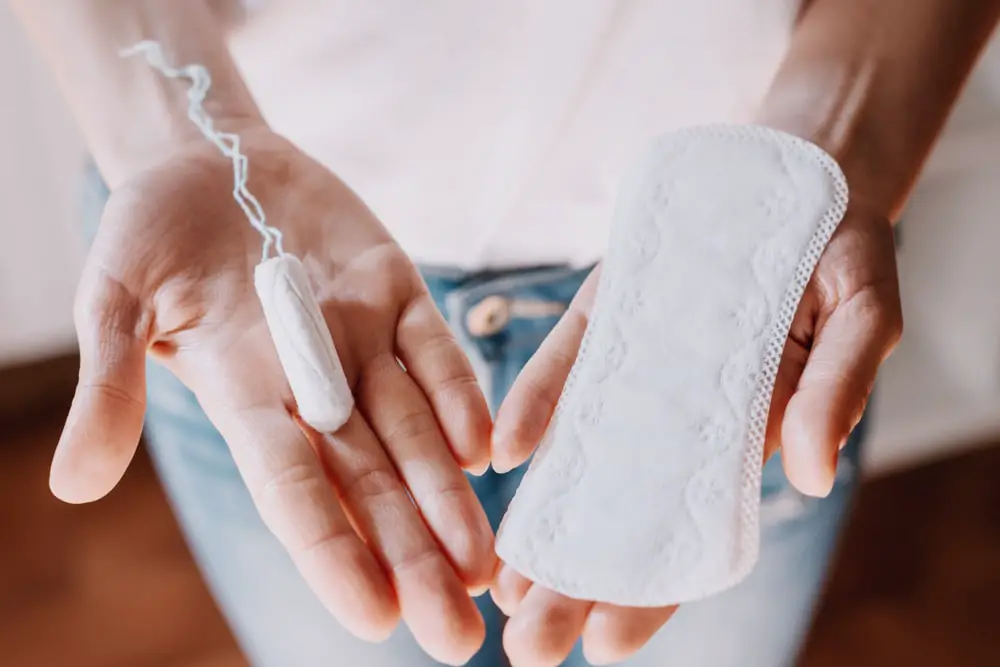 Few women are excited to get their period back after having a baby, but come back it will. When, however, is the bigger question.
If you are breastfeeding, it might not return until you're done, but some women are upset when their period returns a few months after delivery—even when breastfeeding.
If you're not breastfeeding, your period could come back as early as four weeks postpartum or could take several more months.
It's important to know that you are fertile and could get pregnant again two weeks before your first postpartum period. Of course, there's no way to know when this is, so if you don't want to conceive again immediately, use safe prevention methods once you're given the all-clear to resume normal sexual activity.
As for how your first postpartum period will be, it differs wildly between women. Some will experience a lighter than usual period, while others may have a much heavier flow than normal.
Your period could be completely different, too, than it was pre-pregnancy. It could be more or less painful, heavier or lighter, and shorter or longer. If you have period issues that seem out of place or concerning, speaking with your OBGYN is the best way to get direct answers.
12. C-Section Incision Care
If you deliver via cesarean, whether planned or not, you not only have a baby to take care of but you need to prioritize taking care of you.
It's not necessarily normal for new moms to want to shower every day, but if you have an incision, daily showers help to prevent infection. They don't have to be long, but allowing soap or body wash and warm water to run over the incision can keep things free from bacteria and healing quickly (note: do not scrub the incision, just let the soap and water run over your belly).
After the shower, be sure to allow the incision to fully dry before getting dressed. Gently pat dry with a soft cotton towel or use a fan or hairdryer (on a no-heat setting) to ensure it is free from moisture.
If your incision is tucked into folds of skin, as it commonly can be, use a clean, cotton menstrual pad to place next to it to prevent sweat or moisture from developing.
Have your spouse or partner check your incision daily or every few days to make sure it looks good. It might be reddish, but should not be oozing or greenish. After a few weeks, it will appear mostly healed, and if it does not, check in with your healthcare provider immediately.
13. Postpartum Depression
It's natural to feel emotional and to even have wild mood swings following delivery. Baby blues happen in many women, sometimes occurring as soon as within a few days of birth.
Dissecting the difference between baby blues and postpartum depression can be difficult, especially if you're a first-time mom, but if your baby blues continue to worsen or don't go away after a few weeks, you may have PPD.
Staying in touch with your healthcare provider is essential. Don't wait for your six-week check-up if you're feeling increasingly sad, depressed, anxious, or fearful. PPD happens in many women and there is no shame in feeling this way.
In fact, you can't cause it or prevent it, so if it happens, it's simply one more medical issue that needs resolved.
Mental health is physical health, and PPD happens as a result of numerous factors. Getting assistance from your OBGYN is the first step, but other factors might provide some relief, such as:
Seeing a therapist
Joining a support group
Getting acupuncture
If you show signs of PPD, make sure that you tell your partner and reach out for help. You are not a bad mother because you feel this way. You did not cause it, and you cannot fix it on your own.
If you are suffering from PPD and feeling afraid or having thoughts of harming yourself or your baby, call 911 immediately or reach out to the National Crisis Text Line by texting HOME to 741741 from anywhere in the U.S. or call 1-800-273-8255 for the Suicide Prevention Line.