Depression is no joke. Gone are the days when people used the word synonymously with sadness.
Depression is a mental disorder that is affecting more than 300 million people around the world. It's a mood disorder that negatively affects how you feel, think, and act.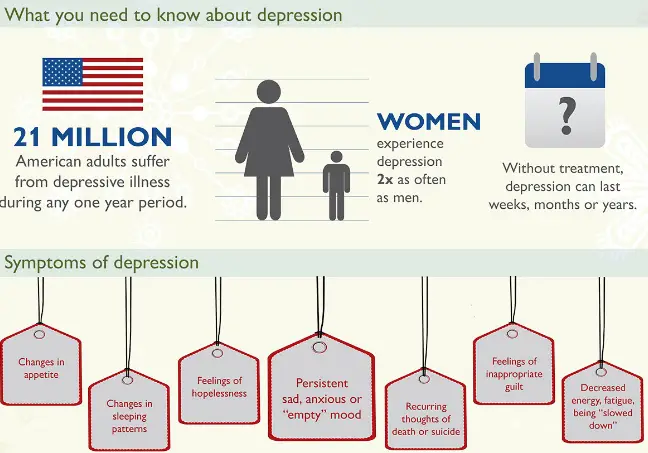 While you might think that it's completely mental, depression causes hormonal changes that will manifest itself in your body.
Fortunately, symptoms of depression can be treated.
The most common way is through prescription medicines, but the truth is that most of us don't want to put harmful chemicals into our bodies. And for good reason!
So how can you treat depression organically? Try essential oils.
Using essential oils for depression is a 100% natural and effective way you can treat depressive symptoms.
In this post, we'll discuss some of the symptoms you or a loved ones might be feeling and attack them with a research-driven approach. Let's get started.
Why Use Essential Oil For Depression?
Let's address the elephant in the room:
Can essential oils cure depression?
I'm not here to make false promises. Every person is different and depression is more than feelings of "sadness."
Essential oils aren't meant to cure depression or anxiety. So let's not make that your expectation.
However, essential oils can indeed help relieve some symptoms of depression by boosting your energy, relaxing your mind/body, and ultimately enhancing the quality of your life.
Bold claims, right?
Let me explain.
First, your sense of smell is linked closer to your emotions than you might think. A study shows that the olfactory bulb (OB), the parts of the brain that is responsible for your sense of smell, was 15% smaller in depressed people than those who did not face depression.
Here are the results of an MRI.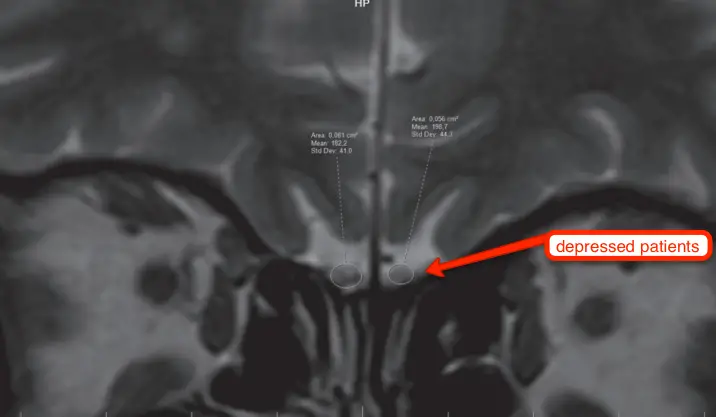 When used in aromatherapy, the strong scent of essential oils can be used to stimulate OB volumes and attack the problem at the root.
While there are certainly other medications that can be treated through inhalation, essential oils are a completely natural and chemical free way to start treating depressive symptoms.
Symptoms of Depression
The symptoms of depression are vast. And often times, it leads to overdiagnosis. Here is a list of symptoms that are commonly found in people with major depressive disorder:
Feelings of sadness
Frequent mood changes
Loss of interest or pleasure in activities you once enjoyed.
Changes in appetite (weight loss or gain unrelated to dieting)
Trouble sleeping or sleeping too much.
Loss of energy
Chronic fatigue
Feelings of worthlessness and guilt
Difficulty concentrating
Thoughts of death and suicide
Having these feelings with consistency for at least two weeks may mean that you have depression. But these are not meant to scare you or to encourage hypochondriacism.
It's important to understand the various symptoms so we can use essential oils effectively to treat the feelings you might be having.
Aren't Essential Oils Just Placebo?
For someone who has never used essential oils for their health, you might be thinking that they have a placebo effect. However, there is enough research to show that that's far from the truth.
Essential oils have been shown to be effective as a complementary therapy for depression and anxiety. While it's not intended to be a cure, some oils can relieve symptoms.
For example, some essential oils like Lavendula angustifolia, Citrus aurantium, Citrus sinensis and bergamot oil can help relieve anxiety, stimulate relaxation, and address common symptoms associated with depression and stress.
There's enough research to show that essential oils can help with both acute and chronic depression. But which ones should you use?
Keep reading.
Top Essential Oils For Depression
Based on my research, there are several essential oils that are effective in treating one or several symptoms of depression. Let's start from the top.
Citrus Oils

Citrus oils are among the most popular essential oils. They are versatile with various benefits and have a great aroma.
There are many types of essential oils that belong to the citrus family:
Most citrus oils have some common benefits. And it just so happens that these benefits can help treat depressive symptoms.
Let's take a deeper look.
Citrus oils act as energy boosters.
Citrus oils are well-known to provide uplifting energy throughout the day. They can also promote joyous and positive feelings.
Citrus oils are calming sedatives.
This might seem contradictory to the previous benefit, but citrus oils also promote peaceful feelings, effectively reducing stress and anxiety. So, while your energy is boosted, citrus oils can help enhance your mood and balance your emotions.
Also, you might want the muscle relaxing benefit of the citrus oils. Sleep deprivation is a common issue that depression can cause. And with less sleep can come joint and muscular pain.
There are also other benefits shared among citrus oils, such as promoting skin health, improving the circulatory and digestive system, anti-infections qualities, and being a powerful insect repellent.
Even though those benefits aren't directly related to depression, it demonstrates the powerful effects citrus oils can have.
While citrus oils share similar properties, some are simply better at relieving certain conditions than others. Here is a list I put together for you.
Lavender Essential Oil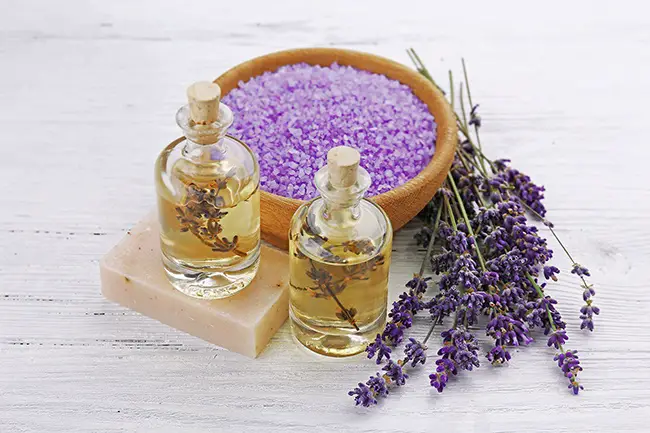 The use of lavender to help improve sleep quality and relieving stress has been popular since the middle ages. However, the health benefits of lavender oil aren't just an old wives' tale.
Many clinical studies suggest that it is indeed effective in relieving symptoms of depression and reducing stress.
Lavender oil primarily works by enhancing moods, decreasing sleep disturbances and moodiness. And since sleep deprivation is a common and painfully annoying symptom of depression, lavender oil can help with that issue.
Postpartum Depression Studies
Another study shows that inhalation of lavender oil during the postpartum period was effective in treating stress, depression, and anxiety – the 3 most common problems among women post pregnancy.
In this study, 140 women were divided into aromatherapy and non-aromatherapy groups immediately after delivery.
The aromatherapy group was treated with by inhaling just 3 drops of lavender oil every 8 hours for 4 weeks, while the control group received routine care after discharge.
Each woman was assessed 3 times (2 weeks, 1 month, 3 months) throughout the study by two popular stress, anxiety, and depression tests and the results were unanimous.
The study group's scores were significantly lower compared to the control group.
Chamomile Oil
Chamomile essential oil (Matricaria recutita) is also one of the best essential oils to treat depression. You may have seen it around in your everyday household products like in candles and tea.
But the main benefit of chamomile is its soothing qualities. It promotes good sleep, soothes muscle aches, and has even been hypothesized to increase your lifespan.
Researchers conducted a study on 57 subjects to study its antidepressant activity in anxiety depressed people. Using the Hamilton Depression Rating (HAM-D), the results showed a significant reduction in mean total HAM-D scores among subjects treated with chamomile.
How To Use Essential Oils For Depression
Now that you've learned the best essential oils to help with depression, you might be wondering…
How do I use them? Which oils should I use? Can I blend oils?
Let's take a deeper look.
Aromatherapy/Inhalation
If you're new to essential oils, you don't need to see an aromatherapist to start using these oils.
The easiest and most common way is to use a good quality diffuser
. Alternatively, you can use a humidifier or even a water vapor machine to dilute your essential oil.
Others have had success by inhaling the essential oil directly from the bottle or adding a drop to a cotton pad
Here are a few blends you can try using your diffuser:
Bergamot and Clary Sage Blend
I mentioned that bergamot is an awesome oil to use for depression. Clary sage adds some additional benefits by boosting your self-esteem, confidence, and overall mental strength.
Here's a simple blend you can add to your trusty diffuser:
12 drops of bergamot oil
6 drops of clary sage
Lemon, Neroli, and Frankincense Blend
By now, you know that citrus oils come with a handful of benefits to treat symptoms of depression and anxiety. Frankincense oil can also help promote a feeling of peace, relaxation, and satisfaction.
A great blend to boost your energy while balancing your moods would look like this:
8 drops of frankincense
4 drops of lemon
8 drops of neroli
Lavender, Grapefruit, and Ylang Ylang Blend
Grapefruit is a popular citrus oil and lavender is a staple in most households. Ylang-ylang essential oil is also one that helps combat anxiety, sadness, and chronic stress. So why not blend them all together?
This is a nice blend you can use to sleep better or while you are relaxing in the living room after a long day.
4 drops of lavender
4 drops of ylang-ylang
12 drops of grapefruit
Topical and Massage
Most, but not all essential oils are safe to use topically. It is important to dilute the essential oils properly that have potent chemistry such as cinnamon and oregano. Others can be used "neat" because of the mild chemistry like Frankincense, Lavender, and Melaleuca.
Oils like Bergamot and Eucalyptus should also be diluted, particularly on those with sensitive skin or on children.
Here is a full article on diluting essential oils properly.
Essential oils are commonly applied topically to treat skin problems like stretch marks. But they can also be used to treat stress and anxiety in massage oils. Here are a few DIY massage oils you can try at home.
Stress Reliever Citrus Massage Oil
This is a simple massage oil you can use to relieve stress and smell wonderful while you're at it.
8 drops of grapefruit oil
8 drops of bergamot oil
Carrier oil of choice (coconut, almond, jojoba, etc. )
Mix these essential oils in a dropper bottle, and fill the rest of the bottle with your carrier oil. Shake it gently to and mix well.
Hand Massage Oil
A nice blend of citrus oils mixed with a hint of sandalwood oil. Not only this blend is relaxing, it will help nourish your skin.
1 drop of sandalwood oil
2 drops of frankincense oil
2 drops of bergamot oil
2 drops of sweet orange oil
3 drops of neroli oil
Conclusion
Depression is a serious issue. affecting so many people.It affects tens of millions of people all around the world and is the most common mental issue in the US (source)
Essential oils, while not a primary cure for depression, can relieve some of the symptoms related to it. Thus, you can lead a better life while combating your depression or stress.
Our sense of smell is strongly linked to our emotion. So, using essential oils as aromatherapy is a natural, non-addictive, yet potent solution to relieve the emotional imbalance of depression, as well as relieving other symptoms.
Which essential oil recipes have also worked to help with your depression, stress, or anxiety? Let me know in the comment section below.