What is German Chamomile?
German chamomile looks much like its cousin, Roman chamomile. Both plants have white flowers with golden middles that look like daisies, although those of the Roman variety grow larger than their German counterparts.
Other differences between the two are that the stems on German chamomile are not hairy, where those on Roman chamomile are. Their flowers, while similar, grow a bit differently as well. The Roman variety is perennial, while German is annual.
Other chamomiles include cape (Eriocephalus punctulatus) and Moroccan (Ormenis multicaulis).
In some herbal books like "Herbal Simples Approved for Modern Uses of Cure" by William Thomas Fernie, German chamomile was referred to as bitter chamomile and is considered the weaker of the two plants.
German chamomile is often referred to as wild chamomile or Hungarian chamomile. You may see Chamomilla recutita being used as its botanical name. Its oil can be distinguished from other chamomiles by its deep blue color, which earns it the moniker blue chamomile oil.
The oil is produced through steam distillation of the flowering tops. They are dried before the distillation process begins. This is when the chamazulene is produced, lending the oil its signature blue color.
The name, azulene, was suggested by Piesse in the 1800's in reference to its blue hue, as 'azul' is the Spanish word for the color. Even though its named for this, derivatives can be shades of green, violet, and red as well.
Chamazulene is what makes German chamomile oil so good for your skin. This natural anti-inflammatory, also found in wormwood (Artemisia absinthium) and yarrow (Achillea millefolium), is often used in cosmetic applications and herbal remedies. [1]
German chamomile essential oil blends well with other chamomiles, as well as other chamazulene-containing oils like yarrow, floral oils like lavender (Lavandula angustifolia), and citrus oils like bergamot (Citrus bergamia) and lemon (Citrus limon).
German Chamomile Essential Oil Uses
Learning how to use German chamomile is easy, and it is good for many things, especially for face or skin issues or those of the nervous system.
Many times, you can use the oil as a substitute for Roman chamomile essential oil. However, you should keep in mind that for many applications, you will want to use less due to the azulene content.
On Skin
Using blue chamomile oil for skin issues has long been popular in herbal circles. Since it is an analgesic with antiseptic qualities, it is especially helpful for acne.
We all know that acne can creep up when we least expect it, and often when we least want it to. Oftentimes people will go overboard in their treatments of acne, stripping the skin of its natural oils thinking that will help clear things up.
Unfortunately, this way of going about things usually backfires, as the skin winds up producing more sebum to make up for what it now lacks from overwashing or excess chemicals. This leads to oily skin and more acne.
A lot of times all that is needed for small breakouts is a spot treatment. Here is an excellent one to try the next time a whitehead rears its ugly head.
Acne Spot Treatment:
Add all of the drops together in a small, dark, air-tight bottle. When you need it, blend 12 drops with 6 drops of Jojoba (Simmondsia chinensis) oil and dab it on with a cotton swab.
Alternatively, you can mix 10 drops into half a teaspoon of manuka honey and dab this on the spots. As you need to leave this on until it dries, you might want only to use this at night. It is sticky!
Baby Wipes
It is often advised not to use essential oils for young children and especially for babies. However, some essential oils are gentle enough to use in moderation. German chamomile is one of them, along with:
Lavender (Lavandula angustifolia)
Mandarin (Citrus reticulata)
Roman chamomile (Anthemis nobilis)
You want to use them in very low dilutions, but they can be used around and on young infants over two weeks old. Be sure to do your research on this, however. A good resource for this is Valerie Worwood's "The Complete Book of Essential Oils and Aromatherapy."
A common use for oils at this age is for something that babies go through a lot of, which is wipes. Commercial diaper wipes can get quite expensive, and many parents want to stay away from as many chemicals as they can for their little ones.
This is understandable. If you fall into this category, you will be happy to know you can make your own diaper wipes at home.
Homemade Diaper Wipes:
2 ¼ cups water (Distilled is perfect for this)
1 tablespoon Liquid Castile Soap
2 teaspoons Apricot Kernel Oil (Prunus armeniaca)
10 drops German Chamomile
Start by adding the essential oil to the apricot kernel oil. Mix well, then blend this into the liquid castile soap. Finally, combine this with your water.
Once you have your solution made, there are a number of ways you can use it.
One way is to add it to an old wipe container with approximately half a roll of paper towels, taken off of the roll and folded for convenience. Once the bottom towels have soaked up the mix, flip them over for even distribution of the liquid before using.
Alternatively, you can use wash cloths. Just dab a clean one in your solution. Make sure it's just damn, not soaking wet, prior to wiping the child.
Both German chamomile and lavender (Lavandula angustifolia) are helpful in calming diaper rash. Therefore, you can substitute lavender in the above recipe and feel good knowing you are helping your child not develop it either way.
Sitz Baths
If you have an infection or inflammation of the genitals, taking a sitz bath can be highly beneficial in calming pain and itching and speeding up the healing process.
To use essential oils in a sitz bath, you will want to mix the drops into a teaspoon of liquid glycerin prior to swirling them in the bath so that you do not end up with large globules of oil against your skin.
German chamomile is an effective choice for vaginitis, swollen testicles, and other genital problems. Add four-five drops of the oil to the liquid glycerin, then to the bath. Make sure you submerge the affected part completely in the water.
German Chamomile Essential Oil Benefits
Anesthetic, Antiseptic, Anti-inflammatory
Chamazulene is a derivative of the sesquiterpene azulene, which acts as a liquid anesthetic on the skin. Studies have been performed comparing the topical anesthetic effects to lidocaine. [2]
As such, it is advantageous to keep this oil in your first aid kit at home or on the road. Combining this oil with others that have the same benefits can make a powerful nerve pain oil. If you are suffering from neuralgia, this can seem like a life-saver.
5 drops German Chamomile (Matricaria recutita)
5 drops Lavender (Lavandula angustifolia)
4 drops Marjoram (Origanum majorana)
3 drops Helichrysum/Immortelle (Helichrysum italicum)
Combine these oils in a dark air-tight bottle or use immediately by adding them to an ounce of St. John's Wort (Hypericum perforatum) or arnica macerated (Arnica montana) oil blended with calendula (Calendula officinalis) at a ratio of 1/4.
In other words, use 20 percent arnica and 80 percent calendula. If using the St. John's Wort, only use for short-term treatments and avoid the sun as it is photosensitizing. Be sure to use macerated oil, not carbon dioxide-extracted oil.
Calms Nerves
Both German and Roman chamomile are sedatives. Stress is a huge part of our lives today, and it is much more than just a nuisance. Chronic stress can cause fatigue, high blood pressure, and heart attacks, among many other maladies.
Anyone that has been around essential oils for any length of time knows how effective they can be in calming emotions.
Adding either chamomile to diffuser blends, massage oils, or baths can help ease the nerves after a stressful day while promoting restful sleep. Other sedating oils include:
Clary sage (Salvia sclarea)
Geranium (Pelargonium graveolens)
Lavender (Lavandula angustifolia)
Lemon (Citrus limon)
Nutmeg (Myristica fragrans)
Petitgrain (Citrus aurantium)
Rose (Rosa damascena)
Sweet marjoram (Origanum majorana)
Vetiver (Vetiveria zizanioides)
Helps With Wrinkles
While no essential oil can reverse wrinkles completely once they are set in, there are some that are better at giving them a smoother look or that help stop them from becoming deeper set or worse.
There are many oils that can help stop the process. Using the proper carrier oil will go a long way in helping as well. Two of the best choices are evening primrose (Oenothera biennis) or rosehip seed (Rosa rubiginosa), as they have a synergistic effect with the essential oil.

Use This Infographic On Your Blog
German Chamomile Essential Oil Research, Facts, and Studies
There are over 100 studies on PubMed about German essential oil. However, when you add azulene, which is one of the active constituents in the oil, there are over 500. [3]
Here are some of the benefits of this beautiful blue oil.
Anti-Inflammatory
Researchers found that German chamomile oil significantly lowered serum IgG1 and IgE levels when looking at compiled data on PubMed. This means that the essential oil has potent positive effects as an anti-inflammatory agent on the skin.
Other oils studied in this research included:
Coconut oil (Cocos nucifera)
Olive oil (Olea europaea)
Rosehip oil (Rosa rubiginosa)
Jojoba oil (Simmondsia chinensis)
Argan oil (Argania spinosa)
There were numerous other oils as well. Many of them are highly effective for a wide variety of skin-healing situations. [4]
Herpes Simplex Virus-1
Researches in Germany tested multiple natural substances to establish efficacy, or lack thereof, in treating genital herpes. The following substances were tested against the virus in test tubes:
Anise oil (Pimpinella anisum)
Dwarf Pine oil (Pinus mugo var. pumilio)
German chamomile (Matricaria recutita)
Lemon oil (Citrus limon)
Manuka oil (Leptospermum scoparium)
They found that all of the oils were highly effective, even against those strains that are resistant to the normal acyclovir treatment. Out of everything tested, chamomile had the strongest antiviral properties against the virus.
While they did not test the oils on cold sores, they believe that these results were promising and the oils could be effective topical solutions to recurring infections. [5]
Conclusion
Much like Roman chamomile, German chamomile can be useful for a wide variety of issues. It is especially useful for those of the skin and nervous conditions. The oil is one of the few that are gentle enough to use on and around babies.
Chamomiles are related to ragweed, so anyone with these allergies should use caution with oils distilled from this family of plants. If a parent is allergic, be sure to check if the child is allergic prior to use.
As with any volatile oil, organic is best. At the very least, make sure you are using pure, unadulterated oils from a reputable supplier.
Safety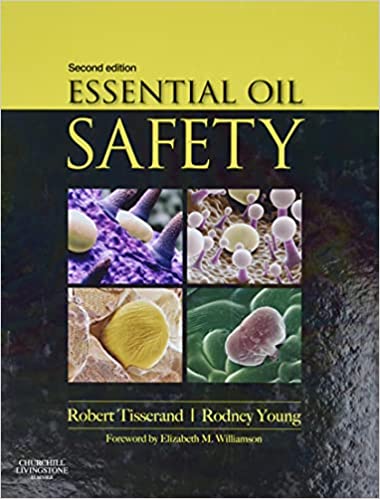 Correct selection and use of essential oils is crucial to ensure that you enjoy the best benefits of oils, without any of the downsides. Remember, some essential oils can be very potent and powerful. We therefore highly recommend this book to all of our readers: Essential Oil Safety: A Guide for Health Care Professionals 2nd Edition