What is Spearmint?
The spearmint plant has fragrant green leaves with spikes of small white, pink, or purple flowers. It is native to the Mediterranean and Europe, but is now grown extensively throughout the world.
Spearmint is fast growing due to underground shoots that spike off both above and underground, causing new growth. It can quickly take over wherever it is planted and is something to be aware of. However, it is an excellent plant with many home uses.
The scent of the leaves gets stronger when they are bruised, and the volatile oils are released. You can spice up a glass of tea or lemonade by rubbing a couple leaves between your fingers and stirring them into the drink.
The plant is cultivated widely in the United States for oil. The colorless to pale olive or yellow fragrant liquid is used in the food and beverage industry as well as in personal care and hygiene products.
Spearmint blends well with spice oils like black pepper (Piper nigrum) or cardamom (Elettaria cardamomum), citrus oils like lemon (Citrus limon), and floral oils like tuberose (Polianthes tuberosa). Eucalyptus spearmint oil blends work well during the cold season.
Peppermint vs. spearmint
Both of these mints hail from the Lamiaceae family, along with pennyroyal (Mentha pulegium) and catnip (Nepeta cataria) and many others. Both have been used medicinally for hundreds of years.
Peppermint is much stronger than spearmint, in scent, taste, and application. This is due to the high levels of menthol and menthone present. Spearmint has minimal amounts and is instead high in carvone, which gives it its signature scent. [1]
This makes spearmint much more gentle to use than peppermint. It is safe for children over the age of three, where peppermint is not. It is also a better choice for pregnant women or the elderly.
You can use spearmint instead of peppermint in recipes that call for it.
Spearmint Essential Oil Uses
One of the most popular uses for spearmint is to scent body care products. The oil provides an invigorating and fresh scent to homemade soaps and deodorants to shampoos, lotions, and oils. However, there are so many more ways to use this versatile substance.
Cooking
Spearmint essential oil is used extensively in the flavoring industry. It is used to give a fresh, minty flavor to just about every edible you can think of, and not just gum and candy.
Essential oils can be used as a flavoring at home if done carefully and correctly. It should not be a one on one substitution for extracts, which while condensed, are not as much so as volatile oils. For most recipes, one drop is plenty to impart a pleasant aroma and taste.
You can use spearmint in desserts, meat dishes, and party punches, to name a few. Try a drop in your favorite chocolate pudding recipe next time for an exciting twist!
For Dog Breath
We love our companion animals, but their breath can sometimes knock us over from being so odiferous. Using regular toothpaste for a dog isn't feasible unless you have somehow managed to teach your puppy to spit on command.
Essential oils can come to the rescue in these instances when the breath gets to be too much. Spearmint, being a gentle oil, is one of the best ones to use. Cardamom (Elettaria cardamomum) is another good choice.
Mix one drop of oil into half a teaspoon of either sweet almond (Prunus amygdalus var. dulcis) oil or coconut (Cocos nucifera) oil. Then mix this into two tablespoons of baking soda to make toothpaste. Wet a cotton cloth, dip it in the mix, and gently rub the pup's teeth with it.
Foot Rubs or Baths
Our feet take a lot of punishment throughout the day, but plant oils can help with that as well. Choosing refreshing and stimulating oils for foot baths and rubs can help ease soreness and revive tired toes.
The two popular mint oils, peppermint (Mentha piperita) and spearmint (Mentha spicata), are perfect choices when your feet need some rejuvenation. Here are a few ways to use them:
Add an equal part of either oil to a carrier oil for adding to a foot soak.
Mix five drops of one of these to a teaspoon of carrier oil and rub in.
Add seven drop of either or a mix of the two to a tablespoon of carrier oil. Mix this in with two tablespoons of Epsom salts. Rub this mix all over your feet before soaking or before a bath for an fantastic experience.
Be careful with any of these methods. Your feet will be very slippery during and after.
Children's Ailments
When it comes to recipes for children, extra caution is necessary. Many oils are too strong for their delicate senses and skin.
Luckily, there are a few that are gentle enough for young children, and spearmint is one of them. As long as the child is over three, you may use it. It makes an excellent substitute for peppermint in many blends.
Some other oils that are safe for children over three are:
Frankincense (Boswellia carterii)
German chamomile (Matricaria recutita)
Lavender (Lavandula angustifolia)
Mandarin (Citrus reticulata)
Roman chamomile (Anthemis nobilis)
Sweet orange (Citrus sinensis)
Thyme linalol (Thymus vulgaris ct. linalool)
Remember that you must use an age-appropriate dilution as well. For children 3-5 years, 4-6 drops in two tablespoons of carrier oil is appropriate. Sweet almond (Prunus amygdalus var. dulcis) is a suitable carrier, as long as the child is not allergic to nuts.
Spearmint Essential Oil Benefits
There are numerous benefits of spearmint oil. Throughout the years, it has been a popular remedy for many ailments, especially those of the digestive tract like nausea and flatulence.
Here are some of the best ways to take advantage of the oil's properties at home.
Astringent
Many people have complaints about their skin and hair. One of the biggest ones is oiliness. The good thing about spearmint is that it can help control oil, but is gentle enough to use for combination skin that has both normal and dry patches.
You can use the oil in homemade astringents made with apple cider vinegar, witch hazel and hydrolats. It is an excellent addition to facial oils as well and provides a cooling effect on the skin.
For hair, use it in shampoo or conditioners to help control oil and provide more shine. You can also add it to conditioning oil treatments or to scent your own dry shampoos to use between washings.
Eases Digestive Upset
The digestive system is one of the areas where mints really shine. They have been used to ease the various upsets that occur for many years, and you will find them listed in many old herbal books for treating these afflictions.
For instance, instead of giving children peppermint tea, which is quite strong, you can give them sweeter spearmint tea, which they often find more palatable.
To use the oil for symptoms like nausea, flatulence, or indigestion, try the following blend:
1 tablespoon Coconut (Cocos nucifera) oil
4 drops Ginger (Zingiber officinale)
4 drops Spearmint (Mentha spicata)
2 drops Black Pepper (Piper nigrum)
Rub these gently over the tummy in a clockwise motion.
One of the great things about spearmint is that it can also be used during pregnancy, whereas peppermint oil is not recommended. This is especially helpful for bouts of morning sickness. Diffuse the oil to help combat the nausea that often occurs.
Other aromatherapy oils you can diffuse for upset stomach, even during pregnancy, are:
Bergamot (Citrus bergamia)
Cardamom (Elettaria cardamomum)
Coriander seed (Coriandrum sativum)
Ginger (Zingiber officinale)
Grapefruit (Citrus paradisi)
Lavender (Lavandula angustifolia)
Lemon (Citrus limon)
Petitgrain (Citrus aurantium)
Sweet orange (Citrus sinensis)
Repels Insects and Rodents
Many essential oils can help us keep rodents and insects at bay. Spearmint is especially good at keeping flies and mosquitoes away.
Pelvic Pain
There are many causes of pelvic pain in women, such as polycystic ovary syndrome (PCOS) or pelvic venous congestion syndrome (PVCS). Spearmint oil can be helpful for PCOS or any other types of pelvic pain, even if unexplained.
The following blend should be rubbed over the abdomen, lower back, and thigh area twice per day until symptoms subside.
5 drops German Chamomile (Matricaria recutita)
5 drops Frankincense (Boswellia carterii)
3 drops Ginger (Zingiber officinale)
3 drops Spearmint (Mentha spicata)
2 drops Black pepper (Piper nigrum)
2 drop Sweet Marjoram (Origanum majorana)
Blend all ingredients together in a small dark bottle. To use, add five drops to a teaspoon of oil.
Use This Infographic On Your Blog
Spearmint Essential Oil Research, Facts, and Studies
Analgesic for Osteoarthritis Patients
Osteoarthritis is one of the main causes of musculoskeletal pain in people over the age of 45. In a study in 2017, researchers set out to determine the efficacy of the volatile oil of Mentha spicata in easing this pain.
They accomplished this by going over the research on this particular, lesser-known effect of this oil on Science Direct, PubMed, Wiley, and more.
The oil was found to be beneficial in many studies on animals as well as on osteoarthritis patients. However, more formal clinical research needs to be completed. [2]
Chemotherapy-induced Nausea and Vomiting (CINV)
Nausea is an unfortunate side effect of many medical afflictions and procedures, including operations and chemotherapy treatments.
In a random, double-blind clinical trial in 2013, researchers separated people into four groups. They were then given either peppermint, spearmint, a placebo, or continued with their regular regimen.
They found that the groups receiving the oils enjoyed a significant reduction in instances of nausea and vomiting. Not only that, the cost of the oil treatment was lower, and there were no adverse effects. [3]
Conclusion
Spearmint is good for many things, and it is easy to learn how to use both the fragrant herb and its oil.
Use the gentler spearmint oil to replace peppermint in recipes for children, the sick, or the elderly when it would be too strong in its original form. It is also a great replacement for the stronger peppermint for pregnancy issues.
Utilize organic spearmint essential oil to soothe upset tummies, add flavor to recipes, repel insects, and much more. While organic is best, be sure to at least source out a reputable supplier that can show what the chemistry of their oil is upon request.
Safety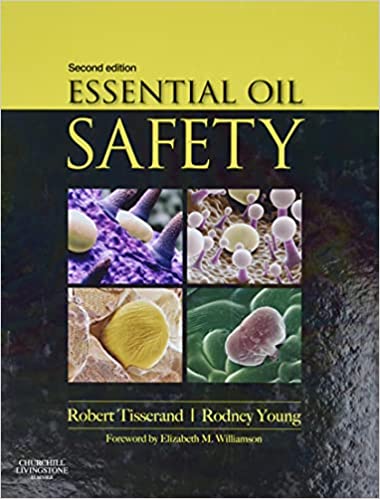 Correct selection and use of essential oils is crucial to ensure that you enjoy the best benefits of oils, without any of the downsides. Remember, some essential oils can be very potent and powerful. We therefore highly recommend this book to all of our readers: Essential Oil Safety: A Guide for Health Care Professionals 2nd Edition