Nausea can occur for a wide variety of reasons, such as pregnancy, as a side effect of medication or surgery, food poisoning, stomach bugs, or a myriad of other maladies.
Most people don't have the time to be slowed down by these waves of stomach turns, extra salivation, or stomach cramps, which are a tell-tale sign you better find a bathroom soon.
And if you're pregnant, it's extra frustrating because of all of the restrictions on medications you would normally take to combat the constant stomach flip-flops.
Thankfully, upset stomach, nausea, and vomiting can be calmed by the use of certain essential oils. We're not only going to give you one anti-nausea oil, but numerous ones to choose from, depending on your situation.
Which essential oils are good for nausea?
Many people ask not only this question but more pointed ones such as "does peppermint help nausea?" The herb peppermint and peppermint oil both help with stomach troubles, but that isn't necessarily the best essential oil for you.
Whether you are pregnant, nauseous for another reason, or perfectly fine, scents work in different ways on people.
This is true whether it is aromatherapy or not. What would evoke fond memories of childhood in one person may actually cause an upset stomach in another.
Luckily, since there are multiple essential oils for nausea, you can tailor your choice of oils to fit your particular scent preference.
Based on our research, these are the top 11 essential oils to ease nausea.
1. Bergamot (Citrus bergamia)
When we are feeling sick, many of us turn to tea to make us feel better. The bergamot is the main ingredient of one of the most popular teas in the world, Earl Grey.
The oil, which is cold expressed then distilled from the fruit, can also help when stomachs turn. Bergamot oil has a fresh and fruity aroma that betrays its citrus origins, with a flowery spice undertone.
It is a carminative, which eases abdominal pain, bloating, and flatulence. It is also a stomachic, so is a gastric and digestive tonic.
2. Black Pepper (Piper nigrum)
All of us know black pepper as a spice. Aromatherapists and some home enthusiasts know it as a beneficial oil. It smells like the spice, warm, strong, and peppery. The oil itself comes from the steam distillation of the pepper berry.
The oil is known to be great for digestive problems and stomach cramps. It has been used in Ayurvedic medicine for thousands of years, including as a digestive aid.
3. Cardamom (Elettaria cardamomum)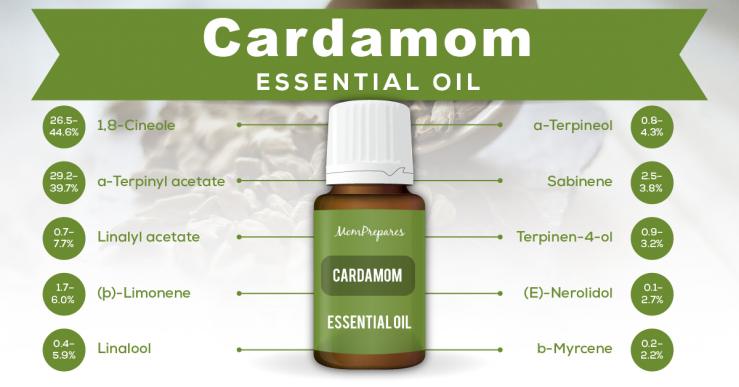 Cardamom originated in Asia, and as a spice was used both medicinally and culinarily for two thousand years prior to being distilled in the sixteenth century.
Today it's not only used in cooking, but as traditional medicine in China, India, and the Middle East. As an antispasmodic, carminative, and stomachic, it is useful for a multitude of things, such as:
Constipation
Dyspepsia
Flatulence
Indigestion
Intestinal cramps
Irritable bowel syndrome (IBS)
Nausea and vomiting
4. Coriander Seed (Coriandrum sativum)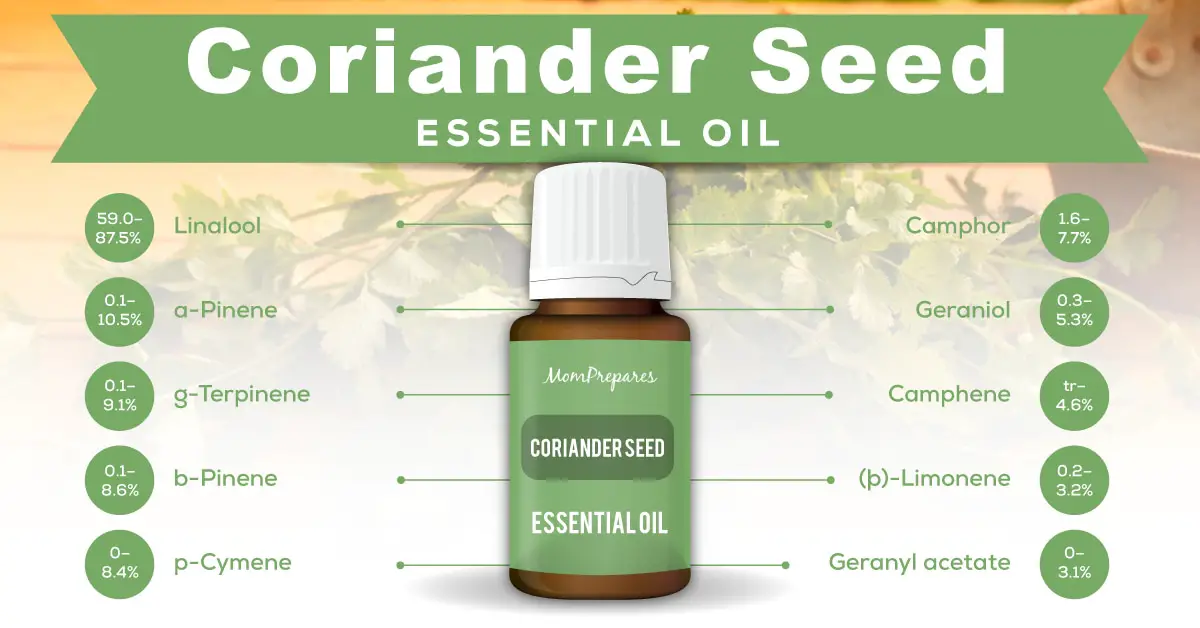 Coriander seeds have been known since ancient times, having been recommended by Pliny. Seed remains were even found in Tutankhamun's tomb.
Coriander oil is created through steam distillation of ripe seeds after they are crushed. Its therapeutic properties include being antispasmodic, carminative, and stomachic.
According to Valerie Worwood in The Complete Book of Essential Oils and Aromatherapy (Amazon), it can be used therapeutically for abdominal discomfort, abdominal spasms, bloating, digestive problems, dyspepsia, flatulence, and irritable bowel syndrome.
5. Frankincense (Boswellia carterii)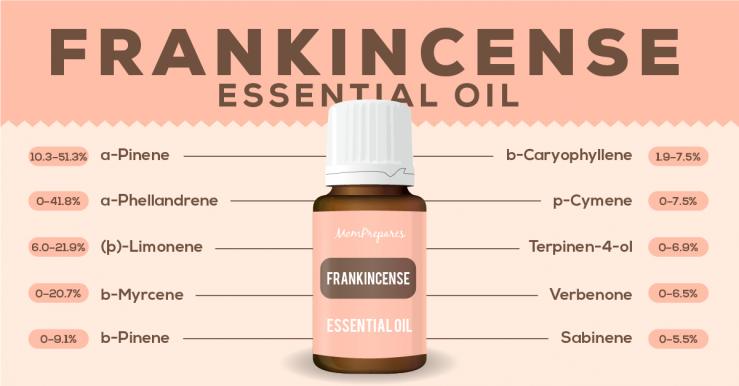 Whoever knew that a demure woody tree that hails from Africa and the surrounding regions could provide so much to the world? Religiously, frankincense has been used for centuries and was one of the gifts to the baby Jesus by the three wise men.
Beside religious significance, frankincense has medicinal uses as well.
The oil, which is steam distilled from the oleoresin, possesses therapeutic qualities which include being carminative. Since sickness can often stress people out, its nervine, restorative, and tonic qualities can also help.
That being said, the leading research on frankincense for stomach issues is focused on boswellic acid. The molecules of this substance are too large to transfer to the oil through the steam distillation process.
Therefore, the actual resin that is extruded from the plant would be more effective in treating stomach-related issues. These include abdominal pain, Crohn's disease, diarrhea, nausea, and vomiting.
However, in the wrong doses, it can actually cause some of these same symptoms instead of treating them, so care must be taken when using the substance. Always check with your physician or naturopathic doctor before trying anything new.
6. Ginger (Zingiber officinale)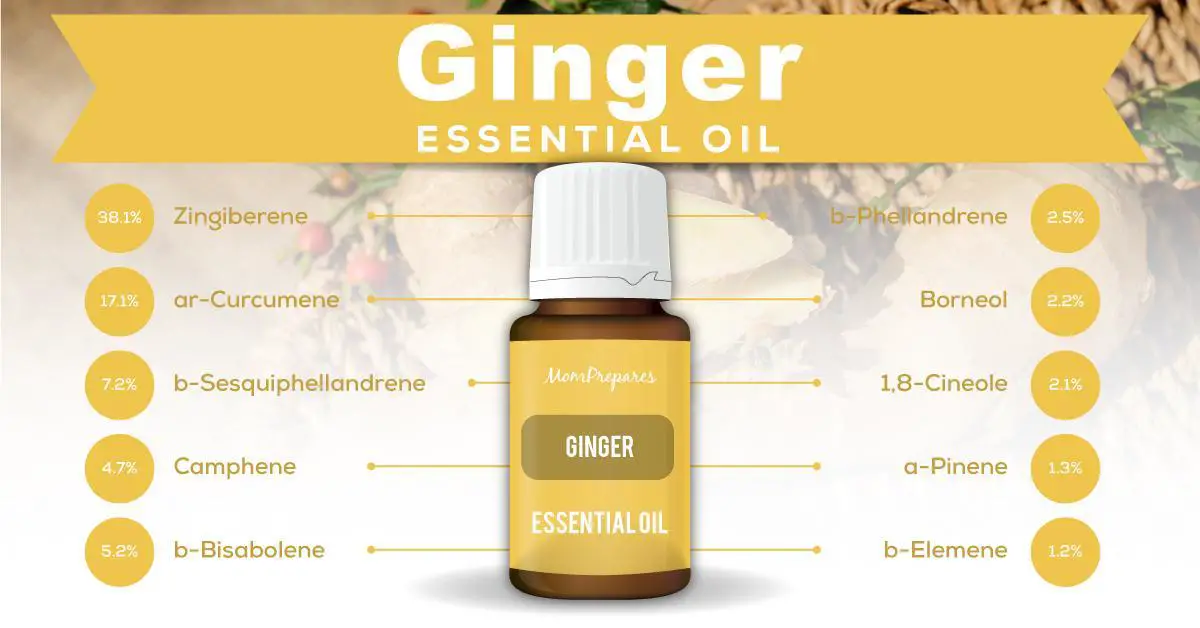 When you think of ginger, you likely think of its use in pumpkin and other pies during the holiday season. Others look at ginger as a common go-to for nausea. Think ginger ale and ginger snaps.
There is a reason for that.
Ginger, native to China before being spread worldwide, has always been regarded as a powerful medicinal plant. Ginger oil has the warm and earthy scent of the root and is carminative as well as a stomachic.
The active chemicals in ginger are used in the pharmaceutical industry for antacids, anti-gas medications, and laxatives.
Ginger is believed to work on all manners of stomach issues:
Constipation
Digestive problems
Diverticulosis
Flatulence
Gastrointestinal spasm
Influenza
Irritable bowel syndrome
Morning sickness
Nausea
Nausea after cancer/HIV/AIDS treatments
Travel sickness (land and sea)
7. Grapefruit (Citrus paradisi)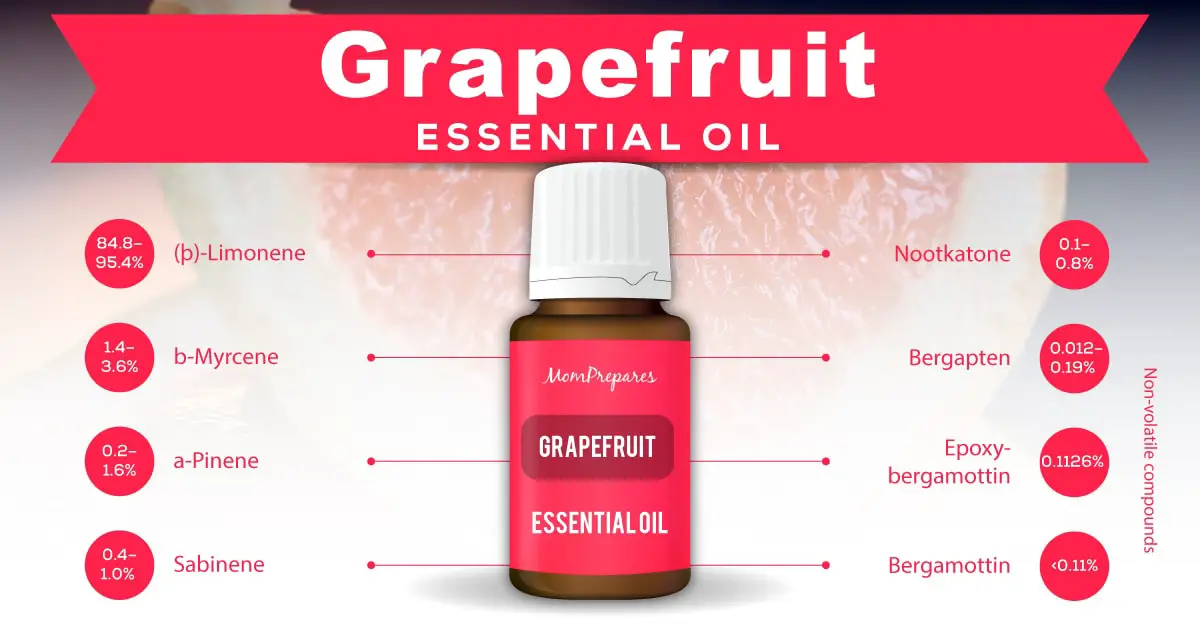 Grapefruit essential oil is created through cold expression of the rind of the fruit. The fresh and fruity citrus oil is a digestive, known to help with detoxification, fluid retention, and irritable bowel syndrome due to its digestive and diuretic qualities.
8. Lemon
Like grapefruit and other citrus, lemon oil is cold expressed from the rind. It also has the sweet, fruity citrus scent of the fruit.
Studies have shown that beyond its mood-elevating qualities, lemon oil is also effective in controlling nausea and vomiting, especially in first-stage labor.
9. Orange, Sweet (Citrus sinensis)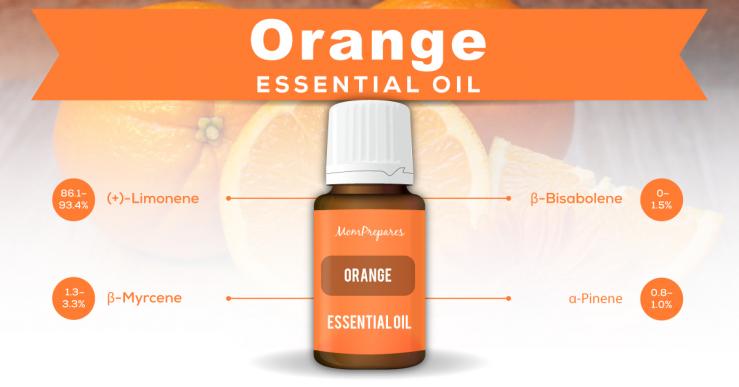 The third citrus oil on this list is sweet orange and is much like the first two. It is an excellent stomachic that can be used for constipation, fluid retention, and intestinal spasm.
10. Peppermint (Mentha piperita)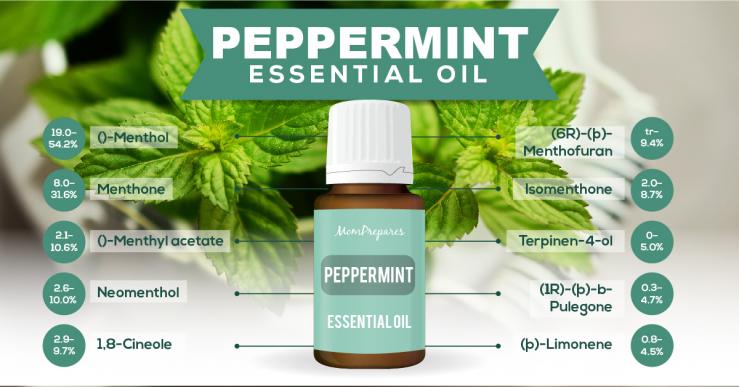 Peppermint oil is one of the most powerful oils for nausea, upset stomach, and vomiting. If your mother or grandmother ever gave you peppermint tea when you were feeling sick, they were on to something.
Peppermint, which is a hybrid of spearmint (Mentha spicata) and water mint (Mentha aquatica), have long been used for a wide variety of ailments and dates back to Greek mythology. However, records of it first being cultivated only date back to 1750.
Peppermint has long been used by herbalists for stomach upset. The oil also works well for colic, Crohn's disease, diverticulitis, gastrointestinal disorder, irritable bowel syndrome, nausea, and more.
If you have a headache and nausea, lavender and peppermint together are a great combination to inhale to decrease both symptoms.
11. Spearmint (Mentha spicata)
Spearmint is excellent for those who should not use peppermint, such as young children or anyone pregnant or nursing.
Other oils to combat nausea and stomach issues:
Remember, scents are highly personal. Finding a single oil or combination that works for you for nausea may take some time, but once you find it, you'll wonder why you had ever went without it.
Here are a list of other essential oils that may help relieve your nausea.
This is not an exhaustive list. It is a list of those that either have research behind them or enough anecdotal evidence to be included. If an oil like tea tree works for you, don't ignore it just because it is not in our list.
You don't need to worry about a particular brand, like doTERRA or Young Living either. The hype is just that, hype.
Find a company that you can trust to provide pure, quality oils.
How do you use essential oils for nausea?
There are numerous ways to employ essential oils in your anti-nausea efforts. The simplest is to put a few drops of your oil or oil blend in a diffuser and just let the aroma fill the air.
Here are a few other ways you can use essential oils for your nausea.
Use a sanitary absorbant 
Add drops of your oil or blend on a cotton ball, napkin, or tissue. You can keep it in a sealed plastic bag and inhale when needed.
A clever way you can use this to ease car sickness is to add a drop or two on a napkin and place it under your car seat to stave off travel sickness.
Topical application
For ginger, try placing a couple drops in a carrier oil and rub it on the upper abdomen. Ensure that you dilute your oils safely.
In a bath
Put a couple drops into a teaspoon of Epsom salts, aloe vera gel, carrier oil, or bath salts or milks. Swish through the bathwater and inhale as you relax.
For showers
Adding a few drops on a wash rag can help. Alternatively, you can drop them right at the end of where the water lands so it won't wash away the oil. Instead, the steam will elevate their scent.
For facial steams
Add up to 5 drops to steaming water in a bowl. Placing a towel over your head, breathe in the steam about 12 inches away from the top of the water.
Conclusion
Nausea and everything that goes along with it far from pleasant. We all know it. Nonetheless, nature has provided us with the potent oils above, full of all of the plants' beneficial constituents that can help us combat it.
So the next time nausea strikes, try one, or a few together. Once you find the blend that works for you, or if you feel we've left a great choice out, let us know in the comments below.