What is Nutmeg?
The tree that produces nutmeg is indigenous to the Molucca Islands, also known as the Spice Islands. The tree grows to about 50 feet high and produces cream-colored, bell-shaped waxy flowers and large fruit. Within the fruit is the nut that is steam distilled for its essential oil.
The evergreen begins to yield the nuts after nine years. It does not fully produce until the tree is 20 years old. The filament-like red material around the nut, mace, is also used to make a separate and distinct essential oil.
Nutmeg has been prized since the medieval times. Wars were waged over the expensive spice. The British, not wanting to ever completely lose out on it again, planted the tree on Zanzibar and Grenada. [1] Nutmeg is now mainly produced in Grenada, Indonesia, and Sri Lanka.
East Indian nutmeg, produced in Sri Lanka, is superior in quality over the Grenadan West Indian nutmeg. The oil is produced in Europe and the USA from imported nuts. You may hear this essential referred to as 'jaiphal' oil, which is its Hindi name. [2]
Both nutmeg the spice and nutmeg oil should be used in small amounts. Do not take it internally, as it can have hallucinogenic effects and cause acute nutmeg intoxication that could result in hospitalization. Avoid use if pregnant or breastfeeding.
Nutmeg Essential Oil Uses
Nutmeg has had many uses throughout history. Even though it is relatively cheap now, at one point it was a rare luxury. It is said that nutmeg warded off the plague and anyone who possessed a small bag of the spice could be financially set for life. [3]
Today the spice and oil are both far more accessible, and there are still many uses for it in both culinary and medicinal applications.
Romance
Essential oils can set a mood as well as they freshen the air. Nutmeg is a romance oil that can also help you conquer insomnia, which makes it perfectly suited for the bedroom. Other oils that you can blend it with include:
Palmarosa (Cymbopogon martinii)
Clary Sage (Salvia sclarea)
Sweet orange (Citrus sinensis)
Ylang ylang (Cananga odorata var. genuina)
Jasmine (Jasminum grandiflorum)
Geranium (Pelargonium graveolens)
Cooking and Potpourri
Nutmeg essential oil can be used in the kitchen sparingly. This spice oil is especially good for holidays like Christmas. You can add a drop to your party punches or spiced wines, or into your baked goods.
Other oils suitable for this use are cardamom (Elettaria cardamomum), cinnamon (Cinnamomum zeylanicum), clove bud (Syzygium aromaticum), ginger (Zingiber officinale), lemon (Citrus limon), and sweet orange.
These oils make excellent choices for potpourri blends to put in your dried flowers, wood shavings, dried fruit pits, and whatever else you want to add. Try a spicy blend featuring nutmeg, clove, and cinnamon.
If you like fruitier blends, try lemon and orange mixed with a little cinnamon.
Perfume
Nutmeg is used in the commercial perfume industry as well as by home enthusiasts making their own blends. It is both a feminine and masculine middle note that adds more variety than clove or cinnamon with vanilla.
Skin Care and Soap
Not only is nutmeg oil used in the food and beverage industry and perfumery, it is also used in skincare and soap products.
If you enjoy making your own body oils and soaps, nutmeg would be a great ingredient for formulations meant for normal to oily skin.
Nutmeg Essential Oil Benefits
Nutmeg essential oil is made up of almost 90 percent monoterpene hydrocarbons like camphene, pinene, dipentene and more. Monoterpenes offer a wide array of benefits including being antibacterial and antiviral, antiseptic and analgesic, decongestant and tonic.
It is also an immunostimulant which makes it beneficial to diffuse during cold and flu season.
Calms Digestive Complaints
Nutmeg oil and mace oil have both been used for hundreds of years for digestive complaints as well as issues with the adrenals and kidneys. It is still listed in the British Pharmacopoeia for uses like rheumatism, nausea, flatulence, diarrhea, and dysentery.
Eases Menstrual Pains and Irritability
Many women suffer from premenstrual syndrome (PMS) or premenstrual dysphoric disorder (PMDD) due to hormonal fluctuations that occur in the body during menses.
Essential oils can help with both the physical pain and emotional rollercoasters that occur during this time of the month. The following blend can be diffused for irritability or rubbed on the abdomen.
Bergamot (Citrus bergamia)
Geranium (Pelargonium graveolens)
Juniper Berry (Juniperus communis)
Nutmeg (Myristica fragrans)
To use topically, add it to two tablespoons of a carrier oil and mix. Massage just a little on the abdomen area twice a day.
Soothes Nervous Tension and Insomnia
Nutmeg essential oil offers emotional health benefits that can be helpful in times of depression, tension, and insomnia. It is a warming oil that has sedative properties. The following is a wonderfully calming blend that can be used in a relaxing bath to de-stress and for sleep:
8 drops Ylang ylang (Cananga odorata var. genuina)
7 drops Lavender (Lavandula angustifolia)
1 drop Nutmeg (Myristica fragrans)
1 drop Vetiver (Vetiveria zizanoides)
Blend these together. For a bath, add up to five drops to half a teaspoon of carrier oil and add to the bath water. You can also add three drops of the blend to a teaspoon of carrier oil to use as a calming massage oil.

Use This Infographic On Your Blog
Nutmeg Essential Oil Research, Facts, and Studies
Tumor Growth Inhibitor and Antioxidant
Nutmeg essential oil and mengkudu (Morinda citrifolia) were studied to determine their antioxidant and antiangiogenic properties. This study from 2012 concluded that nutmeg had a higher antioxidant activity than mengkudu.
The researchers also found that the nutmeg was useful as an antiangiogenic. This means that it "...can destroy or interfere with the fine network of blood vessels needed by tumors to grow and metastasize." [4]
The compounds in nutmeg essential oil will be isolated to develop into these types of drugs. [5]
Nutmeg Intoxication
There have been numerous reports of acute poisoning from intentional nutmeg intoxication. There are numerous mentions on PubMed. One particular abstract states that it is believed that actual cases of this form of intoxication are underreported. [6]
This type of poisoning occurs when a person is seeking to get high on either whole or ground nutmegs. People have also begun to seek out a nutmeg oil high as well, believing it to be 'cleaner' than the ground nutmeg.
It is not recommended that anyone should attempt to use or ingest any type of nutmeg in large doses. The nut and the oil are high in elemicin, myristicin, and safrole. [7]
These constituents, when used improperly, may cause multiple side effects ranging from stupor and nausea to tachycardia, anticholinergic episodes, and seizures. [8]
Conclusion
Nutmeg is so much more than just a holiday spice. Nutmeg oil offers a wide range of benefits from stress relief to calming digestive issues. It can help you beat insomnia and can be a woman's best friend.
Nutmeg is not without its risks, however. Overindulgence of either the spice, extract, or the oil, whether intentional or otherwise, can cause serious issues.
The user may experience nausea, extreme dry mouth, and anticholinergic effects.There have been emergency room reports of hallucinations, seizures, and tachycardia. As such, Myristica fragrans should not be used as a cheap or legal 'high.'
The oil should also not be used by anyone pregnant or nursing. However, with responsibility and proper use, nutmeg can be a part of a home aromatherapy plan from the bedroom to the kitchen.
Safety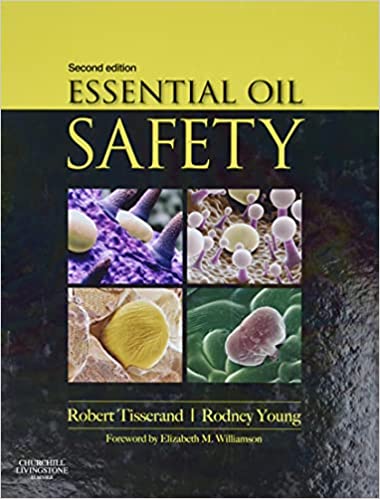 Correct selection and use of essential oils is crucial to ensure that you enjoy the best benefits of oils, without any of the downsides. Remember, some essential oils can be very potent and powerful. We therefore highly recommend this book to all of our readers: Essential Oil Safety: A Guide for Health Care Professionals 2nd Edition