What is Rose?
The rose is likely one of the most recognizable flowers in the world. It is a picky bush and thrives only in the most particular of soils and climate. There is some confusion surrounding the origins of this particular rose, but most place it in the Middle East.
It likely hailed from Damascus, hence the name 'damask rose.' It is also called Bulgarian rose, Turkish rose, summer damask rose, Trigintipetala, and Kazanlik rose. The oil is referred to as Anatolian rose oil, otto of rose, and attar of rose.
There are approximately 150 species of roses with thousands of varieties of hybrids within those. Some of the names you may come across but should not get confused with damask rose are:
Cabbage rose (Rosa centifolia) - gets its name from the many petals (folia) and is known as Rose de Mai or May rose. It is also known as French rose, hundred-leaved rose, Provence rose, and rose maroc. Moroccan rose often refers to this, and the oil as otto of rose.
R. gallica - a dark red rose often hybridized with R. centifolia for oil production
Tea rose - popular garden rose
Wild rose - can refer to any number of wild-growing roses, like Virginia rose (R. virginiana), dog rose (R. canina), and wild prairie rose (R. arkansana).
Any number of region-specific or color-specific names, like 'Egyptian rose,' 'white rose,' etc
Rosehip or rose hip seed (R. rubiginosa / R. eglanteria)
Larch rose from the Larix europaea in the Pinaceae family
We get rose absolute from R. centifolia and rose essential oil from R. damascena. R. gallica is distilled in France for perfume.
There are records of the Persians distilling roses for their oil as far back as 1612. [1] However, there is a romantic story about the discovery of rose oil that has to do with Shah Jahan, who had the Taj Mahal built for his wife.
The legend goes that groundskeepers filled the canal around the Shalimar Gardens, also built for the emperor's wife, with rose petals. They noticed the incredible smell coming from them as the sun separated the oil from the petals. It was skimmed and made into perfume. [2]
However it began, the steam distillation of rose petals is no easy task. The rosebud petals have to be handpicked in the early morning hours during harvest season in May and June and must be distilled immediately.
Besides this arduous task, it takes millions of petals to create only a few ounces of the prized oil. This is why pure rose oil is so expensive and rare, organic or not.
Because of this expense, rose oil is often adulterated. Always procure your oils from a reputable company. When in doubt, be sure to request the gas chromatography / mass spectrometry (GC/MS) results so you can see the constituents. Most honest companies will provide them.
Rose essential oil blends well with other floral oils like jasmine (Jasminum grandiflorum), lavender (Lavandula angustifolia), and geranium (Pelargonium graveolens), as well as lemon (Citrus limon), clary sage (Salvia sclarea), and many more.
Rose Essential Oil Uses
The rose has been used throughout history for its beauty, fragrance, and medicinal qualities. Many civilizations revered the flower and used it to show love and respect.
For Skin
One area where rose oil really shines is using it on the skin. It is regenerative and especially good for dry, inflamed, or sensitive skin. It is also a favorite anti-aging oil but can be used on any skin type.
You can use rose essential oil in many ways, such as:
Facial steaming
Add it to lotions and creams
Use a drop or two in masks
Make facial sprays and tonics
Add rose to your essential oil blends for homemade soap
Another way you can get the benefits of rose essential oil without the steep price tags is to use rose hydrolats or rose water. These can both be a good addition to all of the above suggestions.
Anti-aging Nourishing Gel Mask
2 oz Aloe Vera
½ tablespoon Rosehip Seed Oil (Rosa rubiginosa)
½ tablespoon Tamanu Oil (Calophyllum inophyllum)
½ teaspoon Black Currant Seed Oil (Ribes nigrum)
1 drop Rose (R. damascena)
1 drop Helichrysum / Immortelle (Helichrysum italicum)
Mix everything together and spread a thin layer of the mask on your face. Leave on for 20 minutes, then rinse with water. Finish by spritzing your face with rose hydrolat. Any excess mask should keep in the fridge without spoiling for a week.
For the Neck
Unfortunately, for many people, signs of aging begin in the neck area. You should never neglect your neck when using an anti-aging face oil. The good news is that the area responds well to treatment with oils. Rose is one of the best skin oils for this area, too.
For Hair
Rose oil isn't just good for skin; it is a fragrant addition to your hair care routine that will leave your locks smelling amazing. The oil is particularly good for fragile, damaged, and thin hair that requires help of a more gentle nature.
Perfume
Rose oil is used in many commercial perfumes, body care products, and many other items. There is no reason that you can't get that luxurious scent for yourself at home by making your own.
Oil of rose has been one of the most popular perfume scents throughout history. It is considered a feminine middle note. You might be surprised to learn that it is a male middle note as well.
Start by building your base with oils such as oakmoss (Evernia prunastri), patchouli (Pogostemon cablin), and vetiver (Vetiveria zizanioides).
Then add your middle notes, which vary widely, and your top notes. Always start with the lowest amount possible. You can always add more, but you can not take any out.
You will want to let your creation sit before adding alcohol and water, or oil if you are making a roll-on. The longer it sits, the more mature the scent becomes. They are fun to make, completely customizable, and you will end up with a unique scent that no one else ever wears!
Rose Essential Oil Benefits
The health benefits of rose have been utilized for many years in addition to the fragrant ones. Here are some of the ways you can enjoy these benefits for yourself.
Mood-Lifting
There is no denying that essential oils can have a major impact on moods, and many studies have been performed on this.
Rose is an oil that is good for any situation that needs to be brightened, to reduce stress, and to calm the heart. It is also a good oil for spiritual purposes.
Aphrodisiac
The Greeks and the Romans often bathed in rose water and scented their bodies with the petals. It has long been used as a symbol of love and beauty as well.
Rose is a known aphrodisiac, and it is easy to create a romantic atmosphere with the use of essential oils. Try the following recipe the next time you want to have a loving environment.
Mood-setter Blend
4 drops Ylang ylang (Cananga odorata)
2 drops Patchouli (Pogostemon cablin)
2 drops Rose (Rosa damascena)
1 drop Clove (Syzygium aromaticum)
You can use this blend in a diffuser, add 2-3 drops in a carrier oil for a romantic massage, or add the blend to two teaspoons of alcohol then to a six-ounce bottle of distilled water for an aromatic room spray. You could use this for scented sheets or pillows as well.
Feminine Hormone Balancer
Like geranium (Pelargonium graveolens), rose (R. damascena) has an affinity for the female reproductive system and feminine hormones.
Use This Infographic On Your Blog
Rose Essential Oil Research, Facts, and Studies
There are not a ton of studies on rose as there are with some more available oils, like lavender (Lavandula angustifolia). That being said, the ones that have been completed show that this exquisite oil holds numerous benefits on emotions, pain control, and practical applications.
Sleep Quality in Children
Lack of sleep and sleep disturbances can have a detrimental effect on the growth and development of children.
A study published in 2017 in the Research Journal of Pharmacognosy determined that inhaling rose essential oil helped the sleep patterns in children. They fell asleep easier, slept better, and had less difficulty in waking.
This shows that inhaling certain oils, like rose, can be an effective alternative to chemical treatments of sleep difficulties. [3]
Aromatherapy During Labor and Delivery
A study published in the Journal of Integrative Medicine in 2018 examines the effect on the inhalation of Rosa damascena oil during labor and delivery.
Both anxiety and pain are two problems often encountered during this time, and natural ways of dealing with them are becoming more popular, although they do not always work.
This was a randomized clinical trial involving 110 women. The primary outcomes were the severity of the pain and anxiety that occurred. Secondary outcomes ranging from demographics to Apgar scores were also taken into account.
The researchers found that aromatherapy with rose essential oils effectively reduced both anxiety and pain in the first stage of labor. It is not only effective, but it is also a safe method to use at this critical time. [4]
Edible Flowers
Phenolic compounds are secondary plant metabolites that are integral to the quality of plant-based foods. [5]
A study from Food Research International examined the extracts and infusions of four different plants for their antioxidant, antibacterial, and antiproliferative potential. Rose petals showed the highest antibacterial and antioxidative qualities. [6]
Conclusion
Rose has long been recognized for its romantic aroma and appeal. The oil shares these qualities, but is much more rare and expensive due to the complicated distillation process that also requires a ton of petals to make a minute amount of oil.
If you can afford rose essential oil, it is well worth it to procure for its skin benefits, as well as its effect on emotions and the hormones. Be wary of adulteration and source rose oil from only the best suppliers to ensure quality.
Safety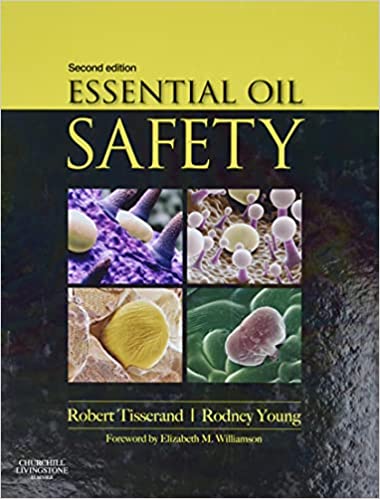 Correct selection and use of essential oils is crucial to ensure that you enjoy the best benefits of oils, without any of the downsides. Remember, some essential oils can be very potent and powerful. We therefore highly recommend this book to all of our readers: Essential Oil Safety: A Guide for Health Care Professionals 2nd Edition