Using essential oils on your skin can be a scary thing.
You hear stories of rashes, burns, and in some cases, permanent scars.
The thing is, essential oils are volatile and can certainly leave you feeling nervous when applying it to your skin. But the best essential oils for face and body are just that – the best choice you can possibly make.
There are many benefits in using products that are free of sulfates, parabens, and synthetic fragrances.
In fact, 54% of women have expressed their desire for skincare to be 'all natural'. The good news is that using natural essential oils for your skin can be achieved safely and effectively.
Making the right choice for your face, however, can be a hassle. And since you and I likely have different skin types, why not cover them all?
Here are the skin types and structure this 4,500 word guide is going to cover. Since you may not be interested in every skin type, you can use this as a mini table of contents.
And for each skin type, I'll tell you the best essential oils to use, preferred carrier oils, recipes, and a regular skin regimin you can add to your daily beauty routine.
Shall we dance?
Guide for Skin Types
While essential oils do not have side effects, they have many main effects. What might work wonders for dry skin may do the opposite for oily skin. Your skin type will be the deciding factor.
First decide which mostly describes your skin type.
Normal to Dry Skin
Dry skin looks dull, and can appear saggy, sometimes even adding wrinkles around the eyes and the edges of your mouth.
You may have even noticed itchy or flaky patches forming, which can also can become discolored.
It's unflattering to say the least.
There are two main reasons behind dry skin.
The skin is dehydrated.
There is not enough sebum being secreted onto the surface.
Let's take a deeper look.
Dehydration
When the skin dries out, it betrays a long chain of events happening inside of the body. The brain reads "thirsty" messages, suspecting there might be a drought.
Your skin has a brain of its own and tries to ration and prioritize its water supplies.
Most of the body's fluids get siphoned to the brain and digestive systems, creating energy ranks most important to survival.
And, because the skin provides the least support in an emergency situation, the body drains the skin's hydration reserves to send to the brain.
By the time you feel thirsty, your brain has already been struggling with low fluid reserves for some time. If you have developed dry skin, then your body is incredibly thirsty.
So even before we look at essential oils, my recommendation will be to drink more water and stay hydrated.
The Mayo Clinic recommends a daily water intake of about 11.5 cups of fluids for women and 15.5 cups for men, although your height, weight and age also play a role in determining how much water you need.
It plumps up the skin. It makes it look softer and clearer as it detoxifies and cleanses the pores.
Cleaner skin means less pimples and cleaner pores, but it also means you'll think more clearly too. Water is your friend. :)
Sebum
The skin is the largest organ in the body. It is continuously responding to signals.
Take a quick look at your arm. Notice where each tiny hair emerges from the skin at the follicle?
Each follicle also contains a sebaceous gland, which pours sebum onto the skin to fortify the barrier that protects in the internal organs from germs, and to make the skin soft and supple.
If there is too much sebum on the skin, it becomes greasy.
Too little, and our skin becomes dry.
The first mistake people make when they start dabbling in natural skin care is adding a ton of oil, hoping to make the skin softer.
It does make sense, right?
Wrong!
It is the absolute worst thing you can do.
The skin says, "Hey! I must have lost track of how much sebum I made. There is way too much here. I'll switch the taps off for a while."
If you add too much oil to the skin, it makes the skin drier.
Dry skin needs moisturizing from inside and out. Hence, we use a water-based cream, rather than using tons of carrier oil.
Essential Oils for Dry Skin
There are many oils that can help with dry skin, but one stands out above the rest.
Rose (Rosa damascena)
Blending Note – Middle to top
Feminine, and luxurious, rose makes you feel like a goddess. Both types of rose oil (rose otto and rose absolute) nourish and nurture the skin.
In 2010, researchers from Korea wanted to understand why rose's benefits on skin were so profound.
Their study revealed rose absolute absorbs through the skin into the granular layer where new skin cells called keratinocytes form. The rose made the layer grow cells stronger and faster.
This fast replacement of youthful cells leads to a more vibrant looking complexion.
Rose oil is expensive and essential oils work best when they are blended.
Synergistic blends require a top, middle, and base note to increase their therapeutic natures.
Here are a few more moisturizing oils I like to use in synergistic essential oil blending recipes.
Geranium (Pelargonium graveolens)
Blending note – Middle
Geranium is often called the poor man's rose oil. But don't underestimate geranium's uses and benefits.
It feeds the skin layers and reduces redness and itching. This would be my first choice for someone who has eczema.
Geranium is also one of the best antidotes for stress. So if your complexion is showing signs of wear, then geranium might even be the better essential oil choice for your face.
Geranium is a very useful middle note that adds structure to blends for dry skin.
Vetiver (Vetiveria zizanoides)
Blending Note: Base
In Ayurvedic medicine, vetiver is calming to vata. Vata describes the flaky dryness of the skin, but also its brittle nature.
Ayurvedic doctors were the first to notice the relationship between the skin and the personality. However, vata can also make a person forgetful and vague. Mostly, they are cold and restless.
If you notice these qualities in yourself, then vetiver will ground, comfort and warm you. It smooths the skin and encourages the sebum to spread over the skin to seal and protect it.
Where rose is feminine, vetiver is distinctly masculine.
With its deep sexy fragrance, it not only suits men, but acts as a fixative to your blend. Where the fragrance of rose quickly drifts away, vetiver lingers gently for hours.
Rose and vetiver are a seductive and very nourishing blend.
Sandalwood (Santalum album)
Blending Note: Base
Sandalwood has also been used for millennia in India. It has the opposite nature to vetiver. It reduces hot, reactive pitta dosha and increases vata.
In other words, it cools the skin, but does so with reactive tempers.
Like vetiver, it is also masculine in nature and is a rich, sultry base note for blending.
Sandalwood is incredibly good for sensitive skin, as well as for rosacea and for acne. Where vetiver is like the burning sun, sandalwood bathes you in moonlight, making it feel incredibly soothing to sunburn in particular.
Patchouli (Pogostemon cablin)
Blending Note: Base
I'm probably committing some great aromatic misdemeanour by saying there is little to choose between patchouli and sandalwood in skin care.
But there's not.
Between these two oils, your choice will likely come down to which fragrance you're more partial to.
Helichrysum (Helichrysum italicum)
Blending Note: Middle
Where there is little to choose between patchouli and sandalwood, nothing could be farther from the truth with helichrysum.
The chemistry of the plant varies incredibly, depending on where it grew and in what climate.
Helichrysum grown in Corsica and Bulgaria are by far the best for skin care. They are particularly effective in repairing skin from scars and burns or after surgery.
These have much higher levels of a chemical called neryl acetate that mends the skin very quickly.
To be clear, any helichrysum will heal and nourish the skin and fortify the body in general. Look for the country of origin on the label or online listings before purchasing.
Any or all of these make wonderful choices for soft skin.
Carrier Oils for Dry Skin
Where you certainly don't want to slather oil onto dry skin every day, massaging the skin once a week has profound benefits for dry skin.
Your skin's dulled appearance and flakiness is caused by layers of dead skin cells which have a thickened appearance and an almost greyish hue. Exfoliate these, then we reveal fresh translucent cells which are softer, tighter, and younger looking.
You will find this especially healing if your skin has become damaged from smoking, if you live in a polluted area, or work in an air conditioned office.
Massage a blend of carriers and essential oils into the skin to stimulate circulation, remove dead skin cells, and remove blockages so you can clean beneath the surface more effectively with steam.
Here are my favorite carrier oils for dry skin.
Hazelnut – exfoliates the skin.
Almond – Very rich and nourishing, but too thick on its own. Blend with a thinner oil like grapeseed.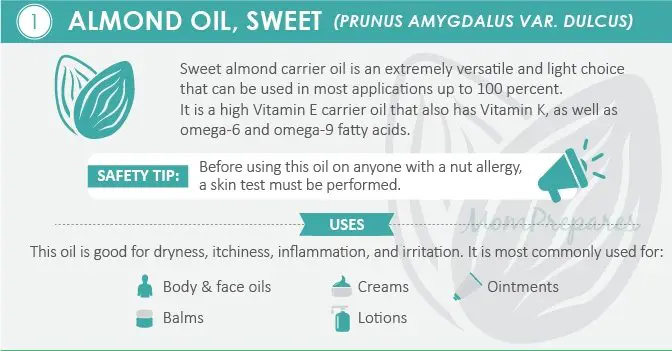 Evening Primrose – Lovely if you are prone to hormonal breakouts.
Rosehip – Known for its skin firming and tightening properties. Helichrysum seems to work more effectively when blended with rosehip.
Hemp Seed Oil – Anti-inflammatory and extremely useful for itchy and flaky skins.
You might like to add gently abrasive ingredients like muscovado sugar, wheat germ or rose petals into your oil to hurry the "clean-up" along.
Skin Care Regimen for Dry Skin
Along with a moisturizer, I recommend making the following treatments for beauty care.
Cleansers for Dry Skin
There aren't any hard and fast rules here. In fact, I would suggest sticking with your usual cleansing milk and just adding your essential oils formula in.
You might also want to add the oils I have listed in the "Essential Oils for Oily Skin" section to make it a bit more your own.
Dry skin certainly doesn't look as dirty as oily skin, but it never hurts to have a deep clean once a week. Again, check out the oily skin section below for tips on doing a proper steam clean.
Toners
When we cleanse our skin with warm water, the pores open. But it's incredibly important to close them after cleansing every time. Floral waters, particularly rosewaters, are wonderful for this.
They refresh and tighten the skin.
Facial Massage Treatments
Use carrier oils and botanical abrasives no more than once a week.
Oily or Greasy Skin
Oily skin is more common in men than women. And teenagers frequently happen to have it the worst.
When the skin secretes too much sebum, it creates a sticky, greasy surface. It then attracts dirt, resulting in blocked pores, blackheads, and other skin breakouts.
As the oil builds up around the pores, it can also make them appear much larger. Essential oils can help all of these problems.
Essential Oils for Oily Skin
Let's tackle each problem in turn.
First, the grease.
Lavender (Lavandula angustifolia)
Blending Note – Middle
Lavender is the best oil for oily skin. It instructs sebaceous glands to slow sebum production and dries the skin.
Myrtle (Myrtus communis)
Blending Note – Middle
Myrtle essential oil reduces large pores. Add one drop to each of your skin care preparations, especially facial steams and facial massage treatments.
Myrtle has a clinical fragrance that betrays its heritage as being related to tea tree. It also has antibiotic properties that should help alleviate any underlying infections that cause breakouts.
Emotionally, myrtle feels like a hug for a desperate child and it is my chosen friend for traumatized kids.
It's a lovely boost of support for teenagers suffering at the hands of cruel insults about their skin.
Grapefruit (Citrus paradisii)
Blending Note: Top
Grapefruit oil alleviates blackheads, is emotionally lifting, and breaks down fat.
So, if you are the chunky, pimple-faced kid who has had enough of being the butt of jokes, a blend of myrtle and grapefruit is your first step to making them laugh on the other sides of their faces.
It's not quite emerging from a telephone box with your bries over your tights… but it is damn near superhero medicine.
Cypress (Cupressus semperivens)
Blending Note: middle to top
Cypress essential oil is astringent and cleans the debris from the skin. It neutralizes positive ions emitted from VDUs and fluorescent lights.
If you sit in front of a computer all day, you will see very fast results from cypress.
Juniper (Juniperus communis) and Fennel (Foeniculum vulgare) are both middle blending notes that reduce the appearance of puffy skin.
Sandalwood (Santalum album)
Blending Note: Base
Oddly, sandalwood is equally effective for dry or oily skins. It nourishes, nurtures, and protects the skin.
Carrier Oils for Oily Skin
Your choices are very limited here, but available nonetheless.
Choose carriers with a very fine consistency to avoid blocking pores.
Avocado – Rich in oleic acid, avocado oil refines the skin alleviating blackheads and open pores.
Grapeseed – Hydrates the skin.
Jojoba – Not strictly an oil, jojoba is a wax lipid, meaning it can penetrate the skin more easily without clogging pores.
Skin Care Regimen for Oily Skin
Cleansers
Add your chosen essential oils into your favorite store bought cleanser.
Facial Steam Cleansers
Once a week, I would recommend working a steam cleanse into your routine. The heat opens the pores, encouraging the skin to sweat.
As we "glisten and glow", perspiration pushes dirt out from beneath the surface of the skin. With the debris released, blackheads and pimples are left with no hiding place to dwell.
Simply fill a large bowl with hot water, add your essential oils and drape a towel over your head to trap them.
Designer Aromatherapy for Skin!
The best essential oils for face steams are detoxifying, refreshing, and uplifting. We want oils to purge impurities but delight your emotions too.
My top essential oils for inhalations and steam baths are:
Cypress (Cupressus semperivens)
Pine (Pinus sylvestris)
Juniper (Juniperus communis)
Acne-Prone Skin
Acne is often seen as a teenage affliction, but it can invade skins of all ages. In the same way, the skin is not always oily, so lavender is not usually the best route forward.
The majority of visible symptoms of acne are generally the result of inflammation.
Below, you'll find the best essential oils for acne, but we also have this very detailed guide that I highly recommend reading.
Best Essential Oils for Acne
Here are a few oils that work great for acne prone skin.
Jasmine (Jasminum grandiflorum)
Blending Note: Base to middle
Jasmine cools this hot, angry condition and guards against scarring.
Helichrysum (Helichrysum italicum)
Blending note: Middle
Helichrysum has antibiotic properties and regenerates skin tissues. As stated in the dry skin section, aim for Corsican or Bulgarian strains if possible.
Again, this helps with pitting and scarring.
Tea Tree (Melaleuca alternifolia)
Blending note: Middle
I usually add a drop of antibiotic tea tree to each skin preparation, to treat any underlying infection.
A recent medical study in Australia found that organic tea tree oil has the same beneficial effects in treating acne as the highly aggressive chemical benzoyl peroxide, but with much fewer negative side effects.
Melissa (Melissa officinalis)
Blending note: Middle to top
Melissa essential oil calms irritation and allergic reactions. Use for red spots on face and reactive skins.
Myrrh (Commiphora myrrha)
Blending note: Base
Myrrh oil is the most wonderful skin healer and also has strong antibiotic properties. It has a rather extraordinary quality of reducing pigmentation in the skin.
Often, women of Asian descent develop darker, unattractive blotches on their face. One drop of myrrh in their cream seems to settle this down.
Carrier Oils for Acne
Jojoba (Simmondsia chinensis) is my oil of choice for treating acne.
Skin Care Regimen for Acne
A large part of clearing acne is identifying if there is some kind of allergy or trigger, and then flushing out the sinuses. Nasal congestion can often trigger acne. So can dairy, wheat or even chlorine from the swimming pool.
If you have acne, try narrowing down your triggers first and then follow the plan below.
Cleansing
Cleansing is vitally important for acne. But we must also take care not to use anything too astringent, allowing the skin to do its own thing as we help it along.
Choose a basic, but gentle cleansing milk, and add your antibiotic oils to it. Cleanse the face morning and night.
Facial Steams
These are fantastic for acne because they decongest the sinuses. However, the steam can dry out your skin, so only use once a week.
Facial Massage
If your acne is sore or covered in skin bumps, I would not recommend facial massages. Skin masks tend to be a better way forward.
Combination skin
Combination skin tends to be defined by dry cheeks but an oily chin or forehead in a troublesome T-zone.
Essential oils for Combination Skin
There are a few essential oils that are wonderful for combination skin types. Here are some to create your own synergistic blend.
Ylang Ylang (Cananga odorata)
Blending Note: Middle
Ylang ylang's action on every part of the body is that it balances. It balances hormones, mood, and opposing combinations in the skin.
Sending messages to the sebaceous glands again, it instructs the dry parts to be a bit more generous with the sebum, but tells the oily bits to calm down too.
Carrot Seed (Daucus carrota)
Blending Note: Middle to Top
The humble carrot seed is a deeply cleansing oil, but is gentle enough to be trusted in dry and sensitive patches on the cheeks.
Sandalwood (Santalum album)
Blending note: Base
Given sandalwood's strange action on both dry and oily skins, it makes a wonderful base note to blends with ylang ylang.
Carrier Oils for Combination Skin
There is only one oil I would trust for this type…
Jojoba oil.
It is worth noting that jojoba is not an oil, but a wax lipid. This thinner consistency makes it the best choice for the face if you are prone to blocked pores and pimples.
Skin Regimen for Combination Skin
Treat the skin as if it were dry, with cleansing, toning and moisturizing skin care. Then add in weekly steam treatments, facial massages and masks.
Mature and Wrinkled Skin
Over time skin loses its tension and starts to sag, forming wrinkles and a pasty appearance.
In my opinion, there is only one essential oil for skin elasticity.
Frankincense (Boswellia carterii)
Blending Note: Middle to top
One of the reasons the Magi brought frankincense for the nativity was because of its wonderful abilities to preserve the skin. It held an exorbitant price tag in those days, because the Ancient Egyptians soaked the aromatic resin in warm oil to absorb its preservative properties to use in embalming their mummies.
Every essential oil has a story.
Frankincense's theme is restoring elasticity. It is spectacular for toning the skin and pulling the fibers tight.
The cynical therapist might point out that a fixed, sour-faced pout does very little for how good you look. And frankincense softens grouchy expressions too!
Carrier Oils for Mature Skin
Apricot Kernel (Prunus armeniaca)
Apricot kernel oil is rich, refining and nourishing to mature skins. A word of caution though:
The kernel is effectively a nut, so avoid if you have a nut allergy.
Sensitive Skin
This might describe your general skin type or, like most people, you may be going through times when your skin simply becomes more reactive. Essential oil moisturizers tend to be gentler than your average high street brand, adding a cooling and kinder feel.
Essential Oils for Sensitive Skin
These are very similar to the oils we use for acne. However, I find one particular oil gentler than the rest
Violet Leaf Absolute (Viola odorata)
Blending Note: Base to Middle
This oil is extremely gentle. Somehow, it settles red skin and calms overreactions.
German / Blue Chamomile (Chamomilla matricaria)
Blending Note: Middle
The chamomile daisy hides its most precious magic carefully. It is only when the oil is distilled that a strange blue chemical called camazulene is released. Like a liquid anaesthetic, camazulene reduces pain, itching, and soreness.
Yarrow (Achillea millefollium)
Yarrow essential oil is named after the Greek hero Achilles, who was injured on the one area that had not been magically protected when he had been dipped in the River Styx as a baby.
The story reveals the true essence of the strongest healer we have. Again, the magic boils down to the same blue chemical azulene.
Anti-inflammatory and analgesic, yarrow is gorgeously soothing to reactive skin.
Like with acne, jasmine cools the skin and is especially useful to irritated and red skin. It is worth making a jasmine, German camomile, yarrow, and melissa mix for facial rescues on flare up days.
Carrier Oils for Sensitive Skin
When choosing a carrier oil, I would stick with the same oils used for dry skin. Here they are:
Hazelnut – Exfoliates the skin.
Almond – Very rich and nourishing, but too thick on its own. Blend with a thinner oil like grapeseed.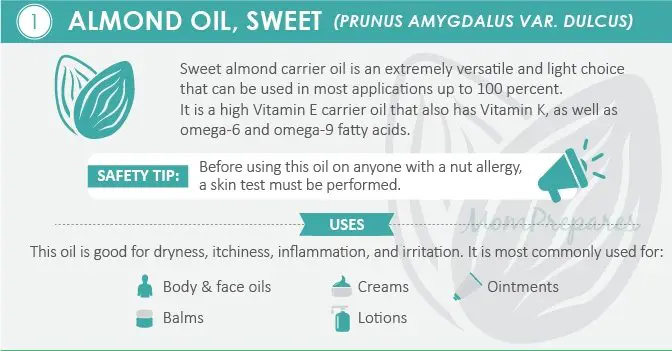 Evening Primrose – Lovely if you are prone to hormonal breakouts.
Rosehip – Known for its skin firming and tightening properties. Helichrysum seems to work more effectively when blended with rosehip.
Hemp Seed Oil – Anti-inflammatory and extremely useful for itchy and flaky skins.
Skin Care Regimen for Sensitive Skin
As directed for dry skin, it never hurts to have a deep clean once a week.
Also, cleansing with toners is wonderful for opening the pores and using floral waters to close them.
However, facial steams can sometimes be a little fierce. So start off with just a minute or two to check the heat does not aggravate the skin.
The same concerns apply for masks. Use for only a couple of minutes until you are reassured your skin can tolerate such close contact with oils.
The Best Essential Oils For Skin Repair
Essential oils are remarkable medicines for skin bumps and bruises. If the skin is broken, like it can be with eczema, then myrrh (Commiphora myrrha) is a superb skin healer.
Chose galbanum (Ferula glanbiflua) if the skin is ulcerated.
Helichrysum (Helichrysum italicum) is good for face creams for more mature skins, but it also repairs the skin after cuts, abrasions, and burns.
However, never apply natural skin care products on open wounds.
Essential oils absorb through the skin and work from inside. Stroking a drop or two in a lotion into the surrounding areas will speed healing miraculously.
Quick Check List of Essential Oils For Different Skin Types
We've covered a lot of ground and you may have forgotten some of the oils for different skin types.
Here's a quick, scannable list:
Normal to slightly dry skin
Rose (Rosa damascena) or Geranium (Pelargonium graveolens)
Oily and greasy skin
Lavender (Lavandula angustifolia)
Acne-prone skin
Jasmine (Jasminum grandiflorum), Helichrysum (Helichrysum italicum), Tea Tree (Melaleuca alternifolia)
Combination skins
Ylang Ylang (Cananga odorata)
Mature and wrinkled skin
Frankincense (Boswellia carterii)
Sensitive skin
Violet Leaf absolute (Viola odorata) or German/Blue Chamomile (Chamomilla matricaria)
Hot and reactive skin
Jasmine (Jasminum grandiflorum)
Essential Oil Recipes for Skin Care
How to make your own essential oils moisturizer
The perfect ingredient for a face moisturizer is aqueous creams (Amazon). It can be easily obtained online or from your local pharmacy. I add extra water to mine, by using a half-half mix and blending well using a whisk.
When essential oils are distilled, the water left behind contains minute traces of the plant chemicals. These floral waters, also known as hydrolats of hydrosols, are gorgeous for toning skin.
To supercharge your moisturizer, you could either use plain H2O or substitute it with rosewater or orange blossom water.
Moisturizing Skin Recipe for Mature Skin
1 fl oz Aqueous lotion
1 fl oz orange flower water
3 drops frankincense
Method of Use: Combine fully and store in the refrigerator.
Safety: Not suitable for use during the first 16 weeks of pregnancy.
Facial Toner Recipe for Sensitive Skin
Even though German / Blue chamomile is one of the best essential oils for sensitive skin, I have replaced it for the slightly cheaper Roman chamomile in this recipe.
Both chamomiles are very good for red skin, that is inflamed and itchy.
2fl oz Roman Camomile Floral Water (Anthemis nobilis)
1 tsp Witch Hazel (Hamemelis virginiana)
1 drop Violet Leaf absolute (Viola odorata)
1 drop German chamomile (Chamomile matricaria)
1 drop spikenard essential oil (Nardostachys jatamansi)
Method of Use: Combine all ingredients and decant into a dark bottle. Store in the refrigerator. This has no preservatives so will have a life of around 3 months. Use toner between every step of the facial, to close down pores, refresh the skin and as an astringent to tighten.
Safety: Not suitable for use in the first 16 weeks of pregnancy.
Essential Oils and Bases for Face Mask Treatments
Face masks (or masques) have two functions.
To draw out impurities when we are cleansing.
To nourish the skin.
As such, you might want to make two different masks; one to use during your cleansing and another to indulge the skin before moisturizing.
Detoxifying Face Mask Recipe
1 tbsp powdered green clay
1 tsp borage carrier oil (Borago officinalis)
1 drop cypress essential oil (Cupressus semperivens)
1 drop juniper essential oil (Juniperus communis)
1 drop carrot seed essential oil (Daucus carota)
Method of Use: Add the essential oils to the carrier oil, then stir into the clay. Smear over the face and leave for 8 minutes, removing if there is any sign of irritation. Rinse with warm water, then close down the pores with a cooling face cleanser.
Safety: Not suitable for use during the first 16 weeks of pregnancy.
Nourishing Face Mask Recipe (For Dry Skin and Open Pores)
Here we combine rose, vetiver and patchouli for their benefits for skin, but also for their emotionally nurturing and pacifying effects too. Myrtle has been added to reduce large pores.
1 tbsp aloe vera gel (Aloe barbadensis. Mill)
1 tsp rosehip carrier oil (Rosa rugosa)
1 drop rose essential oil (Rosa damascena)
1 drop myrtle essential oil (Myrtus communis)
1 drop patchouli essential oil (Pogostemon cablin)
Method of use: Add the essential oils to the carrier oil, then stir into the gel. Smear over the face and leave for 8 minutes, removing if there is any sign of irritation. Rinse with warm water, then close down the pores with a cooling face cleanser.
Safety: Not suitable for use during pregnancy.
One last tip…
Eat organic fruit and vegetables, higher in vitamins and minerals, that are good for skin.
Just as the best natural oils come from remote areas away from pollution, our food deserves the same consideration.
Anyone serious about their skin, should also pack more spinach and other sources of skin friendly zinc into their diet.
Zinc not only enhances the skin but also makes our crowning glory of hair thicker, shinier, and more lustrous too.
Conclusion
Getting into the habit of using essential oils for facial care is such an invaluable investment for beauty and feeling good. Not only does your confidence soar, but your skin looks amazing.
Set aside time for facials. Your complexion is the face you present to the world. Celebrate your unique inner beauty using the very best essential oils for your skin.
Because skin types and skin care are such baffling, delicate matters, we'd love to hear from you about your personal experiences.
Have a story to share about your favorite oil blends that work best for your particular complexion? Leave a comment below for those who haven't quite nailed it yet!