What is Roman Chamomile?
The botanical name of 'anthemis' is Greek and means 'little flower.' The Greeks appreciated the apple-like scent the plant imparts, so much so that they gave it the moniker "Earth Apple" from their words kamai and melon.
'Kamai' translates to on the ground, while 'melon' is an apple. If you say them together, you will understand where we get the word 'chamomile' that we all know it by in present day.
You may have also heard it referred to as 'manzanilla,' which comes from Spain and means from a little apple. Therefore, manzanilla oil is the volatile oil of chamomile. [1]
Native to Western Europe, chamomile can now be found growing in temperate regions the whole world over. The white and yellow chamomile flowers bloom from summer to fall, and it is the by steam distillation of these and the stems that we get the essential oil.
The chamomile plant has long been utilized for its medicinal qualities. According to Valerie Worwood, this use dates back at least 2,000 years, and you can find references to the plant in early herbal texts.
For instance, there is a long section dedicated to chamomile in "Herbal Simples Approved for Modern Uses of Cure" by William Thomas Fernie, published in 1897. He begins the sections by saying:
"No Simple in the whole catalogue of herbal medicines is possessed of a quality more friendly and beneficial to the intestines than "Chamomile flowers."
He goes on to explain that in cultivated chamomile, the yellow discs in the center of the white rays diminishes. Since that is where the curative powers mainly lie, it is better to seek out wild chamomile when it is to be used for health reasons.
Many of his and other herbalists treatments with the plant and its flowers stem from making an infusion. You can do this yourself with the dried plants or simply pick up some chamomile tea from your local grocer.
Bear in mind, the fresher the plant material is and the more recent it has been dried, the better. Many of the healing properties of the tea come from the quantity of essential oil that can be found in it, which is generally 10-15 percent. [2]
When buying Roman chamomile essential oil itself, look for a substance that is pale-blue to bluish-green. It yellows as it ages and will not be as blue as German Chamomile (Matricaria recutita) because it has a lower chamazulene content.
The volatile oil of Roman chamomile blends well with most floral oils including geranium (Pelargonium graveolens) and rose otto (Rosa damascena), citrus oils like lemon (Citrus limon), and 'green' oils like cedarwood atlas (Cedrus atlantica) and cypress (Cupressus sempervirens).
German or blue chamomile can often be used as a substitute for Roman chamomile essential oil. Other distant relatives include chamomile Maroc (Ormenis multicaulis) and Cape chamomile (Eriocephalus punctulatus).
People who are allergic to ragweed, pregnant, or on cyclosporin or warfarin should refrain from using chamomile. [3]
Roman Chamomile Essential Oil Uses
Some of the more popular ways to use this oil at home are in:
Body Oils
There are many reasons to create body oils above and beyond those intended for massage. Chamomile can be added to blends for sunburn, diaper rash, eczema and psoriasis, endometriosis, diarrhea, and more.
Facial Applications
The skin benefits of chamomile oil are well-known and often used for issues affecting the face, ranging from acne to wrinkles.
While the oil can cause contact dermatitis in some sensitive individuals, most people will tolerate it quite well no matter what skin type they have.
Babies' Needs
Another endearing quality of chamomile is in its gentleness. It is so gentle that it is one of the few oils that can be used on children.
Essential oils should only be used around babies and young children when absolutely necessary. Even then, most should be reserved for older children. However, a few oils can be used in very low dilutions on babies as young as two weeks old. These are:
German chamomile (Matricaria recutita)
Lavender (Lavandula angustifolia)
Mandarin (Citrus reticulata)
Roman chamomile (Anthemis nobilis)
For more information on how to best use these oils, please refer to The Complete Book of Essential Oils and Aromatherapy by Valerie Worwood, or consult a qualified aromatherapist.
Roman Chamomile Essential Oil Benefits
There are many health benefits of Roman chamomile oil. So many, in fact, that it would be impossible to list them all in the scope of an article like this.
Traditionally, chamomile is used as an antispasmodic, anxiolytic, and sedative. There are animal studies that support these uses. However, for humans, more research and trials need to be performed.
Here are some of the most common ways to take advantage of the healing qualities of this oil at home.
Aids in Wound Healing
The many benefits for skin that chamomile provides extends far beyond just helping to heal acne.
Roman chamomile is an excellent oil to have in a first aid kit. It can be used to clean cuts and abrasions. You can also use it anytime bumps and bruises occur. This makes it an excellent addition to your arsenal, especially when you have kids that tend to be accident-prone.
The following section shows how to use chamomile for various incidents that can happen in day-to-day life:
Abrasions, Scrapes, and Cuts:
Add 10 drops of the oil to a pint of clean, warm water. Swirl to mix well and break up any droplets. Use as a wound wash.
Bites and Stings
There are countless insects that can cause these issues. The repercussions can range from being mildly annoying to fatal and everything in between.
If you get stung by something you know you are allergic to, be sure to get medical attention. A body can go into anaphylactic shock which can cause dizziness and weakness, difficulty swallowing because of swelling, hives or flushed skin, and more.
If you do not know whether you are allergic or not, watch out for the signs above. One of the first indicators may be weakness, signaling a drop in blood pressure. If you feel any of these, take an antihistamine immediately and get to the nearest medical center.
In other cases, essential oils can help with both the wound and pain. In most cases where there is a stinger left behind, you will want to gently scrape it away to try and avoid releasing more venom into the area.
For bee stings, a cold compress with either German or Roman chamomile can ease the pain and swelling. You can also apply one drop of either oil directly on the area two times daily for two days. You may likewise use this method for hornet stings.
If a wasp got you, that is an alkaline venom. To calm the pain and clean the wound, add two drops of both lavender and Roman chamomile to a teaspoon of cider vinegar. Mix well and dab the area lightly, three times daily.
If you have been bitten by a spider, and you know it was not a lethal one, mix three drops of lavender and two drops of Roman chamomile into a teaspoon of alcohol. Apply this three times the first day.
If it was a lethal spider, keep applying lavender oil near to the area every 5-10 minutes as you make your way to the nearest hospital. As this is an extenuating circumstance, this method is appropriate. [4]
Bruises and Bumps
Bruising is inevitable in many situations, and oftentimes you cannot avoid them altogether. You can, however, reduce their severity. Oils can help.
Add ten drops of Roman chamomile to two tablespoons of a carrier oil. In this case, tamanu (Calophyllum inophyllum) is an excellent choice, as it is both anti-inflammatory and analgesic. It is also emollient, so it will keep the volatile in place longer.
Lightly rub the blend over the bruised area. Wrap a few ice cubes or an ice pack in a towel or a tee shirt, and place it over the bumped area for about ten minutes or so. This will help keep the swelling and bruising to a minimum.
Burns:
We all know that lavender (Lavandula angustifolia) is a superb choice for burns. This dates back to René-Maurice Gattefossé and his legendary lab burn. [5]
However, there are a few other oils that can be of assistance in the unfortunate case of burns as well:
Geranium (Pelargonium graveolens)
German chamomile (Matricaria recutita)
Roman chamomile (Anthemis nobilis)
When a burn occurs, the area must be cooled immediately due to a process called denaturation happening in the tissue. This is a dangerous hardening of proteins that we cannot see but is the reason that we need to remove the heat as soon as possible. [6]
In order to stop the protein damage below the skin, run the affected area under cold water for ten minutes. If this is not practical, you can apply a cold compress instead.
Add ice cubes to a bowl of water, along with a few drops of any of the above oils. Swish and use a clean cloth. Wring it out and cover the area. Repeat this process as the cloth heats up.
Keep in mind, if the burn is more serious than first degree, no oil should be used and medical attention is required.
You can use the oil to calm sunburns as well. You can use the ice bath compress above to help cool the overexposed skin.
Alternatively, add a couple drops each of Roman chamomile, geranium (Pelargonium graveolens), and lavender (Lavandula angustifolia) to a tablespoon of jojoba (Simmondsia chinensis) then add this blended mix to your bathwater.
Calms the Nervous System
Whether you are dealing with the bereavement that comes with the death of a loved one or just a small bout of nervous anxiety, chamomile oils are wonderfully calming to the nerves.
When dealing with an issue like grief, oils cannot take the pain away completely, but they can assist one in dealing with the barrage of emotions that occur. Adding the chosen volatiles to massage oils, baths, and diffusers are usually the most effective way to use them.
Keep the following blend on hand for when you could benefit from a relaxing dose of emotional support:
15 drops Mandarin (Citrus reticulata)
8 drops Roman chamomile (Anthemis nobilis)
7 drops Rose maroc (Rosa centifolia)
5 drops Melissa (Melissa officinalis)
Add all of the above oils to a small, airtight dark glass container.
After a few days, smell the blend. You want to see how you react. Everyone is different and if this scent brings back any sort of negative emotional memory, you may want to choose another blend and save this for something else or give it to a loved one.
If you enjoy the scent and it seems to calm you, then you have a synergistic blend to reach for when you need it. You may want to do the scent test with others in your family or household as well, to see how they react.
As it is a rather expensive blend, you will likely want to use it sparingly. To use, you can add 3-5 drops to a tablespoon of a carrier oil and swirl it into your bath or use it as a massage oil. You could also add a couple drops to a diffuser, or put some in a personal inhaler to use as needed.
Use This Infographic On Your Blog
Roman Chamomile Essential Oil Research, Facts, and Studies
Unfortunately, as of this writing, there are not a lot of research studies that have been performed on chamomile oil. However, the ones that can be found show that this oil has promising qualities for clinical applications.
Nausea Relief in Palliative and Hospice Care
In Volume 15, Issue 4 of the International Journal of Aromatherapy, there was a case study examining whether aromatherapy had any effects in controlling nausea in hospice and palliative care patients.
They used a synergistic mix of Roman chamomile (Anthemis nobilis), aniseed (Pimpinella anisum), sweet fennel (Foeniculum vulgare var. dulce),and peppermint (Mentha x piperita).
The researcher measured results on the visual-numeric analog scale known as Bieri. Since the patients were using other treatments at the same time, they could not determine a clear scientific link.
However, the positive results suggest that aromatherapy is a successful complementary measure to reduce nausea. [7]
Anti-Inflammatory & Antispasmodic
While there are no trials supporting the results of animal studies indicating there are anti-inflammatory benefits, the chemical makeup of the oil includes the flavonoids apigenin and luteolin as well as bisabolol and chamazulene, which are known to fight inflammation.
The flavonoids and the chemical component bisabolol have also proven to be antispasmodic in animal testing. Even though there is a lack of research in humans, chamomile infusions have been used for years to treat gastrointestinal issues, including infant colic. [8]
Conclusion
Roman chamomile has been utilized by healers for thousands of years. While there is a surprising lack of clinical proof that the oil of the plant has medicinal effects, there is a ton of anecdotal evidence dating back to the time of the ancient physicians.
Hopefully, in time, science will catch up to the many uses and benefits of this plant and its essential oil.
In the meantime, grab chamomile oil for skin issues, whether it is for beauty or first aid issues. It is good for face and body alike and is well-tolerated by most. It is also a wise choice for nervous issues.
While organic is always a good choice, at least be sure that the oils you are buying are pure and from a reputable dealer that does not adulterate their products.
Sources
Worwood, Valerie; The Complete Book of Essential Oils and Aromatherapy, pg 131-132
Safety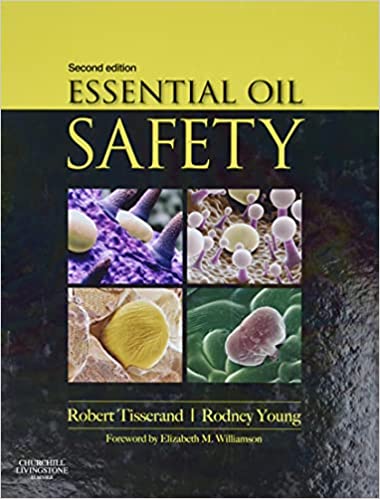 Correct selection and use of essential oils is crucial to ensure that you enjoy the best benefits of oils, without any of the downsides. Remember, some essential oils can be very potent and powerful. We therefore highly recommend this book to all of our readers: Essential Oil Safety: A Guide for Health Care Professionals 2nd Edition