What is Mandarin?
Mandarin trees originated in Southeast Asia and can grow to over 20 feet. The name "mandarin" is an umbrella term that includes the namesake citrus as well as clementines, satsumas, and tangerines.
The botanical terms for these all fall under Citrus reticulata with the exception of the satsuma mandarin, which is Citrus unshiu. [1]
The tree features glossy leaves with fragrant flowers that can bloom alone or in clusters. The fruit rind, which is orange to reddish orange, is lighter in color than that of the tangerine.
Some popele believe that the name comes from the color of clothing worn by officials of the Chinese empire of old. [2]
Before the fruit is completely ripe, it is expressed to produce the essential oil, which is one of the most gentle that nature provides. In fact, mandarin essential oil is one of the only ones that can be used on or around infants under two years.
When purchasing mandarin oil, look for the botanical name first. There are green, yellow, and red oils, so the oil can be anywhere from yellowish green to a goldish orange, depending on the stage.
The fragrance will vary slightly with each, so this is something to bear in mind.
Mandarin essential oil blends well with members of the citrus family, spice and herb oils like coriander seed (Coriandrum sativum) and fennel (Foeniculum vulgare), patchouli (Pogostemon cablin), pine (Pinus sylvestris), ylang ylang (Cananga odorata), and more.
Mandarin Essential Oil Uses
Mandarin oil is a versatile volatile that has many uses around the home, especially given the fact that it is so soothing and mild that can be used around almost anyone.
The following are just a few of many ways you may find yourself employing this lovely oil.
In the Kitchen
Mandarins have been used for centuries as food, and besides the flesh, the rinds are often dried and used in cooking.
The essential oil can be used in your culinary creations as well. Remember that essential oils are highly concentrated, so a drop is often enough.
Try a drop in mousses, puddings, and cakes, in punches or mulled wines, or in soups like fresh garden gazpacho. Making a fruit salad? Toss in a drop of mandarin!
For Skin
The skin can benefit greatly from the use of a variety of essential oils, and mandarin is one of the best. It is an excellent additive for body oils, scrubs, soaps, and more.
For Holiday Scents and Perfumes
Mandarin is one of those oils that can be used to tailor potpourris, diffuser blends, or even body oils to suit the mood or time of year.
For instance, add a few drops of the oil to a drop of vetiver (Vetiveria zizanioides) on a twig bundle for a witch's broom on Halloween. Or, add it to clove and cinnamon for a wonderful Thanksgiving potpourri.
You could also make a scented body oil or even try your hand at making your own perfume using mandarin. It is a light and fresh top note that would do well with scents like jasmine (Jasminum grandiflorum), black pepper (Piper nigrum), and nutmeg (Myristica fragrans).
Mandarin Essential Oil Benefits
The benefits of mandarin are more than just its delightful bouquet. Here are some ways you can enjoy the oil's benefits.
Eases Stress and Anxiety
Whenever you want to relax after a long day, try adding a couple drops of mandarin essential oil to your diffuser, bathwater, or a teaspoon of carrier oil to massage into your neck.
It is also a perfect oil to reach for when grief strikes, such as in mourning after the death of a loved one.
Helps Regulate Sleep
Mandarin can help you with sleep. If you suffer from the occasional bout of insomnia, add some mandarin and lavender to your diffuser at night.
Mandarin is gentle enough to use for your little ones, too. For children over one, you can add one drop to a teaspoon of a carrier oil like jojoba (Simmondsia chinensis) for their bath or for a soothing back, leg, and foot massage.
Be sure not to use a nut oil, like sweet almond (Prunus amygdalus var. dulcis) unless you are sure the child does not have an allergy.
Diminishes Skin Blemishes and Stretch Marks
One of the more popular benefits of using mandarin essential oil is for diminishing stretch marks and other skin blemishes or marks.
For a body oil that can help diminish the look of stretch marks that will also smell fantastic and put you in a great mood, too, try the following:
1 tablespoon Avocado oil (Persea americana)
2 teaspoons Evening Primrose oil (Oenothera biennis)
1 teaspoon Rosehip seed oil (Rosa rubiginosa)
20 drops Mandarin (Citrus reticulata)
8 drops Geranium (Pelargonium graveolens)
5 drops Patchouli (Pogostemon cablin)
Mix the carrier oils first in a dark glass bottle, then add the essential oils. Massage a small amount into problem areas.
While nothing short of surgery will completely remove stretch marks, using this massage blend regularly can help lessen the severity and protect the area, keeping them from spreading by providing nurturing oils to keep the area supple.
The best medicine is always prevention, so using this can also reduce the chances of getting stretch marks in the first place, such as during pregnancy.
Use This Infographic On Your Blog
Mandarin Essential Oil Research, Facts, and Studies
Antimicrobial and Skin Treatments
In a 2017 issue of Evidence-based Complementary and Alternative Medicine, mandarin is listed as being used for dermatologic problems like acne, cellulite and stretch marks, as a toner and for oiliness, and as a general skin care oil. [3]
Antimicrobial
In another study from 2017, researchers found that the essential oil of mandarin provided moderate to strong antimicrobial activity against 16 different strains of bacteria.
Antitumor Activity
A Food Function issue in April 2018 has an article in which researchers state that data from testing on mice suggest that oil from mandarins could possibly be an effective anti-cancer supplement.
The oil induced non-small cell lung cancer cell arrest and apoptosis without causing liver toxicity or morphological changes in other organs. [4]
Conclusion
Mandarin essential oil is one of those that once you have in your arsenal, you will wonder how you ever went without it. It provides a wide array of uses and benefits around your home and better yet, for your entire family.
Always be sure only to purchase authentic oils from a reputable supplier. Also, keep in mind that with mandarin oils, you may find slight differences in both color and scent due to the variations caused by expression from green, yellow, or red mandarin orange stages.
Safety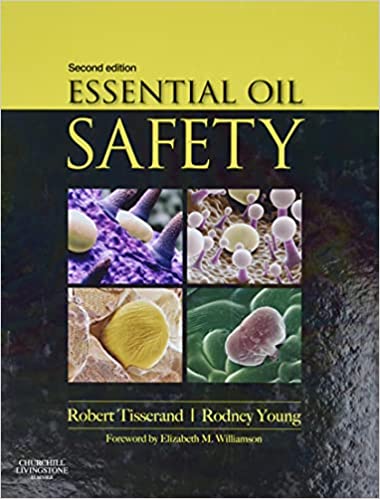 Correct selection and use of essential oils is crucial to ensure that you enjoy the best benefits of oils, without any of the downsides. Remember, some essential oils can be very potent and powerful. We therefore highly recommend this book to all of our readers: Essential Oil Safety: A Guide for Health Care Professionals 2nd Edition