You've likely heard of evening primrose oil (EPO). You'll often see it on never-ending ingredients list of many facial treatments.
You may have even heard of some of its supposed benefits, like how good it is for the skin and how it can get rid of those pesky wrinkles and bring back elasticity.
Yet, how much of what you've heard is true? What is evening primrose oil used for and what is it actually good for? Do I need capsules, primrose pills, tablets, liquid oil, or what? What's the dosage? Are there any bad side effects?
Relax, friends.
This guide is here to tell you everything you need to know about this useful oil. By the end, you will be able to choose confidently if, when, and how to use evening primrose oil. Let's go!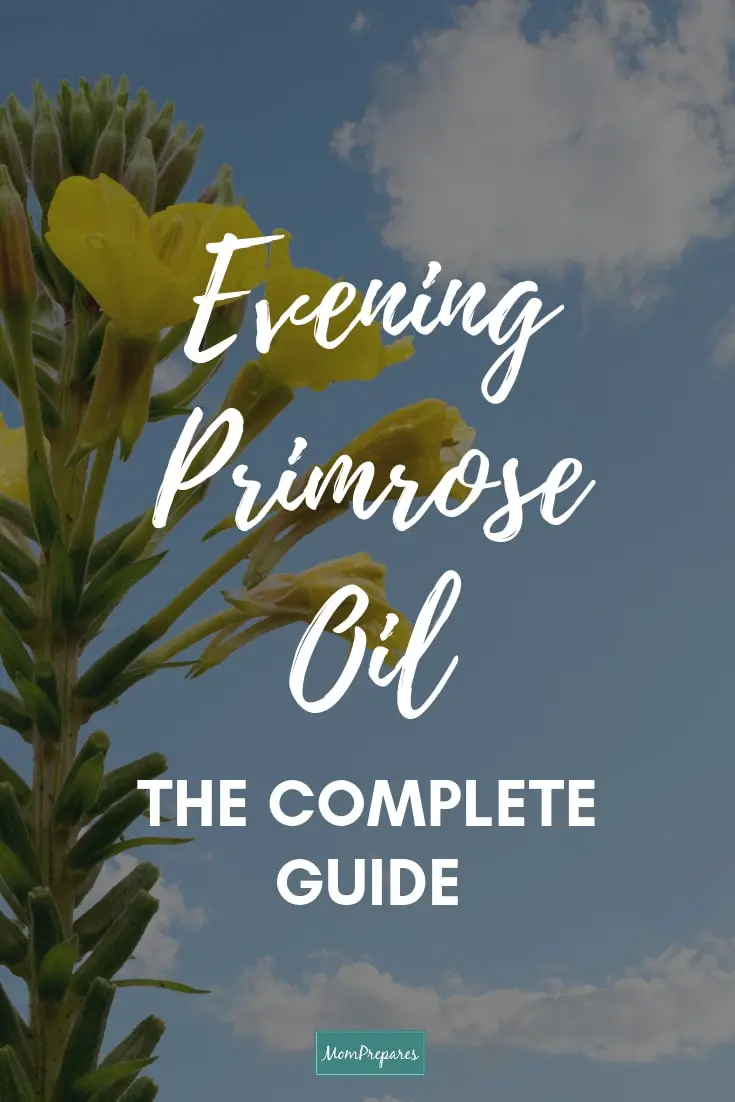 What is Evening Primrose Oil?
Evening primrose can actually be any of a variety of herbs from the genus Oenothera. Oenothera biennis belongs to the Onagraceae family of plants, although "true" primrose belongs to the family of Primulaceae.
This perennial grows to 3 – 5 feet in height and can spread 2 – 3 feet across. The herb features alternating leaves and yellow flowers that can blossom to almost two inches across.
The plant enjoys part shade to full sun and blooms from July to September. It grows easily in zones 4 – 9 and many gardeners enjoy that it attracts birds and butterflies. While native to North America, it now grows in Europe and throughout some of the Southern Hemisphere.
The production of the oil is led by China and the United Kingdom. The oil is pressed from the seeds, and the end result is a pale-yellow wonder that provides us with numerous benefits.
It must be noted that there are many names you may find this plant and oil going by throughout the world:
Evening Primrose Seed Oil
Fever Plant
Herbe-aux-anes
Huile D'Onagre
Huile de Primerose
King's Cure-all
Oil of Evening Primrose
Onagra biennis
Onagre Bisannuelle
Onagre Commune
Onagre oil
Primevere du Soir
Primrose
Primrose Oil
While you may hear the term "morning primrose," it is not the opposite of evening primrose as some may think.
Native Americans were among the first to discover the medicinal qualities of evening primrose.
A concoction made from the roots of the plant were placed on sore muscles to aid in healing and strength.
The medicinal use of the roots also extended to hemorrhoids and obesity.
They used the flowers for bruising and other skin issues.
The plant is edible as well. The roots are similar to turnips, and the flowers, leaves, roots, and seeds can all be eaten either cooked or raw.
For a wonderful face mask, grind up some of the flowers and make them into a poultice with ingredients like yogurt, raw honey, carrier and essential oils, and more.
Evening Primrose Oil Benefits
The oil is rich in gamma-linoleic acid (GLA), which is an omega-6 fatty acid. Another plant that is high in this substance is borage (Borago officinalis), which comes from the Boraginaceae family.

Moreover, both oils are also high in omegas 3 and 9. While I'm sure that you've heard of these, it's no surprise that not many people know what they are and what they do for the body.
What's the difference between omega-3, omega-6, and omega-9 fatty acids?
Omega-6 fatty acids are essential but common in the Western diet. In fact, we should limit intake, since our diet provides more than necessary.
Omega-9 acids are produced by the body, so there is less focus on obtaining them from external sources.
Now, omega-3 fatty acids are a different story.
Omega-3 essential fatty acids come from the diet. As they have many benefits for the body, people should aim to increase their intake. When you look at all the help omega-3s can provide, you'll undoubtedly want to start paying attention to the omega-3 levels in your diet.
If you or a loved one suffers from any of the following, considering omega-3 intakes would be a good idea:
Acne
Alzheimer's
Anxiety
Asthma
Attention Deficit Hyperactivity Disorder (ADHD)
Blemishes
Bone & Joint Pain
Cancer Risk
Dementia
Dry Skin
Eczema
Elevated Triglycerides
Eye Issues
Heart-related Issues
Liver Fat
Mental Decline
Menstrual Pain
Metabolic Symptoms
Sleeping Problems
What is evening primrose oil good for?
For starters, anyone who has any of the above symptoms or problems would benefit from the oil. This is especially true for people who don't like fish since some of the best sources of omega-3s are oily fish like anchovies, herring, salmon, sardines, and tuna.
You can take fish oil capsules instead, but if you do not like burping up the taste of fish with your coffee, you can take evening primrose as a supplement. Note that it is not a vitamin, and since it is an oil, it should not come in a tablet form.
Internally is not the only way to garner the benefits of this oil. Applied externally, it can be an excellent addition to homemade products or routines for skin, hair, nails, and more.
Beyond the fatty acid content and more that provides so much for us internally, there are other documented properties for oil of primrose:
Analgesic
Anti-arthritic
Anti-inflammatory
Antispasmodic
Astringent (mild)
Calmative
Depurative
Diuretic
Febrifuge
Nervine
Stimulant
Tonic
These all lend to the many uses and benefits for evening primrose oil in so many different products, such as body oils, face oils, balms, creams, lotions, oils, ointments, and hair care treatments.
Evening Primrose Oils Uses
There are so many uses for this oil it would be impossible to list them all here. That being said, there are a lot of ways you can use this oil at home, other than as an internal supplement, of course!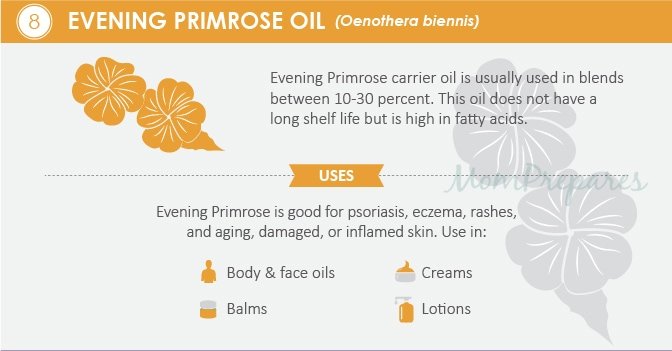 One important thing to keep in mind is that evening primrose oil is not a typical carrier oil. While you can certainly use the oil in your massage oils, facial oils, ointments, and more, it is not used at 100%.
Generally, when included in these mixtures, EPO would account for 10- 30% of the entire product.
Other oils that are used as a percentage of the primary carrier are:
Avocado (Persea americana / P. gratissima)
Blackcurrant seed oil (Ribes nigrum)
Borage (Borago officinalis)
Neem (Azadirachta indica)
Olive oil (Olea europaea)
Olive squalene (Olea europaea)
Passion Flower seed oil (Passiflora incarnata)
Rosehip seed oil (Rosa rubiginosa)
Sea Buckthorn oil (Hippophae rhamnoides)
Sesame (Sesamum indicum)
Tamanu (Calophyllum inophyllum)
Wheatgerm (Triticum vulgare)
While some might be used up to 100%, this would be in rare cases. Below, when a carrier oil is not specified, the following would be good choices:
Almond, Sweet (Prunus amygdalus var dulcis)
Apricot Kernel (Prunus armeniaca)
Coconut (Cocos nucifera)
Jojoba (Simmondsia chinensis)
For Acne:
Acne is a common cause of low self-esteem in many people and affects 60 million people in the United States alone.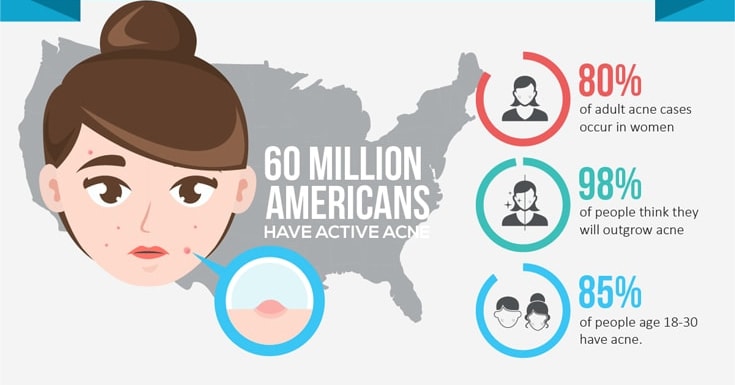 Some are lucky enough only ever to have a pimple here and there, while others have significant scarring from deep cystic acne. And no matter what they try, it never goes away or gets better.
Essential oils are a great complementary addition to routines meant to heal the skin of this unsightly condition.
EPO is one of the best plant oil additions for acne. Others that can be added to blends are borage (Borago officinalis), macerated carrot (Daucus carota), blueberry seed (Vaccinium corymbosum), and echium seed (Echium plantagineum).
If you deal with this issue and dream of a fresh, clean complexion, try the following recipes.
Daily Acne Oil Wash
If you are like most people, you probably think that the last thing you want to add to blemished and acne-prone skin is more oil. In fact, sometimes that is exactly what your skin needs.
Many times when trying to get rid of acne, we actually end up going overboard on harsh face washes, toners, and other chemicals that dry our skin out.
In turn, the body responds by producing more sebum and oil to try and provide the skin with the nourishment it needs.
This is a vicious circle in which your face ends up being on the losing end, popping acne spots up everywhere while your self-esteem plummets further downward.
Think back to sixth-grade science class.
I'll wait …
Remember the whole "like dissolves like?"
Well, it's the same with the oil on our skin. Washing with oil will help dissolve the excess oil your skin doesn't need.
You've tried everything else, so why not try something new with oil cleaning? Here's an example recipe.
I would caution that with severe and cystic acne, you should refer to your doctor, as this is likely caused by a food allergy or other problem that may require more drastic measures.
While the following is a great beginner recipe, remember that your skin is your own and everyone has different reactions. Some swear by olive oil as a main component, while others find it breaks them out.
For this, I'm creating a well-rounded recipe that would be great for beginners and different skin types.
You will need:
½ cup Castor oil (Ricinus communis)
¼ cup Jojoba oil (Simmondsia chinensis)
2 tablespoons Tamanu (Calophyllum inophyllum)
1 tablespoon Evening Primrose (Oenothera biennis)
25 drops Palmarosa (Cymbopogon martini)
15 drops German Chamomile (Matricaria recutita)
15 drops Lavender (Lavandula angustifolia)
10 drops Geranium (Pelargonium graveolens)
5 drops Tea Tree (Melaleuca alternifolia)
Mix the first three oils in a large, dark, sealable container. As this makes a little over a cup, finding an amber, cobalt blue, or dark green glass bottle that includes a dropper would be best. You can easily find these on Amazon or through a wide variety of distributors.
Add the essential oils in the order on the list. Gently stir with a non-reactive object like a wooden pick or seal the container and roll between your palms to blend the ingredients well.
To use, apply enough oil to your palm or fingertips to cover your face and neck area. It can be a light coat and does not have to be thick. This recipe should last quite a while!
Gently rub the mixture over the areas needed. Don't scrub it in; that will only irritate the skin more. Then get a clean, preferably white, washcloth and soak it in water as hot as you can stand without hurting your skin.
Place it on your face, so the steam opens up your pores, and the oils can do their job. Once it reaches room temperature, take it off and gently massage your face again.
This helps loosen the grime, dirt, and excess sebum stuck in your pores. Reheat the cloth with hot water, and steam again.
You can repeat this process as many times as you would like. Before long, you will find a routine for you that fits in your schedule.
Once you're done, rinse your washcloth to remove the dirt and oil on it, then gently wipe the excess oil from your face.
With this step, you are wiping away the dirt, oil, and skin cells that build up and work together to give you all those pimples in the first place.
If you like, you can do this last part once again to make sure you don't have any lingering dirt or skin cells. Finally, splash your face with cold water to close the pores back up.
After all, you don't want to let your pores stay open just to be filled with gunk all over again right after getting them nice and clean!
You can add a bit of vitamin E oil to help keep this from going rancid in addition to keeping it in the refrigerator.
For Wrinkles
On the other side of the spectrum, there is aging and wrinkles. EPO can come to the rescue for that, too. That's especially helpful for those of us who confusingly have pimples and wrinkles at the same time.
Anti-Wrinkle Treatment
1 teaspoon Almond oil, sweet (Prunus amygdalus var. dulcis)
2 drops EPO (Oenothera biennis)
5 drops Frankincense (Boswellia carterii)
4 drops Patchouli (Pogostemon cablin)
2 drops Geranium (Pelargonium graveolens)
Add all of the oils to a small, dark bottle with a reducer cap. Roll to blend. To use, massage a few drops on your face every night before bed, concentrating on the problem areas. Do not rub or tug, and always massage upwards towards the hairline. You don't want to create more sagging.
Research shows that evening primrose oil may be effective for diabetic nerve disorders as well as rheumatoid arthritis.
While there is anecdotal evidence that it helps other issues, there is no research currently supporting things like breast pain, eczema, hormones, hot flashes, multiple sclerosis, for PMS, weight loss, and more.
Does it work? If you have been using it for these reasons or try it and it helps you, great!
There is no reason to stop as long as you are using it appropriately and your doctor has no issue with it.
How to take evening primrose oil:
Evening primrose oil capsules are taken by mouth. Since they can cause stomach upset like flatulence and nausea, it is advisable to take them with food.
Evening primrose oil dosage:
The dosage usually depends on what you are taking it for and varies widely depending on where you are doing your research. Generally, it is between 500- 1000 milligrams daily, often split up into smaller doses.
Evening Primrose Oil Side Effects
This sounds like a great "cure-all," right?
It's not. Nothing is. Moreover, never assume that "natural" means "safe." Plus, anyone claiming a complementary medicine can "cure" anything should be met with absolute distrust.
For instance, we've all heard that frankincense (Boswellia carterii) can cure cancer. No, it can not. Nor can any other essential oil or complementary medicine.
So, is evening primrose oil safe?
Just as with anything, this is an excellent choice for many problems, and for many people. Unfortunately, it is not safe for everyone or every situation.
Safety starts with obtaining a quality product in the first place, which will be addressed below.
While it is safe both in oral and topical forms for most people, there are negative side effects.
For most people, it can be taken without instance for up to a year. For some, there may be mild side effects like nausea or stomach upset, diarrhea, or headaches.
EPO should not be taken if you are pregnant, and check with your doctor before taking while breastfeeding.
If you have a bleeding disorder or take medications to thin the blood, do not take EPO internally.
Do not use if you have had seizures in the past or have epilepsy.
If you have schizophrenia, check with your doctor. The gamma linoleic acid (GLA) found in evening primrose can cause seizures.
Because of the bleeding risk, intake of EPO should be discontinued two weeks prior to surgery.
There are also interactions with medications that can be harmful when taken in tandem with EPO supplements:
As previously mentioned, EPO can slow clotting, so should not be taken with anticoagulant or antiplatelet drugs. These include aspirin, diclofenac, ibuprofen, naproxen, heparin, and more.
Phenothiazine medications are also in the negative interaction list.
These are antipsychotics that are also helpful for conditions unrelated to mental acuity. They go by different names including Mellaril, Prolixin, Stelazine, and Thorazine.
Where to Buy Primrose Oil
You can buy the product itself and many others containing it anywhere from Amazon and GNC to small mom and pop-run online stores in countries large and small.
Keep in mind there are a lot of unscrupulous people out there who will gladly take your money and run. You want to know what you are getting is pure, unadulterated, cold pressed, fresh oil.
A "primrose pill" or "tablet" should resemble a fish oil capsule, in that it is encompassed in a hard-jelly-like or "soft shell" capsule with the oil inside. Don't be duped by those trying to pawn off inferior products that may have little to no EPO in them at all.
The best advice is to seek out a reputable supplier that you can trust. It is impossible to say what the "best" EPO supplement or oil is.
The supplements come in different sizes as well, such as 500mg, 1000mg, 1300mg, etc., so ask yourself "how much should I take?" before making a decision.
Always pay attention to the reviews, as they can tell you a lot. Are there a lot of negative ones? More positive ones but they look fake?
Remember it is challenging for any product to have perfect reviews across the board. Nonetheless, if you can find one that has thousands of reviews and the product is over 4 stars, that's likely a good choice.
The bottle should be dark to protect the contents, list the botanical name and just evening primrose oil as the ingredient unless it is a combo product of course.
Look for third-party seals of approval as well. The bottle also needs to have an expiration date. Non-GMO (genetically modified) and organic are always good choices, but still be aware of everything else.
Any product without the above should be considered with caution. Besides all of this, if evening primrose oil is listed as an essential oil, run. It is not, and this is a method some less-than-stellar sellers use to up the cost.
Once you have your product in hand, whether it is the supplement or the oil, keep it in the refrigerator as both has short shelf lives and the cold can help extend that.
Conclusion
Evening primrose oil, while not true primrose, is a fantastic product with many health benefits and home uses both internally and externally.
As with any product like this, you must be careful with the quality of what you actually are using. This goes for the capsules and oils alike.
Also, be wary of where you are getting your information. While a lot of people writing on sites are well-meaning, they are not correctly doing quality research or have not done the required work to be knowledgeable enough to give reputable information.
This is your health you are dealing with, and you are the one that is responsible for your health.
When in doubt and before adding any alternative medicine or supplement to your regimen, always consult with your doctor.
This is especially true when you have other conditions and medications to consider.