Something important is off when it comes to weight loss.
As many people are finding out, losing weight in a healthy and sustainable way is not simply a matter of cutting out certain foods, eating less, or exercising more.
The numbers bear this out — 95% of people who lose weight in the short-term gain it back within a few years.
Today, I'd like to share an effective way to lose weight naturally and sustainably, without stress and without dieting.
I'm talking about essential oils, a weight-loss solution more and more people are relying on.
Read on to find out exactly which essential oils can help you with weight loss, as well as eight different ways you can use them to get rid of unwanted pounds for good.

#1 Lavender oil for weight loss without dieting
In her book, Clinical Aromatherapy: Essential Oils in Healthcare (Amazon), aromatherapy expert Jane Buckle reports on two studies on essential oils for weight loss.
The first of these studies looked at lavender essential oil, mandarin essential oil, and a placebo.
30 people — who were 10 or more pounds overweight and unable to lose weight — were split into groups.
Each group was told to smell either one of these oils or placebo before meals and when they felt food cravings.
In addition, the people in the study were also told NOT to alter their normal eating habits or to diet in any way.
What were the results?
Over 6 weeks, the control group lost 1.2 pounds.
The mandarin oil group lost twice that — 2.4 pounds.
But the lavender oil group did the best by far. They lost 5.3 pounds on average, more than twice the mandarin oil group and over 4 times the control group.
So how can you use lavender oil to lose weight in the same way?
The simplest way is to create a personal inhaler, much like the Vicks inhalers you probably know already. Here's what you'll need:
Lavender essential oil
Cotton wicks
Personal inhaler cartridge
And here's how to make it:
Get a little glass bowl.
Pour out about 15 drops of lavender essential oil into the bowl.
Put one of the cotton wicks inside the bowl until it soaks up the lavender oil (you can use tweezers to handle the wick).
Put the wick inside the cartridge and snap on the cartridge cap.
And that's it! Your own portable inhaler that you can take with you and sniff before meals and whenever you feel food cravings.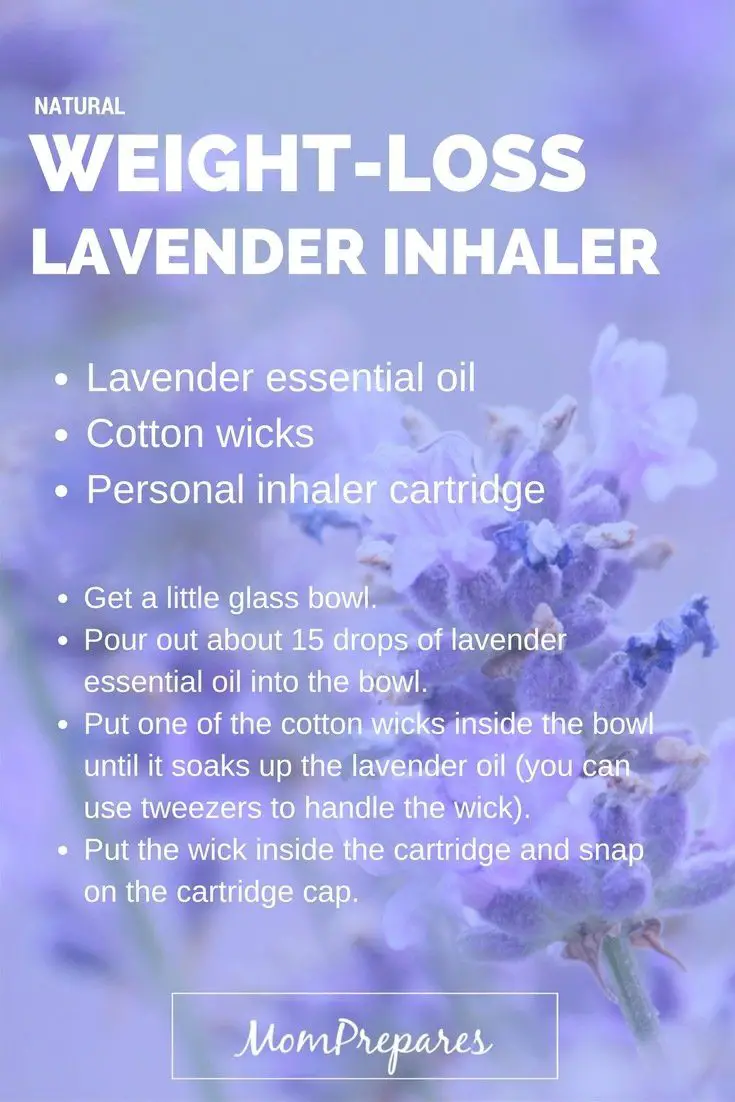 #2 Fennel oil for carbohydrate cravings
As I mentioned above, there were two studies about essential oils and weight loss in Clinical Aromatherapy (Amazon).
The second of these studies dealt with fennel essential oil, and its effect on reducing cravings for carbohydrates.
The people in these studies applied a 3% fennel oil dilution to their wrists, three times a day.
This went on for two weeks.
The results?
People who applied the fennel oil reported significantly reduced cravings.
People in the control group did not.
As you can imagine, this translated to increased weight loss — 3.5 pounds in the fennel group. Pretty remarkable for just 2 weeks.
So how can you use fennel oil to help you overcome cravings for carbohydrates or sweets?
It's simple. You can make a 3% fennel oil blend, just like in the study. Here's what you'll need:
18 drops fennel essential oil
1 ounce fractionated coconut oil
Simply mix the fennel oil with the fractionated coconut oil, and store this blend in a small glass bottle.
You can take this bottle around with you, and apply a few drops of the blend to your wrists regularly throughout the day.
#3 Basil and oregano oils to naturally reduce appetite
In 1995, Dr. Alan Hirsch performed a study involving aromas and weight loss.
He gave aromatic inhalers to 3193 volunteers and tracked their weight over 6 months.
The volunteers were instructed to inhale three times in each nostril when they were hungry, but not to change their usual diet and exercise habits.
In addition, Dr. Hirsch switched up the aromas each month, as a way of preventing the body from adapting.
The results were impressive.
On average, participants lost 4.7 pounds during the study, but the weight loss correlated very closely with how frequently they used the inhalers. Some participants lost as much as 18 pounds per month.
How can you replicate this on your own? Well, the original Hirsch study used aromas (not specifically essential oils).
However, the Smell & Taste Treatment and Research Institute, an organization previously headed by Dr. Hirsch, apparently found that inhaling a culinary scent, such as basil or oregano or lemon, worked well for weight loss.
If you'd like to try this yourself, here's what you'll need:
Oregano essential oil
Lemon essential oil
Simply follow the recipe below from Stephanie Blue's great site for creating 3 separate inhalers — one with basil, one with oregano oil, and one with lemon oil.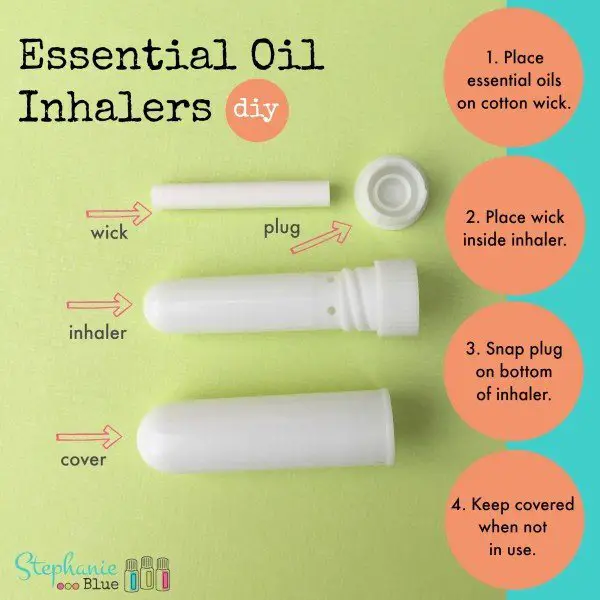 Carry around one of the inhalers with you, and inhale from it deeply three times in each nostril before you eat. Switch to one of the other two essential oil inhalers at the end of the month.
#4 Peppermint oil for 1,800 fewer calories
Bryan Raudenbush, an associate professor of psychology at Wheeling Jesuit University, performed a study similar to the Hirsch study above.
He asked 40 people to sniff peppermint every two hours for five days in a row.
For the 5 days after that, he gave them a placebo.
The aroma of peppermint apparently had a big effect on the appetites of the study participants.
During the period they were inhaling the peppermint, they wound up consuming 1,800 fewer calories than during the non-peppermint period.
This kind of easy and spontaneous calorie reduction will quickly translate into stress-free weight loss.
So how can you use peppermint essential oil to curb your appetite like this?
Again, your best bet is to create a personal inhaler. Just follow the instructions from point #1 above, and swap out lavender oil and replace it with peppermint.
#5 Grapefruit oil for increased fat burning
There are lots of testimonials online from people who claim essential oils helped them lose weight.
The most impressive one is by Stephanie Tait on the Joy Parade Blog:
Since I had already seen such wonderful results with other uses for the oils, I decided to give the oils for weight loss a try – and within 6 months I was 50 lbs lighter. When taking the oils I could feel a noticeable difference in my energy levels, in how quickly I felt full at meals (my portion sizes were dramatically reduced,) in how regular I was, and most noticeably in how much less I craved sugar. At one point I even went off the capsules for 10 days to see if it was just placebo effect, and by the end of the 10 days I was swearing up and down I would never stop taking them again.
So what was the essential oils recipe Stephanie was using?
It was a capsule containing a mixture of lemon, peppermint, and grapefruit oils.
We've already seen how lemon and peppermint oil can help with weight loss. And grapefruit oil should be no surprise either — scientists have found it enhanced fat burning, reduced appetite, and resulted in lower weight.
Here's how you can use these oils to lose weight as well. You will need:
Grapefruit essential oil
Peppermint essential oil
Lemon essential oil
Olive oil
Empty gelatin capsules
And here's how to make the capsule:
Put 1 drop each of grapefruit, lemon, and peppermint oils into the empty gelatin capsule
Fill up the rest of the capsule with olive oil
Close the capsule
Simply take one of these capsules in the morning and one in the afternoon each day while you are trying to lose weight.
You can also combine this with inhaling the oils throughout the day (as in point #1) or applying them to your skin (as in point #2).
By the way, you might be wondering whether it's safe to ingest essential oils.
The answer is yes, as long as you stick to the protocol above.
Peppermint, lemon and grapefruit oils are considered GRAS (Generally Recognized As Safe) by the FDA, which means that they are safe to ingest in small amounts.
And a drop of these oils is a small amount — in fact, it's not much more than you would get through food flavoring.
However, because essential oils are so concentrated, it is important to dilute the oils to prevent upsetting your stomach — that's what the olive oil is for in the recipe above.
#6 An uplifting weight-loss blend
There's an increasing realization among scientists who study obesity that psychology might be the most important part behind sustainable weight loss.
And not just in the sense of getting motivated enough to exercise or stick with your diet plans, either.
In fact, it's quite the opposite. In the words of Michael Graziano, a psychologist and Professor of Neuroscience at Princeton University:
Hunger isn't in your stomach or your blood-sugar levels. It's in your mind – and that's where we need to shape up.
In fact, scientists are finding that improving your mood, dealing with depression or anxiety, and reducing stress can all major, positive effects on your attempts to lose weight.
The good news is — this is something essential oils excel at. There are many essential oils that can help improve your mood.
Here's is a simple blend to positively impact your mood and help you achieve weight loss without struggle:
Simply diffuse a few drops of each of the oils in your home diffuser.
In case you don't have a diffuser, you can also put a couple of drops of each of the oils on a cotton ball and keep the cotton balls around your home.
#7 Sleeping off the pounds with lavender and vetiver
There's no doubt about it.
Not getting enough sleep — or not sleeping deeply enough — leads to weight gain.
And there's mounting scientific evidence that the reverse is true as well.
In other words, getting more deep, restorative sleep can actually lead you to lose weight — literally without lifting a finger.
Several essential oils can help you get to sleep more easily and sleep more deeply, thereby helping you lose weight.
Here's what you'll need:
Lavender essential oil
Home diffuser
Put a few drops of each oil into your diffuser and turn it on before you go to bed. If your diffuser has a programmable on-off setting, run it for 15 minutes on, and 1 hour off.
#8 Fighting inflammation and weight gain together
Chronic inflammation has been a very hot topic in medical circles over the past few years.
And no wonder. Doctors are increasingly finding out that inflammation has a two-way relationship with a bunch of different health problems — including weight gain.
Gaining weight increases inflammation in your body.
But your body already suffers from low-grade inflammation — because of infections, stress, or any other cause — this can also contribute to weight gain.
As you might know, many essential oils have powerful anti-inflammatory properties. They can help you reduce chronic inflammation and therefore reduce your weight.
Here's what you'll need:
Roman chamomile essential oil
Home diffuser
Roman chamomile contains a compound called chamazulene, which gives this oil its unique blue color, and which has been studied for its anti-inflammatory properties.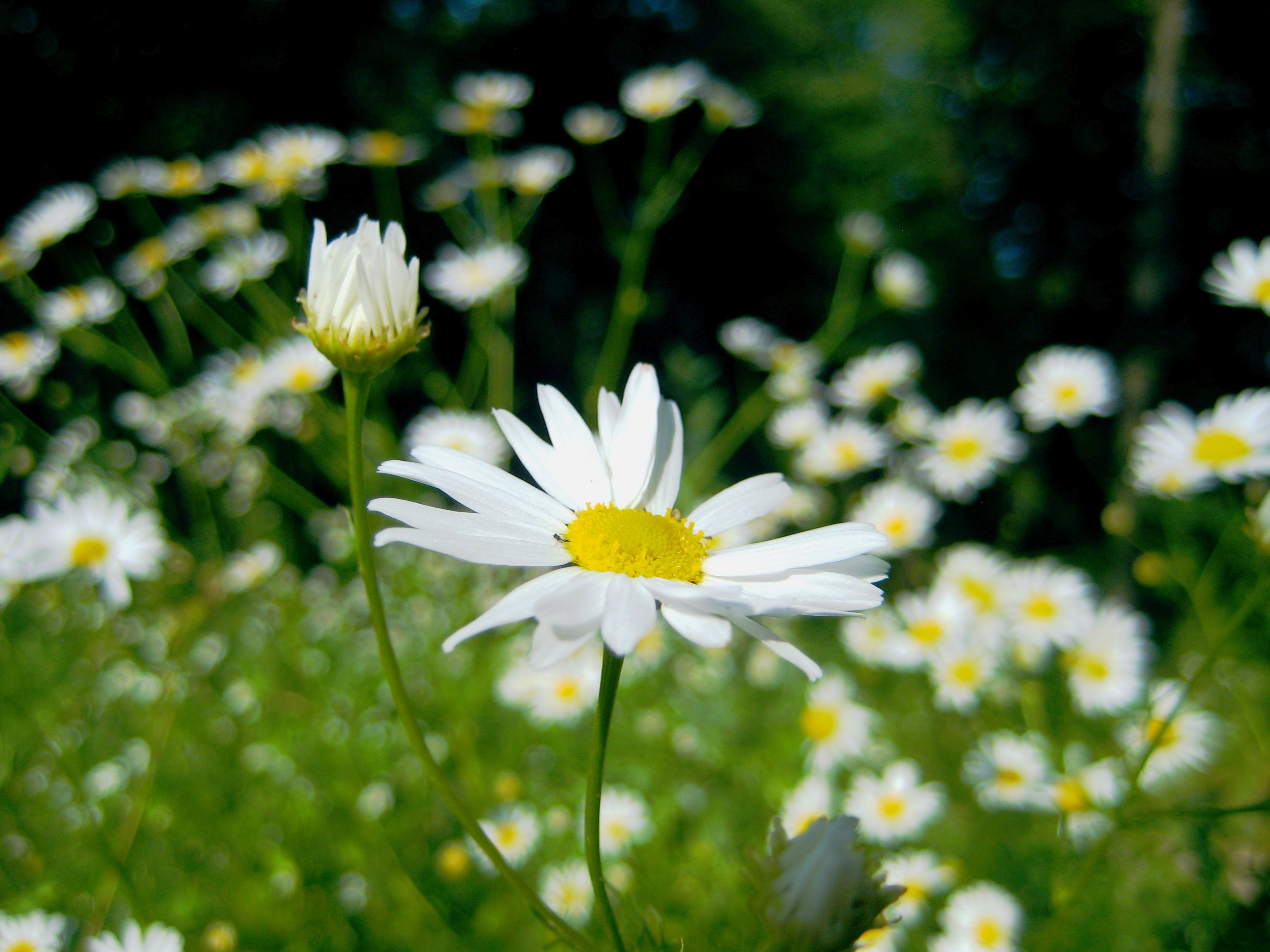 To use this oil, simply diffuse it throughout your home using a home diffuser.
If you are suffering from chronic inflammation, this should help your health in numerous ways, including helping you lose weight.