What is Basil?
Ocimum basilicum, or sweet basil, is a small perennial that is probably best known as a prominent and flavorful addition in Italian foods, which is why the smell is reminiscent of the tasty cuisine.
Basil belongs to the mint family, which is the largest family of plants within the order Lamiales with over seven thousand species. Lamiaceae plants include peppermint (Mentha piperita) and spearmint (Mentha spicata), and are characterized by square stems and fragrant leaves. [1]
There are many different types of basil growing in the world, and at least 60 of these have been tested for their essential oil content. [2]
A number of these are used in the aromatherapy field, the safest of which is the linalol chemotype of sweet basil (O. basilicum ct. linalool). Regular sweet basil is high in estragole (methyl chavicol), which is a toxic carcinogen.
Estragole is highly toxic when taken orally, can cause cell mutation, genetic defects in unborn children, cancer, and skin sensitization. [3]
Chemotypes are variations of a plant. The constituents of the plant are changed by factors such as where and when the plant is grown and under what conditions. Instead of having a high estragole content, O. basilicum ct. linalol is higher in linalool.
Linalool is a gentle terpene alcohol found in many plants, fruits, and essential oils. It is used in many cosmetic preparations because of its pleasant scent. [4] Basil linalol possesses an aroma that is softer than regular sweet basil, yet still peppery and warm.
The third basil oil you may come across has been held in high regard since ancient times, and is called the "elixir of life" in many texts and cultures. Basil tulsi, or holy basil (O. tenuiflorum), is sacred to Hindus and has a spicy, green, warm scent.
Finally, there is lemon basil (O. citriodorum). This is a hybrid plant with the nickname "Pesto Perpetuo." [5] This smells just as it sounds, fresh and green with a wonderful citrus bouquet.
All of the essential oils from these plants are created through hydrodistillation of the leaves and the flowering tops of the herb.
Basil essential oils blend well with black pepper (Piper nigrum), cypress (Cupressus sempervirens), geranium (Pelargonium graveolens), juniper berry (Juniperus communis), lavender (Lavandula angustifolia), spearmint (Mentha spicata), and more.
Where to buy basil essential oil?
There are many reputable suppliers both online and off where you can purchase quality sweet basil oil.
Some of the main things a high-caliber seller will have are good reviews, botanical names, origin of the oil, and available chemical analysis of the oil batches.
Basil Essential Oil Uses
Basil is a well-known herb that can be found in herb gardens and on windowsills around the world. The whole leaf is often used in cooking or in salads, and it lends its flavor well to many types of cuisines, most commonly Italian tomato sauces.
Basil is the star of pesto, along with pine nuts and olive oil. A popular, yet simple, salad called Caprese is made with fresh tomato topped with a slice of fresh buffalo mozzarella, and a basil leaf, over which you drizzle olive oil and add salt and a bit of freshly cracked black pepper.
Oils and vinegars infused with basil are wonderful to keep on hand for cooking.
You can make a tea from the leaves and stems, which is excellent for the digestive system.
The following are just a few of the uses for basil oil at home.
Aromatherapy
Basil is the perfect choice in your diffuser if you are feeling mentally fatigued. The oil is known for waking up the senses and combating anxiousness, fatigue, and stress. Any of the basils can be used in this manner.
Use it while working or studying to keep you focused and alert. You can also add a couple drops of rosemary (Rosmarinus officinalis) and lemon (Citrus limon) for variety. It will also have your house smelling like you just prepared a 5-star meal!
Cooking
Speaking of meals, basil is one of the essential oils you can use in your kitchen. When using an essential oil in recipes, remember that it is a highly concentrated substance.
When you consider that it takes pounds upon pounds of plant material to make just a tiny bit of oil, you can see how one drop can be plenty for a recipe.
Try a drop in your next tomato-based pasta sauce, meat marinade, or even pasta salad.
For Animals
Kristen Leigh Bell recommends the linalol chemotype of basil for use with dogs because of its ability to bring about focus. This ability makes it perfect in blends for canines that are nervous or anxious, or for those that suffer from separation anxiety.
If you have a dog in your home that hates being left alone during the day, a diffuser set on a timer can help them get through the time you have to be away.
It is crucial that you use a nebulizer or ultrasonic diffuser. These do not heat up the essential oil molecules, so they should be used for aromatherapeutic purposes. Besides that, you wouldn't want to leave a candle burning when you leave the house.
You can try the following recipe next time you have to leave your four-legged friend alone for a few hours. This should not be used around other animals, such as cats, birds, reptiles, or fish.
Calming Canine Blend
4 drops Clary Sage (Salvia sclarea)
4 drops Lavender (Lavandula angustifolia)
3 drops Sweet Orange (Citrus sinensis)
1 drop Basil, sweet (Ocimum basilicum)
Insect and Rodent Repellent
Many essential oils are effective in warding off all the little critters and no-see-ums that we would rather not have to deal with.
One of the most effective oils at deterring insects is neem (Azadirachta indica), also known as margosa oil. However, the smell is far from pleasing, and some describe it as downright abhorrent.
Luckily, we have other oils we can choose from to keep the pests away. Basil is one of these oils.
Besides basil, some of the best oils that are great at keeping them away include:
You can use these oils in blends in a number of ways. For instance, add them to two cups of water in a spray bottle. Shake before spraying.
You could soak strips of cloth in the solution, and hang them in windows and doorways, or place them in the windowsills.
Furthermore, you can soak cotton balls with the oils and place them in areas where you see insects like ants or roaches coming in.
Basil Essential Oil Benefits
The health benefits of sweet basil oil were first discovered thousands of years ago. The herb's medicinal qualities were touted by the fathers of medicine, Pliny the Elder and Dioscorides.
That being said, at one point in history, it was believed that basil actually caused scorpions to spontaneously appear in the brain. Luckily, that is not true, but it is why it is associated with the astrological sign of Scorpio.
There are more than 50 documented medicinal uses of basil. [6]
While some of the anecdotal beliefs such as the brain-scorpion correlation have been disproven, there are still some benefits that have withstood the test of time.
Helps Tone Muscle
Well-toned, supple muscles are the goal of every athlete, dancer, and fitness buff. While rubbing on essential oils without doing anything else is not going to get you anywhere, there are some essential oils that are helpful in maintaining tone.
Basil linalol is one of these, along with cypress (Cupressus sempervirens), sweet marjoram (Origanum majorana), lavandin (Lavandula x intermedia), black pepper (Piper nigrum), and more.
Add these to a carrier oil and massage the blend into your muscles in a shower before performing an exercise. [7]
Improves Memory
Just as basil helps with focus and concentration, it can also help your memory. While essential oils cannot stop any type of brain deterioration, they can help in other ways.
If you are taking care of a loved one suffering from dementia or Alzheimer's, basil linalol, lemon (Citrus limon), black pepper (Piper nigrum), and rosemary (Rosmarinus officinalis) are all excellent choices to use in a diffuser around them.
These oils can likewise increase their alertness, help with their appetite in the cases of lemon and black pepper, and have other positive benefits.
Constipation
You would think that to ease the discomfort of constipation and get things moving along, you would need to take something internally.
However, you can have just as soothing results by applying a gentle massage of essential oils to the abdominal area.
Try the following blend the next time you are feeling backed up:
4 drops Cardamom (Elettaria cardamomum)
4 drops Black pepper (Piper nigrum)
3 drops Patchouli (Pogostemon cablin)
3 drops Basil linalol (O. basilicum ct. linalool)
First, blend these oils in a small dark glass bottle. Add three drops of the blend to a teaspoon of a liquid carrier oil and gently rub over the abdomen in a clockwise motion.
Relaxes the Nervous System
Because of the effects of basil linalol on the nervous system, it is a good choice for a personal inhaler in times of stress or anxiety, such as when you are going to be interviewed for a job or when taking an important exam.
This would also benefit women who suffer from premenstrual syndrome (PMS) or premenstrual dysphoric disorder (PMDD).

Use This Infographic On Your Blog
Basil Essential Oil Research, Facts, and Studies
Fungicide
An article published in a 1989 issue of the Canadian Journal of Botany states that the essential oil of sweet basil was 100 percent effective in inhibiting 22 strains of fungi from growing on a mycelial level.
Two of the strains tested were those that produce mycotoxins: Aspergillus flavus and Aspergillus parasiticus. [8]
Mosquito Repellent
Mosquitoes are a worldwide problem. First-world countries generally see them as a nuisance. For third-world countries, however, they are of grave concern.
It's not something most of us think about, but mosquitoes are actually one of the top killers of humans in the animal or insect kingdom.
The reason for their mortal danger is in the way they attack. Through their vampiric lust for blood, they move from animal to person and so on, biting and sucking away. As they do, they are also transferring a bit of the previous victim's blood to their new prey.
This creates a deadly situation in which they are continually transferring diseases throughout populations. Some of the lethal pathogens that get passed along are chikungunya, dengue and yellow fever, the zika virus, and malaria.
In 2015 alone, malaria killed more than 438 thousand people. [9] Therefore, it is vitally important to find repellents that actually work. Basil has active antimalarial properties [10], and its leaves are used in Ethiopia to combat the disease. [11]
Furthermore, the oil properties of basil are an effective insecticide against the larvae of Aedes albopictus, or the Asian tiger mosquito. This is a pervasive species that is a large carrier of many of the above viruses. [12]
Basil oil, along with various Origanum species, Melissa officinalis, thyme (Thymus vulgare), and others were also found to be capable of repelling the adults. [13]
Conclusion
The properties of basil essential oil mean that it is good for everything from a massage to keeping insects at bay and a myriad of things in between.
Basil comes in many forms, but the one that you will likely use in home aromatherapy is the linalol chemotype (Ocimum basilicum ct. linalool). It is safer to use so is a wiser choice. Be certain to look for this botanical name when purchasing the oil.
Safety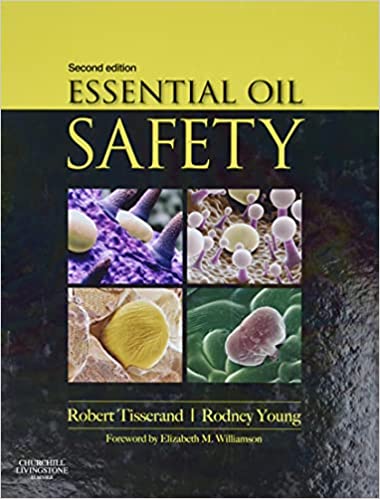 Correct selection and use of essential oils is crucial to ensure that you enjoy the best benefits of oils, without any of the downsides. Remember, some essential oils can be very potent and powerful. We therefore highly recommend this book to all of our readers: Essential Oil Safety: A Guide for Health Care Professionals 2nd Edition