What is Clary Sage?
Clary sage is one of many sages in the genus Salvia in the mint family of Lamiaceae. It is closely related to S. officinalis, which is the garden sage most of us, especially cooks, know well. Spanish sage (S. lavandulaefolia) also produces essential oils.
The word salvia comes from the Latin 'salvare,' which means to heal. [1] Clary sage is also known as clary wort, clear eye, common clary, eye bright, and muscatel sage. [2]
Two of these names, clear eye and eye bright, were bestowed upon the plant because of its mucilaginous seeds. In times past, when a foreign object found its way into the eye, people would place a seed in the eye so its lubrication would remove the invader. [3]
This being said, the moniker eye bright for clary sage does not mean it is the same thing as the eyebright commonly sold today, which is from the Euphrasia (E. officinalis) plant. Nonetheless, the latter is also often used for eye issues. [4]
The word clary itself is derived from the Latin 'clarus,' which means to clear. Besides the seeds, people would also use the oil of the plant to wash the eyes. [5]
Clary sage is native to the Mediterranean area, specifically Europe's southern and central regions, as well as western Asia. It is now cultivated in many regions worldwide, including England, France, Morocco, Russia, and the United States.
The plant itself is a hardy one, and although it is considered a biennial, it can live for one to two more years. Essential oil can be found throughout the glandular hairs all over the plant. The velvety leaves are topped with spikes of flowers in hues of blue, lilac, and pink.
The flowering tops may be distilled dried or fresh. Dried produces traditional clary sage, while fresh is known as crushed green clary sage. [6]
The oil should be either clear or a pale greenish-yellow. Clary sage blends well with citrus oils like bergamot (Citrus bergamia) and lemon (Citrus limon), spice oils like black pepper (Piper nigrum), and florals like jasmine (Jasminum officinale) and rose (Rosa damascena).
An absolute is also produced but is mainly used commercially. Clary sage should not be used by pregnant or nursing women. Because it can exaggerate the effects, the oil should not be used in conjunction with alcohol.
Because there are so many variations of sage, it is important not to get them confused. Always check the botanical name to know what you are working with. Although related, there can be significant therapeutic differences between plants.
Sage vs. Clary Sage
The difference between sage (S. officinalis) and clary sage (S. sclarea) lend to the reason that it is essential to know what you are working with.
For instance, while clary sage is non-irritating, non-sensitizing, and non-toxic, sage is an oral toxin due to it having a substantial thujone content. This also makes it an abortifacient and dangerous to use in pregnancy.
Sage should also not be used around or on diabetics, epileptics, or anyone with high blood pressure. Some aromatherapy experts, such as Julia Lawless, recommend staying away from sage altogether in home use.
Others, like Valerie Worwood, caution that it should be used with extreme care. She also warns that sage oil should be heavily diluted and only used short-term.
When in doubt or unless properly trained, clary sage or Spanish sage (S. lavandulaefolia) should be chosen instead.
Clary Sage Essential Oil Uses
Commercially, clary sage is used in perfumes and as a fixative in many cosmetic products, detergents, and soaps. It is also used to enhance the flavor of muscatel wines.
Clary sage is a potent oil that can be used in many ways around the home. The most common uses are listed, but these are by no means the only ones.
For Hair Issues
Clary sage is beneficial for many hair issues. It can be used in blends for afro-textured, falling, fragile, and hair loss.
You will want to pick essential oils for your blends based on your particular issue. However, once your mix is finished, you want to make sure that the carrier oil you use is equally as beneficial. The following is a wonderful carrier blend:
Hair Oil Carrier Blend
4 teaspoons Camelina oil (Camelina sativa)
3 teaspoons Argan oil (Argania spinosa)
3 teaspoons Rice Bran oil (Oryza sativa)
2 teaspoons Jojoba oil (Simmondsia chinensis)
1 teaspoon Meadowfoam oil (Limnanthes alba)
1 teaspoon Moringa oil (Moringa olifera)
The above oils together have smoothing, healing, nourishing, conditioning, and sun, heat, and product protection qualities. The oils of meadowfoam and moringa both offer strengthening and nourishing properties as well as providing a nice gloss to the hair.
Blend all of the above together well. I recommend keeping this in the refrigerator, so it stays fresh longer. To use, add three to five drops of your particular essential oil blend to one teaspoon of your hair oil carrier blend and massage into the scalp and the strands of your hair.
For Skin Conditions
Having skin conditions can range from simple nuisances like mild dryness to those that are so severe they cause depression and anxiety, such as in cases of severe psoriasis or eczema.
While there are many medical treatments for these, many choose to avoid the side effects that often come with them and turn to natural alternatives, like essential oils.
There are multiple conditions that can benefit from clary sage essential oil. For instance, it is good for aging, dry, and blemished skin.
Acne
Many essential oils have bactericidal properties that are perfect for helping reduce acne. Plus, the ones that also have anti-inflammatory effects are doubly beneficial.
Valerie Worwood lists a four-stage plan for acne in her book, The Complete Book of Essential Oils and Aromatherapy. Clary sage is listed with eucalyptus radiata, thyme linalol (Thymus vulgaris ct. linalool), lavender (Lavandula angustifolia), and carrot seed oil (Daucus carota). [7]
Anti-aging
Most people, women and men alike, do not want to look in the mirror at someone they no longer recognize. People want to look as young as they can. While essential oils are not the fountain of youth, they do have properties that can marginally delay the process.
Just some of the many anti-aging oils are:
Relaxation Techniques
Clary sage is well known as one of the most relaxing essential oils, so much so that experts warn not to use the oil with alcohol as it can increase its effects.
With the everyday stressors we face, we can turn to safer alternatives on their own and reap their benefits to help us unwind. Clary sage and lavender in combination is an excellent blend for this.
The oil alone or the blend with lavender or other oils can be used in multiple ways as well, such as:
Baths
Use one to three drops in a teaspoon of carrier oil or Epsom salts then swish around in the bathwater.
Body Oils
For a body oil, use the same recipe as for a bath (using a carrier oil, of course!) and then massage into the skin, focusing on areas where tension is felt the most.
Inhalation
Use one drop on a tissue or cotton ball and inhale as needed.
Room Diffusion
Adding clary sage alone or in a blend in your diffuser can provide calmness to your space.
Shower
You can use clary sage in the shower in a number of ways. You can put one or two drops on your washcloth and rub it over your skin. You could also put the oil's drops on the washrag and place it on the floor of the shower to inhale it or drop the oil onto the shower floor.
Clary sage is not the only oil you can use in this manner. Other oils you can use to destress are listed below; you can also make blends of the following to find what works best for you:
Bergamot (Citrus bergamia)
Chamomile, Maroc (Ormenis multicaulis)
Roman Chamomile (Anthemis nobilis)
Geranium (Pelargonium graveolens)
Grapefruit (Citrus paradisi)
Frankincense (Boswellia carterii)
Lavender (Lavandula angustifolia)
Lemon (Citrus limon)
Orange, sweet (Citrus sinensis)
Patchouli (Pogostemon cablin)
Petitgrain (Citrus aurantium)
Vetiver (Vetiveria zizanoides)
As you experiment with these blends, you may find you need the stronger oils at first. As you go on, you will likely find that you can use oils of lower strength to get the same effects as your coping skills increase.
Clary Sage Essential Oil Benefits
The health benefits of clary sage oil can be attributed to its therapeutic properties, which include being:
Analgesic
Antibacterial
Antidepressant
Antiseptic
Antisudorific (helps reduce sweating)
Calmative
Nervine
Restorative
Soporific (induces sleep)
Spasmolytic
Tonic (reinvigorates the body and its systems)
Calms the Nervous System
Many essential oils are calming to the nervous system. Lavender (Lavandula angustifolia) is one of the more popular ones used in this manner. Clary sage is another, especially when a stronger effect is wanted. The oil can help ease the symptoms of:
Anxiety
Bereavement
Depression
Exhaustion
Guilt
Insomnia
Irritability
Mood swings
Premenstrual syndrome (PMS) / Premenstrual Dysphoric Disorder (PMDD)
Sleep issues
Stress
How to use clary sage for the above is mainly a personal preference. You can add it to your shower or bath, inhale from a tissue, add it to your diffuser, and more.
The oil is helpful for overall well-being, but take care not to mix it with alcohol as its euphoric side effects can enhance the alcohol's effects.
Cooling to the Respiratory System
Garden sage (Salvia officinalis) is known for its cooling effects on the respiratory system. Nonetheless, it should not be used by people that have not been adequately trained in the use of essential oils as it is an abortifacient and oral toxin, plus shouldn't be used by certain people.
Luckily, clary sage has the same cooling effects and is much safer. It can be used to calm the symptoms of asthma, ease sore throat pain, and help open the airways.
Soothes Muscular Aches and Pains
Just as clary sage is cooling and soothing to the respiratory system, it has the same effect on the muscles. Use it in massage oils to ease cramping and soreness in the muscles and joints. It can also help lower blood pressure with its added calming effects.

Use This Infographic On Your Blog
Clary Sage Essential Oil Research, Facts, and Studies
Enhances Antibiotics for Wound Infections
In the March 2017 issue of the Burns Journal, there was a research paper done on the study of essential oils to enhance traditional antibiotics to aid in healing.
Oils that helped on their own were cinnamon (Cinnamomum zeylanicum), clove bud (Syzygium aromaticum), lavender (Lavandula angustifolia), and thyme (Thymus vulgaris).
The oils that showed the greatest synergistic effect with the antibiotics were basil (Ocimum basilicum), clary sage (Salvia sclarea), and rosemary (Rosmarinus officinalis). [8]
Efficacy Against Staphylococci Bacteria
Another study from the February 2015 issue of the Advances in Dermatology and Allergology showed that clary sage is effective against multiple Staphylococcus strains, including S. aureus, S. epidermidis, and S. xylosus.
This makes clary sage oil a promising addition to formulations to control bacterial growth in wounds. [9]
Dysmenorrhea Relief
Women with dysmenorrhea often suffer miserably every month of their lives that they are menstruating. It causes painful cramping of the stomach that often extends to the back. The pain can radiate down the legs and can be so severe that getting out of bed is difficult.
The Journal of Obstetrics and Gynaecology Research published a paper in Issue 5, Volume 38 in 2012 exploring the analgesic effects of essential oils. This was a randomized, double-blind trial.
The essential oils of lavender (Lavandula officinalis), clary sage (Salvia sclarea), and marjoram (Origanum majorana) were added in a 2:1:1 ratio to unscented cream.
The dilution level was three percent, and the women applied it by massaging the cream to their abdomens in the period between menstruation. Their reported pain duration was lowered from 2.4 days to 1.8 days.
These analgesic effects are attributed to the active constituents of the oils including β‐caryophyllene, eucalyptol, linalool, and linalyl acetate. [10]
Conclusion
Clary sage is an excellent oil to choose when a calming effect is needed, whether it be for the muscular, nervous, or respiratory system.
It is also helpful in home use for skin and hair issues and is useful for many women's issues, including for hormones that cause fluctuations resulting in PMS or PMDD.
As it is a strong oil, take care not to use too much, and do not use it in conjunction with alcohol.
Safety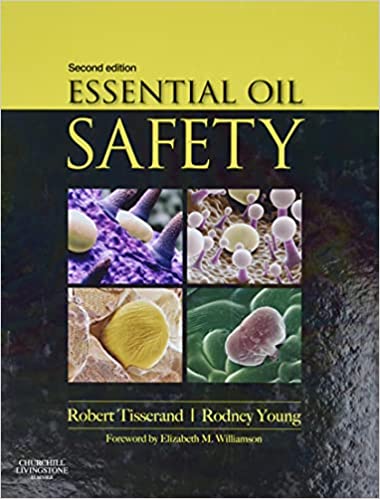 Correct selection and use of essential oils is crucial to ensure that you enjoy the best benefits of oils, without any of the downsides. Remember, some essential oils can be very potent and powerful. We therefore highly recommend this book to all of our readers: Essential Oil Safety: A Guide for Health Care Professionals 2nd Edition