What is Cinnamon?
Cinnamon leaves and twigs are steam distilled to create Cinnamon leaf oil, the kind that is used in home aromatherapy settings. The dried inner bark is used to create essential oil as well. However, the bark oil contains 63.1 - 75.7 percent cinnamaldehyde.
Cinnamaldehyde is also found in leaf oil but at a significantly lower percentage (0.6 - 1.1 percent). In such a high concentration as seen in the bark oil, it becomes a severe dermal toxin. It is irritating and sensitizing and should never be put on the skin. Home users should seek out cinnamon leaf oil.
Cinnamon bark has GRAS status. The Council of Europe (1992) set an acceptable daily intake of 1.25 mg/kg for cinnamaldehyde, which is equivalent to an adult dose of 115 mg of cinnamon bark oil. Do not ingest cinnamon bark oil without consent from your physician.
Cinnamon may also be called Ceylon, Seychelles, Madagascar, or true cinnamon. It is native to islands like Sri Lanka and Madagascar but is also cultivated in areas like India, Jamaica, and Africa. They each have their own cultivars, but 'true' cinnamon comes from Sri Lanka.
Sri Lanka exports about 80 percent of the world's cinnamon. This spice has been the cause of multiple altercations over the crops. It was valued for its medicinal and culinary qualities and has caused skirmishes with the Portuguese, Dutch, and the English. [1]
The inner bark from the shoots of the tree is gathered and distributed as the sticks we use in the kitchen. The spice itself has been used throughout history for many uses like menstrual and digestive issues, colds and flu, kidney complaints, and as a general stimulant.
When looking for a quality cinnamon leaf oil, seek out a thin-medium viscosity and a dark yellow color. The scent should be warm and spicy. The oil blends well with sweet oils like lavender, citrus oils like bergamot, and other earthy or spicy oils.
Cinnamon Essential Oil Uses
Cinnamon bark oil can be dangerous to those inexperienced with essential oils, but cinnamon leaf oil is helpful for a variety of issues and home use.
The oil is high in eugenol, so it makes a useful analgesic. It is good for infections, muscle pain and arthritis, exhaustion, and more. Cinnamon oils can be used in a variety of ways as well, such as in low amounts in massage, in the shower, and diffusion.
Cinnamon can irritate the skin because of the cinnamaldehyde. It should always be diluted. The oil should not be used by pregnant women as it can stimulate menses. Do not use if on anticoagulants or multiple medications.
Cinnamon is widely used in the food and beverage industry. It lends therapeutic actions and flavor to toothpaste, cough syrups, nasal sprays and more. The oil is also used in the cosmetics industry for perfumes, soaps, and toiletries.
Breadmaking
Essential oils can be used in small amounts in the kitchen. If you love the taste of cinnamon in your bread or pastries, one drop is all you need to flavor 32 ounces of dough.
Party Punch
Numerous oils can be added to large party punches to boost flavor. Cinnamon is one of the spicy oils that can be used, along with Cardamom (Elettaria cardamomum), Coriander (Coriandrum sativum), and Nutmeg (Myristica fragrans).
When using oils to flavor party punch, always mix the oils with the alcohol before adding the other ingredients so the oils disperse.
Massage Oil
Cinnamon oil is a stimulant that can help ease muscle aches and pains, can increase circulation, and lessen the numbness and cold feeling of extremities in those with diabetes mellitus.
When adding cinnamon leaf oil to a massage blend, never add more than one drop of it to five milliliters of carrier oil to avoid a reaction and irritation. Always perform a skin test of the blend prior to use.
Cinnamon Essential Oil Benefits
Helps Prevent Mold/Mildew on Plants
Essential oils can be very beneficial to the home gardener. There are multiple studies that have been done showing the anti-fungal qualities of cinnamon oil. [2]
Making a spray that includes just a few ingredients can help keep down blight on tomatoes and potatoes, as well as inhibit the growth of many other organisms that chemicals often cannot keep up with.
2 pints Water
1 tablespoon Baking soda
1 drop Cinnamon leaf essential oil
Put this mix in a spray bottle. Shake well to dissolve the ingredients and spray the plant all over, including under the leaves.
Staves Off Insects and Pests
Both mice and flying insects can be quite obnoxious. To deter them from areas you are trying to protect, you can sprinkle a couple of drops where you know they enter. Make sure that none of the oil you put down will be found by curious children or pets.
Alternatively, you can make a spray to keep pests away:
4 drops Rosemary (Rosmarinus officinalis) essential oil
2 drops Clove (Syzygium aromaticum) essential oil
1 drop each Cinnamon and Thyme (Thymus vulgaris) essential oil
Use two drops of the above blend per pint of water in a spray bottle. Shake well prior to use.
Promotes Feelings of Well Being
Everyone gets the blues sometimes, and some people find happiness elusive. Essential oils are well known for their therapeutic emotional benefits. Some oils that can be diffused to promote happiness include:
Cinnamon Leaf (Cinnamomum zeylanicum)
Clove Bud (Syzygium aromaticum)
Geranium (Pelargonium graveolens)
Jasmine (Jasminum grandiflorum/officinal)
Orange, sweet (Citrus sinensis)
Rose, maroc or otto (Rosa centifolia or Rosa damascena)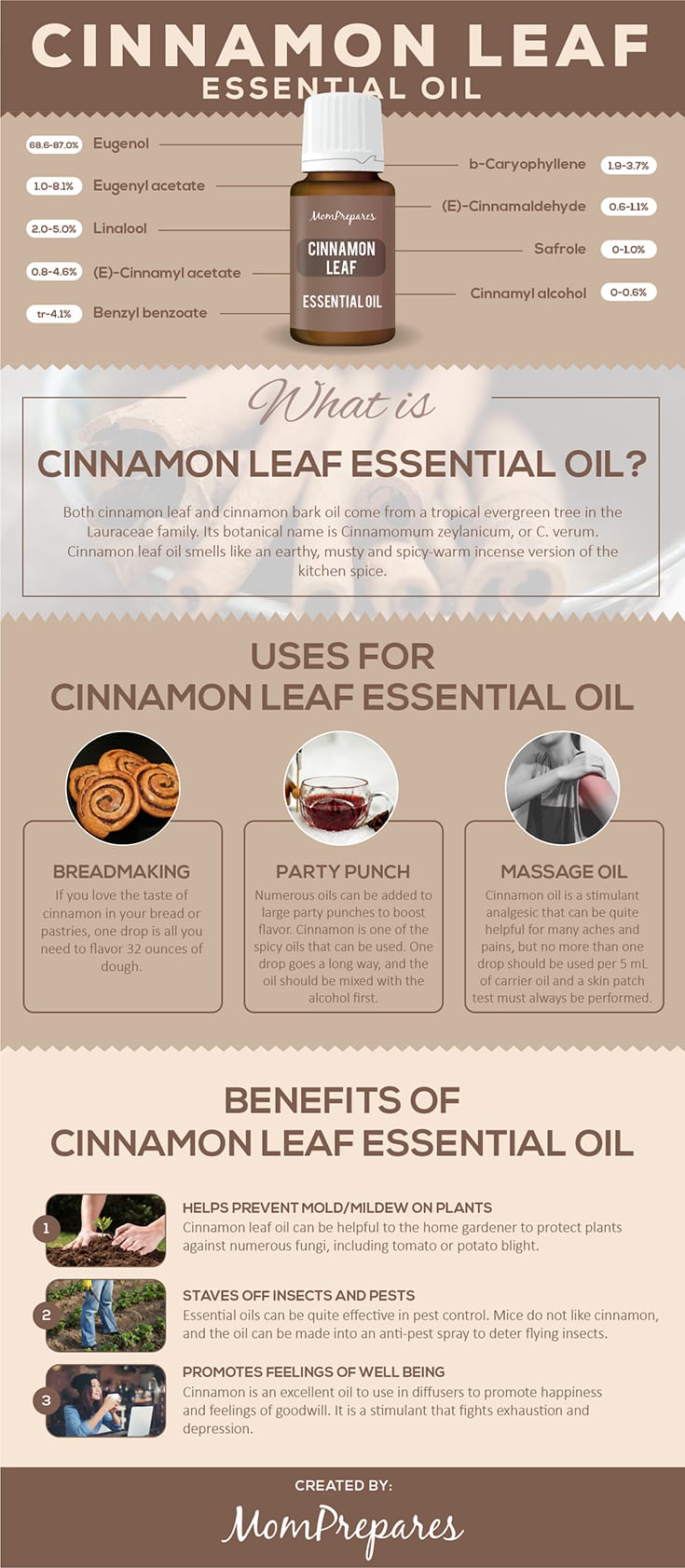 Use This Infographic On Your Blog
Cinnamon Essential Oil Research, Facts, and Studies
Many studies have been done researching the antibacterial, antifungal, and antiviral effects of various oils. Cinnamon has also been examined for its impact on air quality and much more.
The following is just a small sampling of what has been concluded.
Improves Indoor Air Quality
We all know cinnamon, as well as many other essential oils, can freshen the air. Researchers have found this extends beyond just scent.
Air quality is an exceedingly important topic. Asthma and other respiratory ailments are becoming more prevalent, and a lot of that has to do with the quality of the air we breathe.
In a study published in October of 2017, researchers found that certain essential oils cut down on microbes and fungi in the air. [3] These included cinnamon, tea tree, clove bud, lemon, thyme, oregano, and numerous more.
More need to be done to determine how these oils can be used to enhance our air in buildings and on a more widespread use in order to cut down on harmful chemical antimicrobial agents.
Reduces Mold on Baked Goods
A study in July of 2017 set out to determine the mold-deterrent qualities of a couple of essential oils, clove, and cinnamon. They were looking to see if the oils could improve the shelf life of both vacuum-sealed and normal packaging.
They figured out and used the minimum inhibition concentration (MIC) and minimum lethal concentration (MLC) of both oils on two separate cakes.
Their findings show that the addition of these oils can significantly lengthen the shelf life of baked goods anywhere from two days to over two weeks.
The cinnamon oil outperformed the clove essential oil by almost double. [4]
Conclusion
Cinnamon essential oil is a wonderful oil to have around the house for a variety of ailments. The home practitioner should only use leaf oil, however, as cinnamon bark oil can be dangerous.
When using cinnamon oil, it should never be placed undiluted on the skin, and a patch test should always be performed to determine sensitivity.
As cinnamon is a stimulant that can induce menstruation and contractions of the uterus, it should not be used by pregnant women.
Those who are on multiple medications and anyone taking anticoagulants should avoid this oil as well.
Safety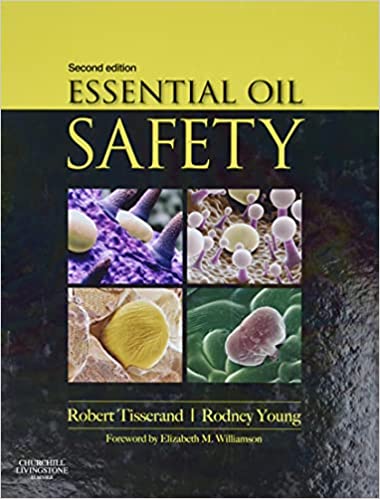 Correct selection and use of essential oils is crucial to ensure that you enjoy the best benefits of oils, without any of the downsides. Remember, some essential oils can be very potent and powerful. We therefore highly recommend this book to all of our readers: Essential Oil Safety: A Guide for Health Care Professionals 2nd Edition