Sore throats are annoying. Period.
They come with irritation, swollen tonsils, pain and a ton of questions.
Am I getting sick? Is it strep? Tonsillitis?
The possibilities for self-diagnosis are endless. And for good reason.
A study on acute sore throats found that viruses cause 85-95 percent of adult sore throats.
The good news is that there are effective essential oils for sore throat pain and others with wonderful antiviral properties.
In this article, I am going to show you exactly how you can fight viruses and relieve unwanted pain, pronto.
Let's leave the tickle aside, shall we?
What causes a sore throat?
A sore throat is also known as pharyngitis. It can be brought on by both bacteria and viruses. The most common is from a cold, which is viral and will go away on its own.
More serious infections like a streptococcal infection (strep throat) is caused by bacteria. These often require antibiotics to heal.
When you get one, you may feel scratchiness or pain that gets worse when you eat or drink. Your voice may become hoarse or you may lose it completely.
If you look carefully, you'll often see that the tissue in your throat is red and inflamed, and there may be white pus pockets visible on swollen tonsils. On the outside neck area, you may visibly see your glands are swollen.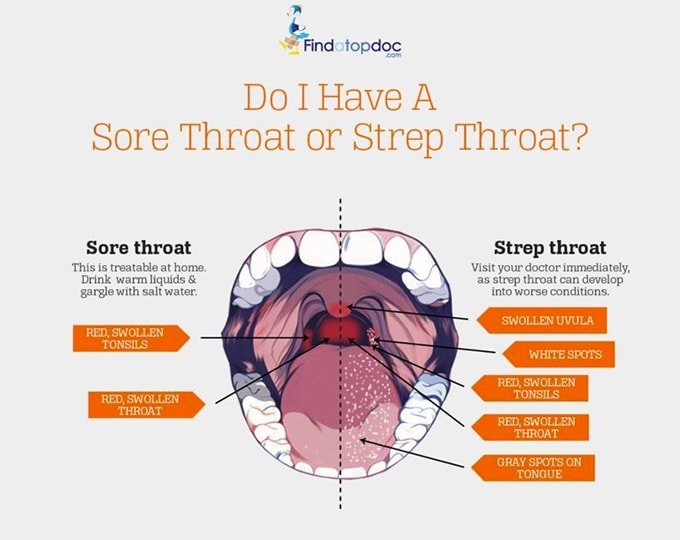 Along with the pain, you may experience chills, fever, cough, congestion, nausea, vomiting, and an all over achiness that won't go away.
In short, it sucks…
Luckily, there are essential oils that can help stave off infections and bring your health back quicker than without treatment.
Best essential oils for sore throat?
Many essential oils are good at fighting bacteria and viruses. The following are ten of the best essential oils for your sore throat:
Hyssop (Hyssopus officinalis var. decumbens)
Hyssop is antibacterial, antiviral, and is an expectorant. It is often recommended during times of colds and sore throat. It is generally helpful with bronchitis and bronchial infection, so diffusing it may help with a dry cough or a cough with phlegm.
Hyssop has been recognized for its medicinal qualities for centuries. It dates back to the Greeks, who used it for respiratory issues as well as for increasing circulation.
However, it has a high pinocamphone content, which is a ketone that can cause neurotoxicity in large doses.
It should not be used by anyone pregnant or nursing, or for long periods of time.
Sage (various )
Sage is a plant that has various forms and has historically been used as a medicinal herb. Three, in particular, are good for respiratory infections and sore throats: clary sage (Salvia sclarea), common sage (S. officinalis), and the Spanish variety (S. lavandulaefolia).
These oils are antibacterial and astringent, among other things.
Safety Tips:

No matter which one you choose, it should be used in moderation and not for a prolonged period of time. They should be well diluted and should not be used if pregnant or nursing.

Also, it is important to note that clary sage should not be used in conjunction with alcohol as it can increase intoxication. Avoid driving while using the oil as it has a slight narcotic effect. Exposure to the oil for long periods of time may cause headaches, so this is something to consider when choosing an oil.

Those with epilepsy should stay away from common sage. For people not educated on oils, clary and Spanish sage are preferable.
Thyme (Thymus vulgaris ct. linalool)
Thyme linalool is an antibacterial analgesic, making it a great addition to your sore throat remedy collection. Regular thyme (Thymus vulgaris) is as well, however the chemotype linalool is a safer choice because it is less irritating.
Thyme has been used in its various forms for centuries for respiratory issues. It was employed as an antiseptic in World War I. Thyme has also been used to treat gastrointestinal disorders and the herb was even used to ward off the plague.
Cajeput (Melaleuca cajuputi)
Cajeput is an anti-infectious expectorant with analgesic qualities, making it wonderful for use as a sore throat remedy. It is also helpful for respiratory conditions like bronchitis and general coughs that tend to come with colds.
This is an oil you will want to keep on hand for cold and flu season. It is a great antimicrobial so is quite beneficial to diffuse when you are trying to keep nasty bugs at bay.
Lavender (Lavandula angustifolia)
Lavender is known as the king of oils for good reason.
Just about any condition you can think of can benefit from the use of lavender. And sore throats are no exception.
This essential oil goes well beyond just smelling good. It is antibacterial, antimicrobial, antiviral, anthelmintic and much more. Besides the physical benefits, this is a calming oil that can help you unwind and calm down.
Since rest is usually the best medicine no matter what the ailment, having lavender on hand at all times is a great idea.
Lemon (Citrus limon)
You know how mom always told you to take your tea with honey and lemon? She was on to something.
And it has to do with a lot more than just flavor.
Lemon has been used throughout history for a wide variety of ailments ranging from respiratory and digestive issues to getting rid of cellulite. It is a refreshing oil that has a high d-limonene content, making it an excellent antioxidant.
Whether your sore throat is from a cold, the flu, bronchitis, laryngitis, or something else, lemon oil can help.
Peppermint (Mentha piperita)
How many times have you reached for a cup of soothing peppermint tea to help open up your airways or calm an upset stomach?
If you think of peppermint essential oil as being a potent, condensed version of that, you will quickly realize it is good to reach for when you are sick.
Peppermint is full of wonderful benefits. To name a few, it is antiseptic, antibacterial, anti-infectious, anti-inflammatory, and antiseptic.
It is also a decongestant, so it can be great when breathed in as steam for sinus congestion.
Eucalyptus (various)
Eucalyptus comes in many forms, and many of these forms can be helpful to use in steam inhalation or to diffuse for sore throats. You can use blue gum (Eucalyptus globulus), lemon (E. citriodora), peppermint (E. dives), or radiata (E. radiata).
Eucalyptus is a good go-to oil for sore throats and drainage. They are analgesic, antibacterial, antiviral, and expectorant. Among other things, these oils are excellent choices for respiratory ailments of all kinds.
Of the four mentioned, the lemon and Eucalyptus radiata are more gentle. That makes them better suited for elderly or pregnant women.
Clove bud (Syzygium aromaticum)
Clove bud essential oil is analgesic, antibacterial, anti-infectious, and is an antiseptic. It is helpful for pain relief so can be applied in blends topically or inhaled in steam.
Clove essential oil is also an expectorant so it may help clear up mucus and phlegm in the throat as well.
Oregano (Origanum vulgare)
Oregano oil is all the rage these days. And for good reason. The oil is useful in fighting both viral and bacterial infections. You may also hear this referred to as wild oregano oil.
When sickness strikes, you can get the benefits of oil of oregano in pill form to help yourself get back to good health. Capsulated oil of oregano is a weaker form of oregano essential oil, as it is diluted in a carrier like olive oil.
It is important to note that you cannot use oregano essential oil in the same manner or quantities as you would oil of oregano. Essential oils are highly concentrated and using the pure essential oil undiluted would be too strong for internal and external use.
What if I have strep throat?
You can use the above essential oils for strep throat too!
They were chosen for the benefits of their constituents. Strep throat is a bacterial infection, and many of these oils are antibacterial and anti-infectious.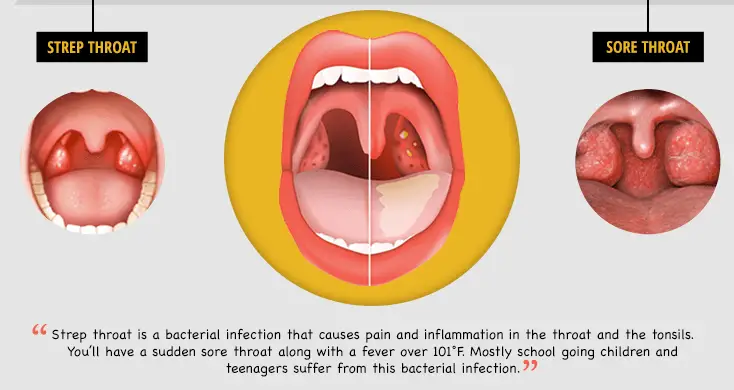 Recipes for sore throat relief with essential oils:
There are many ways you can get relief using aromatherapy and essential oils. You can make massage oils, diffuse them, put them in bathwater, use in steam, and more. The following should give you some ideas.
Lemon & Lavender Recipes
Lemon and lavender are two staples I always have on hand. Here are a couple recipes you can use either topically or through diffusion.
Topical blend
If you want to make a massage oil, you can mix these together and use this as a massage oil on your chest and back.
Five drops of lavender
Two drops of lemon
One tablespoon of a carrier like coconut oil
Alternatively, you can add this blend to your bathwater.
Diffuser blend
The topical recipe above is a good blend for diffusion too. Just leave out the carrier oil.
Cajeput Chest Oil
Mix 3-4 drops of cajeput into a teaspoon of carrier oil and blend well. Massage this onto the chest and back area twice daily, breathing deeply while doing so.
Make sure to cover up warmly after rubbing it on.
Congestion and Mucus Relief
If you have mucus in the throat, runny nose, congestion and stuffiness with your sore throat, cajeput can help with that as well.
Add a few drops of the oil to a bowl of steaming water and inhale it for 5-10 minutes with your eyes closed. Cajeput is strongly antiseptic and can help sore throats and coughs.
Multi-Purpose Gargle
This gargle can help with a sore throat, drainage, loosen mucus, reduce phlegm, and ease pain and cough. In other words…
it's pretty awesome.
Add these ingredients to make your own multi-purpose gargle:
1 cup warm water
1 tablespoon honey (pure, organic)
2 drops lavender
2 drops lemon
2 drops peppermint
Mix the oils into the honey and then mix the honey into the warm water. Gargle for 20 seconds and spit out. Continue until it is gone.
Do not swallow this blend. Ingesting oils can be dangerous and should only be done under the care of a professional.
Conclusion
Essential oils are an excellent natural remedy for sore throats and the symptoms that come with them.
The ten oils listed can be used on their own or mixed together in various forms as recipes to help with swollen glands, runny nose, sinus congestion, and drainage.
They can also help ease the symptoms of other more serious issues like strep throat and tonsillitis.
Remember that some infections will need medical intervention. So don't try to rely on oils for severe or lasting conditions.
There are many other oils like tea tree oil, which can be used as well. Continue to do your research and try different blends that work for you.
Have a sore throat blend I didn't mention? I'd love to hear what you're using in the comments below.