You know the drill.
Coughs, colds, aches, fatigue, and irritability. They come in packs and they disrupt every part of your being.
While a tickle in your throat may have been a minor annoyance, the longer you let it sit, the worse it will get.
But coughs aren't as difficult to get rid of as you might think. Research has shown that using essential oils for coughs and colds are effective in treating upper respiratory tract infections.
If you're lying in bed reading this article, then put your Benadryl aside. Because in this article, I'm going to show you the all natural way for rapid recovery.
Let's dive right in.
What type of cough do you have?
Coughing is an essential bodily reflex. The lining of our trachea and lungs are so sensitive that the lightest touch initiates a physiological response trying to rid the body of any foreign irritant.
However, not all coughs are the same. It is essential to determine what type you are experiencing, so you know how to treat it. What works for a dry cough, for instance, might make an asthmatic one that much worse.
Acute Coughs
Acute coughs are the ones that pop up in response to seasonal variants like allergies, colds and influenza. Billions of people experience this type annually. Inhaled irritants may also cause acute coughing fits.
Chronic Coughs
Chronic coughing is that which lasts longer than four weeks in children, or eight weeks in adults. Smoking, chronic bronchitis, asthma, gastroesophageal reflux disease (GERD), and even some medications like ACE inhibitors for blood pressure may cause a cough that does not go away.
Most of the time, a doctor's visit is not required. But if a cough lasts more than a few weeks, you experience symptoms such as disturbed sleep, conditions affecting your work or school, or you are coughing up blood or sputum (mucus), have your doctor rule out anything serious.
This video shows you a practical way to identify the type of cough you have.
Avoid nasty side effects from conventional medicines.
Common over the counter (OTC) medicines will come with side effects ranging from drowsiness to irritability. You may experience blurred vision, nausea, constipation, headaches and more.
Instead of reaching for cough drops and cold medicines this season, why not take advantage of what nature has to offer and whip up some home remedies for coughs instead?
How are essential oils useful for coughs?
Essential oils have many different active constituents that make them suitable for a variety of healing situations. They consist of terpenes, ketones and alcohols.
These chemical properties can be antiseptic, antimicrobial (fighting off bacteria, fungi and viruses), antispasmodic, and more, which make them excellent for respiratory ailments.
Here are three of the best essential oils to fight a cough:
Eucalyptus Essential Oil
Arguably the best essential oil for cough and other respiratory ailments, eucalyptus (Eucalyptus globulus) oil is high in cineole (eucalyptol), which has potent anti-inflammatory properties. Research shows it can reduce steroid dependency in asthmatics, making the case to use it as a mucolytic agent in diseases of the airways.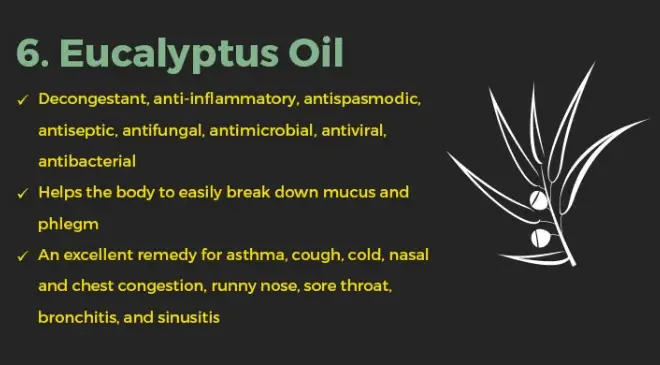 According to the University of Maryland Medical Center, herbal treatments including monoterpenes like those in eucalyptus have been shown as effective as antibiotics for chronic cough conditions like bronchitis and COPD.
Lavender Essential Oil
Lavender oil (Lavandula angustifolia) is much more than just a soothing scent. Its uses range from aiding hair regrowth in those with alopecia to easing pain after surgery.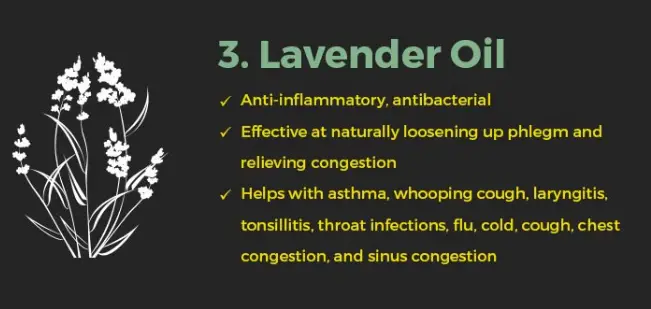 Lemon Essential Oil
Lemon (Citrus limonum) oil's main active property, d-Limonene, is a significant anti-inflammatory agent, and citrus fruits in general are antioxidant and antibacterial. They are also high in Vitamin C, which aids the immune system and helps fight off infection.
Are there any other essential oils suitable for coughing and other symptoms?
Yes! You are not limited to the above three. If you have any of the oils below on hand, you can still find relief.
Peppermint oil (Mentha piperita) is a known antitussive (cough-suppressant) that has shown substantial anti-spasmodic effects. If you had ever turned to peppermint tea when you were sick, you already know about its anti-congestive properties.
Frankincense oil (Boswellia serrata) is a resin that has long been used to ease respiratory symptoms and many other ailments in Ayurvedic medicine.
Tea tree (Melaleuca alternifolia) is a staple oil that has proven to have a multitude of benefits across many studies. Australians have long used oil from crushed leaves for colds and cough.
Tea tree oil is also beneficial for cleaning surfaces of bacteria and viruses to help stop the spread of sickness.
Other beneficial oils are rosemary, cypress, thyme, sandalwood and thieves, which is a blended oil you can make yourself.
How can you use essential oils for cough?
Making home remedies for cough using oils is easier than you might think. Do you often turn to a rub-on solution such as Vick's VapoRub? The inhalation of menthol, camphor and eucalyptol has long been used to open nasal passages and reduce phlegm, which is why rubs with these ingredients are so popular.
The good news is that you can make your own variation at home:
Chest Rub for Cough
1/4 cup Coconut oil
1/4 cup Shea butter
25 drops Eucalyptus EO
20 drops Peppermint EO
15 drops Lavender EO
10 drop Lemon EO
5 drops Tea tree EO
Blend all ingredients and store in a non-reactive container in a cool, dark place. If you do not have shea butter, you can use one-half cup of coconut oil.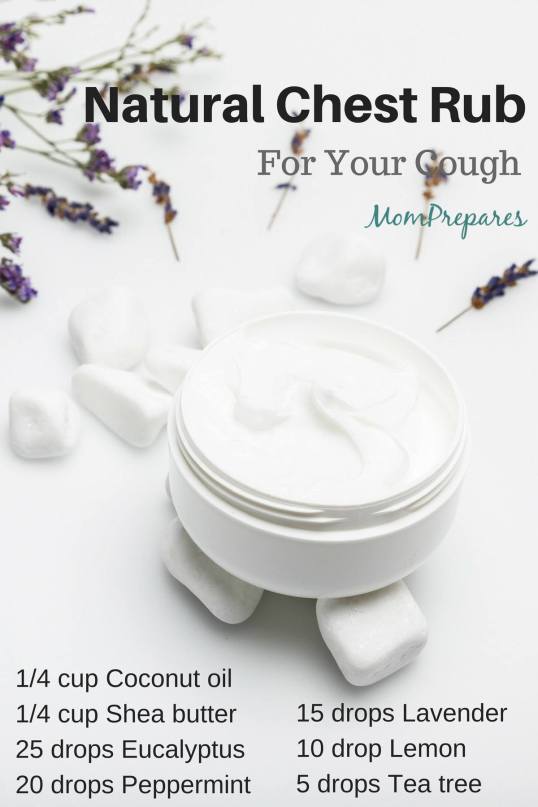 Don't have all of the oils above on hand? Try this instead:
Super Simple Vapor Rub
1/2 cup Coconut oil
15 drops Eucalyptus EO
15 drops Peppermint EO
To use the blends, rub a bit of either on your chest before going to bed. They can also be rubbed on the back or soles of the feet for relief.
Massage Blend for Dry Cough
1 teaspoon Carrier oil (like jojoba or coconut)
3 drops Eucalyptus EO
2 drops Thyme EO
Mix together and rub on the chest and back in the lung area.
Get Rid of That Cough Through Inhalation
Tissues:
Add 4-6 drops of a blend to a small pack of tissues. Be sure to spread the drops out. Keep them in a ziplock bag and pull one out to inhale as symptoms flare up.
Steam inhalation:
Boil a cup of water and pour it into a heatproof bowl. Add 7-8 drops of your favorite blend below or single oil and stir. Lay a towel over your head and lean over the bowl. Inhale through your mouth and nose until the congestion clears or the water cools, whichever comes first.
Vaporizer or humidifier:
Both of these work to add moisture to the air, and they are a great way to get the healing benefits of oils into the air to heal respiratory troubles. Add 25-30 drops and enjoy it as it disperses throughout the room.
Diffuser:
Quality aroma diffusers are another excellent way to inhale oils. They work in the same way as a humidifier or vaporizer, just on a smaller scale. Mix 4-6 drops essential oils with one-half cup of water to diffuse for cough.
Best Catch-All Blend for Cold Season
Mix equal parts of the above oils and store in a dark glass container in a cool, dry place. You can make as little or as much as you want. Try this blend on for size:
Eucalyptus
Lavender
Lemon
Peppermint
This blend is an excellent staple to have around to diffuse when cough and cold season hits. It helps to soothe upper and lower respiratory issues, so is useful whether you are suffering from an allergy cough, a sore throat, runny nose, or are just all around congested.
Want some more great recipes to try?
The first blend below has an interesting history. It is based on one that kept thieves from coming down with sickness during the days of the plague. It worked so well, variations have been passed down since the 1400s.
Homemade Immunity Blend
Air Purifier Blend
25 drops Lemon EO
25 drops Rosemary EO
20 drops Clove bud EO
20 drops Cinnamon EO
10 drops Eucalyptus EO
Asthma Blend
16 drops Lavender EO
3 drops Eucalyptus EO
3 drops Frankincense EO
3 drops Peppermint EO
If you have congestion too, you can sprinkle a couple of drops of any of the above mixes to your bath or shower for instant relief.
Make a massage oil by mixing 10-15 drops of essential oils to two tablespoons of a carrier oil like coconut, jojoba or olive oil.
Take special care when using essential oils for babies and children.
The adage "less is more" rings especially true with essential oils, and even more so when used around babies and children. Every child is unique, so be careful when administering any treatment.
The suggested dilution ratio for children is as follows:
0-3 months: Do not use essential oils in any form.
3 months – 1 year: 1/8 concentration
2-6 years: 1/4 concentration
7-11 years: 1/2 concentration
12+ years: full concentration
Best Essential Oil to Use for Baby Cough (Diffusion)
Use either lemon or tea tree essential oil in the concentration mentioned in a diffuser. Once the baby has been exposed to both and has not shown any sign of allergic reaction, you can use equal parts of both.
According to Robert Tisserand, it is not recommended to use any oils with menthol or 1,8-cineol (eucalyptol) around young children, as they can significantly slow breathing.
Remember: never, EVER use undiluted oils on children's sensitive skin! If you are ever in doubt, please consult a physician who understands aromatherapy.
Conclusion
Coughing is our body's natural way to help heal itself. However, no matter what the cause of our cough, we want the frustrating condition to go away as quickly as possible.
Essential oils can help soothe our coughing, no matter what condition is causing it.