What is Rosemary?
The rosemary bush features thin branches densely grouped with spikes of silvery-green needle-like leaves. The shrubby evergreen grows to heights of three to six feet. There are flowers on the plant in shades of blue, pink, purple, or white.
Rosemary, or rosmarinus, gets its moniker from the Latin 'dew of the sea.' Other names include R. coronarium, compass plant, old man, polar plant, and incensier.
The hardy perennial is native to the Mediterranean and Asia. While it prefers temperate climates, it fairs relatively well in cooler ones too. Rosemary is now naturalized all throughout Europe and is cultivated worldwide, including the Middle East, USA, Russia, and China.
The principal places of oil production are in France, Morocco, Spain, and Tunisia. The fresh flowering tops are harvested then steam distilled to produce a quality oil suitable for aromatherapeutic purposes.
There are three main chemotypes of rosemary, each with differentiating constituents that set them apart and provide different therapeutic benefits: [1]
R. officinalis ct. camphor - 30% camphor
R. officinalis ct. cineole - 40-55% 1,8 cineole (eucalyptol)
R. officinalis ct. verbenone - 15-40% verbenone with 15-35% α-pinine
Keep in mind that there are more than this, and it is all too common for distributors not to specify which chemotype they are selling. This is unfortunate, because each one has different chemical makeups, making them better suited for different uses.
For instance, rosemary verbenone is a softer and gentler version, while a rosemary higher in eucalyptol would be preferable to use for a respiratory issue.
There are also steam distillations using the whole plant. Discerning users and trained aromatherapists can often identify this inferior oil by its excessively camphorous aroma. It must be noted, however, that this may just be due to the chemotypes the oil is distilled from.
Rosemary essential oil is colorless to pale yellow. It blends well with mint oils, green oils like pine (Pinus sylvestris) and thyme (Thymus vulgaris), many florals including lavender (Lavandula angustifolia), and most citrus and spice oils.
Rosemary Essential Oil Uses
If you were to pick up any old herbal text, you are likely going to find references to this wonderfully helpful plant. Herbalists, witches, and artisan cooks alike respect the virtues of the herb, and all have been using it for centuries.
Culpeper, in his work The Complete Herbal, states that there is no reason to even describe the well-known plant. He lists many interesting uses for it, including:
A decoction in wine for colds and other issues such as lethargy and loss of speech
Relieving pain in the teeth and gums
Quickening the senses and improving memory
Powerfully expelling gas from within the entire abdomen area including the spleen
Comforting the heart
Expelling contagions of pestilence
Cleansing the air when burned
Smoking it clears coughs
Bathing in the leaves or making oils and ointments from them to help the joints
He further says that using the 'chymical' oil is good for all above disease, advising 2-3 drops on the temples for those of the head and 1-3 drops orally for 'internal griefs.' Culpeper warns that internal use must be done carefully because the oil is 'quick and piercing.'
Long before this use, Dioscorides called rosemary 'warming,' and in Andrés Laguna's interpretation of De Materia Medica, he translates the uses of the plant:
'the eating of its flower in a preserve comforts the brain, the heart and the stomach; sharpens understanding, restores lost memory, awakens the mind, and in sum, is a healthy remedy for all kinds of cold ailments of the head and the stomach… Its aromatic fumes work against coughs, colds and runny noses'
The first European-based perfume, The Queen of Hungary Water, was a rosemary-scented lotion that first came into use in the 14th century. The name was later shortened to just Hungary Water, and can still be found to this day.
Rosemary is a central part of a fascinating study on the ethnopharmacologic and phytotherapeutic study of the famous Spanish novel, Don Quixote.
The novel, published by Miguel de Cervantes in 1605, is attributed to a widened understanding of the illnesses and cures of that time period. The study offers a unique take on analyzing the herbal remedies in the text, and rosemary arguably takes center stage. [2]
Today, rosemary essential oil is a favorite among practitioners. It has a wide range of actions and is well-known and still utilized for its ability to increase focus, a practice dating back many centuries.
While it may not be the 'cure-all' that was once widely believed to be, rosemary still has many uses we can benefit from today.
Please note that since this oil raises blood pressure, it is not good for pregnant women or those suffering from hypertension.
Diffuse During Work and Study
Whether you are burning the midnight oil or cramming for a big exam, rosemary essential oil can sharpen your focus, enhance concentration, and improve memory and cognition.
It is listed in many texts as being beneficial for cognitive diseases of the brain as well, such as those of dementia and Alzheimer's.
It can also improve issues on the other end of the spectrum, for those of Attention Deficit Disorder or Attention Deficit Hyperactivity Disorder (ADD/ADHD) in children and adults alike.
You can use the oil on its own or in a blend. Put a drop of either on a cotton ball or tissue to inhale throughout the day, add it to a personal inhaler, or diffuse it throughout the room for long-lasting effect. Here is an example recipe for memory enhancement:
5 drops Lemon (Citrus limon)
4 drops Cedarwood Atlas (Cedrus atlantica)
4 drops Rosemary (Rosmarinus officinalis)
2 drops Bergamot (Citrus bergamia)
For Skin Care
For face issues, rosemary oil is excellent for oily and blemished skin. The skin benefits don't end there, as aging skin can reap its rewards as well.
A routine including both facial steaming and a clay mask can help control oily skin naturally to cut down on acne. For the steam, you will place the following oils in a bowl of steaming water, and stir. (Do not use on broken or sensitive skin.)
2 drops Rosemary (Rosmarinus officinalis)
2 drops Cypress (Cupressus sempervirens)
Place a towel over the back of your head with your face about a foot from the bowl. Be sure the towel is big enough to hold the steam in. Close your eyes as you lean over the bowl. Remain like this for 5-10 minutes, coming up for fresh air as necessary.
For the simple DIY face mask at home, blend one tablespoon pure bentonite clay with one tablespoon aloe vera. Mix in two drops of rosemary essential oil. Apply to facial areas, staying away from the mouth and eyes. Leave on face and neck for about 20 minutes, then rinse off.
It is not just the face that oils can help with acne. Many people suffer from acne on other parts of the body, such as the chest and the back. Body scrubs can be helpful for exfoliating and cleansing these areas.
You can use many things to make your own scrubs at home, ranging from oatmeal to sugar to Himalayan sea salt. Milk or herbal powders are useful, as are ground nuts. Here is an example recipe for you to try when 'bacne' strikes or you just want to exfoliate and expose fresh skin:
¼ cup Sea Salt
¼ cup Almonds, ground
¼ cup Oatmeal, coarsely ground
1 tablespoon Tamanu (Calophyllum inophyllum)
4 drops Thyme linalol (Thymus vulgaris ct. linalool)
4 drops Rosemary (Rosmarinus officinalis)
4 drops Lemon (Citrus limon)
Mix the dry ingredients. In a separate small container or bottle, mix the wet ingredients. Then, mix them well together to form a paste. Use this to scrub the body. Pay particular attention to troublesome areas, where dead skin or acne is a problem. Rinse in the shower with warm water.
For Hair Growth and Hair Loss
Essential oils have long been in beauty regimens everywhere. Not only are they exceptional for skincare routines, but they can also be of great benefit for hair issues.
Whether you need moisturizing, help with excessive oil or dandruff, or even have hair loss issues, they can be of help.
Rosemary has a particular affinity for oily hair, but is also great at stimulating healthy growth. There are countless reasons for hair loss, ranging from poor diet to too much product use to conditions like cancer or alopecia. In the latter, the body is basically attacking the hair follicle.
Whenever you look for natural remedies to combat hair loss and regrow hair, you will invariably come across the essential oil of rosemary many times. The oils are thought to work by stimulating hair follicles or increasing circulation to the area.
If you are losing your hair, there are many diet and lifestyle changes that you would need to address. These are beyond the scope of this article, but bear in mind that oils alone are not going to do much. You must help your body from the inside as well.
That being said, the following recipe is a good one to try in this situation. Mix it in with seven ounces of natural shampoo. Choose one free of sulfates, parabens, synthetic fragrances, and other harmful chemicals.
20 drops Argan (Argania spinosa) oil
12 drops Jojoba (Simmondsia chinensis) oil
10 drops Rosemary (Rosmarinus officinalis)
6 drops Cedarwood atlas (Cedrus atlantica)
4 drops Clary Sage (Salvia sclarea)
2 drops Black Pepper (Piper nigrum)
If you need to substitute any of the above oils, peppermint is a refreshing and stimulating addition. In fact, you are likely to see invigorating rosemary mint blends on department store shelves as it is quite popular.
Flavoring & Scenting
Rosemary, both the plant and the oil, is used extensively in the flavoring industry. It is used in food, beverages, and to scent toiletries, cosmetics, and more.
If you choose to use the oil to scent your own products, you can use it in shampoos, conditioners, and hair oils.
It is also quite popular in lotions, facial steam, clays, mists, and soaps. As Lamiaceae is the mint family, rosemary blends well with all mints, so that would be a good place to start and would be a refreshingly beneficial mix to combination or oily skin.
For flavoring, the herb rosemary is quite popular to use to season meats like beef and lamb, as well as poultry.
If you want to use the essential oil as a flavoring, you can. Remember, that essential oils are extremely condensed. It is not the same as using an extract. If you were to use a teaspoon of an essential oil in a recipe, you would not be able to eat it, as it would be way too powerful.
In most recipes, a drop is enough to impart a pleasant taste into the dish. You could add a drop of the oil to a meat marinade, the water you cook your rice in, or even to the oil you are using on your salad.
Rosemary Essential Oil Benefits
The benefits of rosemary are as wide as its uses. While some of them have been officially studied, such as in those listed below, much of it is anecdotal. Here are some of the more popular beneficial properties of this oil.
Increases Memory & Focus
Increasing memory and focus is one of the main benefits of this oil. If you are going on a long car drive and want to stay focused and alert on where you are going, this is a great oil to use.
In fact, there is early evidence that shows that powdered rosemary in tomato juice could improve memory speed. This was at 750 mg; however, if this was increased, it could decrease speed. [3]
Topical Analgesic
The same study above shows that taking a product containing rosemary and a couple other things can reduce arthritic pain. While this is likely in capsules and possibly difficult to find or make, you can get pain-reducing benefits by using the oil topically in massage blends.
No matter what stage you are at in life, pain can be an issue. Hopefully, it is fleeting and acute, like a pulled muscle. Nonetheless, even if you are suffering chronic pain such as that from arthritis in the joints, certain oils can help ease your pain and increase mobile ability.
The next time the pain creeps in, try rubbing the following blend on troubled muscles, joints, or when the back is aching:
1 ounce St. John's Wort (Hypericum perforatum) Infused oil (Not CO2 extracted!)
8 drops Peppermint (Mentha piperita)
6 drops Rosemary (Rosmarinus officinalis)
4 drops Black Pepper (Piper nigrum)
You can also make a liniment that works well on sore muscles. How to make it is super easy. Simply add half a teaspoon of rosemary essential oil and half a teaspoon of peppermint essential oil to half a cup of alcohol.
Higher-proof vodka or pure-grain alcohol is best. Shake well before use and rub on sore muscles and joints when relief is needed.
Respiratory Issues
Rosemary, especially the cineole chemotype, is excellent for respiratory ailments. You can use an equal mix of rosemary and eucalyptus (any) in a diffuser or facial steamer to help clear runny noses, congestion, and more. Other beneficial oils for these ailments include:
Cajeput (Melaleuca cajuputi)
Cypress (Cupressus sempervirens)
Elemi (Canarium luzonicum)
Frankincense (Boswellia carterii)
Niaouli (Melaleuca quinquenervia) aka MQV oil
Ravensara (Ravensara aromatica)
Thyme linalol (Thymus vulgaris ct. linalool)
Care must always be taken around asthmatics and those suffering from chronic illness, like chronic obstructive pulmonary disease (COPD), as some oils may trigger attacks or make symptoms worse.
Use This Infographic On Your Blog
Rosemary Essential Oil Research, Facts, and Studies
The volatile oils of R. officinalis are widely studied. As of the time of this writing, a search of 'rosemary essential oil' on Science Direct yields 137 pages of results, for a total of 3,420. [4] On PubMed, the term brings back 305 individual results. [5]
Many of these are about the antimicrobial and antioxidant benefits of the oil in the food manufacturing industry, while others may be of interest to the general public. Here are a few of those:
Increases Blood Pressure
Hypotension is chronic abnormally low blood pressure. In some individuals, this can be life-threatening. In others, it causes symptoms such as dizziness and lightheadedness as well as fainting spells. [6]
Rosemary has been researched for its ability to raise blood pressure. A study entered into The Journal of Ethnobotany in 2014 on patients over 72 weeks showed clinically significant effects of rosemary in raising blood pressure and improving the quality of life of the participants. [7]
Short-term Memory
In a study of 53 Ukrainian secondary school students, rosemary was found to have positive effects on image memory and number recall in participants.
Peppermint (Mentha piperita) also had a positive effect, while ylang ylang (Cananga odorata var. genuina) had a negative effect on retention and processing time. [8]
In a separate study of 79 Ukrainian students, ages 13-17 and published in the Alexandria Journal of Medicine, the oils of rosemary and lavender (Lavandula angustifolia) were used in conjunction with a control group.
The researchers found that the lavender and rosemary groups both had stronger memory retention than the control group. However, they also discovered that where rosemary strengthened number memorization, lavender weakened it. [9]
Repels Insects
There are currently 23 entries on PubMed for rosemary essential oil and insects. [10] While it attracts some, like the whitefly, [11] due to its aromatic oils, it also has a repellent effect on many more, such as:
Culex pipiens - Rosemary showed the highest degree of repellency out of 11 oils tested against this mosquito. [12]
Trichoplusia ni - The cabbage looper was repelled, likely due to the 1,8 cineole and camphor constituents in the oil. [13]
Aedes aegypti L - The dengue vector or yellow fever mosquito may be able to be kept manageable through the use of essential oils like rosemary. [14]
Conclusion
The rosemary leaf and plant has been used for centuries for many ailments and culinary treats. Rosemary aromatherapy is still quite popular today, for good reason.
The oil can be used for face issues ranging from acne and oil to aging skin. It is well known to help stimulate hair growth. You can also use it to clear up respiratory ailments, soothe aching muscles, or even to stay focused on the road during long drives.
The benefits of rosemary are quite variable as well. It is analgesic, antimicrobial, deters bugs, is edible in minute amounts, and so much more.
However, if you choose to use it in cooking, only use very small quantities, and choose only pure, organic oil. Usually, a drop will do; it is not the same as an extract.
Rosemary essential oil should not be used during pregnancy, or by those with elevated blood pressure, for safety reasons.
When purchasing rosemary oil, try to determine the chemotype, as this will help determine what the oil is best suited for.
With everything, do your research and be safe. This is an amazingly versatile and helpful choice, but a little goes a long way.
Safety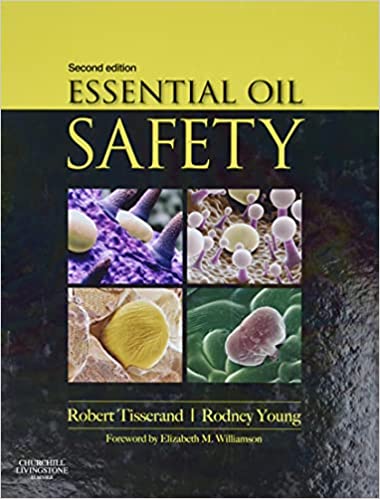 Correct selection and use of essential oils is crucial to ensure that you enjoy the best benefits of oils, without any of the downsides. Remember, some essential oils can be very potent and powerful. We therefore highly recommend this book to all of our readers: Essential Oil Safety: A Guide for Health Care Professionals 2nd Edition