What is Ravensara?
While Ravensara oil is produced from the leaves, the seeds of the same tree are known as Madagascan nutmeg. This type of nutmeg is used medicinally in some areas and widely in cooking. Although the tree is native to Madagascar, the oil is also produced in Australia.
This oil possesses antibacterial, antiseptic, antiviral, anti-inflammatory, and immunostimulant properties. Its main constituents include a-pinene, b-caryophyllene, a-terpineol, b-pinene, limonene, and p-caryophyllene.
Ravensara is used more in clinical aromatherapy by trained aromatherapists than in home settings. It can cause skin irritation, and should not be used during pregnancy or while breastfeeding.
Oils that Ravensara blend well with are black pepper, cedarwood, cinnamon leaf, eucalyptus peppermint or radiata, geranium, hyssop decumbens, lemongrass, ravintsara, tangerine and thyme linalool.
Ravensara vs. Ravintsara
These two oils sound the same and come from the Lauraceae family, but they hold unique characteristics. Contrary to some misinformation that is going around, they are not the same and cannot be used interchangeably.
Ravensara (Ravensara aromatica) and Ravintsara (Cinnamomum camphora ct. cineole) oil are both steam distilled from the leaves of their respective trees, creating a  slightly yellow or colorless oil.
As opposed to Ravensara's spicy, woody scent, Ravintsara is quite herbaceous.
Both oils possess antibacterial, anti-infectious, antiseptic, antiviral, and expectorant qualities, as well as being immunostimulant.
Ravensara is also an antiseptic stimulant, whereas Ravintsara is anthelmintic, anticatarrhal, antifungal, and mucolytic.
Both oils fight fatigue and can be used for respiratory conditions, bronchitis, and sinusitis. Ravensara is good for muscular pain, and Ravintsara is beneficial for congestion and excess mucus.[1]
Ravintsara has a high 1,8 cineole (eucalyptol) content, much higher than Ravensara but not quite as high of Eucalyptus. For this reason, it has been called the "kinder Eucalyptus."
A study determined that eucalyptol shows promise in reducing steroid dependency in those with steroid-dependent asthma. [2] However, more must be learned and care should be taken using Ravintsara around asthmatics.
Neither oil should be used while pregnant or breastfeeding.
Ravensara Essential Oil Uses
It is important to note that only the leaf oil be used, and dermally at a maximum dilution of .12%.
Do not use Ravensara Bark Oil, as it has an extremely high concentration of estragole (90-95 percent). [3] This is a flammable irritant that is a carcinogen for rats and poses a significant threat. [4]
Ravensara leaf oil, on the other hand, only contains a small fraction of this substance.
While this oil is not commonly used by home enthusiasts, it has been gaining traction, and there are several ways that it can be used.
Fight the Flu
Combining Ravensara and Ravintsara in a relaxing bath is good for staving off flu symptoms.
Mix five drops of each in with a tablespoon of a suitable carrier for a bath such as a body wash, bath bubbles, or fractionated coconut oil. Add this to your warm bath water and soak.
Never just drop essential oils undiluted into your bath. Oil and water do not mix, and you can get hurt. [5]
You may also add other oils like Eucalyptus Radiata (Eucalyptus radiata), Geranium (Pelargonium graveolens), Niaouli (Melaleuca quinquenervia), Palmarosa (Cymbopogon martinii), or Lavender (Lavandula angustifolia). Do not exceed 10 drops total per bath.
For Horses
Horses respond well to essential oils, but one must be careful what oils are chosen and be very mindful of how much is used around them.
These animals get spooked easily and suffer anxiety as humans do. If you would like to calm your equine friend, try this formula (10 drops of each oil):
Ravensara (Ravensara aromatica)
Bergamot (Citrus bergamia)
Geranium (Pelargonium graveolens)
Lavender (Lavandula angustifolia)
Thyme Linalol (Thymus vulgaris ct. linalool)
To use: Mix the oils well and add 20 drops of the mixture to two pints of water. Spray where the horse is kept half an hour before it gets there. As a bonus, this blend has antimicrobial and antibacterial properties.
Breathing Difficulties & COPD
Ravensara is an excellent oil for easing symptoms of respiratory distress and pain such as those of chronic bronchitis and COPD.
The following is an excellent bronchitis blend that can be used in a diffuser.
10 drops Thyme Linalol (Thymus vulgaris ct. linalool)
5 drops Eucalyptus Radiata (Eucalyptus radiata)
5 drops Frankincense (Boswelia carterii)
5 drops Ravensara (Ravensara aromatica)
3 drops Niaouli (Melaleuca quinquenervia)
Alternatively, add up to five drops of the blend to a teaspoon of carrier oil and use as a chest or back massage.
Body Oils
Essential oils can be blended with carrier oils for so much more than just a massage. If you are trying to ward off a 'bug,' either viral or bacterial, this broad-spectrum blend may help:
5 drops Ravensara (Ravensara aromatica)
5 drops Lavender (Lavandula angustifolia)
5 drops Lemongrass (Cymbopogon citratus/flexuosus)
2 drops Frankincense (Boswellia carterii)
1 drop Clove bud (Syzygium aromaticum)
Add a maximum of 10 drops to two teaspoons of a carrier oil. Please note that this can be irritating to those with sensitive skin. Any citrus-smelling oil can be photosensitizing, so stay out of the sun after applying.
Ravensara Essential Oil Benefits
Ravensara is similar to Eucalyptus in not only scent but beneficial properties. While Eucalyptus is not recommended for children under five years old, Ravensara can be substituted.
Aids in Bronchial Conditions in Children
Should your little one come down with a bronchial issue, blend the following:
10 drops Ravensara (Ravensara aromatica)
8 drops Tea Tree (Melaleuca alternifolia)
7 drops Chamomile Roman (Anthemis nobilis)
To use, put three drops in a diffuser or steaming bowl of water up to three times daily.
If you would prefer a rub, add the following to two tablespoons (30 mL) of sweet almond or your preferred carrier oil:
5 drops Ravensara (Ravensara aromatica)
3 drops Lavender (Lavandula angustifolia)
2 drops Chamomile Roman (Anthemis nobilis)
Blend well, and massage a small amount on the little one's back up to three times a day.
Fights Nail Infections
If you have a nail infection, you can blend 10 drops each of Tea Tree (Melaleuca alternifolia) and Manuka (Leptospermum scoparium) with five drops of Ravensara (Ravensara aromatica) into two tablespoons of Gotu Kola (Centella asiatica). Massage into nail bed three times a day.
Fighting Viral Infections
Ravensara has antiviral properties. Diffuse this oil when faced with problems like herpes, shingles or other viral infections.
Other antiviral oils that you can make a blend with include Citronella (Cymbopogon nardus), Clove bud (Syzygium aromaticum), Geranium (Pelargonium graveolens), Eucalyptus radiata, and Melissa (Melissa officinalis).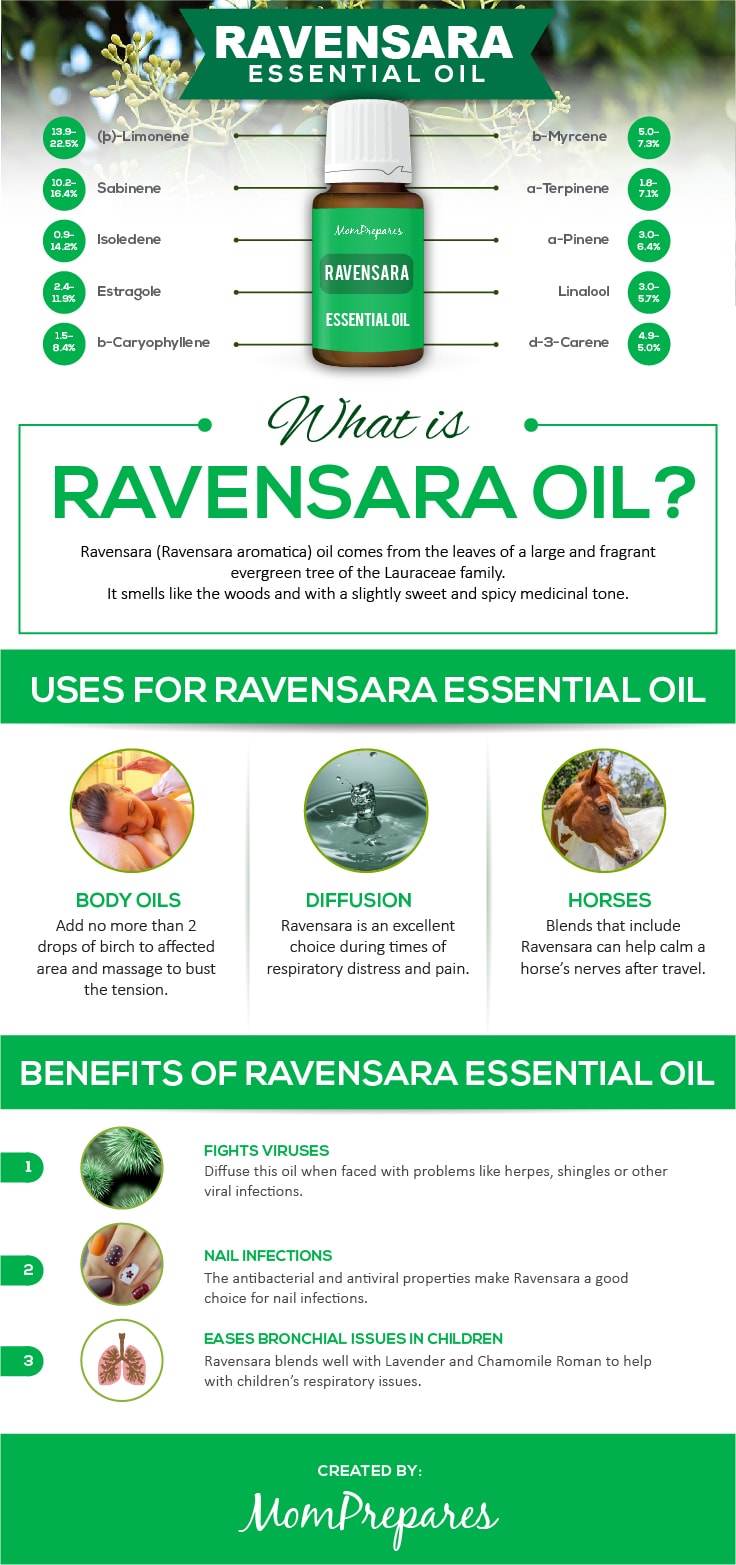 Use This Infographic On Your Blog
Ravensara Essential Oil Research, Facts, and Studies
Whereas many oils have hundreds, and at times thousands of results about studies on PubMed, Ravensara only has 12. Not much is known about this oil, and most of its uses are based on empirical evidence.
Perennial Allergic Rhinitis - Effects of Inhalation of Ravensara and Other Oils
A study from 2016 set out to determine the effects of the inhalation of certain oils in people with perennial allergic rhinitis (PAR). [6] They measured the results in the following manner:
Total Nasal Symptom Score (TNSS)
Rhinoconjunctivitis Quality of Life Questionnaire (RQLQ)
Verran Synder-Halpern (VSH) scale (sleep quality)
and fatigue level by Chalder Fatigue Scale (CFS)
People suffering from PAR all inhaled either Ravensara, Sandalwood, Geranium or the placebo control (almond oil) for five minutes a day, twice a day, for seven days.
The aromatherapy group showed significant relief of PAR symptoms in comparison with the control group.
Nasal Spray for Allergic Rhinopathy (Cytological Aspects)
An earlier study in 2012 looked into the efficacy of a lemon-based nasal spray using Naiouli and Ravensara in an aloe vera juice base.
They found a reduction of eosinophils granulocytes and mast cells in the nasal scraping samples of those that received this solution in comparison to those that were given the saline control.
This shows that the lemon and essential oil based spray may be a useful alternative to conventional treatment of both allergic and vasomotor rhinopathy. [7]
Conclusion
Ravensara is beneficial when used correctly. Care must be taken not to get it confused with similar sounding volatile oils.
This oil should not be used at more than .12% dilution and never by anyone pregnant or nursing.
When used correctly, the antibacterial and antiviral qualities of Ravensara can help fight bacteria and viruses that cause colds, influenza, herpes, shingles, and more.
Sources
Worwood, Valerie Ann. The Complete Book of Essential Oils and Aromatherapy. New World Library: Novato, CA; 2016.
Safety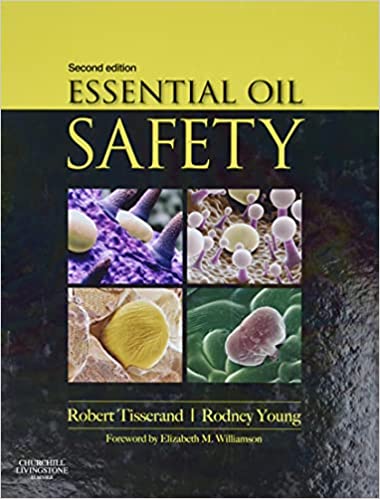 Correct selection and use of essential oils is crucial to ensure that you enjoy the best benefits of oils, without any of the downsides. Remember, some essential oils can be very potent and powerful. We therefore highly recommend this book to all of our readers: Essential Oil Safety: A Guide for Health Care Professionals 2nd Edition