What is Sage?
This perennial herb hails from the Mediterranean region and is a shrubby evergreen with a woody bottom and small deep blue or purple flowers.
Common, dalmatian, garden, and true are all synonymous with S. officinalis. Clary sage (Salvia sclarea) is not the same thing, and the two oils should not be used in place of one another.
"Salvia" is from the Latin word "salvere," which means "in good health" or "to be well." [1]
"Officinalis" is a reference to monasteries, as they had "officinas" in which herbs were stored. The word literally means "from the officina," and embodies the traditional medicine culture.
These officinas were often separate buildings from the monasteries themselves, where monks would prepare all sorts of decoctions, extracts, tinctures, and other medicines of the time. [2]
Sage is an herb that has been used for centuries and was once recommended to be grown everywhere for ease of access to its medicinal qualities. [3]
The essential oil is produced through steam distillation of the leaves. It takes approximately 500 pounds of the leaf material to produce one pound of the essential oil [4], which is anywhere from clear to pale yellow.
Sage essential oil blends well with basil linalol (Ocimum basilicum ct. linalool), cardamom (Elettaria cardamomum), frankincense (Boswellia carterii), lavender (Lavandula angustifolia), lemon (Citrus limon), sandalwood (Santalum spicatum), and many others.
Sage Essential Oil Uses
Sage has a long history in culinary and medicinal applications. The Romans called sage "herba sacra," meaning the sacred herb. It was used to treat symptoms of the digestive and respiratory systems, and women's reproductive systems.
Learning how to use sage essential oil at home isn't difficult, as you will see from the recipes below. Keep in mind that with volatile oils, less is more.
They are highly condensed, and a little goes a long way. This is especially true with a powerful oil like sage.
Aromatherapy Diffusion
Sage bundles have long been burned to ward off evil spirits, and today, some non-traditional practitioners have turned to diffusing the oils to get rid of negative energies.
Whether you feel you have a poltergeist you need to get rid of or not, sage is a pleasing scent to many people. It is antibacterial and antiviral, so can at least help rid the air of microbes, if not ghosts.
You can use sage in your diffuser by itself, or try out the following blend:
Good Eats Microbe-busting Blend
4 drops Rosemary (Rosmarinus officinalis)
3 drops Sage (Salvia officinalis)
2 drops Oregano (Origanum vulgare)
2 drops Basil (Ocimum basilicum / O. basilicum ct. linalool)
2 drops Lemon (Citrus limon)
I call this "Good Eats" because not only will it help rid the air of microbes, it will make your home smell like you have been slaving in the kitchen, cooking something delicious all day!
You could use this as a kitchen cleaner as well. Add it to a cup of baking soda and mix well for a dry scrubbing cleanser, or put it in a spray bottle with a cup of water and half a cup of white vinegar. Shake well before spraying down your countertops and other surfaces.
Always test on a small area before using anything made with essential oils, and never spray directly on wood, leather, or other such materials unless specifically made for them.
For Skin
Sage has a lot of properties that make it beneficial for the skin. It is antibacterial, anti-inflammatory, antiseptic, and a wonderful astringent. Add it to your splashes, facial sprays and tonics, or soaps for acne.
It also is cicatrizing, which makes it useful to have on hand as a wound wash.
In the Kitchen
You can use essential oils in the kitchen, as long as you remain cognizant of the fact they are highly concentrated. Where you might use a teaspoon or two of dried sage in your turkey stuffing, using that much of the oil would not only overpower the recipe but your house as well!
The oils are also much stronger than extracts, too. So even if a recipe calls for a teaspoon of an extract, you would still only use a drop or two of oil.
Always start with one drop of any essential oil when cooking or making up a creation in your kitchen. If that is not enough, it is generally okay to add another when making meals or bakery recipes, although you would not want to add that much to a recipe made for one person.
This is true even when the oil is generally recognized as safe, meaning it holds GRAS status through the Food and Drug Administration (FDA).
Many oils have this designation. However, this does not mean they can be ingested freely. It simply means that the government recognizes the oil or substance is safe in normal commercial food quantities, not small batches like what is made at home.
Sage goes very well with poultry, so you can try adding a drop of sage to your chicken marinades, turkey rubs, or even bread or rice mixes you plan on stuffing the poultry with.
Sage Essential Oil Benefits
In "The Old English Herbals," Eleanor Sinclair Rohde speaks of an old proverb about sage: "How can a man die who has sage in his garden?"
Clearly, our ancestors thought highly of the health benefits of sage. The following can help you attain some of these therapeutic qualities in your own home.
Arthritic and Rheumatic Pains
As an anti-inflammatory oil, sage can help you ease the pains of arthritis and rheumatism.
Blend it with other oils like black pepper (Piper nigrum), ginger (Zingiber officinale), eucalyptus (Eucalyptus globulus / E. radiata), and sweet marjoram (Origanum majorana) to enhance its effects.
Add two or three drops of your blend to a teaspoon of a carrier oil like jojoba (Simmondsia chinensis) and rub into the affected area.
Menstruation
Sage has long been used to ease the pain of menses, much as it eases arthritis and muscular aches and pains.
Mix it with oils like sweet fennel (Foeniculum vulgare), geranium (Pelargonium graveolens), and the chamomiles (Anthemis nobilis, Matricaria recutita).
Respiratory Congestion
Sage has an affinity for the respiratory system and has long been used to help clear up coughs, bronchitis, and other respiratory ailments.
One of the best ways to garner the benefits of the oil for these maladies is through the facial steaming method.
Get a bowl of steaming water, and add a couple drops of sage to the water. Throw a towel over the back of your head to trap the steam, and inhale the vapors for 10-15 minutes.
If you get lightheaded or have any other adverse reactions, stop immediately. Remember to keep your eyes closed and your face about a foot from the bowl.
Varicose Congestion
Varicose veins are caused by pressure and get worse with age. They usually show up as enlarged blue lines on the legs, and they typically get worse with age.
While essential oils cannot heal them, they can help with the pressure and increase circulation. Besides sage, you can also use cypress (Cupressus sempervirens), lemon (Citrus limon), marigold (Calendula officinalis) infused oil, and rosemary (Rosmarinus officinalis).
You will add a couple drops of your blend to a teaspoon of a carrier oil, then gently sweep up the affected area, towards the heart. Do not rub or massage the veins.

Use This Infographic On Your Blog
Sage Essential Oil Research, Facts, and Studies
Premenstrual Syndrome & Symptoms
A 2018 issue of Complementary Medicine Research included an article examining the effectiveness of S. officinalis on premenstrual syndrome (PMS).
The article was based on a clinical trial, which was a triple-blind, randomized controlled study that included 90 participants from a college in Tehran, Iran. It spanned two months.
The students were separated into two groups, one of which received a 500-milligram capsule of sage capsules while the other received a placebo. It is unclear whether this was sage oil extract or another type of capsule.
However, those in the sage group experienced a marked reduction in physical and psychological symptoms over the placebo group. The researchers believe it could be an effective alternative to traditional treatments of PMS. [5]
Antibacterial
There are numerous studies on the antibacterial effects of sage, both as an herb and the oil that we obtain from it. The constituents in the oil were proven effective against Streptococcus pyogenes.
Oregano (Origanum vulgare), clove (Syzygium aromaticum), and ginger (Zingiber officinale) were also tested against the bacteria. Out of the four, oregano and sage demonstrated the highest bactericidal effects, and were better at inhibiting the bacteria's growth. [6]
S. pyogenes is a group "A" strep that causes infections like acute rheumatic fever, scarlet fever, strep throat (pharyngitis), and type II necrotizing fasciitis. [7]
Alzheimer's
Another double-blind, randomized placebo-controlled study in Tehran examined the effects of S. officinalis on Alzheimer's patients. Their interesting results were published in a 2003 issue of the Journal of Clinical Pharmacy and Therapeutics.
Note that they used sage extract, not oil. However, they found that in patients that received the extract, their cognitive abilities were improved and they were less agitated overall than the people in the placebo group.
This could lead to sage and its constituents being used as novel complementary therapies in the future for those suffering from degenerative brain diseases. [8]
The oil of sage may hold promise as well. In a separate research article published in Human Psychopharmacology: Clinical & Experimental, the authors stated that the aroma of sage could likely have an effect on cognitive performance and mood as well. [9]
Botanical Names / Hallucinogen
It is a fact that in aromatherapy, it is absolutely vital that you pay attention to the Latin binomials of the oil you are purchasing.
There are many oils whose common names are the same, and it is likewise true with the botanical names. The second name of the binomial, in this case "officinalis," is of vital importance.
Case in point, there is a type of sage that is being used by teens and adults as a hallucinogen. You may have heard of salvia before. Salvia divinorum is the herb that this refers to.
It is not illegal on a federal level, but many states in the United States classify it as illegal to possess or sell.
It contains a chemical called salvinorin A, and is either chewed, smoked, or made into a tea. The effects of this include loss of awareness of surroundings and hallucinations.
Always, always pay attention to the botanical name!
Conclusion
Sage is another herb that has a long and storied history in the annals of both the culinary and healing arts.
You can use the essential oil of sage for a wide range of things around your home, from clearing the air or your lungs to cleaning your countertops and enhancing your cognition.
Always look for the botanical name, and remember that S. officinalis is not the same as other sages.
Safety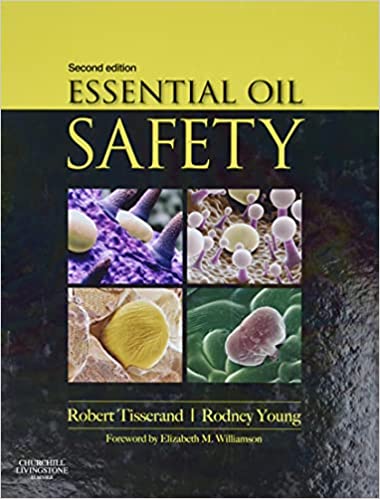 Correct selection and use of essential oils is crucial to ensure that you enjoy the best benefits of oils, without any of the downsides. Remember, some essential oils can be very potent and powerful. We therefore highly recommend this book to all of our readers: Essential Oil Safety: A Guide for Health Care Professionals 2nd Edition