What is Petitgrain?
Petitgrain comes from the bitter orange tree, which is an evergreen featuring a smooth grayish trunk, thorns, fragrant white waxy flowers, yellow stamens, and small orange fruits that are darker and smaller than sweet oranges.
The tree produces three kinds of oils:
Bitter orange - also known as C. bigaradia, C. vulgaris, and Seville orange. The oil is produced through cold expression of the rind of the fruit and is sometimes called sour orange bigarade.
Petitgrain - also known as C. bigaradia. The oil is produced through steam distillation of the leaves and twigs. It is commonly called petitgrain bigarade or petitgrain Paraguay oil.
Neroli - also known botanically as C. bigaradia, or C. vulgaris, while the oil is often aptly called orange blossom, orange flower, or neroli bigarade. The rather expensive neroli essential oil is steam distilled from the freshly picked flower of the tree.
While these oils share some of the same qualities, they are also very different and are a perfect example of why it is imperative to pay attention to what you are buying and using.
For instance, even though these three oils come from the same tree, bitter orange oil is the least recommended by aromatherapists, as sweet orange (Citrus aurantium) is preferred for use.
If you want the highest-quality petitgrain oil, look for those that come from France. That being said, Haiti, North Africa, and Paraguay also produce good petitgrain oils.
There are other "petitgrain" oils on the market, too. One comes from the leaves, twigs, and unripe fruit of bergamot (C. bergamia), lemon (C. limon), mandarin (C. reticulata), and sweet orange (C. aurantium) trees.
Furthermore, there is a type of petitgrain produced from a hybrid of two different orange trees, C. aurantium, and C. sinensis. This is usually produced in Paraguay.
In the past, petitgrain was produced from unripe oranges when they were tiny and green, which is how it got the moniker of "petitgrain." It was one of the first ingredients used in eau de cologne and records show it was being distilled as early as 1694. [1]
When you are shopping for petitgrain essential oil, look for a colorless or pale yellow liquid. Be sure to pay attention to the botanical name.
There are no known contraindications for petitgrain.
Petitgrain blends well with other citrus oils, black pepper (Piper nigrum), cardamom (Elettaria cardamomum), clary sage (Salvia sclarea), Cypress (Cupressus sempervirens), ginger (Zingiber officinale), patchouli (Pogostemon cablin), vetiver (Vetiveria zizanioides), and many more.
Petitgrain Essential Oil Uses
There are plenty of ways to use petitgrain at home. The following are some favorites, but this list is definitely not exhaustive.
Aromatherapy
Petitgrain is a mood lifter like other citrus oils, plus it smells fantastic to most people. Use it in your diffuser or personal inhaler when you are feeling down or just want a fresh smell either in the air or for yourself.
You can use it alone or in a blend.
Mood-lifting Citrus Blend
5 drops Bergamot (C. bergamia)
5 drops Petitgrain (C. aurantium var. amara)
3 drops Geranium (Pelargonium graveolens)
2 drops Orange, sweet (Citrus aurantium)
Deodorizing Body Odors
Many of us choose not to put products containing artificial chemicals on our bodies, which can include commercial antiperspirants and perfumes or colognes.
That doesn't mean people have to walk around offending others that come in their path. Essential oils can be used in different ways to fight odor.
Body oils are one of these ways. Choose one or multiple of the following oils to blend. Use 2-3 drops of your oil or blend to a teaspoon of carrier oil or gel and rub over your body after taking a bath or a shower.
Bergamot (C. bergamia)
Cistus (Cistus ladaniferus)
Clary sage (Salvia sclarea)
Coriander seed (Coriandrum sativum)
Cypress (Cupressus sempervirens)
Eucalyptus peppermint (Eucalyptus dives)
Geranium (Pelargonium graveolens)
Mastic (Pistacia lentiscus)
Myrrh (Commiphora myrrha)
Palmarosa (Cymbopogon martinii)
Patchouli (Pogostemon cablin)
Peppermint (Mentha piperita)
Thyme linalol (Thymus vulgaris ct. linalool)
For Hair
Petitgrain is an excellent choice for many hair types and conditions. You can use it in blends for natural afro-textured hair, fragile or falling hair, oily hair, and it can also be used in hair oils.
Petitgrain Essential Oil Benefits
There are many benefits attributed to petitgrain. Some of the following might be helpful at home:
Antidepressant
As an antidepressant oil, you can use petitgrain as a mood stabilizer and antidepressant, to calm anxiety, ease despair and grief symptoms, reduce stress, help with focus and concentration, fight exhaustion and fatigue, and more.
Eases Muscular Aches
Petitgrain is also an anti-inflammatory and antispasmodic, which makes it excellent in creams, massage oils, and gels for muscle aches and pains.
Aching Muscle Relief Massage Oil
5 drops Clary sage (Salvia sclarea)
3 drops Cinnamon leaf (Cinnamomum zeylanicum)
3 drops Petitgrain (Citrus aurantium var. amara)
2 drops Clove bud (Syzygium aromaticum)
Mix the blend first, then add it to 1-2 tablespoons of a carrier oil like coconut (Cocos nucifera), jojoba (Simmondsia chinensis), or almond oil (Prunus amygdalus var. dulcis).
Helps Calm Birth Trauma
Both miscarriages and preterm births can affect women and their partners deeply. It is a profound experience for both; however, much more so for the woman due to the rapid hormonal changes.
When a woman is pregnant, her body is prepared for nine months of gestation. If this ends prematurely, the hormones fluctuate wildly and can cause significant emotional turmoil.
Petitgrain is a wonderful oil for this situation. It can help with the mood swings and emotional instability. It is likewise useful for postnatal depression. [2]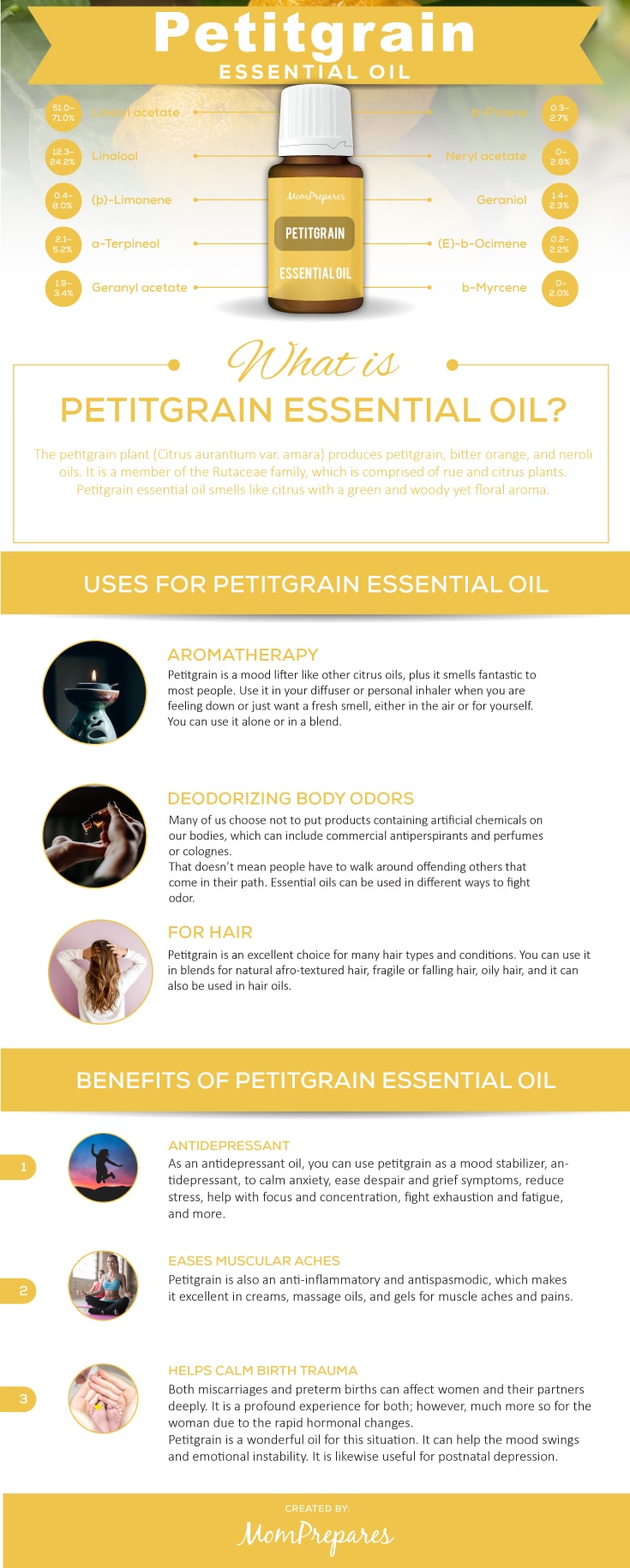 Use This Infographic On Your Blog
Petitgrain Essential Oil Research, Facts, and Studies
There are numerous studies on petitgrain oil that can be found. Some of the more interesting and useful ones are:
Uses in Dermatology
According to a research study produced in Evidence-based Complementary and Alternative Medicine (eCAM) in 2017, there are a number of dermatological applications for petitgrain essential oil as listed in aromatherapy literature:
Antiseptic
Bacterial infections
Balances sebum in greasy and oily skin
Helps with blemishes
Hyperhidrosis
Pimples
Pressure sores
Sensitive skin
Toner
Tonic
Wounds
The research also states that the oil shows efficacy against:
Skin problems associated with gram-negative pathogens
Candida albicans
C. albicans, Staphylococcus aureus, and Pseudomonas aeruginosa when combined with lavender (Lavandula angustifolia). [3]
Singlet Oxygen Scavenging
Oxygen is usually a good thing and something we all need to survive. However, singlet oxygen (1O2) is a reactive oxygen species (ROS) and is a highly active form. When produced on the skin after exposure to ultraviolet rays, it starts attacking cells.
In a study from 2008 published in the Journal of Clinical Biochemistry and Nutrition, petitgrain from France showed 100% scavenging activity against this dangerous oxygen at 0.1%, 0.4–2%. At 0.2% concentration, the scavenging efficacy was 92%. [4]
Conclusion
Petitgrain is a versatile essential oil to keep on hand. There are no known contraindications of this oil, although any oil should be skin-tested before using, especially on individuals with sensitive skin.
Because there are three oils that come from the same tree, make sure you purchase the correct one. Always do your research.
Once you realize the benefits of petitgrain oil for your atmosphere, mood, hair, skin, and more, you might want to always have some on hand!
Safety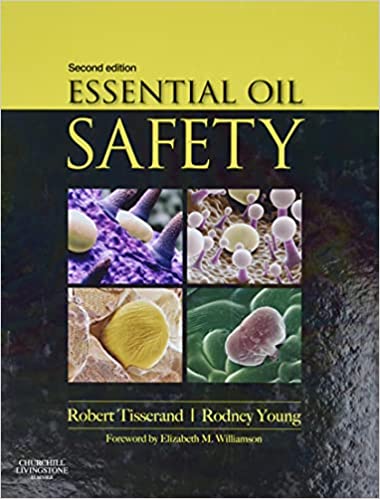 Correct selection and use of essential oils is crucial to ensure that you enjoy the best benefits of oils, without any of the downsides. Remember, some essential oils can be very potent and powerful. We therefore highly recommend this book to all of our readers: Essential Oil Safety: A Guide for Health Care Professionals 2nd Edition