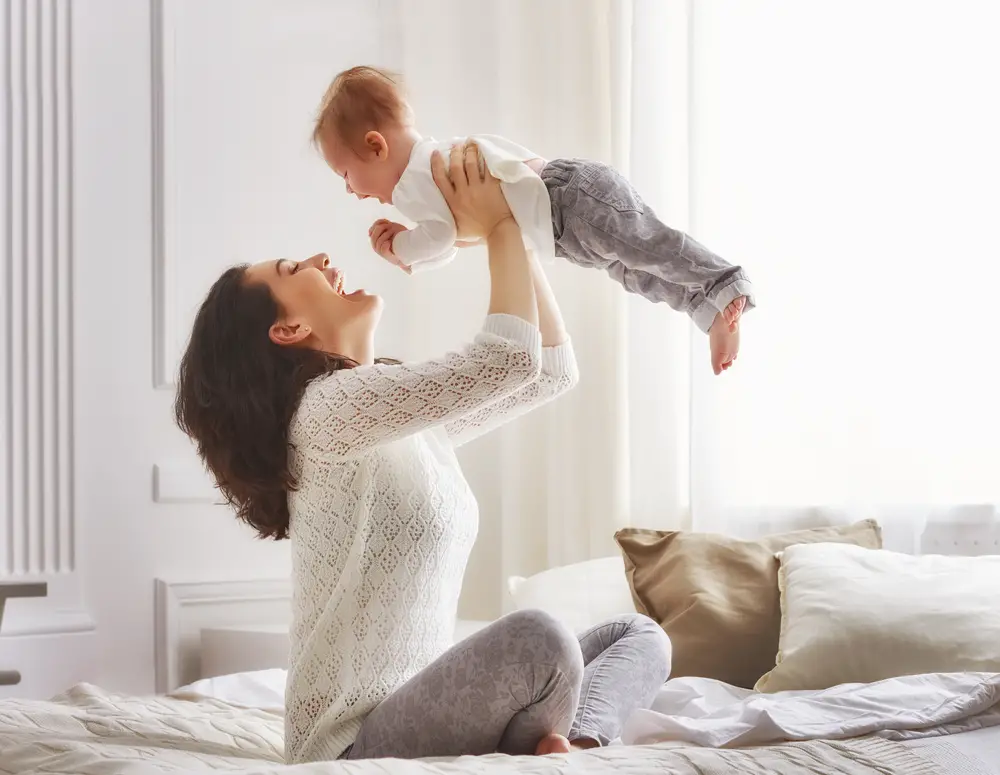 Having a baby is magical, but it's also life-changing in some not-so-great ways. Whether you're a first-time mom or you've just given birth to your third or beyond, the physical changes that come with pregnancy can be intense, overwhelming, uncomfortable, and even painful.
We often expect recovery from childbirth to take about six weeks—after all, that's when we have a postpartum check-up from the OBGYN—yet for most women, it takes a year, if not longer.
Not only do your organs need to return to their normal place after being shifted around from the presence of a human being, but your muscles need to regain shape and tone, your pelvic floor needs to be strengthened, and yes: the baby weight needs to come off.
One of the top questions for both new and repeat moms alike is: how long should it take to lose the baby weight?
How Long Does it Take to Lose Baby Weight?
Some women can give birth and be back to their pre-pregnancy weight within weeks. But for most women, the time it takes to lose the 10 to 30 pounds, on average, that is left after the baby is born can take anywhere from a few months to a year or longer. And that is actually quite normal.
There are more than 139 million search results if you google "how long does it take to lose baby weight." There are another 122 million for "how to lose baby weight fast."
Yet most of the search results for losing weight fast don't take into account the physiological realities of a woman's body post-birth. You're not just suddenly a woman carrying some extra weight.
You're a woman whose hormones have had a major event; whose organs need time to heal; who mental and emotional health can be dramatically changed; and whose ability to sleep for eight hours a night has just been wrecked for a good year or two.
Postpartum weight loss involves many different individual components that, together, can make it hard to drop the weight depending on the woman's health circumstances.
What isn't mentioned often enough, either on google or by healthcare providers, is that there's no shame in this. After a woman has literally grown a human being from scratch and then birthed them into the world, it's perfectly acceptable that her body isn't in prime condition.
In fact, some of the changes are necessary to help cope with those first many months after birth.
As a nutritionist, I've talked to hundreds of women specifically about the issue of postpartum hormones and weight loss.
Most of them feel shame that six, nine, or even 12 months after giving birth, they're still carrying extra weight. But this is normal, and it's actually abnormal when a woman can be fully returned to her pre-birth state in just a few weeks.
Research shows that at one year postpartum, the average woman still carries between one to seven pounds of their pregnancy weight. (1)
Another study showed that more than 40 percent of women carried more than five pounds of their baby weight indefinitely after birth, with as many as 20 percent of women retaining more than 11 pounds. (2)
Research from the World Health Organization shows that women, regardless of the country they live in, tend to lose an average of 10 pounds in the two years after giving birth. (3)
The amount of weight that a woman gains during pregnancy can differ for many reasons, but after the baby, placenta, and other birth materials have been delivered, the extra weight a woman carries can range from a few pounds to 10, 20, or higher.
It is realistic for most women to expect that after one to two years, not two to six weeks, they will have lost more or all of their baby weight.
Why could postpartum weight loss that takes so long be considered perfectly normal? Let's explore the various reasons.
1. Hormonal Changes After Birth
We think of pregnancy as lasting nine months because that's when the baby comes out. However, pregnancy should be considered as a year-long process, with the "fourth trimester" being the three months after giving birth. These days and weeks are a rapid time of development and adjustment for both baby and mom.
While the baby is busy rapidly growing and learning to exist in the outside world, mom is learning to adjust to taking care of this new human.
Whether it's your first time as a mother or not, you've never cared for this baby before, and no two kids are the same. Mothers who face challenges like colic, infant eczema or food allergies, breastfeeding problems, baby blues, or short maternity leave will have bigger adjustments.
During pregnancy, a woman's estrogen levels rise throughout the weeks and months of gestation, peaking in the third trimester as the time for birth nears.
Progesterone levels remain high throughout the pregnancy, too, preventing the uterus from contracting and nourishing the baby. When estrogen levels surpass progesterone, this is typically one of the triggers for labor and delivery.
After the baby is born, progesterone levels almost immediately return to pre-pregnancy levels (lower actually—they won't return to normal until your cycle returns).
But estrogen levels stay high for quite some time and are typically responsible for those post-birth emotional roller coasters and mood swings that most women feel.
For most women, estrogen returns to normal about six to eight weeks after delivery, however, it can take longer for some women if certain health conditions are present.
Reasons why it could take longer to clear estrogen include:
Thyroid problems

Liver disorders

Genetic mutations, like MTHFR, that make detox more difficult

Digestive problems

Low nutrient levels

Poor nutrition

Too little sleep

High levels of

stress

Chronic or autoimmune health conditions
There are other reasons why estrogen levels could stay high after giving birth, but regardless of what causes it, estrogen dominance can often result in slower weight loss.
Most women cannot control their estrogen levels, even when they try to address all contributing factors. Hormones need time to adjust and it happens faster for some women than others.
2. Physical Changes After Birth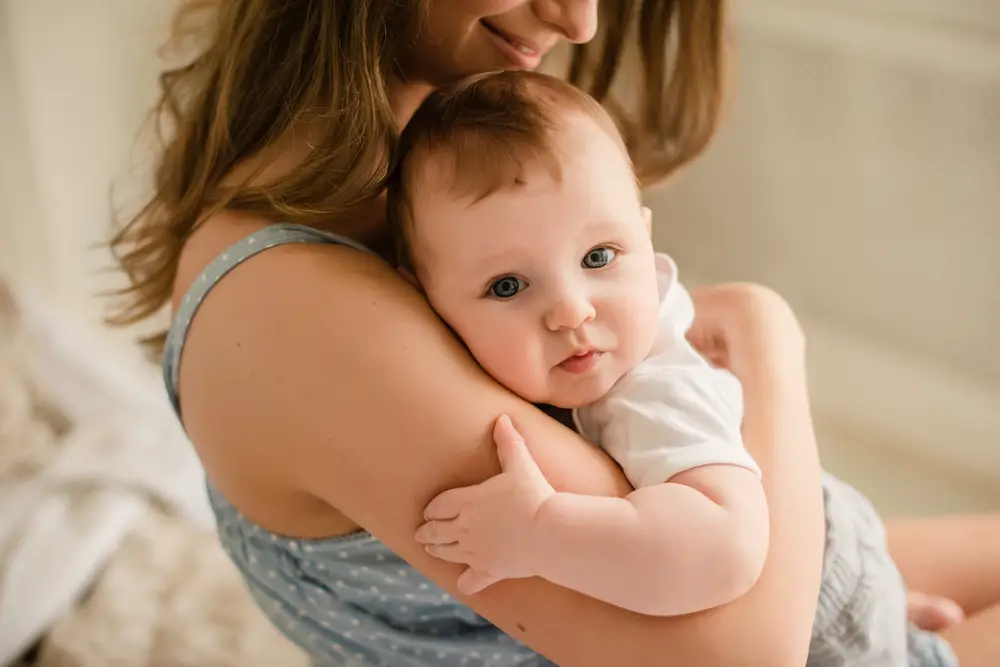 Not only do women undergo hormonal changes, but the body that they have after birth has been changed in many physical ways, too. While many women speak negatively of this, the reality is that birth is a nearly superhuman feat. The physical marks that remain should be worn with pride, not shame.
That being said, there are still some physical issues that women need to recover from post-birth. If she delivered via cesarean section, she has an abdominal incision to attend to.
If vaginally, then some post-birth trauma of the vaginal canal. Regardless of how a woman gives birth, both her pelvic floor and her ab muscles will need some time to regain their pre-pregnancy strength and for some, this requires the additional support of physical therapy or rehab programs.
When a woman suffers from diastasis recti—or the lingering separation of the ab muscles after giving birth—her stomach and belly can often appear to be heavier and carrying more fat.
This is because the ab wall typically provides support and holds in the stomach, but when it has been stretched, it will appear more sagged and relaxed.
A weakened pelvic floor is often associated with symptoms such as leaking urine, but even without this symptom, it can contribute to weak abs, back problems, and more.
Even if these issues don't technically affect a woman's weight, they strongly impact her perception of her post-baby body, and spending time working with a trained physical therapist to recover core strength after birth will dramatically improve physical appearance and strength—both of which can be significant morale boosters for new moms.
Whether you've delivered in the last six weeks, months, or years, you can always go back and strengthen your core and pelvic floor.
If physical therapy is not an option, consider a program like MuTu Mama or similar that give special focus to healing diastasis recti and pelvic floor problems without straining them or worsening them (as many traditional ab work-outs can).
3. Breastfeeding
Many people, including doctors, suggest breastfeeding as a great way to lose the baby weight. However, research actually shows that it could lead to little or no weight loss in the first three months, and for some women, it might always be associated with excess weight as the body holds on to fat to ensure plenty of milk production. (4)
The bottom line is that women should breastfeed for reasons other than postpartum weight loss. If a woman is unable to breastfeed for any reason, she can still lose baby weight and her baby can still be every bit as fed and nourished.
Breastfeeding comes with plenty of benefits, but new moms also need to be reminded that bottle-feeding with formula, breast milk, or both is equally as good at nourishing baby's needs and can support mom's mental, physical, and emotional health in other ways.
However a mother does it, how she feeds her infant should not be the biggest part of the conversation on postpartum weight loss.
4. Postpartum Depression
While nearly 70 percent of women will have a few weeks of baby blues after giving birth, one in seven women will experience postpartum depression. (5)
Postpartum depression, or PPD as it is known, can range from frustrating to debilitating, with symptoms varying in each woman.
For some, it can manifest as extreme anxiety, and for others, it can feel like a complete lack of motivation or care. For a smaller percentage of women, it can lead to feelings of self-harm or thoughts of hurting the baby or other children.
Postpartum depression can be serious, and getting help is essential. (If you have had thoughts of self-harm or hurting your children, get help: call 911. If you want to speak to someone who understands what PPD feels like, call Postpartum Support International at 1-800-944-4773.)
Even if your PPD isn't serious, it can derail the desire to lose weight or even to take care of yourself. But, because depression and anxiety aren't logical, it can load you with shame for not doing those very things.
Most cases of PPD are hormone-driven, but the underlying causes are also more complex than that. Work with your OBGYN and other healthcare providers to find the best way to support your mental health during this emotionally and hormonally volatile time.
Working with a licensed therapist can also be an important step in recovery. If therapy isn't an option, use resources from Postpartum Support International to find some support.
5. Thyroid Problems
Many cases of thyroid dysfunction occur after having a baby. Whether it is short-term hypothyroidism or the onset of autoimmune thyroid disease, having a thyroid that isn't functioning properly can lead to weight gain or the inability to lose weight.
Every woman should have her thyroid evaluated between six and 12 weeks postpartum, yet this is not part of standard postpartum care.
If you feel especially tired (more so than one who has an infant should), have no motivation, or aren't able to lose any weight (or have even gained some), ask your doctor to check your thyroid levels.
Tests that should be run include TSH, Free T3, and Free T4. If you have a family history of thyroid disease or have personally been diagnosed before, get your thyroid antibodies assessed, too, to determine if the problem is short-term or a chronic flare-up.
6. Lack of Sleep
It's incredibly hard to lose weight when you're overtired and not getting optimal amounts of sleep. Yet, most new moms don't even come close to getting a full night of sleep for weeks, months, or even years.
This factor alone can lead to increased stress levels, decreased motivation, and a greater desire to eat for comfort. It's hard to fight the lack of sleep and it's nearly impossible for chronic exhaustion not to impact how your body's metabolism works (or doesn't work).
Research proves that a lack of sleep after giving birth is related to holding onto pregnancy weight. (6) Learning to prioritize sleep over many other aspects of life can be challenging, especially when there are one or more children to care for.
While it may be a while before you get eight hours of uninterrupted sleep at night, don't let that deter you from trying to get more.
While "sleep when the baby sleeps" might not be practical advice for the mother of multiple children, trying to find time to take a nap each day and going to bed as early as possible are two things that new moms can try.
Cutting yourself some slack while your sleep is disrupted for months or years is also essential. You can't expect your body to behave as it did before pregnancy when your sleep is now nowhere near what it was back then. Eventually, you will adjust, but this is one factor that needs time to get sorted out.
7. Nutrition and Exercise
Most of the google search results for postpartum weight loss revolve around telling women how to eat and exercise to lose weight. So, basically, the same weight loss advice you get if you haven't just had a baby and even if you're a man.
But postpartum weeks and months are not just like any other time of life. Following typical advice to cut calories or exercise more will not be as effective and could actually slow the postpartum return to normalcy.
It is tempting for women to go on a restricted diet in the weeks or months after birth to try to elicit some control over postpartum weight loss.
However, your body has just been through a major physical event—far more grueling than a marathon—and calorie restriction or crash dieting will only serve to worsen hormone imbalances and could make it harder to lose or keep weight off, long-term.
If you're breastfeeding, you need calories to produce milk. Even if you're not breastfeeding, restricting calories also restricts nutrients. The same nutrients that your body needs to heal and recover.
When your body senses a lack of calories or nutrients, it assumes that you're in a famine scenario and may actually retain more weight. If you have any other underlying issues, like thyroid problems, restricted calories or crash dieting will worsen those, too.
Whatever you do, don't stop eating or restrict your food intake to 1,200 calories a day. You shouldn't be focused on eating too much or too little, but rather, do your best to focus on quality.
It's hard to be a home cook pro when you've just given birth, and if you don't have family or friends providing your meals, then keeping it simple is the best way to go.
You can focus on simple ingredients and meals without dieting, spending hours cooking, or losing your sanity.
But don't obsess over eating only vegetables and protein either—do your best, but remember that you have time to return to normal. Giving yourself ample amounts of grace when it comes to food and nutrition intake in those first few months is essential.
The same is also true for exercise. There's a reason why women need to be cleared for a return to normal activities after giving birth, usually at their six-week check-up. The core is weaker, the pelvic floor needs to recover, and overall strength will not be normal right after birth.
However, even if your doctor gives you the all-clear, going right back into an intense workout program might not be the best approach. If you haven't, get evaluated by a pelvic floor therapist who can truly answer whether you're ready for lifting or aerobic exercise again.
Most normal workout programs can worsen core problems or pelvic floor issues by straining them or using them more than you're ready for.
Bottom Line
Having a baby is an amazing life-changing event… one that you don't have to recover from in days or weeks. Give your body grace as it adjusts back to normalcy.
For most women, this reasonably takes one to two years, especially if you've had multiple children. Celebrate your body, mama, whatever shape it's in. Things will get better, one day at a time.