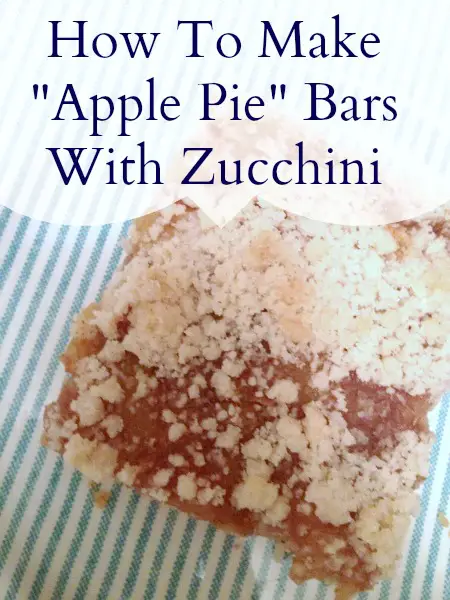 Wait, wait, I know what you're thinking. "Gross! Who ever heard of squash in a fruity dessert. Yuck. It can't possibly taste like apple pie…I'll pass."
I made these bars for my family for the first time in years, in the interest of article research. When my (highly skeptical) husband tasted them he was amazed. "If you hadn't told me that they are made with zucchini, I would absolutely think they were apple!" he said.
Convinced yet? After all, you have to find some way to use all of that zucchini, right?
Give it a try! Here's the recipe.
"Apple Pie" Bars Made with Zucchini
FILLING
8 cups chopped, peeled, seeded zucchini
2/3 cup lemon juice
1 cup sugar
1 teaspoon cinnamon
THICKENER, CRUST, AND TOPPING
4 cups flour
2 cups sugar
1 ½ cups coconut oil
INSTRUCTIONS
Place zucchini and lemon juice in a large pan.
Simmer together for 10-15 minutes until the zucchini is soft.
Add 1 cup sugar and cinnamon and simmer one minute longer.
Meanwhile, mix together flour, sugar, and coconut oil with a mixer or fork, until it resembles fine crumbs.
Add 1 cup of this to the finished zucchini mixture.
Pat 2/3 of the remaining flour mixture into the bottom of a greased jelly roll pan.
Carefully spread the zucchini mixture on top.
Sprinkle the last 1/3 of the flour mixture over all.
Bake at 375 degrees for 35-40 minutes or until the topping is golden brown. Let cool and slice.
Don't be discouraged if you don't have a lot of room to garden. Read [sc:vgarden ] and find out how to better use the space you have.
How To Use All This Zucchini – A Series At Mom Prepares