What is Vanilla?
Vanilla is a member of the Orchidaceae family of plants and fits this characteristic well with its fragrant blooms. The flowers can range in color from whitish to greenish-yellow and grow to be around two inches. It gets its name from the Spanish 'vainilla,' meaning 'little pod or capsule.' [1]
Growing vanilla for bean cultivation is an arduous process that takes years. The vines do not flower until the third year. Even though the vine as a whole flowers over the course of two months, the flowers themselves only last for 24 hours before wilting.
The plant itself is easy to grow and can have spurts of up to an inch a day once established, but hand-pollinating is tedious.
Not only does the timing have to be perfect, but it also has to be done just right, and practice is suggested. The savings and quality can be well worth the process though. [2]
The flowers are deep and tube-like, flaring out at the ends. They are hermaphroditic plants, but natural pollination occurs only one percent of the time. So, they must be hand-pollinated in the morning within 8-12 hours of opening lest they wilt and fall to the ground.
This pollinating difficulty gives us some interesting history. This plant was cared for in its humble beginnings by the Totonac tribe in eastern Mexico. Then the Aztecs invaded, and the Spanish conquistadors after that.
When the Marquis of the Valley of Oaxaca, Hernán Cortés de Monroy y Pizarro Altamirano, invaded in 1520, the Aztec leader offered him a drink. It was made of both cacao and vanilla bean. The goodwill gesture was not enough, and Cortés pillaged the whole region.
Cortés brought the vanilla bean back to Europe, however. Everyone raved about the new arrival and wanted their share. The thing was that in Mexico, the flowers achieved pollination by a source unknown to Cortés, a small bee called the melipona.
Without this little helper, the flowers were never pollinated, and they never 'fruited.' Hundreds of years later, it occurred to them that the flowers had to be hand-pollinated, and this had to happen the morning of their bloom. [3]
In Mexico, there is another helper to the area beside melipona bees, the hummingbird. When these little assistants do their job, green capsules or 'fruits' grow. They are then picked and go through a drying and fermenting process.
This curing time turns the half-foot long green capsule into the fragrant brownish-black vanilla 'bean' that we all know. This process can take up to half a year, during which time crystals of vanillin may form on the pods. This is the primary constituent in the resinoid and absolute.
You have likely heard of other types of vanilla, such as Bourbon vanilla, which is grown in Comoros, Madagascar, and Reunion. There are also other vanillas named by their region such as Chinese, Indian, Indonesian, Tahitian, Tongan, and Ugandan. [4]
Mexican vanilla is still the superior vanilla to this day and is preferred for both its scent and culinary applications.
The cured bean pods are solvent extracted to create the resinoid. From this, an absolute can be created. There is no 'essential oil' of vanilla as we know them. However, carbon-dioxide (CO2) extraction gives us the closest thing, and is what many refer to as 'vanilla essential oil.'
Vanilla can vary widely in its composition. It is composed of vanillin and approximately 150 other constituents. The vanillin can range from 12-95 percent and is what gives vanilla its characteristic scent.
It is often adulterated, and much of the stuff sold today is nothing more than vanilla scented oil. Be careful where you purchase it.
CO2-extracted vanilla is easier to work with than vanilla oleoresin due to the viscosity, but still should not be used in many diffusers. Vanilla can cause skin irritation in some people, so a skin patch test is advised.
Vanilla blends well with many other oils, such as amyris
(Amyris balsamifera)
, cinnamon leaf
(Cinnamomum zeylanicum)
,
clove bud
(Syzygium aromaticum)
, frankincense
(Boswellia carterii)
, lemon
(Citrus limon)
, nutmeg
(Myristica fragrans)
, and many more.
Vanilla Essential Oil Uses
Vanilla has been used by different cultures for healing purposes. According to Carol Schiller in 'The Aromatherapy Encyclopedia,' Africans used it for stomach-related issues, as did the Europeans, who also utilized it as a poisoning antidote and an aphrodisiac.
People have used vanilla for mood issues to relieve anxiety and stress. It has been used for muscle aches and pains, to break up congestion, and as a sleep aid.
Since the resinoid is created by solvent extraction, it is not a good idea to use it therapeutically as some of the chemicals are left behind. CO2 extraction is a cleaner process, but some people still do not like using these for remedies for the same reason.
As mentioned above, it is also hard to tell exactly what constituents are in your product and in what amounts. If you want to use your vanilla absolute or 'vanilla oil' in a therapeutic blend, you will likely want to see if the company has performed testing on the substance to ensure quality.
For Cooking
One of the most obvious ways to use vanilla would be in cooking. It is the most popular extract and is used in countless baking and dessert recipes. That being said, it is imperative to examine the differences of vanilla essential oil vs. vanilla extract.
All essential oils, CO2 extracts, absolutes, and oleoresins are highly concentrated substances. Extracts, on the other hand, are made from macerated bean pods that percolate in an ethyl alcohol and water mix. [5] They are nowhere near as concentrated.
Therefore, where you often may use a half to a whole teaspoon of extract in a recipe, using this much of any essential oil would overpower and ruin the recipe.
Because of this, using the toothpick method is recommended for drinks. Dip the end of a toothpick in the oil and swirl it into the beverage. This is often plenty of flavor. For larger or denser recipe, one drop is usually sufficient for distinguishable flavor.
Being that vanilla is eclipsed only by saffron as the most expensive spice in the world due to its labor-intensive production, you probably don't want to waste it anyway! [6] This is also why synthetic vanillin is used commercially much more than true vanilla.
Did you know you can make your own high-quality vanilla extract at home? Simply take seven or eight vanilla beans and slice them lengthwise. Submerge them in a cup of 70-proof vodka in an airtight jar. Shake your jar twice a week for eight weeks.
At this point, you can strain the liquid from the beans or leave it as-is to age. Just be sure to keep them submerged. If you like, you can experiment with beans from different areas for flavor changes, or use bourbon, rum, or other alcohol.
Aromatherapy
The scent of vanilla is calming for a lot of people and conjures up happy memories of mothers and grandmothers baking during the holidays.
Scents that affect the limbic system in this manner are helpful for relieving stress and anxiety. Just remember that you cannot use thicker oil and absolutes in many diffusers. However, they are excellent for candle-warmed devices.
Perfumery
Vanilla has been used for years in the perfume industry for ages. It is an excellent fixative and can be used as a base note. Because of its high cost, tonka bean (Dipteryx odorata / Coumarouna odorata) is often used in its place.
Learning how to make your own perfume can be rewarding, and you can save a lot of money in the long run.
Vanilla Essential Oil Benefits
One of the best benefits of vanilla is its taste. In old herbal books there is not much of a mention of it for healing purposes, but it was used often to soften the bitterness of tinctures. Here are some great ways to get the benefits of vanilla at home:
Aphrodisiac
Just as scents can affect our moods, they can be uplifting in other ways as well. Vanilla is a sensual scent and can be used in the bedroom to create a romantic atmosphere. Use it alone or in blends in your diffuser, couple's bath, or massage oil.
Antidepressant
Certain scents just make us happy, and this goes back to the limbic system and the way our brain relates them to emotions. Vanilla is among many oils that can help us out of dark moods and get us smiling again.
Stress Relief
There's a reason many bath and body products are scented with vanilla. It is sweetly sensuous and calming. The next time you have had a stressful day, try the following bath:
1 cup Honey
1 cup Water, boiling
¼ cup Epsom salt
¼ cup baking soda
2 cups Milk
6 drops Vanilla bean oil
Add the honey to the boiling water, stir to dissolve. Stir in the salt and baking soda, then mix this with the milk. Finally, stir in the vanilla and add it to the bath. Not only is this super relaxing, but it is also feels great on skin!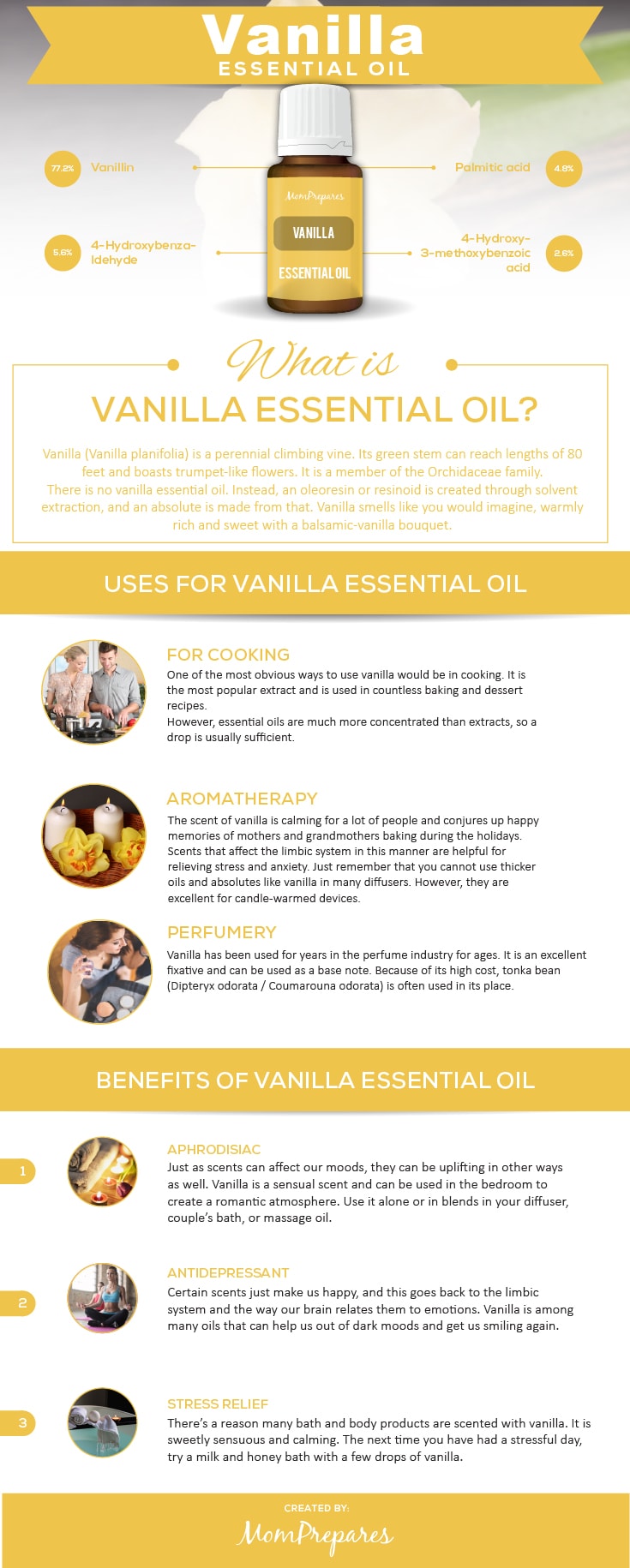 Use This Infographic On Your Blog
Vanilla Essential Oil Research, Facts, and Studies
Published research on vanilla is a rarity. However, there are some interesting notes on its primary constituent, vanillin:
Sickle-cell Disease
Vanillin inhibits the sickling of cells as well as shifting the oxygen equilibrium curve left. This can benefit those afflicted with sickle-cell disease (SCD). However, vanillin is heavily metabolized in the upper digestive tract, making oral use ineffective.
To combat this decomposition, a vanillin prodrug was synthesized to use through intraperitoneal injection. This was used on rats, but shows promise for people suffering from SCD. [7]
Weight Loss
A study from Duke University tested the effects of flavor on satiety. They used aspartame and vanilla for flavoring, and the profiles were bland or tasty and either high fat or high carbohydrate.
They found that the tastier high fat and high carbohydrate meals, flavored with the aspartame and vanilla, were more satiating than blander, yet nutrient-identical counterparts. This indicates that hunger can be decreased by choosing more flavorful foods, even with the same nutrients. [8]
Conclusion
Vanilla has a long and interesting history. Technically, there is no vanilla essential oil. However, CO2 extracted vanilla oil can be used in much the same way even though it is a much thicker substance.
There is very little research on the health benefits of vanilla, but it can be used to brighten the spirits, set the mood, or do unwind after a stressful day.
Safety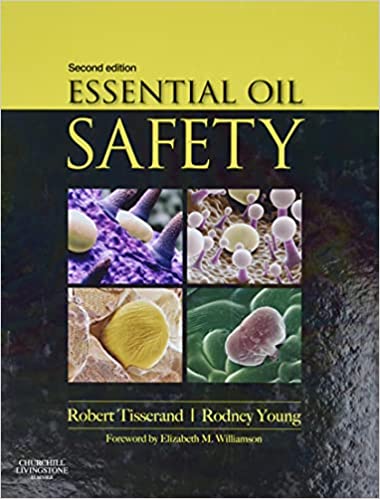 Correct selection and use of essential oils is crucial to ensure that you enjoy the best benefits of oils, without any of the downsides. Remember, some essential oils can be very potent and powerful. We therefore highly recommend this book to all of our readers: Essential Oil Safety: A Guide for Health Care Professionals 2nd Edition