Having a baby is a life-changing experience. Not only are you adjusting to a new person in your home and family life, but you're also dealing with a host of changes to your body. Postpartum recovery can naturally take some time.
Your post-baby body is one that deserves to be loved and appreciated, not rapidly forced into dieting and harsh exercise. It might take some time to lose all of your pregnancy weight, and that's okay.
When your body doesn't feel strong after having a baby, it can be frustrating. This is especially true if you experience two common postpartum physical problems: diastasis recti and pelvic floor weakness.
Both of these conditions are treatable with physical therapy. Sometimes you can do at-home exercises to improve, but other times may require a visit to your doctor or a physical therapist.
We'll cover each of these conditions and natural ways that you can support your postpartum body at home, as well as when to know it's time to involve professional help.
What is Diastasis Recti?
Your abs or core are also known as the rectus abdominus, the muscles that cover your belly and can give you a six-pack. During pregnancy, these naturally separate to the left and the right to make room for your growing uterus.
After delivery, your core should gradually come back together with some time and healing, but some women's muscles do not heal properly and remain separated.
The separation can be a little (as small as one fingertip) or a lot (as large as five or six fingertips) and is largely responsible for "mommy tummy" or having a postpartum belly pooch. This is known as diastasis recti.
Diastasis recti is common and about 60 percent of women will have it noticeably after giving birth. (1) Both the expansion of the baby in the uterus and intense pushing can lead to diastasis recti.
If you have a c-section, the incision of the lower abdominal muscles to remove the baby can also cause or worsen diastasis recti.
It used to be thought that being overweight, gaining too much weight during pregnancy, being over age 35, or having a larger baby were major factors for the development of diastasis recti, but newer research has found that these factors aren't reliably connected to it.
Any pregnant woman can get diastasis recti simply because there is a baby growing in a uterus that leads to muscle separation.
Women who have had several babies or who are carrying multiples have the biggest risk. That being said, there's no real way to prevent diastasis recti either.
Symptoms of Diastasis Recti
Most women who give birth experience some level of diastasis recti, but in some cases, it will heal itself. If you're in top physical shape or in your early twenties, your muscles may come back together on their own.
However, most women experience some level of lingering separation without some purposeful intervention.
Whether you're two months, two years, or 10 years postpartum, you might have some amount of diastasis recti if you've ever given birth.
These are the symptoms or signs that you might have diastasis recti:
A bulge or "pooch" in the stomach or a soft, rounded belly with no abdominal definition that may make you still look pregnant
Lower back pain
Pain in your core when you try to sit up from lying down or lifting heavier objects
Poor posture
Constipation
Bloating or intestinal discomfort
Gas pains
Sometimes diastasis recti can produce no symptoms other than the visible belly pooch. If you're not sure whether or not you have diastasis recti, you can do a self-check at home in a few easy steps.
Here's how to self-check:
Lay down on the floor on your back. Bend your legs at the knee and keep your feet flat on the floor.
Lift your shoulders slightly off the floor by supporting your head with one hand behind your neck.
Look at your belly and, using the other hand, start at your belly button and feel up and down along the middle of your core.
Gently press along this line to feel below the skin and fat and find your muscles. If you can feel only a firm, solid line, you likely don't have diastasis recti. If you feel a gap the size of a fingertip or bigger, your abs have likely not come back together.
While doing this self-check can feel weird, it will give you a good baseline to start from. Depending on how recently you've had a baby, you can expect the abs to do some healing and coming together in those first six to 12 weeks postpartum.
If it's later than that and you're doing a self-check, your abs may not improve without some exercise assistance.
If you do a self-check and find a separation that is larger than two fingertips, you should check in with your doctor. You may require a physical therapy referral and some more targeted help in order to repair your core.
What Not To Do If You Have Diastasis Recti
If you're fresh off of having a baby, you know that there are things you shouldn't be doing right away, like strenuous exercise or lifting heavy items.
But even if you're past three months postpartum, if you have diastasis recti, you will want to avoid certain things that could make your condition worse.
Behaviors to avoid when you have diastasis recti include:
Crunches, sit-ups, and planks
Strenuous exercise
Carrying baby one hip or the other or in any other way that causes sensations of abdominal pain
Lifting or carrying heavy items (greater than 20-30 pounds)
Coughing without ab support
Standing up or getting up without first rolling to the side
How to Fix Diastasis Recti At Home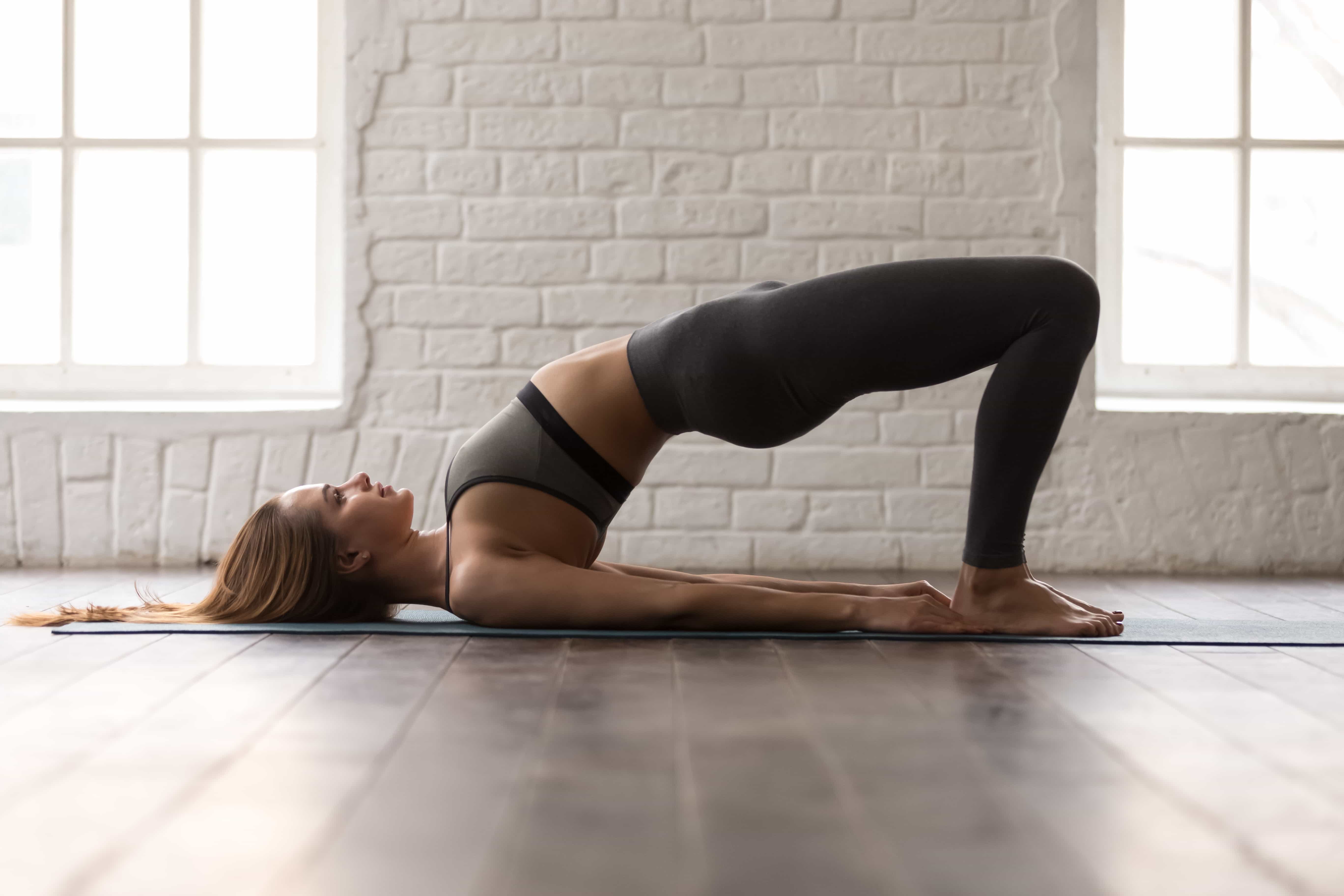 Whether you have mild or severe diastasis recti, you can start the process of working on your core strength at home. However, it's important to know which exercises help and which could make it worse.
Some sites will recommend wearing belly wraps, corsets, or other forms of abdominal support to heal diastasis recti.
While belly wraps might be recommended by a doctor for some moderate abdominal support following delivery, corsets are rigid and are too firm for a body just healing from delivery.
These methods are also not proven to help the condition and might worsen it.
These are the proven ways to support your core and gently address diastasis recti at home. Keep in mind that the ab separation didn't happen overnight and that it can take time to strengthen and retrain your muscles. Consistency is more important than diving into something intense.
1. Posture
Your posture is actually very important to your ab strength integrity.
If you have diastasis recti and you slouch, the backward-pulling motion of your posture can slowly and consistently serve to pull the abs apart or to at least prevent them from coming back together on their own. It's hard to correct poor posture, especially if you've had it all your life, but working on it is important.
If you have trouble remembering to sit up straight, you can get wearable devices to help remind you, like the Upright.
Posture isn't just about standing up straight or sitting correctly. It's also about proper support.
If you have diastasis recti, you should also properly support your lower back when sitting for extended periods of time (like watching a moving or driving in the car). Use lumbar support or support your lower back with a pillow or rolled-up towel.
2. Breathing
Most people don't know how to breathe correctly, but the ability to repair diastasis recti actually begins with training yourself to breathe through your diaphragm.
Your diaphragm is the muscle that surrounds the organs above the rectus abdominus (heart, lungs), and by learning to breathe properly, this can help to retrain your core to be strong and help bring the midline of the abs back in sync.
To learn how to properly breathe through the diaphragm (also known as diaphragmatic breathing), you will need to consciously think about breathing for awhile.
It can be difficult to train your brain to do this, but posting some reminders throughout your house or setting alarms on your phone can go a long way in creating new habits.
How to breathe through the diaphragm:
Lay down on your back.
Put your hands on the lower part of the ribcage and breathe in. Your diaphragm should expand outward and to the sides when you fill your lungs with air.
Breathe out and focus on contracting the diaphragm, which shrinks the area, almost like wearing a binder.
While that's the extent of diaphragmatic breathing, in stress we can breathe the opposite, with the diaphragm and air intake being out of sync.
It can take some retraining to learn how to properly breathe. Try lying on your back and breathing through your diaphragm for at least five minutes at a time a few times each day.
Before moving on to any other type of exercise for diastasis recti, it's important to make sure you're breathing the right way. This will make everything else you do for ab strength and support significantly more effective.
3. The Bridge
While planks can work to pull the abs further apart in diastasis recti, the bridge is a common yoga pose that can help to gently and successfully encourage healing of the core.
Not only does it strengthen and encourage the abs to come back together, but it can help to improve your ability to be in touch with your core and help to prevent further injury as you go about your day-to-day routine. Be sure to pair diaphragmatic breathing with the bridge pose.
Here's how to do the bridge:
Lay down on your back with your spine flat against the floor. Use a yoga mat for comfort, if desired.
Bend your knees and keep your feet flat on the floor. Place your arms at your sides, palms down. Take a slow deep breath in.
When you breathe out, incline your pelvic area (hips, buttocks, lower abs) toward the ceiling, forming an angled line from shoulders to knees. Breathe in slowly as you hold this pose, and then gently lower yourself back to the floor as you breathe out. Take one deep breath before repeating.
4. Wall Push-Ups
Push-ups are a great way to strengthen the core, but when you have diastasis recti, doing them from the ground up can be too hard, too fast.
Wall push-ups give you the core-tightening benefits without overtaxing your body.
Here's how to do them:
Face a wall about arms' length away. Have your feet placed hip-width apart.
Put your palms on the wall so that they're flat at shoulder height.
Breathe in. As you breathe out, suck your belly in toward your spine.
Breathe in again and bend your arms into the push-up, in one fluid but controlled motion.
Breathe out and push away from the wall.
Repeat several times.
Medical Treatment of Diastasis Recti
Sometimes, in spite of your best efforts at home, diastasis recti won't get better. Or maybe you'll go from a five-finger separation to a two-finger separation, but it's still noticeably there after months. Either way, sometimes you need to call in the pros.
If you've been working on your diastasis recti at home for more than six months and you don't feel as if it's resolved, you may need surgery.
Often diastasis recti is addressed via a common "tummy tuck" procedure, although repair is made on the abdominal separation and not just on removing excess fat. However, because this surgery is often considered cosmetic, even if ab separation is there, most insurance companies won't cover it.
However, if your diastasis recti is still there, the biggest complication that can be associated with it is an umbilical hernia. You should see your doctor to rule this out.
If you do have a hernia, a simple surgical procedure can correct it, although recovery time is four to six weeks, or longer, and requires not lifting more than 10 to 15 pounds, often ruling this procedure out for mothers until their children are older and don't need to be lifted.
What Happens If You Don't Fix Diastasis Recti?
If you don't address your core separation, you may have more issues beyond a hernia. Diastasis recti can also cause or lead to other issues, including:
Poor balance because of a weakened core
Long-term back problems
Nerve problems in the arms due to poor posture and core strength
Pelvic pain
Pelvic floor problems or dysfunction (like urinary incontinence)
Long-term posture problems
Bottom Line
It's normal to experience some level of ab separation after pregnancy, but leaving it unaddressed can do more than just leave you with a sagging belly.
The body is capable of extraordinary things, like growing a human from scratch, but sometimes it needs a little help afterward to come back together.
Share on Pinterest