As I write this, it is August – the weather is hot, and most of the country is officially in a state of drought – but this won't last forever. Take heart, and start planning your next garden, whether it is a fall garden, or next spring's garden – the time to begin thinking about it is now. A little pre-planning for companion planting can mean the difference between a so-so harvest and lush, vibrant plantings that benefit each other.
Paired Planting to Prevent Pests
By placing some plants near each other they can actually help with pests – the dill plant repels the tomato moth, for example, and if your plants are being harassed by cabbage moths, plant them with rosemary, dill, mint, sage, oregano, or nasturtiums to repel these pesky pests. Check out this list for lots of plants you can pair together to get rid of the nasty bugs that hurt your precious veggies, while encouraging the good insects that pollinate and help them grow.
Companion Plants for Beans
Trying for a healthy bean harvest this year? There are a number of companion plants that will repel common bean-eating bugs.
Marigolds, potatoes, nasturtiums, petunias or rosemary repel the Mexican bean beetle.
Rhubarb repels the black fly.
Marigolds prevent nematodes.
Asparagus Companion Plants
If the asparagus beetle is making your life miserable, plant tomatoes, marigolds or parsley.
Cabbage
Are pests eating more of your cabbage than you are? Try these companion plantings!
Catnip repels aphids and the cabbage moth.
Onions repel rabbits.
Turnips or geraniums repel the cabbage worm.
Dill and clover repel aphids and worms.
Carrot Companion Plants
Carrots often are troubled with the carrot fly, so drive it away with plantings of leeks, onions, rosemary, sage or chives. In an interesting twist, the carrots drive away the onion fly, so planting the two together provides protection for both.
Corn Companion Plants
When you plant radishes with corn, the radishes will repel corn borers.
Cucumber Companion Plants
Cucumber plants can benefit from using the following companion plants:
Radishes, oregano or nasturtiums repel the cucumber beetles.
Garlic can repel aphids.
Dill repels aphids and spider mites.
Eggplant Companion Plants
Repel eggplant pests with these companion plants:
Green beans repel the Colorado potato beetle, which can decimate your eggplant.
Marigolds, thyme or tarragon repel nematodes, also a pesky eggplant pest.
Green Beans Companion Plants
Plant green beans with summer savory or potatoes to repel bean beetles.
Lettuce Companion Plants
Lettuce is a delicate plant, and susceptible to pests. These plants can help:
Mint or hyssop repel aphids and cabbage worm.
Sage repels slugs and cabbage moths.
Dill repels aphids and attracts hoverflies and predatory wasps, which can keep your lettuce even safer by attacking the bugs that prey on the leaves.
Chervil repels aphids and slugs.
Potatoes Companion Plants
Instead of dusting pesticides, try these companion plants for potatoes:
Beans, horseradish, nastutriums, catnip or coriander repel the Colorado potato beetle.
Marigolds repel nematodes.
Horseradish repels the potato beetle.
Pumpkin Companion Plants
For the best results growing pumpkins, try these companion plants:
Oregano repels squash bugs and beetles.
Radishes repel the flea beetle.
Dill repels spider mites and aphids.
Radish Companion Plants
Radishes are one of the earliest garden plants to mature in spring. Consider the spicy little bulbs for your fall garden and these plants as companion plantings:
Lettuce repels the earth fly.
Nasturtiums repel the flea beetle.
Rhubarb Companion Plants
Plant rhubarb with garlic or onions to repel aphids.
Squash Companion Plants
Squash, the most prolific garden plant, has a few enemies. Use these companion plants to combat them:
Nasturtiums and tansy repel squash bugs and flea beetles.
Borage repels worms.
Radishes repel flea beetles and squash borers.
Strawberry Companion Plants
Here are companion plants that can help your strawberry plants:
Borage attracts predatory wasps.
Thyme and onions repel many pests with their strong scents.
Sweet Potatoes Companion Plants
Use these companion plants to repel pests on sweet potatoes:
Summer savory, dill or thyme to repel weevils.
Marigolds repel nematodes.
Tomatoes Companion Plants
The perfect summer tomato is what we all want from our gardens. If you suffer from pests attacking your tomatoes before you get them to your table, consider these companion pests:
Chives, garlic, onions, leeks or shallots repel aphids and other pests.
Borage, marigolds, and petunias repel hornworms.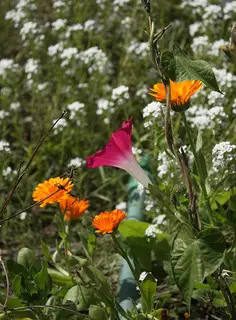 Nasturtiums repel aphids and whiteflies.
Garden Diaries and Successful Planting
If you keep a garden diary of what pests plague each of your plants you can easily co-plant another plant to repel that pest in your next year's garden. The Internet and your friendly agricultural extension agent can help you in identifying the pests. Once identified, you can attack the pest naturally and safely with companion plantings – and forget about dangerous chemical concoctions sprayed on your family's food supply!
Companion planting is easy and very effective, so plan away for that next garden whether it is this fall or next spring.
If you're interested in plantings that benefit one another's growth and flavor, in addition to repelling pests, check out Garden Planner: Companion Gardening to start you out in understanding companion planting principles.
What is your favorite companion planting combination?
Resources:
Companion Plants By Erin Huffstetler, About.com Guide