Kidding season is rapidly approaching and for some goat owners, it has already arrived. One of the questions I get asked frequently by new goat owners is about whether or not to disbud their newborn kids. Disbudding is simply using a hot disbudding iron to remove the horn buds of a young kid, preferably within the first two weeks of life. Many new goat owners want to know if this is truly necessary and if so, why?
What Is Your Purpose For Owning Goats?
When deciding whether or not to disbud your goat, you will need to ask yourself a few questions before determining whether disbudding would be necessary for your particular situation. The first thing you would want to consider is the purpose to owning your goat. Is your goat a meat, fiber or dairy breed? Do you have it for a pet or to clear weeds on your property? If you are raising a dairy goat, that you intend to milk or show, then disbudding would be very appropriate, especially if you want to sell some of your offspring.
Tip: Why You Should Add Goats To Your Homestead
For various reasons, horns are almost never appropriate on a dairy goat. In fiber breeds, horns are a necessity because they actually will help to regulate body temperature under the thick coats. Many meat breeds are also required to have horns if you are considering showing and horns are considered very desirable amongst these breeds.
If you are just keeping your goat for a pet or to clear brush in your backyard, then the choice is up to you.  I would never mix your herd.  If you choose to have goats with horns, then they all should have horns.  If you choose to disbud your offspring, then the parents should not have horns either.  They can and will use them on each other.
Learn more about Raising Milk Goats
Pros And Cons Of Disbudding Goats
If you decide to disbud, remember that in many ways, you are removing the goat's only natural defense against predators such as coyotes.   Good fencing and a livestock guardian dog can help a lot against predators if you choose to disbud, and in many ways are even more effective than leaving your goats with their horns.  Also, some people actually prefer the look of goats with horns since the goat is then in its more "natural" state.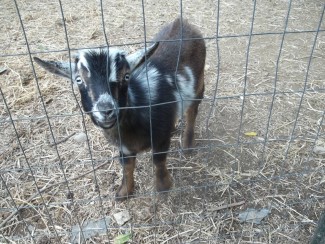 There are many good reasons to buy disbudded or polled (naturally hornless) goats and then proceed to disbud any offspring.  Safety with each other and with humans is definitely a consideration. Since goats will use them on each other, they can cause serious injury or damage to each other.  They can especially damage udders, injure pregnant does, or put out an eye.  They are also more likely to severely injure or kill the offspring of another goat.  I have seen does ramming each other hard in the sides and lifting each other off the ground,  and even slamming into another doe's kids when being ornery.  If they had horns, no doubt we would  have had some issues.  
Tip: How To Take Care Of Baby Goats
Horns can be used to cause a lot of damage to property and fences because goats are constantly using them to rub if they have them.  There have been very sad cases in which people that I know have lost their goats because they have gotten themselves stuck somewhere such as in the fencing because of their horns.  If you have young children, I would be very cautious about leaving your goat's horns intact. Young children are especially susceptible to injury from a goat's horns. Adults are also at risk if they are not careful or their goat decides to be frisky with their horns. 
Goats can easily be a part of Backyard Farming on an Acre (More or Less) (Amazon).
Ultimately the choice is up to you when deciding to have horns or not to have horns.  Depending on which type of goat you choose or your goat's purpose may determine whether or not you need to leave the horns intact.  If you choose to disbud your offspring, you should do it during the first two weeks of life to minimize trauma and injury and to help prevent scurs which are partial horn regrowths.   Make your decision wisely since once a goat has horns, it is extremely difficult or impossible to remove them as adults, and disbudding is a permanent factor too. 
MomPrepares loves to join link-ups and meet other bloggers. Here is the list of our favorite link-ups so you can participate too!