What is Coffee?
There is an interesting myth of how coffee came into being a favorite treat, and then beverage, for humans.
An Ethiopian legend states that a goat herder, Kaldi, discovered it when he noticed his herd became noticeably more energetic after munching on specific plants. He decided to try the cherries that the goats were feasting on and experienced a similar increase in energy.
A monk who witnessed this took some of the cherries back to his monastery. It is said that the monks stayed awake and alert through the night. The rest, as they say, is history. [1]
Obviously, coffee is now prevalent worldwide. If you happened to catch Starbucks' Kelly Goodejohn speak at a Senate meeting on May 4th, 2017, then you may believe that coffee is the second-most traded commodity in the world, after oil.
You will also catch this being repeated on many websites. However, it has been found to be untrue. Coffee is a bit hard to break down into numbers because many coffee-containing products are lumped in with overall volume.
Whereas oil exportation is around $788 billion, coffee exportation is only estimated to be about $19 billion. There are numerous exports that fall between the two, including aluminum, copper, and iron ore. [2]
Still, that's a whole lot of coffee being enjoyed around the world. It is one of the top three most-consumed beverages in the world, alongside tea and water. [3]
Coffee essential oil is a byproduct of this booming industry. It is made through CO2, cold-pressing, or solvent extraction. It can also be mechanically extracted. [4]
There are many coffee varieties, the two most common being Coffea arabica and C. canephora. Coffea arabica is also known as Arabica coffea, Arabian coffee, Caféier d'Arabie, or simply coffee. C. canephora, is commonly known as Robusta.[5]
Arabica is considered the superior of the two. It grows in high-altitude areas and, while hardy, is less tolerant to disease and other growing factors than Robusta.
Arabica also produces a coffee that is smoother, milder, and more pleasingly aromatic than Robusta. It accounts for about 70% of coffee production in the world.
Robusta is gaining popularity, even though it currently only constitutes 30% of coffee production. It is mainly used in instant coffees, some espressos, and as a filler in coffee blends. It has more caffeine than Arabica and a more bitter taste.
Both coffee "beans" are actually seeds from the cherries on the trees, known as coffee cherries.
Most of the essential oils found on the market will be labeled as Coffea arabica, although some sellers do carry C. robusta.
Either way you go, your oil should be dark brown in color and smell like fresh-brewed coffee. Always look for the botanical name to be sure of what you are getting.
Coffee essential oil blends well with spice oils like allspice (Pimenta dioica), clove bud (Syzygium aromaticum), and nutmeg (Myristica fragrans). Sweet "oils" like benzoin (Styrax benzoin) and vanilla absolute (Vanilla planifolia) are also good choices.
Coffee Essential Oil Uses
For Cellulite Reduction
As caffeine has astringent properties, it may reduce the appearance of cellulite. Try the following recipe on problem areas:
6 drops coffee oil (C. arabica)
2 tablespoons coconut oil (Cocos nucifera)
1 tablespoon coffee (ground)
Mix all of the ingredients well and apply where needed.
Coffee Infused Oil
If you find yourself out of coffee oil, you can make your own coffee-infused oil at home. [6] While this is an infusion and not an essential oil, it can still be used for many things you would use the actual volatile oil for.
Commercial coffee production comes from an area in the world known as the coffee or bean belt. [7] However, you may be surprised to learn you can grow your own trees inside your home. Doing a quick Google search will return many options for you to choose from.
Instead of buying coffee beans for this infusion, you could use your own home-grown beans!
Invigorating Aromatherapy
If you absolutely love your coffee, you will love diffusing coffee essential oil. It is as stimulating to the senses as a freshly-brewed pot, without the jitters.
Try adding peppermint to it for a refreshing and uplifting experience for the senses.
Coffee Essential Oil Benefits
Anti-Aging Qualities
Coffee is full of antioxidants, which are the go-to chemicals for fighting aging and cell breakdown. By using coffee or its oil on your skin, you can slow down the oxidative process, thereby providing more blood flow to cells, bringing more oxygen to them.
This can help your skin look more plump and youthful, reduce age spots, blemishes, fine lines and wrinkles, and help protect against harmful sun rays.
Boosts Alertness
Just the smell of coffee can help wake you up. If you get groggy during the day, try diffusing coffee oil. If you are at the office or somewhere you can't, then carry around a personal diffuser with the oil in it.
Alternatively, you can add a drop or two to a tissue or cotton ball to keep in a sealed baggie and inhale as needed for a quick pick-me-up.
Soothes Sore Muscles
Coffee oil is excellent in massages for sore muscles because of its anti-inflammatory properties. Try adding a couple of drops to your favorite blend or add 3-5 drops of coffee bean essential oil to two teaspoons of a carrier oil.

Use This Infographic On Your Blog
Coffee Essential Oil Research, Facts, and Studies
According to WebMD, there have been around 19 thousand studies done on the effects of coffee. Unfortunately, only a small fraction of that number has been done on the oil of the plant.
In fact, searching "coffee essential oil" on PubMed returns only 24 results, and those aren't even all necessarily about the oil we're talking about. [8]
Most of the citations about the essential oil's benefits actually cite compounds in the coffee itself. As we know, this does not mean that these findings automatically translate into being the same for the oil.
Instead, I'm going to list some of the warnings about using the oil.
Coffee Essential Oil Warnings
Because of the compounds in the essential oil, especially caffeine, there are some warnings that must be heeded when using this oil.
Caffeine During Pregnancy
According to Robert Tisserand, the amount of caffeine in the essential oil is negligible compared to a cup of coffee. The volatile oil of coffee contains 0.5-1.5% caffeine. Therefore, one drop at one percent would be .04 milligrams.
This is 2500 times less than that of a cup of coffee at 100 milligrams. This would certainly make it safe in pregnancy. That being said, you should not be ingesting the oil even though it is commercially used as a flavoring. [9]
However, as caffeine is not recommended in pregnancy, you can certainly use it in a diffuser to get your "fix." Do not use it in any other way without consulting your doctor and a trained aromatherapist while pregnant or nursing. Also:
Oils can cause sensitivity in skin. If irritation occurs, stop using the oil. Always dilute with a carrier oil at the proper dilution.
Do not use this oil on broken skin.
Always keep any oil out of your eyes.
Do not take this oil internally without being advised by a physician or aromatherapist specially trained in internal use.
Never use rancid oils. The shelf life of coffee oil is approximately three years if stored properly in dark bottles in a cool place. Your refrigerator is perfect to keep your oils fresh.
Conclusion
Coffee essential oil is rather new to consumers. There are very few studies on it, and it is in very few books. In fact, it is not even profiled in Robert Tisserand and Robert Young's flagship book Essential Oil Safety, 2nd Edition, a must-have for aromatherapists.
However, coffee oil is beneficial to even expert oil enthusiasts. Use it for your skin, your hair, or just to have the wonderful smell of coffee permeating your home and keeping you alert through the day.
Safety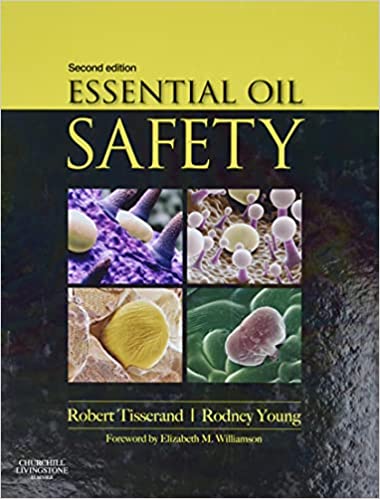 Correct selection and use of essential oils is crucial to ensure that you enjoy the best benefits of oils, without any of the downsides. Remember, some essential oils can be very potent and powerful. We therefore highly recommend this book to all of our readers: Essential Oil Safety: A Guide for Health Care Professionals 2nd Edition