What is Mugwort?
The mugwort plant is also known as the felon herb, St. John's plant, wild wormwood, sailor's tobacco, naughty or old man, and Armoise. The herb can grow to five feet. It features dark green leaves with cotton-like down undersides and little yellow to reddish-brown flowers.
Mugwort is indigenous to western Asia and eastern Europe, however it now grows in any temperate region worldwide. The oil is mainly produced in China, France, Germany, Hungary, India, Japan, and Morocco.
There are different types of mugwort. A. moxa and A. sinensis are known as Chinese mugwort, which are used in the making of Japanese 'moxa,' a counterirritant. There is also great mugwort, A. arborescens.
The medicinal benefits of the plant lie mainly in the rhizomes and the tops, especially when dried. The plant flowers from July to September, and the tops are collected right after flowering to produce the oil.
As with any essential oil, the constituents vary depending on the region the plant is grown in and how it is collected and produced. However, the main chemicals found in mugwort besides thujone are pinenes and 1,8 cineole. [1]
Interestingly, the chemical composition of wild growing A. vulgaris in Erie, Pennsylvania showed no thujone. Gas chromatographic-mass spectral (GCMS) analysis of the leaf showed:
Germacrene D (25%)
Caryophyllene (20%)
alpha-Zingiberene (15%)
and Borneol (11%).
GCMS analysis of the buds included:
1,8-Cineole (32%)
Camphor (16%)
Borneol (9%)
and Caryophyllene (5%).
The tests also found trans-2-Hexenal. This and alpha-Zingiberene have not previously been found in the plant from any other part of the world. [2]
Mugwort essential oil blends well with cedarwoods, clary sage (Salvia sclarea), lavandin (Lavandula x intermedia), patchouli (Pogostemon cablin), pines, oakmoss (Evernia prunastri), rosemary (Rosmarinus officinale), and sage (Salvia officinalis).
Mugwort Essential Oil Uses
Mugwort has been used extensively for medicine through the ages, as well as in cooking and beverages. In fact, it is believed its name is derived from the plant being used before hops to make beer.
In most places, the herb is considered an invasive plant. Nonetheless, it is better to use the plant than the essential oil due to the thujone content.
Mugwort essential oil is used in colognes, perfumes, and soaps. While it is used as a flavoring, this use is limited because of its toxicity in humans.
Witchcraft
The plant is highly regarded in witchcraft. [3] Native Americans attributed mugwort to witches, as well. There are many uses for the herb listed, such as:
Smoking for divination and protection
Hallucinations, lucid dreaming, and astral projection
Protective sachets
Making wands
Cleanser for ritualistic tools
Staving off unwanted energies
Dance garland for protection through the year
Ancient Uses
The Artemisia plants are named after the Greek goddess Artemisia, who ruled over hunting, hills, and fertility. [4]
Romans were said to have placed the leaves in their sandals to keep their feet from becoming sore throughout the day.
John the Baptist was said to have worn a girdle of mugwort. The herb is considered important in Holland and Germany, where they wear it as a crown for protection on St. John's Eve.
The herb has long been thought to influence women and labor. In Wales, it was tied to the left thigh to ease difficulty in labor.
Historic Medicinal Uses
According to WebMD, people still use mugwort for many things it has historically been used for, including: [5]
As a tonic to boost energy
To regulate menstruation
In treatments for intestinal and stomach issues
To stimulate gastric juices
As a sedative
To rid the body of worm infestation
As a liver tonic
In the treatment of mental problems like depression, anxiety, and chronic fatigue
To calm epilepsy, seizures, and hysteria
Mugwort Essential Oil Benefits and Dangers
While mugwort is still widely used, it is important to note again that the usage is mainly of the herb itself, not the highly concentrated volatile oil.
Thujone
Thujone is a terpene found in plants like mugwort, thuja, and wormwood. It is probably best known for being the constituent that produces the mind-altering effects found in Absinthe.
There are contradictory beliefs about absinthe and thujone itself. Since there was no way to determine how much thujone was actually in the original absinthe, it is hard to determine if that was what actually caused the effects that were bestowed on the drink.
It is also plausible these effects were exaggerated by writers looking to romanticize the drink, for good or bad.
According to a risk assessment in Science Direct, the maximum levels for thujone consumption are 0.11 milligrams of thujone per kilogram per day. This means that typical ingestion, even from absinthe or medicinal use (such as tea), would be regarded as safe. [6]
Other Side Effects
Along with the uses listed above, WebMD also cautions the many dangers of the herb:
It should never be used by pregnant women, as it can stimulate uterine contractions and is a known abortifacient.
Is a cause of the "celery-carrot-mugwort-spice syndrome," which is an allergic reaction to these plants.
Can also cause allergic reactions to those sensitive to other members of the Asteraceae family like chrysanthemums, daisies, and ragweed.
People who are allergic to tobacco and many other things including honey, some nuts, kiwi, peaches, and more may also be allergic to mugwort.
Use This Infographic On Your Blog
Mugwort Essential Oil Research, Facts, and Studies
There are not many studies on mugwort essential oil. However, those available show the oil has promise under certain circumstances.
Dengue Fever
A study from September, 2017 found that the essential oil of the mugwort plant is effective in killing the Aedes aegypti L. mosquito. This pest kills millions of people each year through transmission of yellow fever and dengue fever.
These findings may further the biosynthesis of mugwort oil to create eco-friendly nano-biopesticides that could save countless lives annually. [7]
Thujone for Diabetes
In a study of diabetes in rats in 2011, treatments with thujone reduced triglyceride and cholesterol levels to within normal ranges in comparison to untreated, diabetic rats.
These findings, while promising, are also cautious. The rats were given levels of thujone well over the acceptable limits for humans, and the detrimental effects of the chemical outweigh the proposed benefits. [8]
Conclusion
Mugwort has been used throughout the ages for a wide variety of things. It is an anthelmintic, antispasmodic, carminative, and diuretic herb. The plant is also a uterine tonic and an emmenagogue.
Because essential oils are highly concentrated forms of the chemicals found in the plant, mugwort is best used as an herb. Home enthusiasts should stay aways from the volatile oil due to the thujone content.
Safety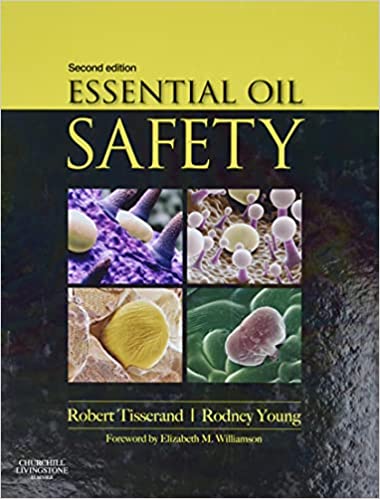 Correct selection and use of essential oils is crucial to ensure that you enjoy the best benefits of oils, without any of the downsides. Remember, some essential oils can be very potent and powerful. We therefore highly recommend this book to all of our readers: Essential Oil Safety: A Guide for Health Care Professionals 2nd Edition