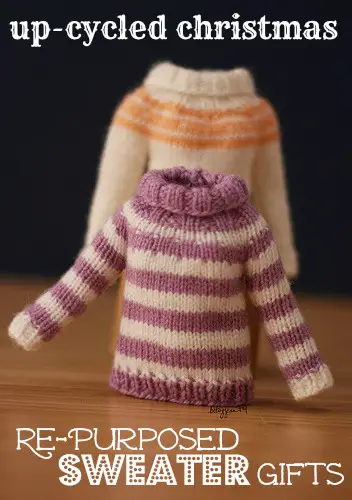 There's nothing quite as cozy as a sweater, and no better time of the year than Christmas to give a cozy gift. These re-purposed sweaters will make great upcycled Christmas gifts!
These ideas are all making me wish I hadn't thrown out my sweaters last year. They were all so old they didn't look so good any more, but I'm sure I could have found portions of them that were good enough to make smaller items out of!!
Now I want to go to the thrift stores and look for fuzzy old sweaters to turn into cozy gifts.
Upcycled Sweater Crafts
The sleeves are always the first thing to go on my sweaters, so I love that this project uses everything else! How comfy and soft does this bag look?
I bet you could make all different sizes from different sized sweaters. Make cute little purses for the little girls in your life, and maybe even bags for their dolls!
I found another really pretty idea for a bag sweater here. I like how the second one made use of a sweater with buttons.
Ready to pick up some old sweaters at Goodwill?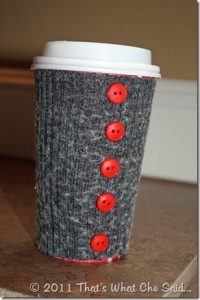 You used the body part of the sweater for the bags above and now you can use the sleeves for these fun coffee cozies!
I love the button accents on the mousy gray, but can you imagine a pretty cable design or colorful stripes? Your cozies could be as unique as the people you make them for!
I'm pretty sure this coffee cozie could also be made from the top portion of fun colorful socks that are wore out.
Ok, so wine may not be re-purposed, but these wine sleeves are, and they'll be used over and over again, making them a wonderful way to gift wine!
I'll admit, I'm a pillow hugger. If there are throw pillows on your couch I'll have my arms around one. And one of these? Well, I just might steal it! I can't imagine a pillow more cuddly than one made from a sweater.
The designs for these pillows will be as unique as the sweaters they're made from.
Don't you just love how soft they look?
And look at all those details.
Sigh.
Here's a gift for the fashionista in your life! And, you could probably get multiple scarves from each sweater! I actually have a scarf that is shaped like this, rather than long and wrap-around and I love it! The ends never get in the way or snag and the bow-tie look is so stylish!
More Cozy Christmas Gift Ideas