What is Tagetes?
Tagetes is another one of those plants that can cause confusion. According to Brittanica.com, all plants of the genus tagetes are marigolds. [1] However, they should not be confused with "true" marigold (Calendula officinalis).
There are around 50 plants in this genus. While they originally hail from Mexico and South America, they are now found growing wild in Africa, Asia, Europe, as well as North and Central America.
The fast-growing plants feature beautiful flowers in hues of red, orange, and yellow. T. minuta, also known as T. glanduliflora, has daisy-like flowers that are either orange or yellow.
Two other types of tagetes that share similar qualities and produce essential oil are the African/Aztec marigold (Tagates erecta), and the French marigold, (Tagetes patula).
T. minuta oil should be yellow to orange in color. It blends well with citrus oils like bergamot (Citrus bergamia) and grapefruit (Citrus paradisi). It also pairs well with clary sage (Salvia sclarea), lavender (Lavandula angustifolia), and both German and Roman chamomile.
Tagetes oil is a photosensitizer, so it should not be used on the skin before going into the sun or using a tanning bed. It has been known to cause dermatitis and may cause irritation in people with sensitive skin, so a skin patch test is highly advisable.
This oil should be used in moderation. Do not use while pregnant or nursing.
Tagetes Essential Oil Uses
Around the World
There are numerous uses around the world for tagetes: [2][3]
In the Chinese culture, the flowers are used to treat many conditions, including colds, colic, mastitis, mumps, and whooping cough.
In India, the flowering tops are distilled, and then added to another substance, usually sandalwood oil, to produce a popular perfume material known as "attar genda."
Mexican shamans use it to procure visions.
Extracts of the plant are used in chicken feed to turn the yolks more yellow.
In fish farming, tagetes is used to enhance the color in salmon, shrimp, and trout.
Tagetes is used in some pharmaceutical products.
There is also an absolute of tagetes that is produced, and both that and the oil are used in perfumery.
It is likewise used to flavor tobacco products and in food, including sodas and alcoholic products.
Skin Infections
Tagetes can be used for skin problems like athlete's foot, bunions, calluses, corns, and more.
Mix five drops of the essential oil into a teaspoon of a carrier oil and dab on problem areas. For athlete's foot, you can add 8-10 drops into a cup of Epsom salts and mix well. Add half a cup of vinegar to water, as warm as you can stand it, and swish in the oiled salt. Soak for half an hour.
Tagetes Essential Oil Benefits
Antiseptic
While most people think of tea tree (Melaleuca alternifolia) or lavender (Lavandula angustifolia) when dealing with an abrasion, scrape, scratch, or any other situation where an antiseptic would be wise, tagetes could help as well.
It is a good antiseptic that can be used in wound washing. Add a few drops to a bowl of water and swish. Soak a clean cloth in the mix and wash the affected area.
Antimicrobial/Antifungal
As you can see from the skin issues you can help ease with the use of tagetes, it has great antimicrobial and antifungal properties.
Besides athlete's foot and the others mentioned, tagetes is a good oil to reach for when dealing with fungal infections such as those of the fingernails and toenails, candida flare-ups, and malassezia, which is a yeast that infects the skin of animals and humans. [4]
Insect Deterrent
If you have problems with insects such as fleas, nits, and other no-see-ums, try using tagetes in a spray in infested areas to deter them.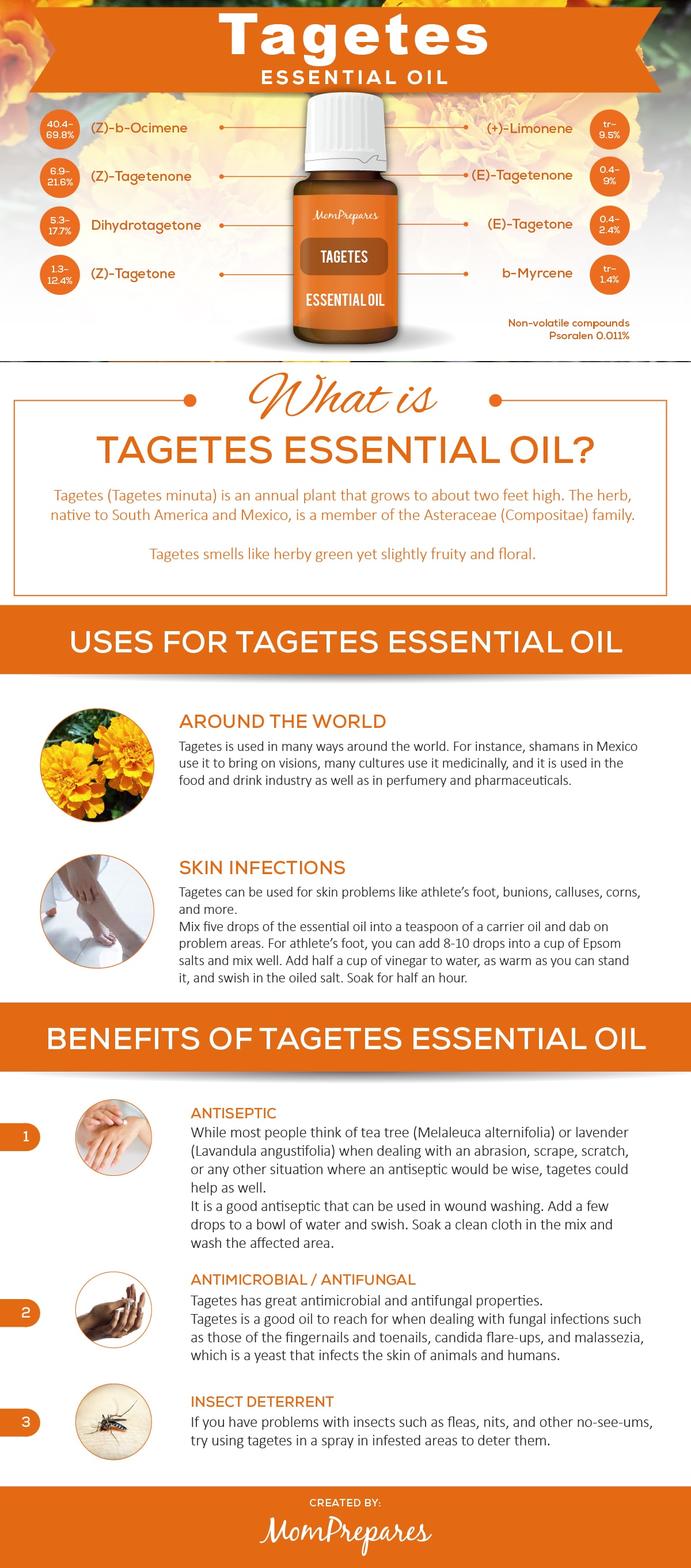 Use This Infographic On Your Blog
Tagetes Essential Oil Research, Facts, and Studies
Anti-inflammatory and Antioxidant
In 2014, researchers found that tagetes could help diminish immune responses. It has anti-inflammatory properties and also shows protective qualities against oxidative damage.
These findings mean that the oil could be a practical and natural antioxidant. [5]
Infectious Diseases
In a Journal of Ethnopharmacology article published in 2017, researchers wrote about the future prospect of tagetes oil as a potential antimicrobial agent.
The team searched through studies and papers over five databases to gather information on tagetes and its applications. The years checked were from 1997-2015 and after careful examination of the results, they narrowed their search down to 10 relevant studies.
After carefully analyzing the data, they concluded that further use of tagetes as a novel antimicrobial should continue to be successful in both animal and clinical studies.
While more evidence is required, they believe that tagetes could be not only an affordable and effective alternative treatment for infectious diseases, but a safe one as well. [6]
Nutritional and Pharmaceutical Applications
In 2018, researchers set out to analyze the chemical composition, fatty acid, and antioxidant profile of T. minuta growing wild in Iran. Their findings were published in the March Advanced Pharmaceutical Bulletin.
The essential oil was studied by gas chromatography and mass spectrometry (GCMS). They found over 50% were monoterpenoid fractions. They also discovered that fatty acids were a significant component and the oil had effective antioxidant capabilities.
The researchers concluded that tagetes essential oil could be useful in applications in both nutritional and pharmaceutical markets. [7]
Conclusion
While tagetes is one of the lesser-known oils to many home enthusiasts, aromatherapists and researchers both agree that the volatile oils of these plants could prove to be beneficial in medicinal uses and other applications.
As there are three different plants that are commercially sold as tagetes oil, always check the botanical name to make sure you have the correct one. If you end up with something other than T. minuta that was discussed here, be sure to do your research before attempting to use it.
Keep in mind that this is a brief discussion of the oil as well, so check with your doctor and professional aromatherapist prior to using tagetes or other volatile oils.
Safety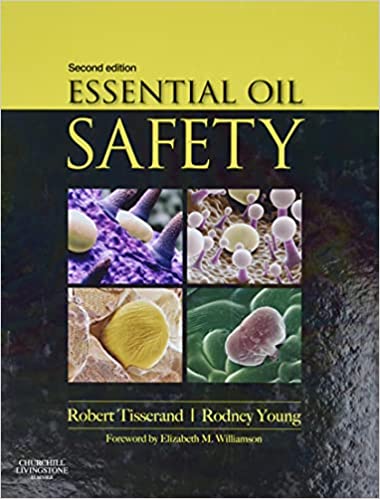 Correct selection and use of essential oils is crucial to ensure that you enjoy the best benefits of oils, without any of the downsides. Remember, some essential oils can be very potent and powerful. We therefore highly recommend this book to all of our readers: Essential Oil Safety: A Guide for Health Care Professionals 2nd Edition