Ahhh. Yeast infections and athlete's foot. The two things no one wants to talk about.
If you've ever had either of these, you have fungus to blame.
Usually, we go about our days not even realizing that these microbes are living on us and in us.
But, when there is an overgrowth of fungal organisms, we start to notice rashes, thick or yellow toenails, or maybe just a run-down feeling.
You probably know that many essential oils are antimicrobial. However, not all of them are effective against all types of microbes. Some are better at fighting bacteria, while others are better at fighting fungi.
In this article, you'll learn the 12 most powerful antifungal essential oils that will help you fight infection. More importantly, you'll learn how to use them the next time you notice a problem.
So instead of just hoping for the best, you can make an educated decision and get on the road to a healthy balance once again.
Microorganisms in and on the human body is mind blowing…
First, it's important that you understand what you're dealing with and how our bodies work.
The full complexity of the human microbiota was not recognized until the 1990s. The full scope of it was only discovered after the Human Genome Project (HGP) was completed in 2003.
The National Institutes of Health (NIH) launched a five-year, $157-million project to make sense of the role that microorganisms play with human health. This initiative is the Human Microbiome Project (HMP), launched in 2008.
The researchers estimate that around 90 percent of our body's cells are not ours. Instead, they are the bacteria and fungi that live with us in a symbiotic relationship.
Studying how these live and work within our own cells is not an easy task when you consider that every person out of the estimated 7.5 billion has a different makeup of organisms.
*mind blown*
There's a LOT of different types of fungus among us.
Out of the millions of fungi on the earth, only about 300 of them are culprits in human illness. At any given time, approximately 29 million Americans are suffering fungal infections.
Most of these are just unsightly or annoying skin issues like dandruff or ringworm.
But some of them can be deadly.
An example of this would be the drug-resistant Candida auris, which can cause an infection of the bloodstream in its victims and kills an estimated 60 percent of those infected.
Unfortunately, there is no 'one size fits all' oil that can be used to fight fungal infections.
Just as in traditional medicine, you need understand the infection you're dealing with, symptoms, and the primary causes.
The most common types of fungal infections in humans are:
Aspergillosis – Aspergillus is a mold that most people breathe the spores of every day. While it usually causes no problems, those with lung diseases or weakened immune systems can develop infections of the organs, allergies, and lung infections.
Blastomycosis – The fungus Blastomyces lives in moist soil and decomposing leaves and wood. It is mainly found in the United States and Canada around the Great Lakes as well as the Mississippi and Ohio River valleys.
These spores can cause flu-like symptoms that can become serious if not treated.
Candidiasis – Candida is probably the most well-known of all the fungi. While there are more than 20 species of Candida yeasts that can cause problems in humans, the most common is Candida albicans.
Candidiasis causes thrush in the mouth and yeast infections when overgrown in the vagina. It can also invade the bloodstream.
The aforementioned Candida auris belongs to this family of fungi.
You may not know that you have candidiasis. Although it is fairly easy to recognize symptoms of yeast overgrowth in the mouth or genitals, overgrowth symptoms elsewhere vary widely.
They can vary widely, and include fatigue, headaches, bloating, stomach pain, and other digestive issues, skin issues like eczema and psoriasis, seasonal allergies, and much more. Candida that invades the bloodstream can shut down organs and be fatal if not caught in time.
Coccidioidomycosis – This mouthful of an infection is better known as 'Valley Fever.' It is caused by the fungus Coccidioides that is found in the soil of the southwestern United States and runs through part of Mexico, Central America, and down to South America.
While most people do not get sick or get over it in a couple weeks, some might need antifungal medications.
Cryptococcus neoformans – This fungus is found throughout the world. It usually poses no danger. However, weakened immune systems, particularly in those with HIV/AIDS, can let the fungus take hold.
Cryptococcus gattii – C. gattii can cause issues in the lungs or central nervous system. It is found in tropical or sub-tropical areas of the world, the Pacific Northwest in the U.S., and parts of British Columbia.
Fungal eye infections – While rare, fungal eye infections can be caused by a variety of fungi and generally occur with damage to the eye, particularly from plant matter.
This can present as keratitis, an inflammation or infection of the cornea, or as endophthalmitis, which affects the interior of the eye.
Mucormycosis – Formally zygomycosis, this is a rare but serious infection caused by a mold called mucormycetes. These can infect the sinuses after the spores are breathed in, or they can enter the body through a wound like a scratch.
Pneumocystis – Pneumocystis pneumonia (PCP) usually affects people with weakened immune systems, such as those suffering from HIV/AIDS. It is caused by Pneumocystis jirovecii, which was considered a protozoa before being reclassified as a fungus.
Ringworm – This condition, also known as tinea or dermatophytosis, presents as a circular rash. It lives on the skin as well as common surfaces, bedding, towels, and clothes.
Anyone can get it, and it can occur anywhere on the body. If you have gotten athlete's foot, you might be surprised to learn this is actually a ringworm infection on the feet.
Sporotrichosis – Sporotrichosis is caused by the fungi Sporothrix. It is often deemed the 'rose gardener's disease' because it lives worldwide in hay, rose bushes, sphagnum moss, and other types of soil and plant matter.
The fungi enters through openings in the skin, and there are three main types of infection.
The first and most common is Cutaneous Sporotrichosis and occurs in the hand or arm area after handling the infected matter. This can happen through animal bites and scratches, particularly from felines. It begins as a bump and turns into what can look like a slow-healing ulcer.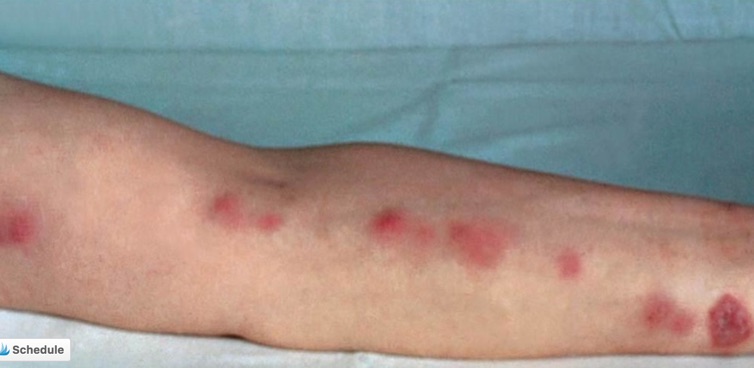 The second, Pulmonary Sporotrichosis, occurs when the spores enter the lungs. Luckily, this is a rare infection. Symptoms include shortness of breath, fever, and pain in the chest.
The third type is Disseminated Sporotrichosis, and this kind wreaks havoc on those with weakened immunity. It spreads through the system into the joints, bones, and nervous system.
This can be manifested as joint pain, confusion, headaches, or seizures.
Essential oils that fight fungal infections can help eradicate the microbes.
As you can see, there are many variations of fungal infections, and it can be difficult to determine that your issue is caused by a fungus instead of bacteria or viruses.
Once you know, essential oils can come to the rescue.
The volatile oils of plants are made up of a varying number of active constituents that have unique properties. These chemicals all work synergistically in each oil to impart healing properties.
Some of these constituents have proven to be effective against fungi.
For instance, in one study, researchers determined that citral and geraniol were effective in eliminating all 12 fungi tested, followed by linalool which inhibited 10 strains, and cineole and menthol, which were effective against seven.
In other studies, actual oils were tested against pathogens and identified as antifungal.
Based on this information, here are 12 antifungal essential oils can help you fight infections.
How do you use essential oils for fungus?
Most essential oils are not meant to be used neat or without dilution, and you should not ingest any of them without the knowledge of a qualified doctor to guide you because, contrary to popular belief, they can cause more harm than good.
However, the following recipes can help you control fungal skin infections or those of the nails.
If an infection seems to be really affecting your health, do not try to self-treat. See a doctor. Some fungal issues can become very dangerous, and require medical intervention.
Fungal Nail Infection
One of the go-to treatments for fungal nail infections is to use straight tea tree oil on the infected nail. Simply drop a single drop on and rub in once a day. Another oil you can use in this manner is lavender.
For most other oils, use a two percent dilution, or three drops to a teaspoon of carrier oil. Plant therapy has a great chart on this.
Although not listed above, garlic (Allium sativum) essential oil could be very useful. However, use only one drop per teaspoon. You will probably want to do this before bed so it can soak in and you can wash your feet in the morning; this oil smells extremely strong!
Athlete's Foot Rub
For this skin fungus, start at 10 drops, which is about a 2% dilution. Thoroughly wash the feet and dry.
1 tablespoon coconut oil
10-20 drops Tea tree (Melaleuca alternifolia)
If you wish, you can use the fungal foot soak below after this step and before applying the rub.
Either way, make sure your feet are dry. Combine the above ingredients, and rub into feet. Let soak in.
Fungal Foot Soak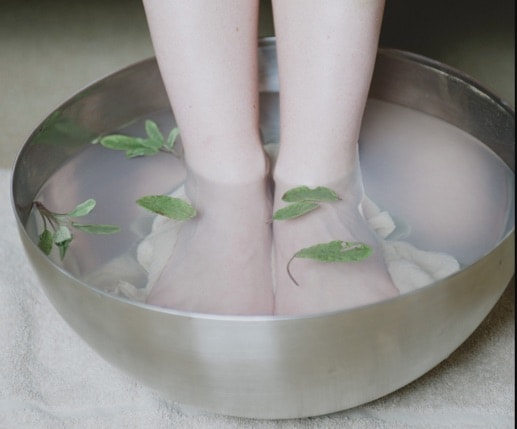 Grab a book and add all of the below ingredients to the basin and swish around to mix.
Basin large enough for feet
2 cups Water (as warm as you can stand)
1 cup White Vinegar
1 cup Epsom Salt
½ cup Witch Hazel
½ cup Listerine (or comparable mouthwash)
Put your feet into the soaking mix, and relax for half an hour or so while the ingredients do the work.
If you want to add even more oomph, you can add 2-8 drops of any of the above oils or blend of oils to the salt before mixing. (If using cinnamon, clove, or oregano, do not add more than three.)
You can use this nightly until the infection subsides. Dry thoroughly, then rub in the coconut and tea tree mix above.
Conclusion
There are microbes teeming around and within us. Many are beneficial and exist in complete symbiosis with our bodies.
However, there are some dangerous ones that should not be there. And there are others that grow out of control and cause issues with our health.
In those cases, reaching for antifungal oils can help you control or even eradicate the infection.
Remember that some fungal infections cannot be contained or healed naturally, so see a doctor when necessary.