What is Dill?
This dill plant goes by a few other botanical names: Fructus anethi and Peucedanum graveolens. It is also called American or European dill. However, it should not be confused with Indian dill, or Anethum sowa.
The plant itself features feathery green leaves, a smooth stem, and flower heads that are large and full of many small yellow flowers. These contain the small flat dill seeds we see in cooking.
Dill has been a garden favorite throughout history since the Middle Ages. The herb has been used in both culinary and medicinal purposes. It is the main ingredient in gripe water for babies and is still listed in the British/European pharmacopoeias. [1]
The plant is no longer restricted to its countries of origin; it is now cultivated worldwide, including in the United States, China, Europe, India, and more.
The oil, which is produced through steam distillation of the seeds, is mainly produced in the countries of England, France, Germany, Hungary, Spain, and the USA.
Dill seed essential oil is a colorless to light yellow liquid. Always look for the botanical name so you do not accidentally end up with Indian dill, which is of a different chemical makeup and contains dillapiole, which is an oral toxin and psychotropic. [2]
While most oil on the market is from the seed, there is also oil distilled from the fresh or dried herb. Both of the oils are used in beverages and foods, especially in condiments and pickling.
Dill oil blends well with angelica seed (Angelica archangelica), bergamot (Citrus bergamia), cardamom (Elettaria cardamomum), fennel, sweet (Foeniculum vulgare), juniper berry (Juniperus communis), nutmeg (Myristica fragrans), and spice and citrus oils.
Dill Essential Oil Uses
Dill has been used throughout history. For instance: [3]
The Papyrus Ebers of 1550 A.D. mentions it medicinally.
Inscriptions in the ancient tombs of the Egyptians show that dill was used for digestion.
It was the "Herb of Dioscorides," so-called because he prescribed it so much, for flatulence, lactation, urination, and more.
Medieval knights used the seeds of the dill weed for healing wounds.
Dill was ever-present at Emperor Charlemagne's banquets to ease flatulence and hiccups.
Latin Americans make a tea of the herb to reduce water retention, increase milk supply of nursing mothers, and ease digestion.
In Ayurveda practices, dill is used to reduce fevers, indigestion, and ulcers.
Here are some ways to use dill at home:
Aromatherapy
Used aromatically in your home, dill oil can lessen stress, ease the mind, and bring a breath of fresh air to the atmosphere.
Dill for Sugar Cravings
First, there are no studies that this author could find that back up the claim that dill can curb sugar cravings. In many studies, the oil that most successfully accomplishes this is peppermint (Mentha piperita).
However, it seems that more and more people are finding that dill weed oil works in this manner for them. Use it on a tissue or a cotton ball and carry it around with you, sniffing it whenever sugar cravings hit.
Dill Essential Oil Benefits
Many of the benefits for which dill has been used throughout history still apply today.
Eases Digestive Ailments
Dill oil is a digestive aid that can ease symptoms from issues like colic in babies, flatulence, and the heartburn and indigestion that occur when eating the wrong foods, when stressed, and more.
Other oils to be used in recipes for these common issues include:
To use for indigestion or flatulence, use up to five drops of an oil or blend of oil in a teaspoon of your choice of carrier oil, such as coconut (Cocos nucifera).
Rub the oil in a clockwise motion over the upper or lower abdomen as needed.
Encourages Actions of the Endocrine and Genito-Urinary Systems
The essential oil of the dill weed can help bring on menses. It also helps nursing mothers increase their milk flow.
While it is not recommended to take internally, you can add a few drops to a teaspoon of a carrier oil and rub over the breasts or in a clockwise motion over the lower abdomen.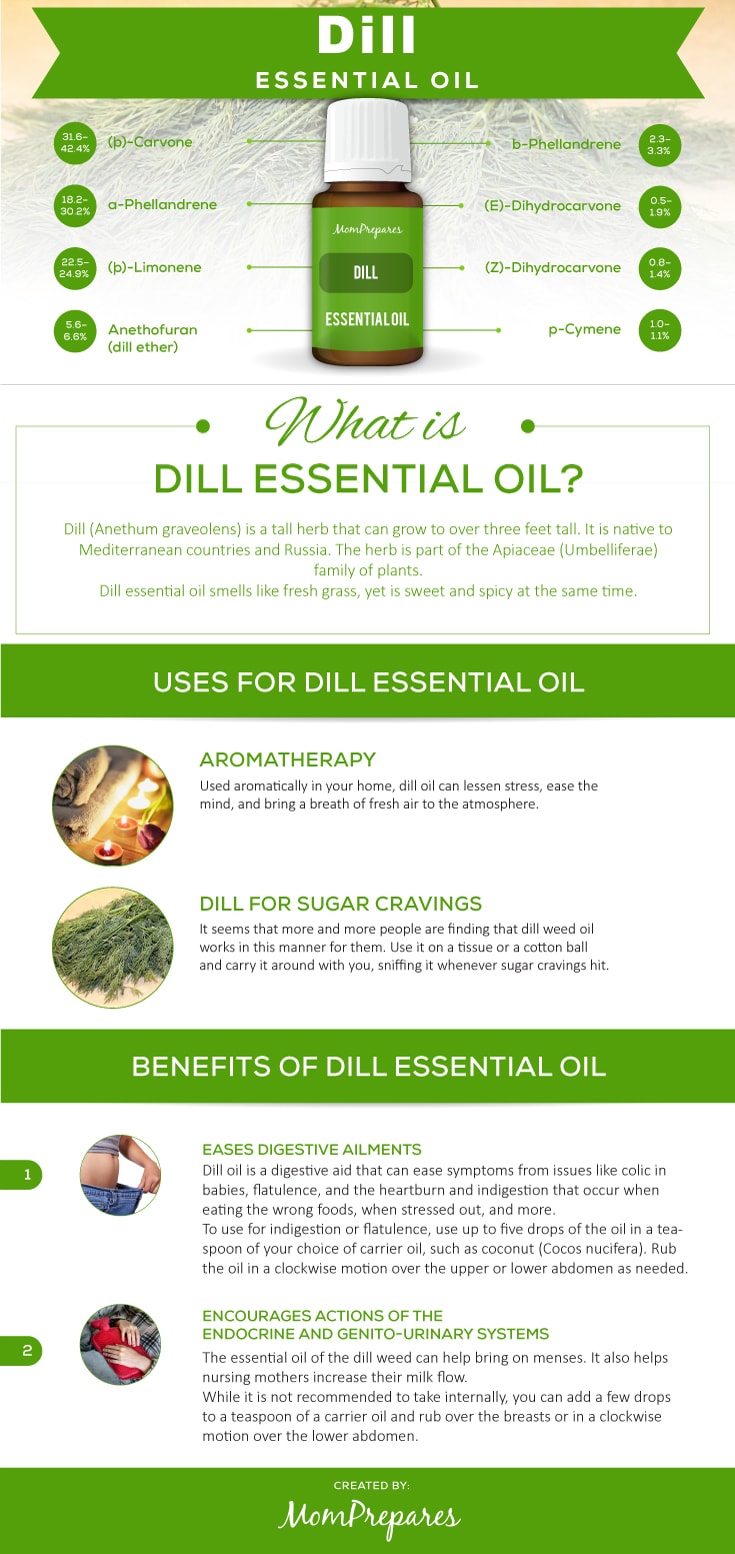 Use This Infographic On Your Blog
Dill Essential Oil Research, Facts, and Studies
Anti-inflammatory
In a study from 2012, Iranian researchers set out to determine whether dill oil was effective in the induced inflammatory response in rat paws compared to Diclofenac, a traditionally-prescribed treatment for inflammation.
They discovered that the dill oil was significantly effective in reducing inflammation and that this effect is due to the impact of the carvone content in the oil itself. [4]
Natural Antioxidant and Antimicrobial Agent
In a report published in 2016, researchers detailed the effects of dill seed essential oil on several strains of microorganisms:
Bacillus subtilis
Candida albicans
Escherichia coli
Listeria monocytogenes
Salmonella enteritidis
Staphylococcus aureus
The antimicrobial activity of dill oil was strongest against Staphylococcus aureus. However, they found the oil had high activity against the other strains as well. [5]
Conclusion
The dill herb or weed has been around for thousands of years, dating way back and detailed in both culinary and medicinal uses.
Most of the older uses still anecdotally apply today, such as for as intestinal upset.
That being said, it is always imperative to source oils from a reputable supplier, and pay attention to the botanical name, so you know you are getting the right oil for the job.
Safety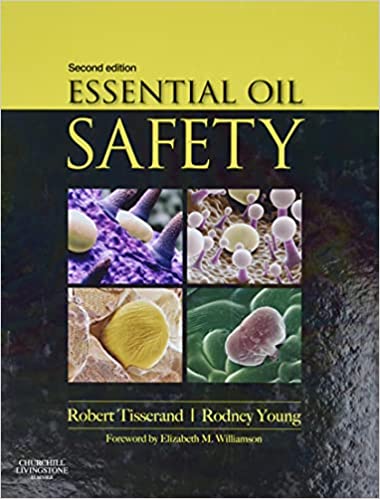 Correct selection and use of essential oils is crucial to ensure that you enjoy the best benefits of oils, without any of the downsides. Remember, some essential oils can be very potent and powerful. We therefore highly recommend this book to all of our readers: Essential Oil Safety: A Guide for Health Care Professionals 2nd Edition