What is Angelica?
There are more than 30 different types of angelica. However, A. archangelica is the one most commonly used medicinally.
The plant has been utilized for its health benefits for centuries. In Nicholas Culpeper's "The Complete Herbal," he states that when man found excellent and helpful herbs, they dedicated them to their Gods.
Angelica was called the herb of the Holy Ghost. He states that "more moderate" people decided upon angelica, so named for its "angelic virtues." It was also known as "master-wort." Today, it is commonly called wild celery or garden angelica.
Most of the plant is aromatic. You can find angelica root oil or angelica seed oil; both are steam distilled from their respective parts. They should not be confused with one another, as their different constituents often make one or the other better suited for certain ailments.
Angelica root oil blends well with black pepper (Piper nigrum), cardamom (Elettaria cardamomum), geranium (Pelargonium graveolens), ginger (Zingiber officinale), grapefruit (Citrus paradisi), lemon (Citrus limon), tea tree (Melaleuca alternifolia), and many more.
Angelica seed oil blends well with bergamot (Citrus bergamia), clary sage (Salvia sclarea), coriander seed (Coriandrum sativum), Roman chamomile (Anthemis nobilis), sweet fennel (Foeniculum vulgare var. dulce), lavender (Lavandula angustifolia), and more.
Angelica Essential Oil Uses
According to Culpeper, the root of the herb was used extensively:
Candied root was used as a fasting preservative to fight infection. Other times, it helped "to warm and comfort a cold stomach."
Powdered root helped with pleurisy and other chest issues like a cough.
It helped ease the pain of colic.
It would help bring about menstruation and after birth.
Calmed flatulence and helped digestive issues.
Made into a water, it was dropped in the eyes or ears to assist with dimness of site or deafness. The water could also help toothaches.
Powdered root made into a plaster was also used for bites of "mad dogs or any other venomous creature."
In "Herbal Simples Approved for Modern Uses of Cure" by William Thomas Fernie, angelica was said to have been "revealed in a dream by an angel to cure the plague," while others believe the plant bloomed on May 8th (old style), which is the day of Michael the Archangel.
Because of the latter, people believed the plant warded off the evil spirits and the perils of witchcraft.
While you are likely not worried about these in your home, there are still numerous ways to use the oils in today's world. However, while both oils are non-irritating and non-toxic, the root oil is phototoxic so should not be used topically when going out in the sun. [1]
Skin Care
Angelica seed hydrolat is an excellent base for skin care solutions for normal, oily, or sluggish skin. It is balancing and softening and is also great to apply on acne and other problem spots.
Male Infertility
There are a number of reasons for male infertility, and one of the more recent hazards comes in the form of our electronics. It is unwise to set a laptop on your lap or carry a phone on your waistband or in your pants pocket, as this can reduce a man's fertility by eight percent. [2]
While essential oils cannot directly affect sperm viability and motility, it is believed there may be some undiagnosed conditions with which they can help. Angelica seed is one oil, and others include:
Damiana (Turnera diffusa)
Frankincense (Boswellia carterii)
Patchouli (Pogostemon cablin)
Rosewood (Aniba rosaeodora)
Sage, Greek (Salvia fruticosa)
There are more to choose from, and it is easy to apply. Choose one oil or make a blend of your choice. To one teaspoon of carrier oil, add five drops of your essential oil or blend. Mix well.
Apply by massaging into the abdominal muscles, the lower back around lumbar regions three and four, and the pelvis, avoiding the genitals themselves. The oils can also be added to a bath or rubbed on with a washcloth after showering. Use daily for 3-6 months.
Perfume
Making perfume at home with essential oils is an excellent way to get to know your scents. Plus, you can be sure your creation is one unique to you that no one else in the world has!
Angelica seed oil is considered a feminine top note along with oils such as anise (Pimpinella anisum), bergamot (Citrus bergamia), lavender (Lavandula angustifolia), lemon (Citrus limon), neroli (Citrus aurantium), orange (Citrus sinensis), and more.
The root oil is an excellent base note, with a medium to strong initial scent profile that dissipates well.
While you will likely not want to use either oil on its own, the earthy and peppery scent of the root oil goes well with the likes of cedarwood atlas (Cedrus atlantica), orange (Citrus sinensis), bergamot (Citrus bergamia), juniper berry (Juniperus communis), and some spice oils.
Angelica Essential Oil Benefits
There are many health benefits of these oils. While they can be interchanged for some maladies, most of the time you will want to choose one or the other. Remember that the root oil causes photosensitivity. It also should not be used during pregnancy.
Eases Coughs and Respiratory Issues
In Chinese medicine, herbs are considered moistening or drying, among other things. A common mistake in Western medicine is mixing the two together in remedies. Angelica is a drying herb.
Both the root and seed oils are good for easing coughs, especially wet ones.
An easy way to get this benefit is to add a few drops to a bowl of steaming water. Place a towel around the back of your head and lean over the bowl, approximately 12 inches from the water, and breathe in the steam.
The root oil is likewise suitable for sinus and viral infections, while the seed oil is helpful in fighting colds and fevers.
Calms Stress
Both oils are also good stress-busters. Angelica root oil is fortifying and strengthening and is good for general stress-related symptoms.
Angelica seed oil is calming, which makes it good for anxiety and nervousness.
Relieves Digestive Problems
Angelica seed oil is a digestive, so is a good choice when these types of issues arise. It can be useful for relieving flatulence and indigestion.
Add 3-5 drops of the oil into a teaspoon of carrier oil. Rub over the upper abdomen and chest for indigestion, or over the lower abdomen for flatulence.
Additionally, you can either make an infusion of the root to make angelica tea or purchase it ready to go, and this can help your digestive problems.
Use This Infographic On Your Blog
Angelica Essential Oil Research, Facts, and Studies
There is not much research on either of the volatile oils of the angelica plant as of yet. However, there are still promising results, as well as an urgent warning.
Plus, there's an interesting fact about angelica you probably don't know!
Antimicrobial
The essential oil of the roots was shown to be highly effective against a number of microbes with minimum inhibitory concentration (MIC) values ranging from 0.13-0.50: [3]
Candida albicans
Clostridium difficile
Clostridium perfringens
Enterococcus faecalis
Eubacterium limosum
Peptostreptococcus anaerobius
Warfarin
According to Drugs.com, angelica root and warfarin may interact unfavorably due to the coumarin or coumarin derivatives in the root. They should not be used concurrently. [4]
Gin
Famous for traditional martinis, gin and tonics, and of course made popular by Snoop Dogg's song "Gin & Juice," gin gets its main flavor profile from juniper berry (Juniperus communis). However, it gets its many nuances from different essential oils, including angelica.
Other botanicals that lend their flavor and scent profiles include orange peel (Citrus sinensis), Cardamom seeds (Elettaria cardamomum L.), Fennel (Foeniculum vulgare), Aniseed (Pimpinella anisum), Lemon peel (Citrus limon L.), Liquorice root (Glycyrrhiza glabra) and more.
Conclusion
Angelica archangelica has had many names, including heavenly ones, and has been revered for its medicinal use and healing qualities for centuries.
Be sure to choose a quality oil as always, and pick another, safer oil if you are pregnant or nursing, have diabetes, going out in the sun, or taking certain medications, especially blood thinners.
Safety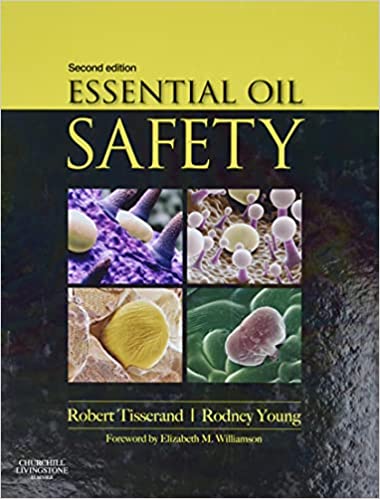 Correct selection and use of essential oils is crucial to ensure that you enjoy the best benefits of oils, without any of the downsides. Remember, some essential oils can be very potent and powerful. We therefore highly recommend this book to all of our readers: Essential Oil Safety: A Guide for Health Care Professionals 2nd Edition