What is Balsam Fir?
The balsam fir tree is native to the moist woodlands ranging from above Alberta to Labrador in Canada and running down through Minnesota and Wisconsin.
In the east, you can find it throughout New England to New York, then winding all the way down through the Appalachians and Virginia.
Balsam fir trees grow to heights ranging from 50-90 feet tall with circumferences up to 25 feet. The branches are resinous and feature dense, dark green needles up to one inch in length.
The bark is greenish in immature trees, which turns to a smooth greyish-brown. As the tree ages, it can become scaly. If you happen upon a balsam fir and touch the bark, you will notice the blisters are full of sticky resin that, if touched, can be very difficult to wash off..
These blisters are part of the reason the tree has "balsamea" in its scientific name, as that is the ancient name for the balsam tree and it is named for the resinous exudate.
The balsam fir is a coniferous tree. This variety's cones are upright as with many conifers, purple when young, and drop their scales once the seeds mature.
The tree does not respond well to urban pollution and therefore is not plentiful in cities, preferring to grow in the woods where the air is fresh and clean. It is important to wildlife, who depend on the tree for cover and food.
It doesn't face serious issues where pests are concerned, but at times can fall prey to bark beetles, Balsam woolly adelgids, aphids and more. [1]
Diseases that harm the tree are heart or root rot, twig blight, needle rust, and cankers.
If you live in the proper geographic area, these trees make beautiful ornamental specimens.
The balsam fir is only one of the fir trees that produces an essential oil. Other popular ones are Abies alba, which is the silver fir from Europe, and Douglas fir (Pseudotsuga menziesii).
Both are often called fir oil just as balsam oil is. Besides that, you may hear balsam called fir needle or Canadian fir. To further the confusion, Tsuga canadensis, or hemlock spruce, is sold under the moniker of Canada balsam.
Balsam fir should also not be confused with Commiphora opobalsamum, or true balsam of Gilead, which comes from ancient times. [2]
Finally, Young Living sells Idaho balsam fir. The ingredients list says it is Balsemspar uit Idaho. It is harvested from Northern Idaho, and many other sellers list is as being Abies balsamea.
Therefore, this is yet another time when attention to the botanical names is vital so that you can correctly distinguish the oils.
The oil is steam-distilled from the needles of the tree. Balsam fir oil blends well with other "green" oils like cypress (Cupressus sempervirens) and pine (Pinus sylvestris), citrus oils like lemon (Citrus limon), frankincense (Boswellia carterii), black pepper (Piper nigrum), and more.
Balsam Fir Essential Oil Uses
The balsam fir tree has multiple uses. The tree is predominantly cultivated for timber and pulpwood. The needles are often ground for incense or used by Shaker women to make balsam fir needle pillows.
The tree had military applications as well. In the Civil War, a balsam balm was created from the resin to treat injuries. In War II, the resin was used as a clear cement in optical equipment like gun sights.[3][4]
The tree is perhaps most known for its Christmas applications, most commonly as a Christmas tree. However, it is used for many other decorations, such as garlands, wreaths, table centerpieces and more.
As for the oils, here are a few ways to incorporate it into your essential oil uses at home:
Aromatherapy
The fresh smell of balsam oil can bring the scent of Christmas to your home, even in July. It is a mood-booster since the smell often evokes fond memories of Christmases past.
Fresh Woods Aromatherapy Blend
5 drops Balsam fir (Abies balsamea)
4 drops Pine (Pinus sylvestris)
4 drops Cedarwood (Cedrus atlantica)
You can add this to your diffuser, make a potpourri out of it with some pine cones, dried flowers, and whatever else you want. You can also add it to water in a candle warmer.
The bonus to adding balsam oil to aromatherapy blends that are diffused is that it is an excellent detoxifier, so can help clear the air in your home.
It is useful during the cold and flu season as well, because the oil is helpful in aiding recovery for respiratory infections and issues.
Perfumes and Soaps
If you like to make your own scents and soaps, try experimenting with adding balsam fir oil. The oil lends a fresh, woodsy, slightly sweet and sometimes fruity scent to blends. It would be especially beneficial in your antibacterial soaps.
Sore Muscle Massage
When you come home from a long day, sometimes you just ache. If you work out and overdo it, you may strain or pull a muscle. Sometimes you just have extra soreness.
Adding balsam fir oil to a massage blend can help ease the pain.
Balsam Fir Essential Oil Benefits
The balsam fir tree was widely used as a medicinal agent by First Nations in the eastern region of Canada. The Penobscot frequently employed the resin for its antiseptic properties on burns and other topical wounds.
According to Paul Kirtley, a full-time professional outdoor skills instructor, and owner of Frontier Bushcraft Ltd, this method of using the resin in this manner works.
He had a wound on his thumb that would open regularly and, not being able to heal because of this, had developed into a particularly nasty infection.
He used the balsam sap to cover the wound, and within days it was well into a healing stage. Nonetheless, he warns the sap is known to cause dermatitis for some people. [5]
Here are some of the benefits that balsam fir oil can bring to you:
Anti-inflammatory
Oils with anti-inflammatory benefits like balsam fir can ease muscle aches and pains. Combine it with other essential oils that possess this attribute, like marjoram (Origanum majorana), turmeric (Curcuma longa), sweet fennel (Foeniculum vulgare).
Empowering and Strengthening
Balsam fir oil is a mood-boosting, empowering, and emotionally strengthening oil. If you feel your mood is low or you just need to revitalize your core to balance your emotions, adding balsam fir oil to a massage or bath blend can help.
Try adding the following blend to your bath or shower. It can be particularly useful before a big day to give you the energy and belief in yourself to power through.
3 drops Rosemary (Rosmarinus officinalis)
3 drops Balsam fir (Abies balsamea)
2 drop Pine (Pinus sylvestris)
1 drop Geranium (Pelargonium graveolens)
Add the above oils to a small amber glass container. Alternatively, you could add them to a cup and a half of Epsom salts if being used solely in the bath. This is enough for three uses.
For a bath, swirl half a cup of the essential-oil-infused salts to the water. Swirl it around to disintegrate the salts, and enjoy closing your eyes and relaxing.
For shower use, wet a washrag. Add three drops of the oil mixture to the rag, and place it where the water won't wash the oil off but the steam will release the molecules. Breathe the scent in deeply as you shower.
Eases Respiratory Issues
The fir oils, in general, have an affinity with the respiratory system. Balsam can be helpful for asthma, bronchial conditions, coughing and colds, sinusitis, and such.
One of the best ways to help with these matters is facial steaming. To do this, you will fill a large bowl about halfway with steaming water. Add 1-2 drops of your chosen oil. Place your face about 12 inches from the water, and rest a towel over the back of your head to trap the steam.
Breathe the vapors in deeply for about 5-10 minutes. If you begin to feel lightheaded, develop a headache, or suffer any distress, stop immediately and get fresh air.
It should be noted that essential oils can make asthma worse for some people, so care should always be taken in these cases.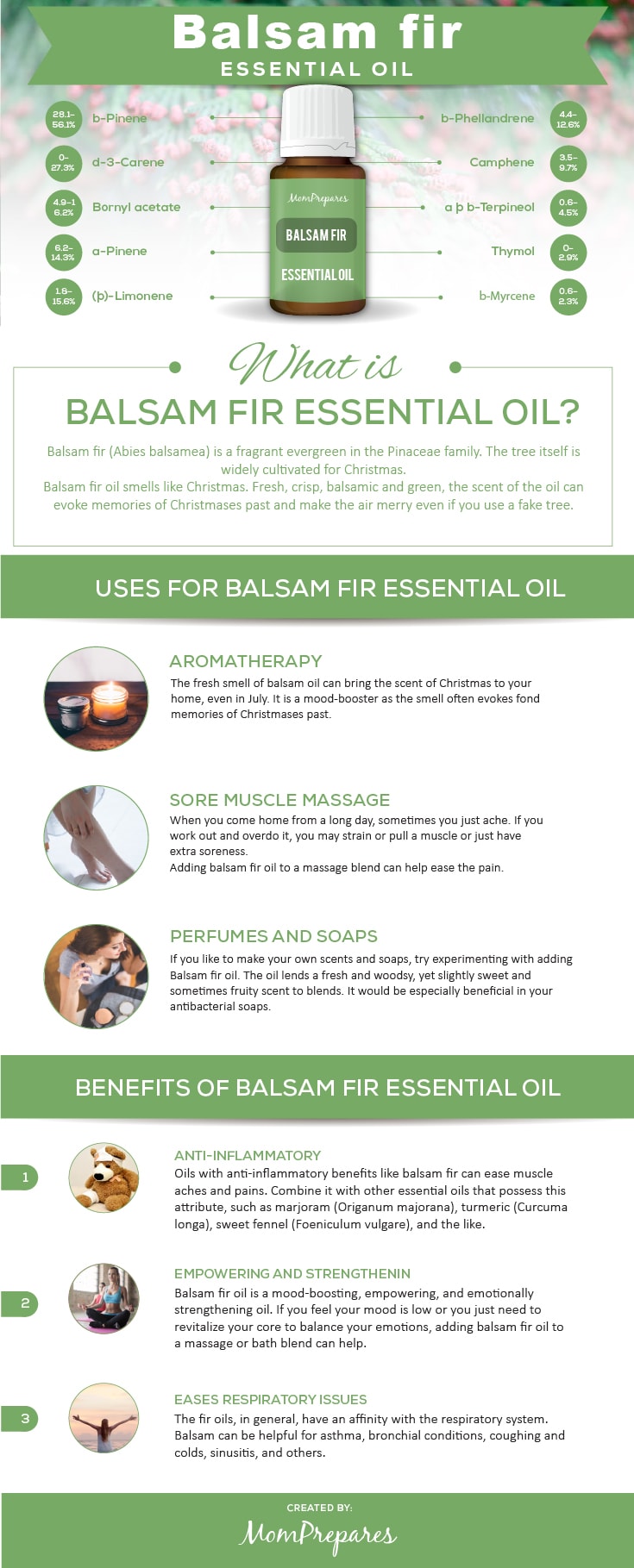 Use This Infographic On Your Blog
Balsam Fir Essential Oil Research, Facts, and Studies
Antibacterial
In a study from 2006, the composition and antibacterial activity of the oil from Abies balsamea was researched.
Balsam oil was assessed against Escherichia coli (E. coli) and Staphylococcus aureus (Staph A.) bacteria.
They found the oil to be active against the latter, but inactive against E. coli. Furthermore, they discovered that the constituents of the oils that were effective against the bacteria were alpha-humulene, alpha-pinene, and beta-caryophyllene. [6]
Antitumor Activity
A study published in the May 2003 issue of Planta Medica delved into the effects of Abies balsamea oil against certain tumor cell lines. The solid lines tested against included:
A-549 (adenocarcinomic human alveolar basal epithelial cells)
CT-26 (colon carcinoma cell line)
DLD-1 (one of four colorectal adenocarcinoma cell lines)
M4BEU (human melanoma cell lines)
MCF-7 (breast cancer cell line)
PC-3 (human prostate cell line)
Balsam fir oil was active against all lines scrutinized. This oil consists of mostly monoterpenes. The researchers further examined individual constituents of the oil, which all failed to be effective, save one: alpha-humulene.
This indicates that alpha-humulene is the reason for the cytotoxicity of the oil.
The oil and alpha-humulene caused a dose and time-dependent reduction on cellular glutathione (GSH) while causing an increase in the reactive oxygen species (ROS). [7]
Limonene Content
Oils that contain limonene tend to oxidize more quickly than those that do not. Oxidized oils should not be used for aromatherapy purposes or on the skin, as they may cause skin sensitization.
To help stave off oxidation, keep Balsam fir oil stored in the refrigerator in an air-tight, dark glass container. Adding an antioxidant to anything prepared with the oil is a good idea as well to keep the final product fresh for a longer amount of time. [8]
Conclusion
Balsam fir trees have a long history in Canada and the Eastern United States. They are well-known for their Christmas popularity, and their multiple uses date back centuries.
The oil is useful at home for many things, including boosting moods, evoking fond memories, easing depression, helping with respiratory illnesses, sore muscles, and more.
As there are various fir oils, it is important to pay attention to the botanical name and not rely on what the seller is calling the oil. Fir oil or fir needle oil does not necessarily equate to it being Abies balsamea.
Always perform due diligence. Once you have the oil in your possession, protect the quality by storing it properly in a dark container in the fridge. Do not use the oil for therapeutic purposes if oxidized. Have fun experimenting but above all, be safe.
Safety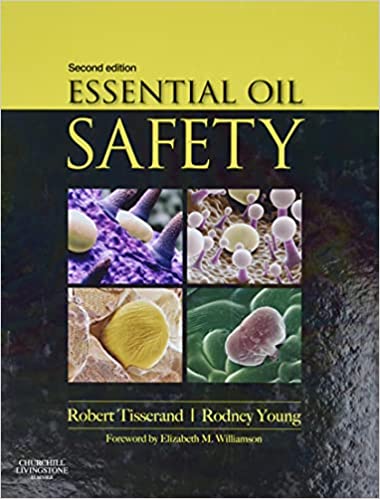 Correct selection and use of essential oils is crucial to ensure that you enjoy the best benefits of oils, without any of the downsides. Remember, some essential oils can be very potent and powerful. We therefore highly recommend this book to all of our readers: Essential Oil Safety: A Guide for Health Care Professionals 2nd Edition