What is Turmeric?
Turmeric is a perennial herb featuring wide, long leaves and white or yellow flowers. The tuberose rhizomes are orangish-yellow in color and have long been used as a dye, condiment, and medicine. [1]
The plant is native to India and Indonesia and is widely cultivated there and in the Indian Ocean islands. Turmeric was introduced to Western civilization through ancient Asian trading routes.
Turmeric's usefulness comes from the colorful rhizomes of the plant. Their orange color stains easily, which led to its use as a dye.
Because of its color, it was called Indian saffron in the Middle Ages. The dye has been used for cosmetics and food items as well as fabric and paper products.
As a medicine, the rhizome has been used by many civilizations in a variety of ways. [2]
It was used for aches, blood pressure, circulation, digestion, inflammation, and menstrual problems in Ayurvedic and Chinese medicine.
Asians made a tea from it to use as a tonic for abortion and contraception as well as to promote menstruation. It was also used to reduce fevers and for liver, stomach, and urinary problems.
Teas made from the rhizomes have been used for healing insect bites and wounds.
Africans use it as a tonic for aiding digestion and as a laxative.
The tea is used in Arabic countries as an abortifacient.
As a spice, the rhizome can be used fresh. Usually, it is boiled, dried in the sun or ovens, and then ground into the powder that we are accustomed to purchasing in stores.
The essential oil is produced from steam distillation of the cured rhizomes, meaning they are boiled, cleaned, then sun-dried. It is the same color as the rootstocks themselves, from yellow to dark orange.
There is also an absolute, concrete, and oleoresin obtained through solvent extraction of the rhizomes.
Turmeric essential oil blends well with other spice oils like black pepper (Piper nigrum), caraway seed (Carum carvi), and cardamom (Elettaria cardamomum); as well as with other oils like German chamomile (Matricaria recutita), geranium (Pelargonium graveolens), lemon (Citrus limonum), and many others.
Turmeric oil should not be used for extended periods of time, even if using organic turmeric oil. Those with sensitive skin may experience irritation due to the ketone turmerone in the oil. [3]
A skin patch test is always advisable when using an oil for the first time, even if you believe you will not have a reaction.
If you are using multiple medications, are diabetic, or are pregnant or nursing, it is not advisable to use turmeric oil.
Curcuma longa should not be confused with Javanese turmeric root (Curcuma zedoaria) or American yellow root (Hydrastis canadensis). Always pay close attention to the botanical name when purchasing any essential oil.
While an essential oil is also produced from steam distillation of the leaves of the plant, it is of very limited availability, and there is very little information on it.
Turmeric Essential Oil Uses
Commercially, turmeric is used extensively as a flavoring in the food and beverage industry. It is also used in the cosmetic industry and in perfumes.
Besides as a flavoring and scent, turmeric rhizomes contain the yellow-colored chemical curcumin, which is used to color foods and cosmetics, among other things.
Curcumin also factors heavily in the medicinal uses of turmeric and has been found to have noteworthy anticarcinogenic activity. However, curcumin has not been found in the essential oil, although it is in the CO2 extract and oleoresin. [4]
Therefore, curcumin oil and turmeric oil are not the same things and not interchangeable. Unfortunately, many sources online that tout the anticarcinogenic effects of turmeric oil are mistakenly addressing the curcumin content of it, of which there is none that we know of.
Nonetheless, just as there are numerous uses for turmeric as an herb and in culinary applications, there are many ways you can enjoy turmeric oil in your home.
Culinary Use
Many essential oils can be used in the kitchen to enhance your culinary creations. As a spice, turmeric is likely best known for its use in curries. When you consider turmeric essential oil vs powder, it's imperative to take into account the strength.
That being said, it's not difficult to learn how to use turmeric essential oil in cooking. Just remember that it is not an extract. The essential oil is much more concentrated than either the extract or the powder, so very little needs to be used. A drop or two is all it takes.
You can add turmeric to curries, stews, mustard-based dishes like potato salad, and much more.
For Skin
Many skin issues can benefit from the use of turmeric. The important thing to remember is skin sensitivity and to not use the oil for extended periods. It should also be adequately diluted.
For face issues, turmeric oil is useful to lighten dark spots and for acne. Always blend with a carrier oil like coconut (Cocos nucifera) or jojoba (Simmondsia chinensis).
If your face seems lackluster, turmeric can help bring back the youthful glow you have been missing. As an all around mix for all of the above skin problems, add one or two drops of turmeric oil to a tablespoon of jojoba and lightly apply to skin after cleaning your face three nights a week.
Be sure to do a skin patch test first.
For Hair
Turmeric oil can be used for a variety of hair conditions. You can help rid yourself of dandruff, control loss of hair caused by a fungal infection, and ease itchy scalp.
Add a few drops to your regular hair oil or your shampoo.
For Adrenal Fatigue
A randomized controlled study on the efficacy and safety of curcumin suggests that it can helpful for people with depressive disorders. [5] This is often a known symptom of adrenal fatigue.
However, care should be taken around children. There is yet to be substantial evidence or research that suggests it to be effective on this age range at this time.
Turmeric Bath
Turmeric is an anti-inflammatory oil. If you suffer from conditions like arthritis, rheumatism, or are just sore after a long day, a turmeric-infused bath may help ease achy joints and muscles.
A simple recipe is to add two drops of turmeric oil to a cup of Epsom salts. Mix in with your bath water and soak.
Turmeric Essential Oil Benefits
The main externally-beneficial properties of turmeric oil are that it is analgesic, anti-inflammatory, antimicrobial, antispasmodic, and restorative.
For internal use, it is a digestive, cholagogue (meaning it promotes the discharge of bile), stomachic, and tonic.
This does not mean to take drops of turmeric oil straight. You should not do that with any essential oil. However, turmeric capsules are available, as are curcumin capsules.
At home, the health benefits of turmeric essential oil can be harnessed in the following ways.
Relieves Muscular Aches and Pains
Being an analgesic and anti-inflammatory oil, turmeric is a superb choice for massage oils intended specifically for aching muscles.
Other good choices include helichrysum (Helichrysum italicum), peppermint (Mentha piperita), German chamomile (Matricaria recutita), sweet marjoram (Origanum majorana), and lavender (Lavandula angustifolia).
Helps Jumpstart Digestion
Turmeric has a special affinity for the digestive system. For slow or sluggish digestion, try the following recipe:
3 drops Cardamom (Elettaria cardamomum)
2 drops Turmeric (Curcuma longa)
2 drops Ginger (Zingiber officinale)
Add this blend to two teaspoons of a carrier oil. Massage in a clockwise motion over the abdominal area twice daily until symptoms subside.
As it is a cholagogue, this can help increase bile movement as well when there is liver congestion.
Promotes Cell Growth
Using turmeric oil can speed up healing of small wounds and reduce scarring. Be sure to apply it in small amounts diluted with a carrier oil, and for only a short while at a time.
Do not use for wounds on anyone with diabetes or who is pregnant or nursing.
Reduces Hair Loss
Adding turmeric oil to your shampoo could reduce hair loss. Its regenerative properties may encourage cell growth and slow hair fall.
You can use the following hair mask recipe once a week to fight hair loss and promote growth:
1 tablespoon Coconut oil (Cocos nucifera)
1 teaspoon Argan oil (Argania spinosa)
3 drops Rosemary (Rosmarinus officinalis)
2 drops Cedarwood (Cedrus atlantica)
1 drop Turmeric (Curcuma longa)

Use This Infographic On Your Blog
Turmeric Essential Oil Research, Facts, and Studies
There are numerous studies available about turmeric essential oil. There are even more that involve many constituents of the rhizomes, predominantly curcumin and turmerone.
Even though curcumin has not been found present in turmeric oil, turmerone is. The following are some of the more interesting and promising research available on this constituent as well as the oil.
Irritable Bowel Syndrome
A pilot study published in the November-December 2018 issue in the Annal of Gastroenterology examined the effects of fennel (Foeniculum vulgare) and turmeric (Curcuma longa) essential oils on the symptoms and quality of life in those suffering from irritable bowel syndrome (IBS).
The study used Enterofytol®, a capsule containing bio-optimized fennel and turmeric extracts. It included 211 patients and spanned two months.
The patients were given two capsules twice daily for the first month, followed by two once per day the following month.
A questionnaire was presented before starting treatment and after to determine symptom severity and quality of life.
At the end of the two months, there was a measured decrease in severity as well as a marked increase in quality of life. These results were irrespective of age or sex, and indicate this as a possible natural treatment for IBS in the future. [10]
Canine Care - Ticks
In the May 2018 issue of Ticks and Tick-borne Diseases, researchers tested essential oils as well as active ingredients of tick repellants.
The researchers used orange and turmeric oils. Unfortunately, it is unclear which orange oil was used, bitter or sweet. During various trials including blanket drags and in vivo, the turmeric oil outperformed the orange.
Not only did it work against the climbing activity, but it also had longer staying power. [6]
Skin Squamous Carcinoma
Researchers in China studied the efficacy of turmeric essential oil against the proliferation of A431 squamous carcinoma skin cancer cells in 2016.
They injected the cells with different concentrations of the oil in vitro. They discovered that turmeric oil could induce apoptosis and restrain the cancer cells.
This does not mean that turmeric cures skin cancer, but is an exciting result and could bring on more research into the subject. [7]
Neurological Application
In a study in 2014, researchers studied the effects of aromatic turmerone, a significant component of turmeric, on neural stem cells.
They performed in vivo tests on rats, as well as in vitro tests. The researchers found that ar-turmerone possibly induces neural stem cell proliferation.
This outcome suggests that this constituent from turmeric could prove beneficial in future neurological degenerative disease treatment. [8]
Interactions
WebMD has a lot of information on turmeric as a whole. They offer a list of warnings, and these would apply to the essential oil as well. Beside having diabetes or being pregnant or nursing, be warned of the following about turmeric: [9]
Turmeric may inhibit blood clotting and make people with bleeding disorders bruise or bleed more easily. For this reason, it should be discontinued at least two weeks before having surgery as well.
Those with gallbladder problems or a bile obstruction should not use turmeric.
Taking turmeric can cause stomach upset and may make gastroesophageal reflux disease (GERD) worse.
Those with conditions affected by hormones should use caution with turmeric.
Large amounts of turmeric can inhibit iron absorption.
Conclusion
Turmeric essential oil is a great addition to your arsenal for its health and culinary application.
Special precautions must be adhered to with this oil, however. If you do use the oil, always do a skin patch test and never use for an elongated period of time. Pay attention to the botanical name of the oil before purchasing.
Current research shows some promise for turmeric oil, and it will be interesting to see where it leads us. The oil may prove to be quite helpful in future complementary therapies.
Safety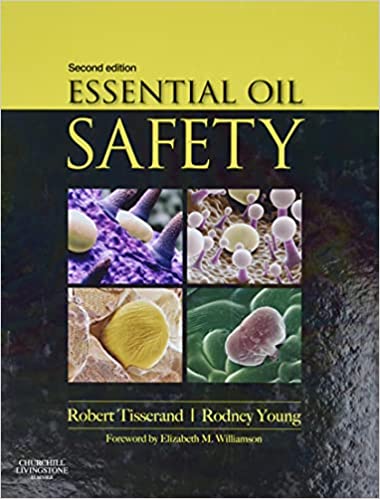 Correct selection and use of essential oils is crucial to ensure that you enjoy the best benefits of oils, without any of the downsides. Remember, some essential oils can be very potent and powerful. We therefore highly recommend this book to all of our readers: Essential Oil Safety: A Guide for Health Care Professionals 2nd Edition