What is Cilantro?
In the United Kingdom, the plant is called the coriander herb. However, in the United States, the herb is called cilantro, while the seeds are referred to as coriander.
The herb, native to the Mediterranean and Middle Eastern regions, grows to a little over three feet in height. It is an annual plant that features bright green leaves with small umbels of white flowers.
Cilantro also features green seeds that later turn brown, which are the coriander seeds we know in the kitchen.
Cilantro leaves are often a featured flavor in salads and guacamole, as well as Chinese, Indian, and Latin American dishes. Coriander lends its flavor to curries, desserts, liqueurs, meats, sausages, stews, and more.
All parts of the plant are edible and have been used for thousands of years, dating back to 5,000 BCE. [1]
Cilantro essential oil may be called coriander leaf oil or cilantro leaf oil. It is not as widely used as coriander essential oil (coriander seed oil), which you may also see listed as cilantro seed oil.
The oils are both steam distilled, and although they come from the same plant, they have different constituents. For instance, the seed oil is higher in linalol, while the leaf oil is high in decyl aldehyde.
Therefore, they each have unique uses. Always be sure you are matching the proper oil with the correct application.
Cilantro essential oil blends well with coriander, clary sage (Salvia sclarea), jasmine (Jasminum officinale), citrus oils like bergamot (Citrus bergamia), and spice oils like black pepper (Piper nigrum), cinnamon (Cinnamomum zeylanicum), ginger (Zingiber officinale), and more.
Cilantro Essential Oil Uses
The whole cilantro plant has been used medicinally for thousands of years as well. It was made into an infusion for treating anorexia, diarrhea and other digestive problems, and more.
The plant is still utilized in Chinese medicine for ailments like dysentery, hernias, measles, nausea, and toothaches, among other things. [2]
Most literature speaks of coriander, not cilantro, and this applies to the essential oil as well.
According to Robert Tisserand, the oil has no known carcinogens and no known toxicity.
In old herbal books, it is the seeds that are referred to as medicines. However, there are ways you can still use cilantro oil at home.
A word of warning about reports of using the oil for heavy metal detoxifying. According to Tisserand, while the herb cilantro may help, these benefits do not extend to the essential oil. [3]
Culinary
The herbs and seeds are well-known in the culinary world. The oils are both used commercially to flavor multiple things.
The main constituent found in cilantro oil, (E)-2-Decenal, is used as a flavoring agent. It is also found in many foods, like cooked meats, French fries, roasted pecans, wheat bread, and a host of other foods. [4]
It is considered a food-grade oil and has GRAS status, which is a label from the food and drug administration (FDA) that means, "generally recognized as safe."
It's worth noting that this is for large-scale commercial preparations, not necessarily those of the home kitchen.
So, you can use cilantro essential oil in place of the herb in many dishes. For instance, add a drop of it to your guacamole the next time you want an authentic flavor but are out of the herb itself.
Remember that a little goes a long way and you cannot use essential oils as you would extracts. One drop is often plenty to give your dish the scent and flavoring you desire. If the recipe is large and one drop is not enough, you can use another. Just be careful not to add too much.
Aromatherapy
Cilantro oil is high in aldehydes, including the unsaturated (E)-2-Decenal and Decanal, which are known to be some of the more aromatic constituents found in essential oils.
Try adding it to blends with complementing oils to lend a crisp, herbaceous, and grassy freshness to the air. Some people do not respond well to the scent, but it can have calming effects if you enjoy it.
If you ever need to substitute cilantro oil, be sure to match up the oil's constituents with the effect you are after. Some suggestions that could work include peppermint (Mentha piperita) and coriander (C. sativum).
Natural Deodorants and Dental Care
When thinking of essential oils for these types of products, people often think of lemon (Citrus limon), orange (Citrus sinensis), cardamom (Elettaria cardamomum), lavender (Lavandula angustifolia), and other fresh-scented oils.
However, you can change things up by adding a bit of cilantro oil to these products. Beware of limits, and be careful of how many cilantro drops you use so you don't overpower the final product.
Cilantro Essential Oil Benefits
While there is very little literature on cilantro essential oil, there is a lot on aldehydes, which are found in abundance in the oil.
Aldehydes posses many health benefits other than being highly aromatic. [5] They are:
Antibacterial
Anti-inflammatory
Antiviral
Calming
Immunostimulant
Nerve tonic
Relaxing
Sedative
Uplifting
Because of this, there are numerous ways to garner these benefits at home.
Cleansing
Because of the Decanal content, this would be a beneficial oil to add to your home cleaning blends. It will freshen the air, plus help with disinfecting surfaces.
Soap Making
If you make antibacterial soaps, you may want to try adding a little oil of cilantro leaves to the batch. Your antibacterial deodorant soap will have a fresh, clean scent with possible slight hints of buckwheat because of the Decanal, and it will leave your skin fresh and clean.
Always be sure to measure correctly, and follow dermal limits carefully. A skin patch test should always be performed, and warnings should be put on the finished product for those with sensitive skin.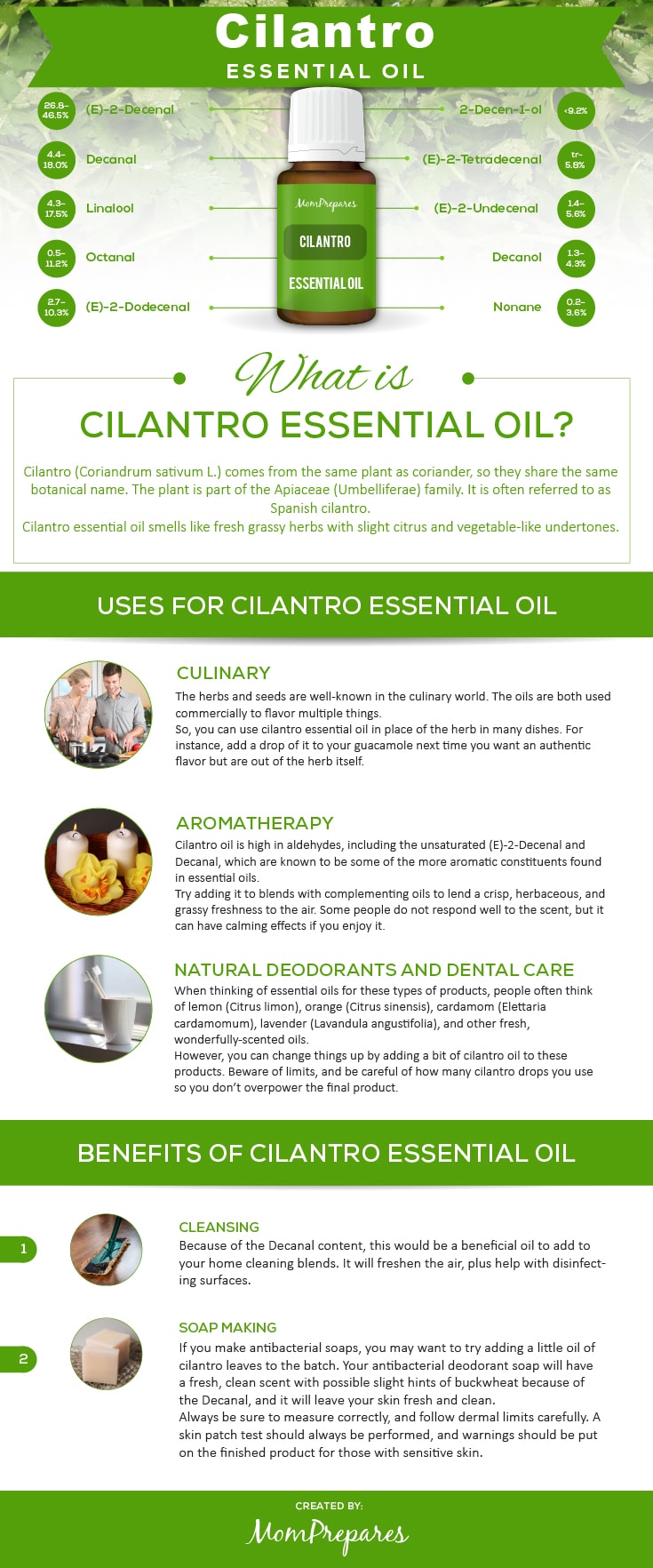 Use This Infographic On Your Blog
Cilantro Essential Oil Research, Facts, and Studies
While there is much more research on coriander seed oil than there is on cilantro leaf oil, the few results that are out there are promising.
Antilisterial
Listeria is the bacterium Listeria monocytogenes. It causes listeriosis, a serious infection in humans when food contaminated by the bacteria is consumed. The bacteria is often found in water and animal products.
It mainly affects babies and the elderly or those with a compromised immune system. While it affects pregnant women, the infection it causes is usually mild.
Unfortunately, this is not true for their unborn child; it can cause severe illness in them. In older adults, it can infect the blood and turn into a deadly infection known as sepsis. [6]
In a report from 2004, the essential oil of cilantro was tested against four strains of Listeria. Not only was it effective against L. monocytogenes, but it was also effective against L. grayi, L. innocua, and L. seeligeri.
Even more impressive, the minimum inhibitory concentration was between ≤ 0.01-≤ 0.07 percent. Most of the success is attributed to the (E)-2-decenal content. These results show great promise of cilantro essential oil as a food preservative or in disinfectants to prevent infection. [7]
Anti-inflammatory and Wound Healing
In a study published in Biochemie Open from 2017, 10 essential oils were tested against human skin to determine their effects.
Bergamot (Citrus bergamia), cilantro (C. sativum), and spikenard (Nardostachys jatamansi) all showed anti-inflammatory effects on skin cells. They inhibit the protein molecules that affect the immune response and tissue remodeling of the skin.
This suggests that all three oils could prove very useful for inflammatory response issues and wound healing. [8]
Conclusion
Cilantro is one of those oils that are outshined by another oil from the same plant. The seed oil is much more abundant and used more often than that of the leaves. That being said, cilantro leaf oil holds unique properties on its own that can be useful.
The oil has no known toxicities or carcinogens, but may be irritating to sensitive skin. Always be sure to get pure, and preferably organic, oil from a reputable supplier, and perform a skin patch test before using.
Safety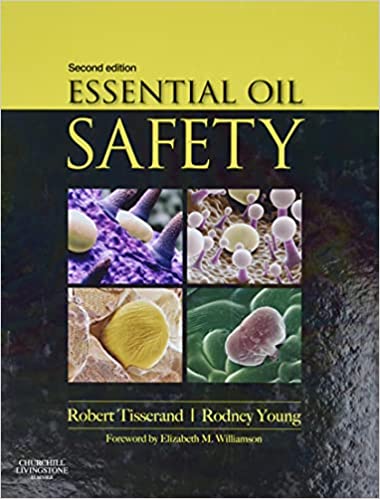 Correct selection and use of essential oils is crucial to ensure that you enjoy the best benefits of oils, without any of the downsides. Remember, some essential oils can be very potent and powerful. We therefore highly recommend this book to all of our readers: Essential Oil Safety: A Guide for Health Care Professionals 2nd Edition