What is Lime?
It is believed that lime trees originated in Asia or the Indonesian archipelago.
The lime tree is made up of short twigs that hang off of uneven branches and feature small evergreen light green leaves and plentiful thorns. The flowers are white and usually clustered. Lime trees rarely grow over 16 feet tall and can resemble shrubs in appearance.
Lime fruits are usually oval or oblong and rarely more than an inch and a half in size. The peel is thinner than other citrus fruits, and the flesh is more sugary and acidic than lemons.
The limes that you often find in the grocery store are Persian lime (Citrus x latifolia). The smaller variety is Mexican, West Indian, or key limes (Citrus aurantifolia). [1] Therefore, you may hear this oil referred to as key lime oil.
Limes were introduced to the West Indies by Christopher Columbus on his second voyage. They now grow wildly all over tropical and subtropical areas of the world.
As limes contain Vitamin C like other citrus fruits, they were popular on ships manned by the British Navy to prevent scurvy. You have likely heard the term 'limey,' and this is where it originated. [2]
We get lime essential oil in two different ways, either from steam distillation or cold expression. The resulting oil is light greenish-yellow and may have a hint of orange. Expressed lime oil is a photosensitizer, so should not be used on the skin before going out in the sun or tanning.
Lime essential oil blends well with black pepper (Piper nigrum), clary sage (Salvia sclarea), cypress (Cupressus sempervirens), ginger (Zingiber officinale), lemon (Citrus limonum), sweet orange (Citrus sinensis), turmeric (Curcuma longa), vetiver (Vetiveria zizanioides), and more.
As with other citrus oils, lime tends to go rancid faster than many volatiles. Keeping it in the refrigerator will help make it last longer.
Lime Essential Oil Uses
Limes are used worldwide for culinary purposes. They are widely utilized in the soft drink industry. The fruit is also popular for scenting perfumes, soaps, and other body care products.
Lime essential oil is not one that is generally reached for in therapeutic situations, but it does have some good uses at home.
Culinary Use
Of course, one of the uses for lime essential oil would be in your kitchen. Try adding a drop of lime next time you are making salsa, marinade, punch, or pudding.
While some people recommend adding a drop of lemon (Citrus limonum) or lime in water, this is not a good idea. The goblets of the volatile oil do not disintegrate fully in the water and damage to mucous membranes can occur.
For Oily Hair
Citrus oils are an excellent choice for controlling an oily scalp, and they make your hair smell lovely.
Add a couple drops of lime juice to your favorite shampoo or conditioner for extra shine and oil control.
For Skin Use
Lime essential oil is beneficial for normal to oily skin. Blending a couple drops of the oil into your favorite facial oil or moisturizer can help control excess sebum.
The oil is a fragrant addition to homemade soaps, too.
Lime Essential Oil Benefits
There are numerous ways you can benefit from lime essential oil at home.
Improves Assertiveness
If you ever find yourself in a situation where a bit more assertiveness would come in handy, such as asking for a raise, take a whiff of lime oil beforehand.
You can likewise use lime in your diffuser to get the same benefit. If you are lucky enough to be able to use a diffuser in your office, the following is an amazing blend that will keep you alert and assertive while making the whole room smell fresh:
3 drops Cedarwood atlas (Cedrus atlantica)
2 drops Lime (Citrus aurantifolia)
1 drop Rosemary (Rosmarinus officinalis)
1 drop Cypress (Cupressus sempervirens)
Aids Indigestion
Lime essential oil can help ease indigestion. The next time you are feeling the effects of eating too much, try the following recipe:
5 drops Cardamom (Elettaria cardamomum)
3 drops Coriander seed (Coriandrum sativum)
2 drops Lime (Citrus aurantifolia)
Add the above to one tablespoon of jojoba oil. Keep the blend in a dark glass bottle, and massage a little bit over the entire abdomen when needed.
Helps Dieters
The citrus oils are all exceptional to turn to when you are looking to lose a few pounds, tone, or reduce bloating or the look of cellulite.
Using essential oils in the bath is a great way to use them for toning. Just remember to mix them in well with Epsom salts, a carrier oil, or your favorite bath powder. You don't want the oil floating on the water and directly sitting on your skin.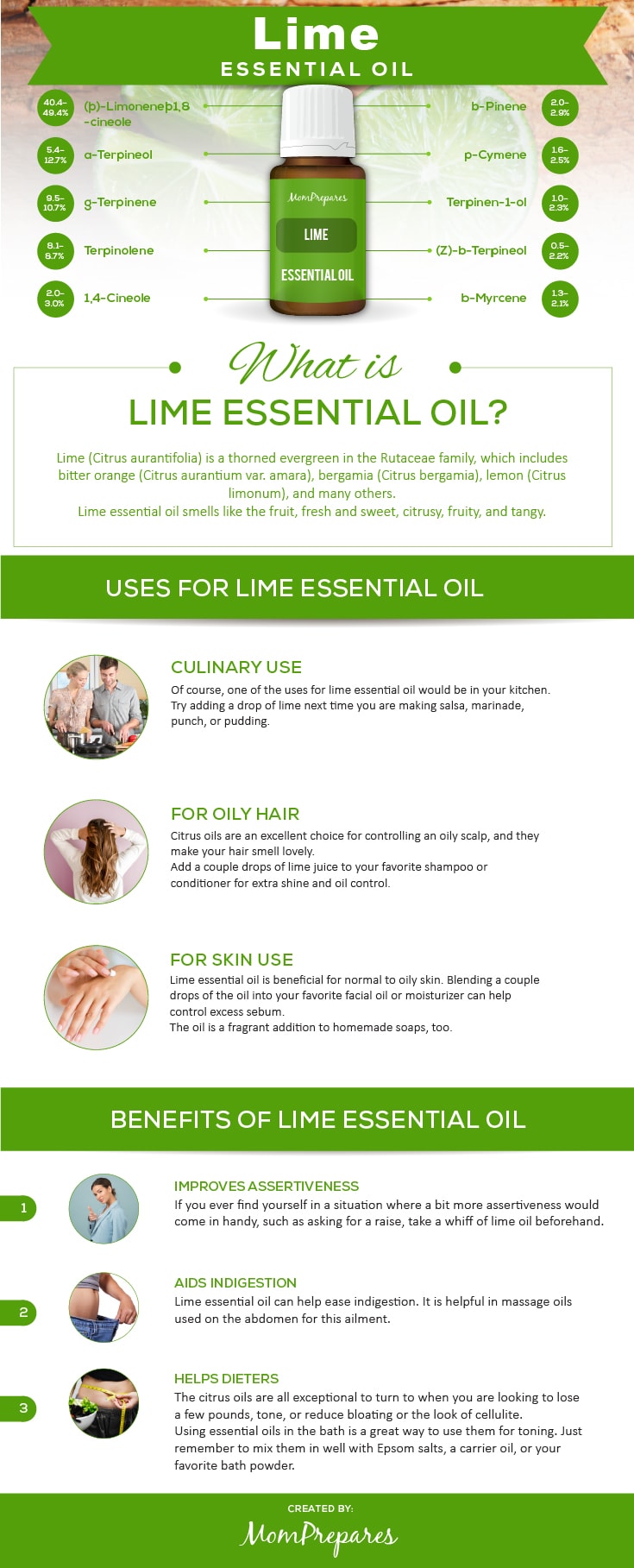 Use This Infographic On Your Blog
Lime Essential Oil Research, Facts, and Studies
There is very little research about lime essential oil. But we were able to dig up a few creditable studies.
Food-borne Pathogens
Researchers published a paper in 2011 about the antimicrobial effects of lime essential oil in fighting pathogens in cream-filled pastries.
Their results showed that the addition of the oil can slow the growth of the bacteria and thus may reduce illnesses coming from contaminated food. [3]
Anti-inflammatory
In a study published in 2016, researchers studied various citrus oils for their anti-inflammatory effects in mice.
They found that while lime oil did exhibit significant anti-inflammatory properties, it also induced myelotoxicity in the mice. Myelotoxicity is bone marrow suppression or the decrease of production of cells required for immunity, blood clotting, or those carrying oxygen. [4]
Conclusion
While lime essential oil is not one of the more popularly discussed essential oils, it is good for many things around the home.
Remember that the expressed oil should not be used on the skin before going outside or tanning, as photosensitivity and irritation can occur.
Safety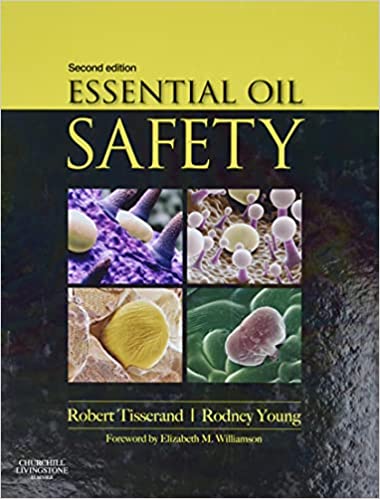 Correct selection and use of essential oils is crucial to ensure that you enjoy the best benefits of oils, without any of the downsides. Remember, some essential oils can be very potent and powerful. We therefore highly recommend this book to all of our readers: Essential Oil Safety: A Guide for Health Care Professionals 2nd Edition