What is Copaiba?
Copaiba has enjoyed a relative surge in popularity recently. Many popular texts on the oil either do not list the oil at all or have very little information about it.
The Copaifera officinalis is unique in that most variations of the Copaifera genus are usually smaller trees or shrubs. This tree, however, can grow to towering heights. It features long panicles of more small white flowers than others in the genus produce.
Copaiba resin-producing trees were first seen referenced in print in 1648. In the work, they describe the method of collecting the balsam by cutting slits in the bark under the full moon.
They said the 'flow of fatty and oily liquid' was so abundant that 'twelve pounds may exude in 12 hours.' [1]
This method sounds a lot like how the resin is extracted today. Holes are drilled into the trees, and the sap flows out. The trees are not destroyed in the process, which is much like how maple syrup is collected. One tree can produce 40 liters annually.
Once the oleoresin is collected, it is steam distilled to create the essential oil. This oil is viscous and light brown in color and offers many medicinal benefits. The resin and the oil produced from it is often referred to as balsam of copaiba or copaiba balsam oil.
Since different companies have different names for their products, such as copaiba vitality from Young Living, always be sure to check the ingredient list, so you know you are getting the oil you want.
Copaiba oil blends well with black pepper (Piper nigrum), both chamomile Roman (Anthemis nobilis) and German (Matricaria recutita), geranium (Pelargonium graveolens), lavender (Lavandula angustifolia), lemon (Citrus limon), and many more.
Copaiba Essential Oil Uses
Copaiba is woefully underrepresented in most texts. When searching online, you can find many links, but hardly any are to reputable, trustworthy sites. This can make it difficult to separate the truth from fiction.
So what is copaiba essential oil used for?
The oil is used in the food and beverage industry as a flavoring, but this is not recommended for home use. It is used in cosmetics, soaps, and perfumes, and is also used in the pharmaceutical industry for diuretics and cough medicines. [2]
Copaiba is a very beneficial oil. While some of the copaiba uses on the internet are unfounded, there are plenty of ways you can use this at home.
Arthritis
Arthritis affects approximately 20-27 million people in the United States alone. Many people suffer in silence and cannot find relief with traditional medications and treatments.
Essential oils can be helpful for people suffering from joint pain and arthritis. Copaiba has around 25-55 percent beta-caryophyllene, which is the sesquiterpene in clove (Syzygium aromaticum) oil that helps to make it useful for pain relief.
Other oils that can help the condition are:
Cedarwood atlas (Cedrus atlantica)
Cistus (Cistus ladaniferus)
Clary sage (Salvia sclarea)
Eucalyptus lemon (Eucalyptus citriodora)
Frankincense (Boswellia carterii)
Geranium (Pelargonium graveolens)
German chamomile (Matricaria recutita)
Helichrysum / Immortelle (Helichrysum italicum)
Ho wood (Cinnamomum camphora ct. linalool)
Juniper berry (Juniperus communis)
Lavender (Lavandula angustifolia)
Roman chamomile (Anthemis nobilis)
Rosewood (Aniba rosaeodora)
Spearmint (Mentha spicata)
For arthritic conditions, it is best to create a massage blend with your chosen oils and a carrier, then rub it on before soaking in the bathtub. Adding a cup of Epsom salts to the bathwater can help alleviate the pain as well.
While copaiba shows promise, it is not a recognized treatment for arthritis, as researchers from Florida Atlantic University point out. [3]
Chronic Obstructive Pulmonary Disorder (COPD)
COPD is a term for several lung conditions that make breathing difficult. While it often occurs in people that have smoked heavily for years, it can also affect those who never smoked a day in their life. The diagnosis can be frightening, but oils can help ease breathing difficulties.
There are numerous symptoms of COPD, including being unable to take a deep breath, shortness of breath, fatigue, tight chest, chronic cough, and wheezing.
The disease is usually preceded by other breathing problems, such as chronic bronchitis, and can occur in tandem with ailments like asthma or emphysema. It is important to have an overall outlook of health prior to deciding which oils to use.
You should decide what effects you most want out of the oil. Do you need more of an anti-inflammatory or expectorant? Maybe you need a general respiratory oil or more of a warming one. Decide this, and pick the oils for your blend based on that.
Many oils will offer a mix of the above benefits. Copaiba is good for COPD as an expectorant.
The blends can be used in a number of ways, such as in massage, bath oil, diffuser, or room sprays.
Perfume Fixative
Oakmoss (Evernia prunastri) was one of the most popular fixatives in the perfume world for quite some time. It is a powerful dermal sensitizer, and the International Fragrance Association (IFRA) placed a strict ban on it limiting the amount that can be used to minute amounts.
Obviously, if you make natural perfumes at home, you will want to adhere to these levels, so you do not inadvertently harm yourself or someone else with your creations.
While science has brought us a form of oakmoss essential oil that can be used, you have another choice. Copaiba's rich scent lends itself well to being a fixative in place of oakmoss in perfumes and colognes, and it comes without the dermal side effects.
Copaiba Essential Oil Benefits
Copaiba's main constituents are sesquiterpenes, which make the oil beneficial in a number of ways. The benefits should be applied externally.
Although many sites recommend taking copaiba internally, doing so has side effects and can cause a host of other internal issues, like:
Diarrhea, stomach pains, and vomiting
Groin pain
Tremors
When utilizing the oil for its health benefits externally, be sure to dilute it properly in a carrier oil. Using the oil undiluted can cause redness and irritation, and possibly a rash that will leave a brown pigment after healing. [4]
Beta-Caryophyllene
Lately, people have been comparing and likening copaiba to cannabidiol (CBD). Without getting into the deep science of it all, here is a brief rundown of why.
The main reason for this is the beta-caryophyllene content, which is also found in cannabis. This sesquiterpene binds to the cannabinoid receptor type 2 (CB2) in humans. This is the same receptor that CBD binds to.
This is important, because unlike the cannabinoid receptor type 1 CB1, the constituents that bind to CB2 do not cause psychoactive effects such as those coming from tetrahydrocannabinol (THC).
The CB2 receptor affects pain, inflammation, and more. This makes controlling pain and inflammation, among other maladies, with both beta-caryophyllene and CBD very promising therapeutically. [5]
Anti-inflammatory
Because of the high beta-caryophyllene content in copaiba, the oil is a potent anti-inflammatory. This is why it is effective, albeit anecdotally, for conditions like arthritis.
A simple way to get this benefit from copaiba is to add your drops of that oil or your blend to aloe vera. Aloe vera in itself is anti-inflammatory, so this combination will enhance the potency of the blend.
You can add 5-6 drops in a teaspoon of aloe vera, mix, and apply on the affected area. Alternatively, you can create a blend with other known anti-inflammatory oils such as these:
Camphor, white (Cinnamomum camphora)
Cedarwood atlas (Cedrus atlantica)
Eucalyptus (E. spp.)
Geranium (Pelargonium graveolens)
Juniper berry (Juniperus communis)
Lavender (Lavandula angustifolia)
May Chang (Litsea cubeba)
Petitgrain (Citrus aurantium)
Sage (Salvia officinalis)
Turmeric (Curcuma longa)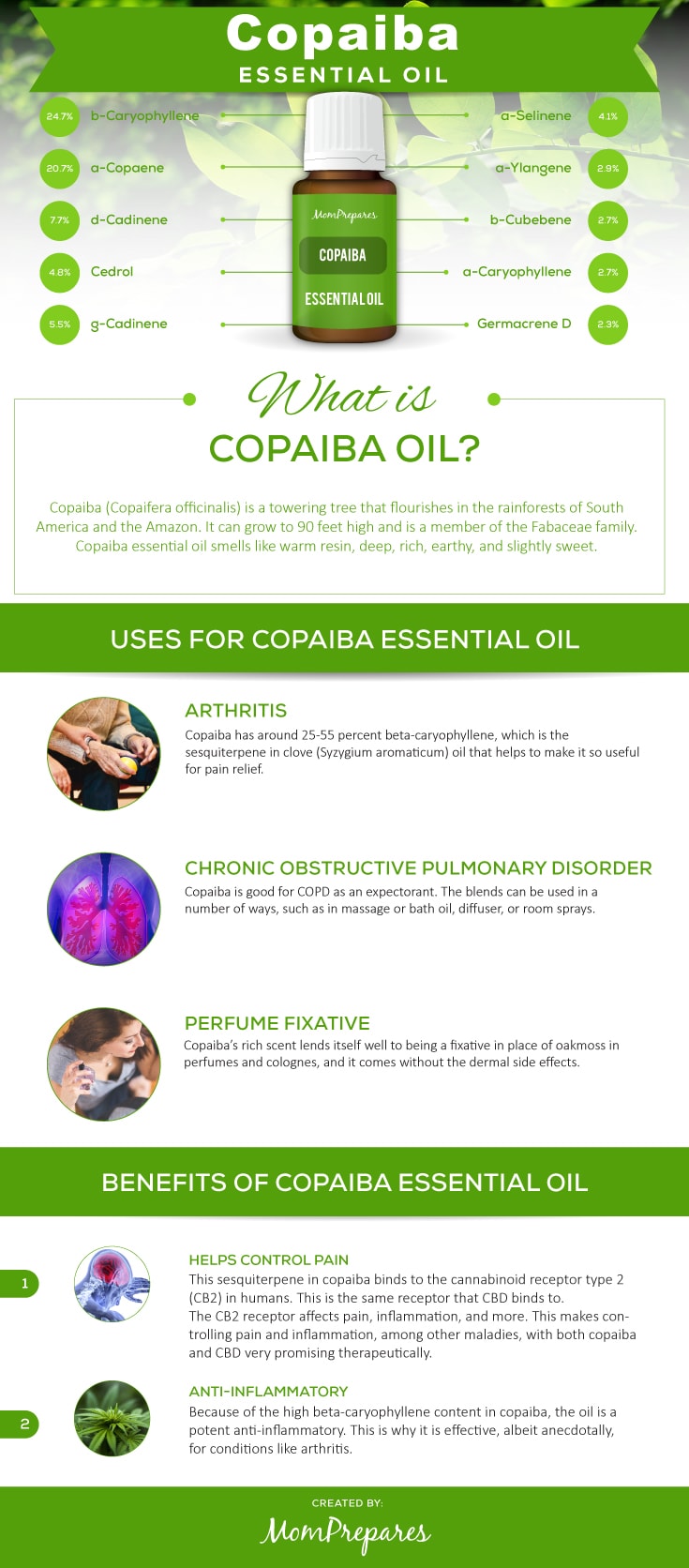 Use This Infographic On Your Blog
Copaiba Essential Oil Research, Facts, and Studies
There is very little research on the therapeutic application of copaiba oil. As of this writing, only 15 results are returned for the search on PubMed. Conversely, there are over 1800 for beta-caryophyllene, which gives you an idea of the oil's future potential.
Antimicrobial
A systematic review in 2018 states that copaiba oil has antibacterial, anti-inflammatory, antiseptic, germicidal, antifungal, and antitumor properties. They set out to determine the oil's efficacy against oral pathogens by researching what information was out there.
Across 11 studies with several types of copaiba, they found that the tree's oil was either bacteriostatic or bactericidal, or both, in all. The effect is lower than the known 'gold standard' of chlorhexidine, but there is promise of the oil being used against oral pathogens. [6]
Third-World Applications
Cutaneous leishmaniasis is caused by sandfly bites. It is the most common type, and can cause different types of skin lesions and ulcers that leave scars for life in those affected. [7]
The World Health Organization's regular treatment, pentavalent antimony, is delivered parenterally. It is costly, requires medical care, and has high toxicity. [8]
However, they found that loading wound dressing with copaiba oil proved to be an effective treatment against the infection. The main constituent, beta-caryophyllene, is the reason the treatment shows promise for further use against infection and inflammation. [9]
Conclusion
The resin of the Copaifera species has been collected for at least four centuries, and the medicinal use of it goes back at least that far.
However, not much is known about copaiba oil in scientific and medical circles, as studies and trials are severely lacking. While much is known about the main constituent beta-caryophyllene, little has been researched about this anecdotally beneficial oil.
As with any oil, perform due diligence prior to use, and use only pure, unadulterated oils from reputable distributors.
Safety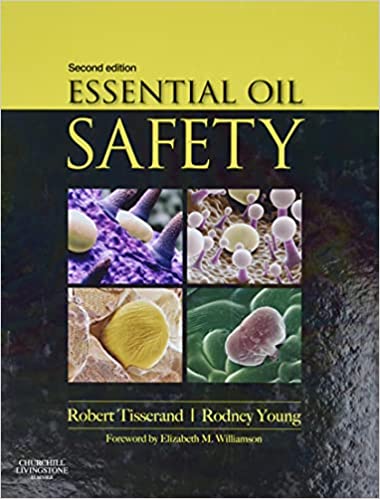 Correct selection and use of essential oils is crucial to ensure that you enjoy the best benefits of oils, without any of the downsides. Remember, some essential oils can be very potent and powerful. We therefore highly recommend this book to all of our readers: Essential Oil Safety: A Guide for Health Care Professionals 2nd Edition